Local Running Stores And The Power Of Community
Most of us have a deep connection to our local running store. Runners supporting shops - and vice versa - build a healthy trail community.
Heading out the door? Read this article on the new Outside+ app available now on iOS devices for members! Download the app.
On paper, trail running is amazingly simple: some shoes and a trail. But there's also the element of community that draws so many to the sport. Community helps people push themselves further, whether setting a new PR, tackling a longer race or getting out of bed on a chilly morning to hit the trail. 
So many of these communities grow around their local running store: businesses where runners can check out new gear, get expert advice and find groups to share miles with. As interests change and online sales thrive, it's not easy keeping these shops open, but just as runners thrive on community, so do businesses.
"Your community is your lifeblood. They're the ones who are supporting you from not only a sales point but word of mouth, and word of mouth is advertising. It's one of the top ways to get and retain customers," says Sarah Morton, a Senior Attendee Relation Manager for Outdoor Retailer. "By working with your community and having them fall in love with you and fall in love with your shop, they end up supporting it. It becomes an ecosystem of support for one another."
Morton is a former running shop owner, now an industry advisor who works with the well-known trade show organization. Outdoor Retailer helps businesses network and grow their brands. Best known for their annual trade shows that allow media and industry insiders to get a look at the next trends, OR highlights new gear and includes panels focused on growing outdoor businesses. Morton travels the country to meet with local running stores, see what works and what doesn't and get an inside look at local running communities.
"You have to think of those people who have never stepped foot in a store like a running store before, and they're looking for something, and that's to find community support," says Morton. "Then, if they end up becoming customers, I feel like it's really important to keep that support and stay involved with your community."
So, what does it take to create a genuine community around a local running store? Morton says you need a unique model that fuels runners' needs.
RELATED: 10 Awesome Running Shops In North America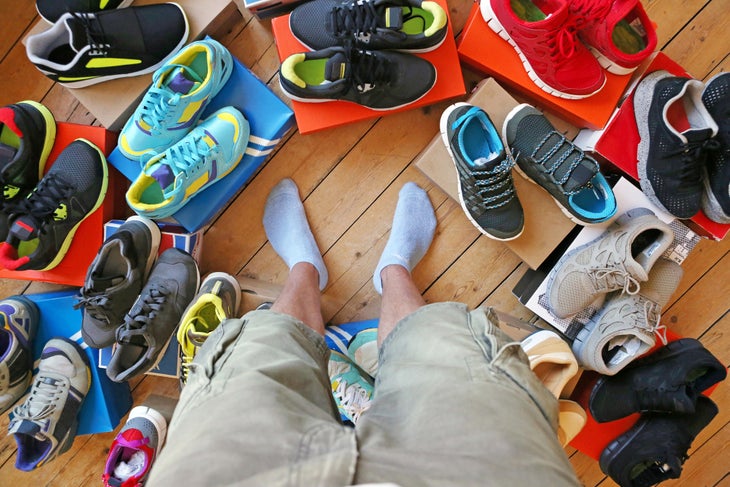 Creating a Community
A hazy IPA is a favorite post-run fuel for many runners, and Longmont, Colorado's Shoes & Brews has that dialed in. Anyone walking into the shop will first find the expected shoe-lined walls and racks of gear, but unlike many other shops, there's a full brewery in the back. Customers can look over medals and race bibs on the walls while they enjoy a brew and ponder their purchases. This double business model has been a popular one since Shoes & Brews opened in 2014.
"I think bringing the bar side into it obviously was a big portion of how we wanted to create more of a gathering space for runners and just people in our community in general," says Ashlee Anderson, a co-owner of the shop. "We believed in it, and our community just immediately grasped onto it. It's just a place for people, whether they're runners or not, to come and chat with friends and feel comfortable."
Longtime and brand-new runners alike find the companionship they're looking for with events and training days. And while the post-run socialization is front and center at Shoes & Brews, another shop across the country focuses on a different element of running – injuries. 
"It's spiritual when you help someone become more mobile, and then they go run. We know how much benefit we receive when we get to go run," says Scott Socha, the owner of Foot RX in Asheville, North Carolina. "The person that helped you get there is going to be someone that has become very close to your heart."
Foot RX has two trained podiatrists on staff to keep local runners in the Pisgah National Forest on the trail and healthy. Socha opened the shop in 2007, and it's become a focal point for many in western North Carolina to receive professional advice on what may be slowing them down while also finding the gear to help them get, and stay, injury free.
Even if stores don't build their whole identity around a unique element, Morton with Outdoor Retailer says, even simple community outreach can make a difference.
"Put on little events. Even group walks, yoga class, movie nights, anything like that," she says. "There are things that you can offer, and it's really important to reach out and build that community for your store."
RELATED: Six Ways To Set Mindful Goals
Giving Back
While building community is important for the success of local running stores, many proprietors also feel like they're offering more than just a place to buy gear and meet people who share your hobby. They serve as a jumping-off point for uncertain new athletes or anyone who doesn't know if they belong. Local runners create the space for their local shops, and the shops do the same in return. They exist to say, "welcome to running. We're glad you're here."
"It can be a scary step to step into trail running if you feel like you're a road runner. And so it's always meant just to be that resource. This is where you start," says Anderson of Shoes & Brews. "People who have met at Shoes & Brews now have their own running groups. And they're of all different ages, all different paces, but they all go out together. It's amazing. They're like, we're just going to meet here. We're going to finish, and then we're going to Shoes & Brews."
"I think one of the main things that we are able to help people with is to find their space," says Socha of Foot RX. "We all live in the same crazy world together, and to be able to be a trail runner and to get out there and find your space both mentally and physically in the world on trails is a super healthy thing. I feel like we are helping provide access to that."
Most of us have a deep connection to our hometown running store. That mutually beneficial relationship, the shared value of building a healthy and welcoming trail running ecosystem, comes from both shops supporting runners and runners supporting shops.
"For anyone nervous about being involved in an activity like running, shops and communities are able to reach out and offer themselves as a safe place to come to, which is really important," says Morton.
This delicate balance is what makes running more open to newcomers and gives everyone a chance to grow in the sport.