Laura Cortez Builds Community On And Off The Trails
Runner Laura Cortez connects community, environmental stewardship and trail running.
Heading out the door? Read this article on the new Outside+ app available now on iOS devices for members! Download the app.
When Laura Cortez started running, she couldn't even finish a mile. 
She grew up playing soccer in San Antonio, as part of a vibrant and connected Latino community. Her experience in soccer led her to be curious about running, and so she went out for her high school track team. In her debut event, she tripped and fell during the 800 (meters). 
She walked onto the team at the University of North Texas, where she became very close with her teammates from a diverse range of backgrounds and ethnicities. 
"Running is the way I make friends," says Cortez. "It's how I make connections and build relationships." 
The short distances never felt very homey to Cortez. "I was really bad at track, and every day was horrible." But she kept at it, allured by the appeal of longer distances. "I felt like the 5k wasn't long enough, and I wasn't smart enough to compete at the 10k." But she kept running and training. 
RELATED: Moun10 Ultra Wants To Diversify The Start Line
After college, Cortez moved to Portland, Oregon, where her then coach, David Roche,  who she had met on Twitter, encouraged her to try trails. 
Pivoting towards the trail gave Cortez a sense of mental ease. After college, she had joined so many run clubs and groups that felt isolating and unwelcoming, but the trails were different. 
"The trail community was so much more welcoming, I felt so much more at home," says Cortez. 
The trail community was so much more welcoming, I felt so much more at home
In her first trail race, a 30k that raced through the sunset, Cortez forgot a headlamp and was forced to use her cellphone as a flashlight. When she stumbled and fell in the dark, someone stopped to help her up. "That's why I stuck with it," says Cortez. "The people are so kind and welcoming." 
While Cortez's day job is in marketing at Jackrabbit, a large running company with online and brick-and-mortar stores, her true passion is building connections in the trail community.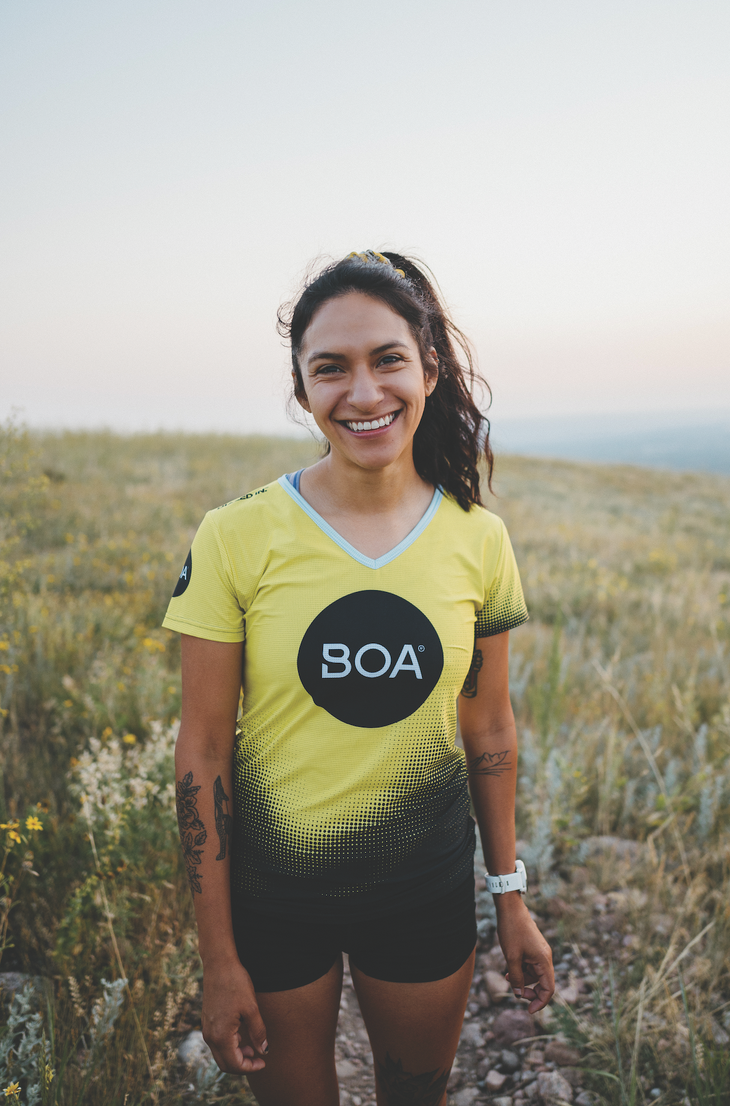 "Laura has everything it takes to be a great runner: talent, work ethic, the perfect combination of confidence and humility, and absolute love of the sport," says Sarah Pizzo, Cortez's coach since mid-2021.  But what I love most about Laura is her passion for inspiring others to get involved and succeeding in trail running."
Laura has everything it takes to be a great runner: talent, work ethic, the perfect combination of confidence and humility, and absolute love of the sport
RELATED: Verna Volker Finds Community In A Community She Built
In 2020, Cortez started Trailtinos, a running group for Latinx and Hispanic runners in the Denver area. The group hosts group runs and meet-ups to increase visibility for the Latinx community and provide a sense of community and source of support in a predominately white sport. 
That same year, Cortez and her co-camp director Meredith Merkley launched Run Wild Trail Camp. RWTC is a day camp based out of Denver that connects kids from underserved communities with environmental education through running. 
"Laura, was quick to jump fully in with me and her passion for the community, especially our city's underserved youth, fueled the progress," says Merkley. "She is constantly learning, challenging our motives, and leading with the lens of eliminating disparities for the marginalized communities in the outdoor realm. "
RELATED: A Trail Runner's Guide To Environmental Justice
RWTC reaches out to kids ages eight-11 from marginalized backgrounds with the goal of increasing participation in sports, particularly running, which is shown to help kids stay in school longer, and be more engaged while they're there. Campers are outfitted with shoes, apparel and gear to get outside and learn about local environmental issues like air and water quality in an engaging and age-appropriate way. 
"We want to get them out and active in the real world, running, having fun and asking questions," says Cortez. 
Kids participate in activities like trail work, plogging (jogging and picking up trash) and learning about trail stewardship as well as local flora and fauna. 
View this post on Instagram
A large portion of Cortez's work aims to connect the personal to the political and help kids make connections between issues of race and the environment. 
"In Globeville (one of the Denver neighborhoods that RWTC serves) the life expectancy is 12 years shorter than the national average. That's not an accident. I want these kids to understand why, and know that they have the power and ability to do something about it," says Cortez. 
Camp counselors are trained volunteers with expertise working with underserved populations and doing environmental education. Through running and other outdoor activities, kids will get to connect the dots between having fun outside, and the environmental conditions that make those activities possible. But, it's not all doom and gloom. 
"The biggest goal is for kids to have fun," says Cortez. "Kids have missed out on so much because of the pandemic, and this is their chance to socialize in a safe and fun way while learning about the environment."
"There have been a few times over the past few months where Laura's entry in her training log said 'I was too busy to run today.' When Laura says she's too busy to run it's because she prioritized her two jobs and her two passion projects (Trailtinos and Run Wild Trail Camp) over her own needs," says Cortez's coach, Pizzo.  "When I see the good work she's doing in our community, I can't bring myself to ask her to give it up." 
"Laura has dedicated countless hours of her own free time and resources for the youth that attend the camp. She shows up! Her work and her sport blend together beautifully," says Merkley. 
Her work and her sport blend together beautifully. She is a talented competitor who also loves to cultivate community through running
Cortez does save some energy for her own athletic career. A recent win at the Brazos Bend 50 miler and contract with Boa Technology show that she can show up in competition as much as for her community. 
"Laura continues to draw the connections she makes into keeping the running community aware and attentive to the marginalized communities," says Merkley. "She is a talented competitor who also loves to cultivate community through running."