Kaytlyn Gerbin and Jenny Abegg on the North Cascades High Route
A perfect partnership and years of mountain travel made an improbable traverse possible
---
Join Trail Runner Magazine
Create a personalized feed and bookmark your favorites.
Join Trail Runner Magazine
Create a personalized feed and bookmark your favorites.
Join for free
Heading out the door? Read this article on the new Outside+ app available now on iOS devices for members! Download the app.
Editor's Note: Repeating or attempting a route like the one described in this article and in the style the athletes completed it requires technical mastery of fifth class terrain, glacier travel, self arresting, off-trail navigation, in addition to being able to run fast and far. *
Kaytlyn Gerbin picked her way across a loose talus field, willing each boulder to stay put when she looked up to see her partner Jenny Abegg far ahead nimbly bounding across the same rocks. 
Gerbin scooted to a nearby patch of pink heather, caught up and asked Abegg, "How do you move so fast on boulder fields?"
"You just have to pick out your line and believe that every rock that you step on is going to hold you, and trust it," Abegg told her. "Even if it doesn't, your body will respond." 
Gerbin and Abegg were in the midst of a route they first established in July 2022: The North Cascades High Route. Far from any road, they had full faith in one another, were committed to the terrain and had to be completely focused to avoid injury. Even though it was only the fourth time they had met in person, their camaraderie bloomed and their mountain know-how permitted their journey through the length of North Cascades National Park. 
Over seven days, from July 16 to July 23, they covered 124 miles and almost 60,000 feet of elevation through some of the most aesthetic, remote and arduous mountains and glaciers of Washington. The original land stewards of these areas include Sauk Suiattle, Okanagan, Methow, Confederated Tribes of the Colville Reservation, and more, though the first records of people crossing the complex peaks are from the 1930s.
The route they created links together four previously-established traverses in the North Cascades — the Redoubt-Whatcom High Route across the Chillowacks, the North and South Pickets, the Isolation Traverse, and the Ptarmigan Traverse — each of which take most people a week to complete. Much of the terrain crosses glaciers and granite peaks usually accessed for mountaineering and ski objectives. Along the way are crystalline alpine lakes, fields of wildflowers, loose boulders, scree, and exposed rock steps. Only about 20 miles of the route follows maintained trails, and the first and last days include extreme bushwhacking.
Just looking at a map of what they accomplished is a seemingly endless and overwhelming undertaking. The fact that they connected a line through the off-trail terrain from Ross Lake near the Canadian border to Stehekin, Washington, and completed it in such a short time span on foot is baffling. Their connection to one another and the region is part of what made it possible.
Gerbin first started dreaming up the North Cascades High Route a few years ago, while trying to find a passage similar to what can be found in the Sierras of California or the Winds in Wyoming, and consolidated the idea in the midst of the Covid-19 pandemic of 2020. She wanted to find adventure goals close to her home in Issaquah, Washington and read Don and Natala Goodman's 1990 trip report from a similar 28-day quest where they bagged 19 peaks along the way. Over the past two years she's collected maps, scribbled lines for potential connections between established traverses, assembled a support crew, and dialed time-plans and logistics. Then she whittled down gear to make the trip possible in a light and fast style. The missing link? The perfect partner.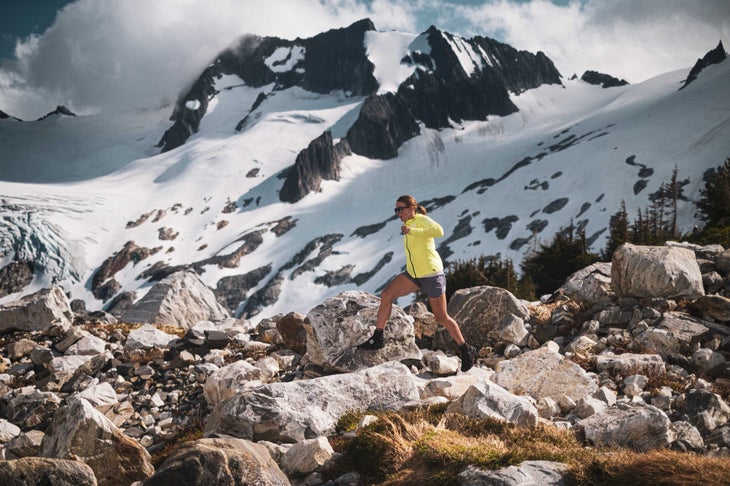 THE DYNAMIC DUO
Gerbin, 33, has an impressive list of races under her belt including running Western States three times, placing second in 2018. She and Alex Borsuk became the first female team to complete the Rainier Infinity Loop (130 miles and summiting Mount Rainier twice) in 2019 and she set the supported female FKT (Fastest Known Time) on the Wonderland Trail, which circumnavigates Mount Rainier, in 2020. Gerbin also represented the United States in the IAU Trail World Championships in 2018 and came in first at the Transgrancanaria 126K off the northwest coast of Africa in 2020. She holds multiple wins and records in more mountainous and rugged races across the West, such as the Bear 100 miler in Utah and Cascade Crest 100-miler in Washington. 
Originally from Wisconsin, Gerbin's entry to trail-running came not from running fast and taking it to the mountains, but from exploring the mountains and wanting to move through them more efficiently. She started splitboarding, rock climbing and mountaineering in the Cascades while getting her PhD in bioengineering at University of Washington. Eventually she wanted to fit long backpacking routes or mountaineering trips into a weekend, so she ran instead of hiking.
Since 2017, she's worked in stem cell biology for Seattle's Allen Institute and has been sponsored by The North Face since 2020. In 2022 she took a hiatus from her 9-to-5 to lean into being a full-time professional athlete. She said there would have been no way for her to make this trip happen while also working as a scientist. The trip planning and logistics were a full-time job on their own. 
Abegg, 37, who is an editor at Switchback Travel, is also a veteran alpine scamperer. Her parents took her and her sister on a two-week backpacking trip in the Wind River Range in Wyoming when Abegg was 9 years old. At age 11, they explored part of the Ptarmigan Traverse as a family. She also discovered mountaineering in college and guided wilderness therapy. In her late 20s rock climbing took her life by storm, and she's always enjoyed doing things fast. In 2015 she linked up three 5.10 rock climbing routes in the Stuart range near Leavenworth, Washington, finishing 18 pitches and 18 miles in 18 hours. Since 2019 she's racked up twelve FKTs, many on terrain that requires off-trail navigation and technical rock scrambles. She did her first trail race, the Broken Arrow 52K, this spring. 
RELATED: The Broken Arrow Skyraces Return to Olympic Valley
"My friends who climb think I'm a runner, and my friends who run think I'm a climber," Abegg says. "But I think what I'm best at is being in the mountains, being a little goat."
Abegg declared 2022 her year of running and started with a high note by completing an unsupported FKT circumnavigating the Fitz Roy massif in Patagonia in February. Her record beat a similar, supported effort on the same route, La Vuelta al Hielo, by Gerbin and her partner Fernanda Maciel earlier that month. Gerbin and Abegg independently planned and decided to do the route, an example of how aligned their goals already were. 
Though they had been trying to meet in person for months, they kept missing one another. In an ironic twist, Abegg told Gerbin over texts that she couldn't connect because she was going to be in Patagonia, but Gerbin told her she was traveling there too. Abegg asked Gerbin to do the route with her only to discover Gerbin was already gearing up for the same journey, just a couple weeks prior. They missed each other again. 
Despite Abegg improving on her time, Gerbin was genuinely excited; she had even generously given Abegg all the beta she needed to be successful. That's ultimately why Gerbin asked Abegg to join her for the North Cascades High Route mission—she knew Abegg wouldn't hold her back and had the grit and technical prowess to navigate exposed obstacles. But they still had never met in person. 
Gerbin had been keeping the High Route a guarded secret. "This is the kind of route that is so intimidating that you don't even want to admit that you're thinking about doing it," Gerbin says. Mutual friends also suggested that Abegg would be an ideal partner, so she finally called Abegg up in March and let her plans loose. 
Abegg said yes immediately. She had been contemplating running from Abbotsford, Canada, where she grew up, to Marblemount, Washington where she spent the summer of 2021, and Gerbin's vision followed a similar track. Yet again, they were thinking alike. 
Soon after, they met for a three-sport day of biking, skiing and climbing to test their compatibility. Along the way they laughed a lot, uniting over their shared love of Wordle and binging The Bachelorette. "It's really hard to make new friends as an adult, and it's really hard to find mountain partners that you click with," Gerbin says. "There was something so natural with Jenny. Within minutes of talking I felt myself thinking, 'I feel like we've been friends for a long time.'" Chemistry really matters, especially when undertaking a huge adventure like the High Route. 
CHALLENGE
Despite being such an ideal team, their trip didn't happen without hiccups. A week out from the trip's start date, Abegg was recovering from covid. She hadn't run for a month and had been almost immobile for two weeks. She confessed, "I give this a five percent chance of happening," and resigned herself to the idea that it might turn into a multi-year project. Fortunately, Abegg's unplanned taper worked out; her body recovered.
On Saturday, July 16, Gerbin and Abegg rode a boat ferry across Ross lake (to avoid illegally crossing the Canadian border) to begin with all the gear they needed for the first four days in 27 liter packs. Starting up Silver Creek, they looked at their watches, wondering which setting to choose. Hiking? Running? They weren't exactly doing either. It wasn't even possible to run most of the ground they planned to cover. 
Eventually they settled on "run," since it gave them the most desirable settings to view their pace and elevation, and best aligned with their mindset—moving as quickly as possible across technical terrain. A few days into their adventure, Gerbin joked they were "ultraneering." The blend of mountaineering and ultra running just might be the best descriptor. 
Running is often defined as the fastest way to move between point A and point B. But rock steps and steep snow hindered their progress, so other modalities — rock climbing, high daggering and boot skiing — became the speediest mode of travel. The mountain running style Gerbin and Abegg employed is fast becoming a popular sport, with FKTs on Cascade volcanoes and rock scrambling traverses popping up from the likes of Alex King, who currently holds all the Washington volcano FKTs; Tara Fraga, who is ticking off records on the same mountains; and Steven Gnam, who joined the High Route trip as a filmmaker. 
When Gerbin and Abegg passed a man gearing up running shorts and shoes, helmets, aluminum crampons or microspikes, and a lightweight ice axe near the Eldorado Peak trailhead in the midst of their mission, Abegg thought, "Wow! This is a discipline, this is a sport. We don't really know what it is, and I don't think we should call it running, but it's great." 
Despite more people exploring the mountains in a light and fast style, Gerbin and Abegg may be the only duo that could have made the North Cascades High Route line a reality in just under seven days. Following lines across the mountains in this style takes more than just being a runner. Their complementary skills in rock climbing, glacier travel, and navigation developed during decades of experience in the mountains of Washington were essential.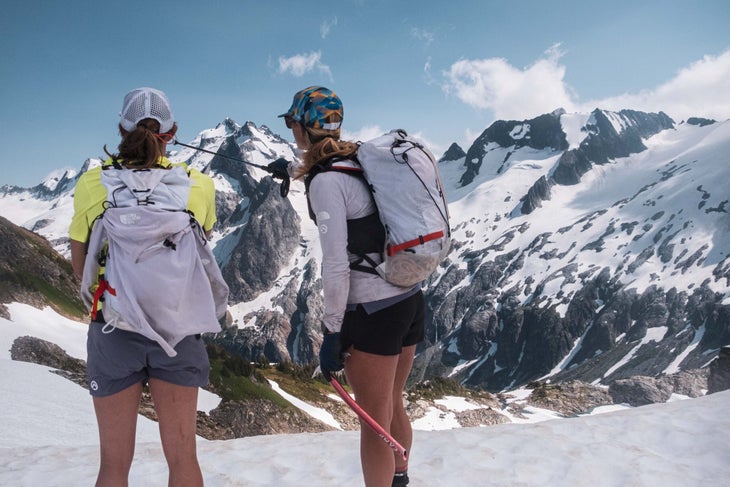 The two traveled through the Chillowacks and the Pickets, the most exposed and challenging terrain of the trip, on their own. As they picked their way around rugged peaks, grabbed branches to pull themselves through steep forests, and backtracked down tongues of snow, they found rhythm on the terrain, their senses always on the alert. Any wrong step, and even a minor injury, could be devastating so far from a road. 
Shrouded in a whiteout for the first two days, they resorted to following pre-mapped routes on a GPS. But while they were still wrapped in clouds, their charging cord failed, and they had to cross Whatcom Peak sans maps. The snow levels had dropped almost 30 feet since Gerbin had scouted the area a couple weeks prior so wrapping around the mountain would have been more treacherous. Together they decided to clamber up the steep snowy ridge to the top of the mountain, which was an easier way to navigate without visibility, but it ended up taking longer and being more intimidating than expected. 
"Knowing that we were going into the most rugged, the most remote, the scariest section of the whole thing by ourselves, was exactly what we wanted," Gerbin says. "I felt like the most growth for myself, and for our partnership happened in that section."
PARTNERSHIP
Gerbin shines in the planning phase. Her multi-layered spreadsheet for the trip included strict time plans for every day and thorough gear lists for individual legs. She packed all their equipment and coordinated a team of two photographers and three other support team members. Every resupply stop had labeled food, and clear designations for who would be responsible for shuttling and permits. 
"It shows how realistic Kaytlyn is in her planning, thinking about every single alternative or option," Abegg says. "She's a scientist down to her core."
RELATED: Meet Kaytlyn Gerbin, Pro Runner and Pro Scientist
Though Gerbin's thorough planning was new to Abegg, who wondered if they really needed all those systems, she recognized that Gerbin's level of organization was part of why they were able to do what they did. And the trip panned out according to Gerbin's plan. They met almost all her time goals, and even beat some of them. Abegg probed her for advice on fueling and nutrition during big endurance efforts and Gerbin showed her how to be efficient at resupplies.
At one point, Abegg was feeling trepidation about descending a steep snow field and queried Gerbin, who has climbed a lot of volcanos and feels more at home in crampons on glaciers, "How do you move down the snow so fast?"
Gerbin responded the same way Abegg had coached her on boulders: "You just have to trust your crampons and the snow, and go."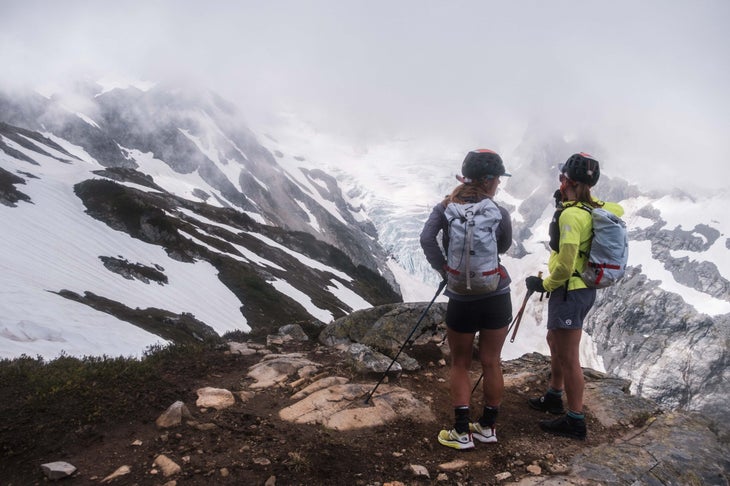 While Gerbin is dialed and methodical, Abegg's innate mountain sense guides her movement. At the start of the trip Abegg belayed Gerbin on class five rock, but by the middle of the journey Gerbin felt capable climbing without a rope. 
Abegg's time in the mountains has taught her how to find paths of least resistance in the alpine and below treeline. While they bushwhacked up to Silver Lake at the start of the route, she was a master at identifying "signs of life"—game trails that allowed them to squeeze through caterpillar-infested clumps of alders and other thick vegetation. She could spy micro features that could help them move through exposed sections with more ease.
"[Jenny] has so much experience and doesn't need to tell you about it," Gerbin says. "It just shows in the way that she moves through terrain."
Their biggest hurdle of the trip came when they couldn't decide whether to keep bumbling through darkness to their aid station at the end of the first leg or stop and shiver in wet clothes through the night. They had only covered sixteen miles in nineteen hours, partly because their crampons broke and they lost time fixing them. Abegg wanted to stop — moving in the light would be easier — and Gerbin wanted to continue — they'd get better rest sleeping in a van. Being outside for weeks on end is natural for Abegg, who spent years as a "dirtbag" living out of her van and tents. For Gerbin, the trip was the longest stint she'd ever slept continuously outdoors. They eventually decided to lay down, their muscles convulsing from the effort expended the previous days. 
As they continued, Abegg naturally flowed to the front to lead rock portions, then Gerbin did the same to cross glaciers. Most importantly, they communicated. Neither had reservations expressing when they were uncomfortable and they focused on the journey, not their time goals. 
RELIEF
Eventually the sun burned off the clouds and they gazed out across the Southern Pickets from their camp near Luna Peak. They leaned into the silence surrounding them, their breath, their steps the only movement besides the light's shifting shadows. Still, they moved together seamlessly, two tiny dots shifting over the vast landscape. 
By the time they met their support team at Diablo Lake at the start of the Isolation Traverse, Gerbin and Abegg's skillsets morphed; it was as if they were a unit. They got to eat pizza and pastries, and swim in a cold lake. They remember the last three days of the trip like a victory lap—they had good weather, good company, and they were in terrain they were familiar with. They relaxed.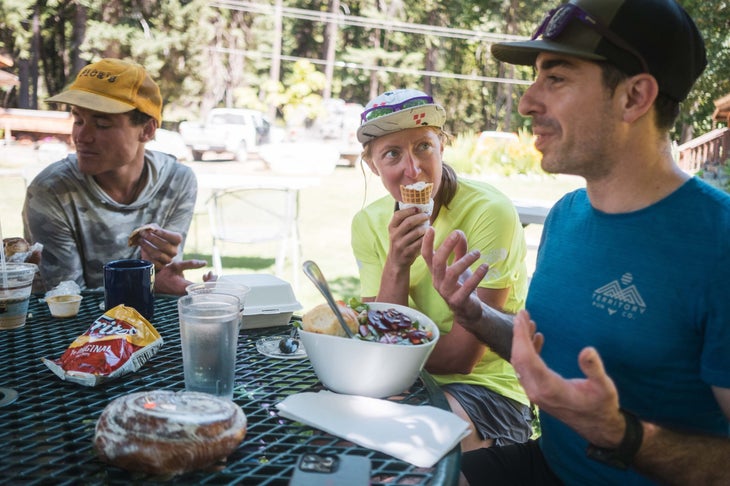 The team's pace increased as they crossed the Isolation Traverse, which they had scouted on skis earlier that year; their crew members followed in their footsteps. Even their athletic filmer said it was hard to keep up, especially when power hiking. "I don't really know anybody, men as well, who can move in the style that they were moving, and move so efficiently," Gnam says.
Now they laughed with the others they were sharing the journey with. They were still crossing glaciers and rocky sections, but the unknowns of the route had disappeared. They knew one another's strengths and held on to the sacred bond they had created moving through so many obstacles on the first half of the trip. 
With their friends alongside, they crossed the rest of the ten named glaciers in a constant rhythm. They made up stories about ancient aliens shaping the terrain, giggled about the challenges they had encountered, and made a point to call out whenever they were actually running. They still moved almost constantly from sunup to sundown.
"You almost had to remind yourself these girls were moving for a week nonstop, and still so lighthearted and hilarious," Gnam says. 
They looped around Dorado Needle and Eldorado Peak, then followed the North Fork of the Cascade River via a road to get onto the Ptarmigan Traverse. After squeezing over the pass between Mount Formidable and Spider Mountain, they kept cruising south over ridgelines in the Glacier Peak Wilderness. When they reached Dome Peak, they altered from the standard Ptarmigan Traverse route and jogged left following the Agnes Creek drainage. There they completed their mountain tour with another ferry ride across Lake Chelan, ending in Stehekin. 
The intensity of the experience required them to be able to express their discomfort at any point on the journey. With honest communication, they moved as efficiently as possible and had confidence in one another's skills. Both women have such impressive resumes that they said they were intimidated by one another at first, yet each of them are so humble about their accomplishments that they became perfect adventure partners. When they tell stories about the trip, neither talk about their own strengths, but instead shower compliments on the other, their mutual respect evident. 
On the last day, as they were loping down a portion of the Pacific Crest Trail, Gerbin told Abegg, "There was never a point out there where I didn't trust you."