Kaci Lickteig Ready To Run Western States After Having Her Hamstring Reattached
The seven-time Western States 100 finisher and 2016 champion is approaching this year's Big Dance with an open mindset after a major injury.
Photo: Photo Courtesy of Hoka
Heading out the door? Read this article on the new Outside+ app available now on iOS devices for members! Download the app.
Kaci Lickteig says making it back to the starting line of the Western States 100 this year feels like a victory in itself.
The 35-year-old Hoka-sponsored runner from Omaha, Nebraska, knows that feeling of excitement will have to suffice once the race gets underway tomorrow, June 25, because, although she's happy to have recovered from a late-December surgery to reattach her right hamstring to her pelvis, there's no way she'll be competing for the win this time around. 
The seven-time Western States finisher and 2016 champion has only been running since late March, but she's logged minimal mileage since then and admits she lacks the fitness that has brought her so much success in ultra-distance races over the past 10 years. 
"I am literally going from the couch to 100 miles," she said with a laugh from the base of Palisades at Tahoe ski resort in Olympic Valley, California, two days before the start of the 49th annual race. "I've had the shortest build-up to this race and I'm so undertrained, but I'm here."
RELATED: How Kaci Lickteig Won Western States
The tenacious Lickteig has been a fixture in the U.S. ultrarunning scene since 2012, having won dozens of races and racked up five top-10 finishes at Western States. She's also placed 10th at the Ultra-Trail du Mont-Blanc, 6th at the Transgrancanaria 128K, and 2nd at the JFK 50.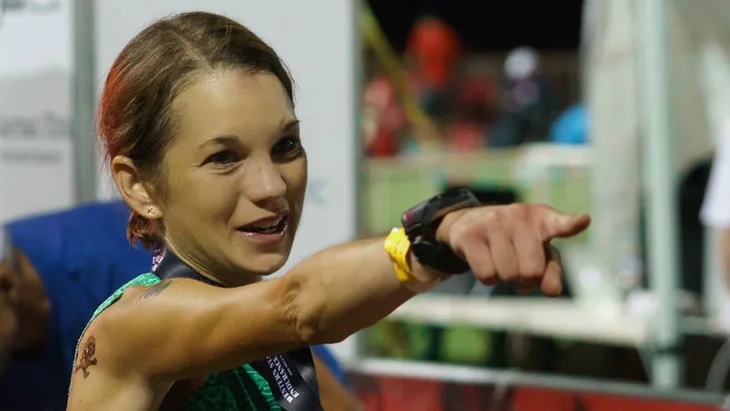 But starting in the fall of 2020, she had been bothered by an irritated upper hamstring that gave her jolts of sharp pain and a feeling of instability in her stride. She continued to run through it over the ensuing year with moderate success — including a 10th place finish at Western States last June and a runner-up showing in Colorado's High Lonesome 100-miler a month later — but it never improved.
"I've had the shortest build-up to this race and I'm so undertrained, but I'm here."
And then it got much worse. At the 26-mile mark of the Rio Del Lago 100 last November in Granite Bay, California, she stubbed her toe on a small tree stump and felt an excruciating snapping sensation at the top of her right leg. Even though her stride was reduced to a hobble, she kept running until she felt another painful snap near the 75-mile mark. She refused to drop out of the race, but instead walked the final 25 miles and wound up as the fifth-place women's finisher. 
When she got home and did an MRI, doctors told her that her hamstring was 50 percent torn off the ischial tuberosity bone at the bottom of her pelvis. She had surgery on December 22 to repair it, but she couldn't do any activity for nearly a month during the initial healing process — except amble around on crutches. Finally, in late January, she was able to start swimming every day, but only while using her arms for propulsion.
"​​It was really challenging," she said. "I have never swam before, so I had to learn how. I was literally dog paddling with my arms only and going so slow."
Nonetheless, she kept at it and eventually got cleared to walk without crutches and easy biking and eventually she was allowed to do some light running on flat, smooth surfaces in late March. She worked her way up to running for 90 minutes, but then she says she made a classic blunder and had a setback when she agreed to pace a friend in the May 1 Lincoln Marathon.
"I did a stupid thing and didn't listen to my coach," she said. "I told my friend I would just pace her for the first half and then I'd quit. Well, you know ultrarunners and that mindset; you get in the moment and you finish the race. So I literally went from running an hour and half to a four-hour run. That destroyed me for two weeks. It really took me out."
She felt fine during the run but experienced severe pain and swelling in her leg in the days that followed. She recovered with time on her bike and was eventually able to up her running a bit. But she says she's logged only one big training week of about 80 miles and one 5-hour long run during the Western States training camp in late May.
She couldn't hold back tears when she returned to the Western States trail during the training camp. It has been a long, humbling route back, one full of emotional duress, physical strain, and occasional moments of self-doubt.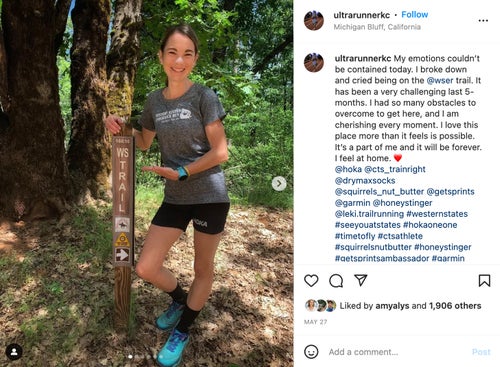 As such, her only goal for this year's Western States is reaching the finish line on the track at Placer High School in Auburn in under 30 hours. That would keep her on track for her goal of eventually earning a 1,000-mile buckle for 10 race finishes. She knows she'll have to be patient and rely on experience, knowledge of the course, consistent fueling and her relentless determination. 
"It's the least amount of training I've ever done, but I just need to finish this one," she said. "I will make sure I go slow and steady. I know I'm going to suffer, but I'm not going to suffer badly unless I let myself because that's all a mindset. I really didn't think I was going to be here in December, so I'm really just happy to be back and have this opportunity."