Jacob Puzey Reflects on the Pandemic, His Brother's Cancer Journey, and Mental Health Awareness
Two years in a pandemic has increased stress for most of us. For Jacob Puzey, the experience catalyzed a new focus on mental health.
Heading out the door? Read this article on the new Outside+ app available now on iOS devices for members! Download the app.
*May is Mental Health Awareness month. At Trail Runner, we want to normalize and destigmatize mental health care and promote compassion in the trail community. If you are interested in learning more or seeking help, you can connect with Bigger Than The Trail on their website. If you or someone you know needs immediate assistance, call the National Suicide Prevention Lifeline at 800-273-8255.*
The world changed for most of us in the early spring of 2020, and Jacob Puzey's life changed along with everyone else's as COVID spread and uncertainty mounted. But then in July 2020, just a few months into the pandemic, another unforeseeable tragedy struck the Puzey family: Jacob's brother, Tommy Rivers Puzey – "Tommy Rivs," arguably the most recognizable face and social media presence in trail running – was diagnosed with the aggressive and rare cancer NK T Cell lymphoma. 
Like his brother, Jacob is also a decorated athlete, with wins at Arizona's Coldwater Rumble, Calgary Marathon 50K (three times), and Mount Hood 50 Mile, among other prestigious ultras. In 2016, he shattered the world record for 50 miles run on a treadmill, clocking 4:57:45, under 6-minute mile pace. He's also a coach and race director based in Canada, putting on trail races in several provinces through his company, 5 Peaks Adventures.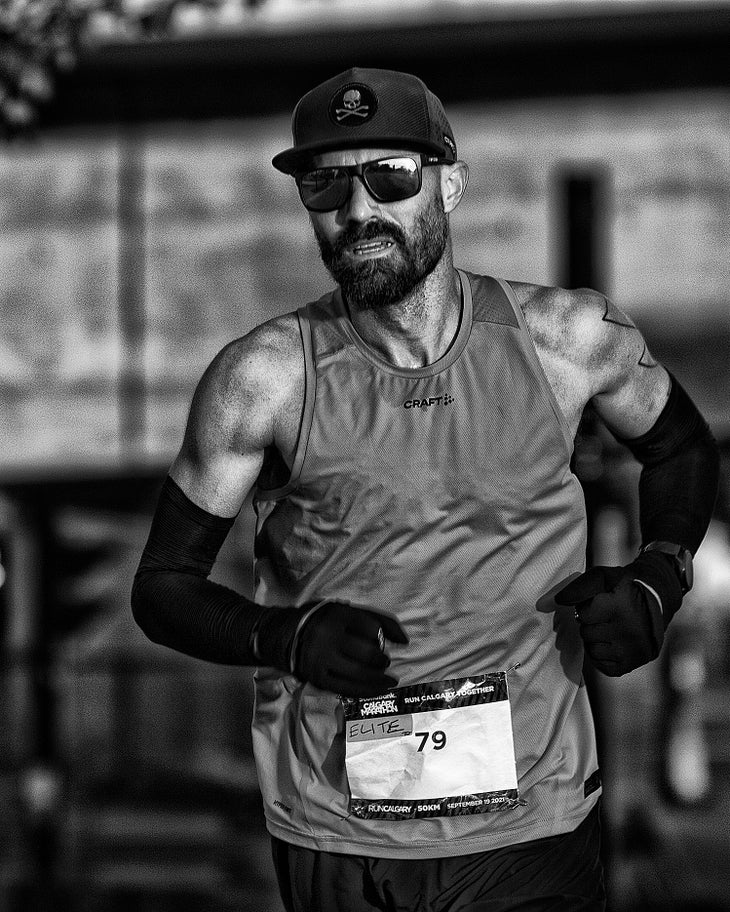 Since the onset of the pandemic, 84% of psychologists who treat anxiety disorders have reported an increase in demand for their services, with more than 40% saying they are unable to keep up with the increased demand for treatment, according to a recent survey by the American Psychological Association. 
For many, the stressors of life began to feel stacked on top of one another, with countless new ones added to the pile, and it became increasingly difficult to cope.
When the U.S. border with Canada first closed, Puzey had to rush back home from a visit to family in Arizona. Not long after he returned to Canada and the border had shut down, his son had a serious climbing accident in Arizona that resulted in multiple compound fractures and an extended stay in the ICU, with Puzey unable to get to him. As it often feels with the various stressors of life, when it rained, it poured.
"It's hard to say that anyone has gone through life not needing some help," says Jacob. "But at least prior to that point, I hadn't really felt the need to reach out. And then, I was drowning…it was all consuming."
The experience led the elder Puzey brother to face something many others have during the pandemic: the need to find resources to protect his mental health. As he's continued on that journey, he's become an advocate and partner for Bigger Than The Trail, an organization that connects members of the trail community with free mental health services.
"It wasn't like a part of me was dying. It was scarier than that."
Tommy's health quickly deteriorated after the cancer diagnosis. He was put on a ventilator and ultimately an ECMO machine before being placed in a medically induced coma. 
RELATED: How Tommy Rivs Defied Death To Inspire The Trail Running World
Most up-to-date information shared publicly came from Tommy's wife, Stephanie Catudal, or Jacob, who lives in British Columbia, Canada. All of a sudden, the vast number of people who Tommy had inspired were reaching out to his brother for news and to offer well wishes.
"I think the first couple of months, I was receiving literally thousands of messages a day, the last thing I would possibly have envisioned for myself," Jacob remembers. 
On top of providing what news he could of his brother, Jacob was also helping adapt his children to at-home learning when they couldn't go to school, and working to maintain his coaching and race directing business. As in the U.S., races and events in Canada had been canceled or turned virtual, with regulations and limitations varying between provinces. Each time he was able to visit his family in the U.S., he had to quarantine for two weeks.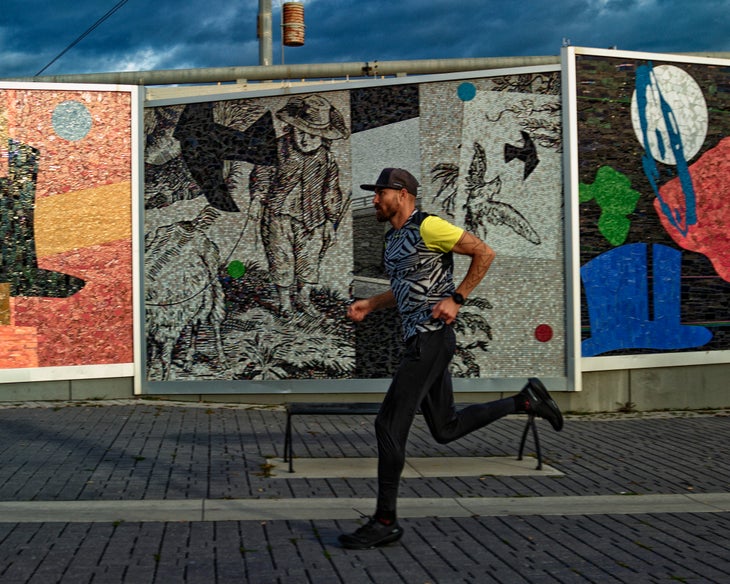 "It was probably six months where I don't remember sleeping. It was just like I couldn't shut my brain off," he remembers. "I wasn't in a good place physically or mentally or emotionally, and I needed to show up for everyone else and for myself."
Jacob found he had little space or attention to dedicate to the deeper emotions he was feeling; the grief, the fear, and the pressure took a backseat to the obligations he felt pressing in from all sides. And the person he usually turned to when he needed to talk was lying unconscious in a hospital, 1,500 miles away.
"It was really bleak," Jacob remembers. "As strong of a person as [Tommy] is, there were a lot of nights where it was kind of like, 'I don't know how he's supposed to make it through this.'
"My brother and I were inseparable for the first 16 years of his life, and 18 years of my life. We did everything we could to try and be together. It wasn't like a part of me was dying. It was scarier than that."
The Messiness of Humanity
During Tommy's illness, Bigger Than The Trail hosted a fundraising event to help support him and his family, which is how Jacob became involved with the organization. The more he acted as a conduit between his brother and the community Tommy Rivs had cultivated, the more Jacob saw the genuine impact Tommy had – and continues to have – on the lives of real people.
"It was insightful and inspiring to realize how many people he had actually personally touched," says Jacob. "People who feel a personal connection to it."
And while the size and deep care of the community was touching and encouraging, it was also draining on Jacob's emotional and mental bandwidth. He felt something many people do when they're struggling: he didn't want to burden those around him. After acting as a support and point of contact for so many people, he needed one for himself. 
"I tried to be present with my family here [in Canada], but my heart and my thoughts and prayers were with my family in the U.S. And so I just needed someone to talk through that without being a burden to my partner or even to friends," Jacob says. "I think having a counselor makes it so that we don't have to do that to anyone in our lives. It really has been helpful to not have to talk through it all with the people that I know will feel emotionally connected to whatever the weight is that I'm dumping."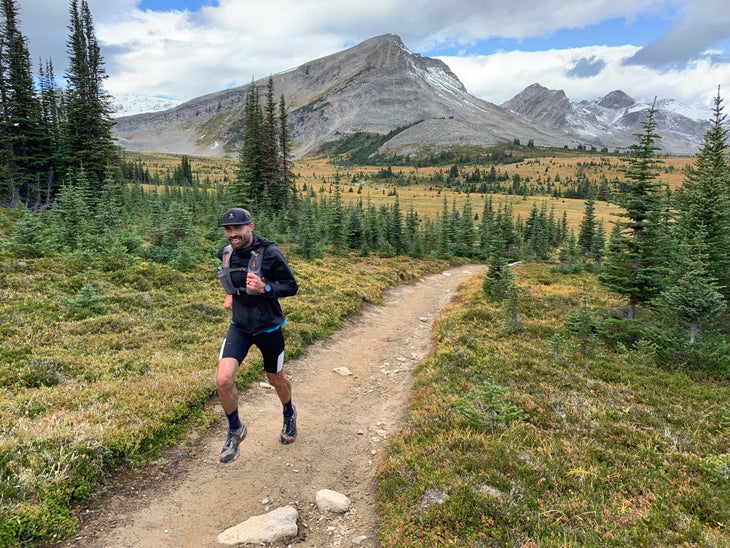 Jacob now talks with a counselor at least once a week, something he'd never done more than once or twice in his life before the pandemic arrived. Though things in both Canada and the U.S. are opening up again, and Tommy has recovered enough to return home to his family and run both the New York and Boston marathons, Jacob doesn't see that practice changing anytime soon. 
"I think counseling is a godsend for me. I would highly recommend it to anyone," he says. "Any human who interacts with other humans would benefit by having someone who has been trained to help sift through the messiness of humanity and help make sense of it and add some clarity and perspective."
By connecting with Bigger Than The Trail and through sharing his own experience, Puzey hopes that the stigma around mental health care, which can be especially pronounced in athletic spaces, can be eliminated and replaced with compassion. It's impossible to know all of what someone else is dealing with and experiencing, he says, but life has challenges for all of us, and that fact can bring us together if we let it.
"There doesn't need to be anything negative about saying that life's hard and we all need as much help and support as we can possibly get," he says. "That's a human right there. They're experiencing life, and it might be a different experience than my experience, but what they need is love. What we all need is love and support, not condemnation or judgment."
How Jacob Puzey Prioritizes Mental Health
Seek help:

"It's been helpful to be willing to accept that it's OK to admit that you don't know everything and that you don't have all the answers, so you need help. And that's not a flaw. If anything, I would say it's a strength. It's a sign of experience and wisdom, to acknowledge that I actually don't need to continue to fake it."

Read and Write:

Puzey says he used to almost exclusively read nonfiction, but that expanding into reading other genres has allowed him to find some relief from the pressures and uncertainties of life, and that writing allows him to organize his thoughts, identify what's bothering him most, and isolate the topics that may need to be addressed with a counselor.

Limit news:

"I just had to shut it off," he says. "It's just been so much, especially when it's on repeat throughout the day. I feel like in a lot of ways I've simplified my life, by trying to just focus on what's right before my eyes." 

Get outside:

With so many demands on his time, Puzey says there were many times when the entire day would slip by without an opportunity to run. He's scaled back on setting racing goals, but has started making sure that getting outdoors and getting his body moving are an intentional part of his day where he can prioritize his own well being.

Schedule connection:

"I would say that one of the unexpected miracles of this really challenging time is that my family lives all over the world and religiously, every Sunday, we have a FaceTime call," he says. It has allowed their family to stay close during the pandemic despite international boundaries and travel difficulties while protecting elderly family members who are at higher risk for COVID.
Reagan Colyer is Trail Runner's assistant editor and gear editor. She lives in the Northern Rockies of Montana, fuels her runs with scones, and prefers to race in cold, rainy conditions.