For Meghan Hicks, The Hardrock 100 Is A Trail Family Reunion
For Meghan Hicks, running her third Hardrock 100-miler isn't just about returning to competition for the first time in a year and a half — it's about reuniting with the trail running community.
Heading out the door? Read this article on the new Outside+ app available now on iOS devices for members! Download the app.
Hicks, 43, who is based partially in Moab, Utah, and Silverton, Colorado, where this weekend's race takes place, first ventured into the trail and ultra scene more than a decade ago. She has completed about 80 trail and ultra races ever since, including a win at the 2013 Marathon des Sables, which is a week-long stage race in Morocco at the edge of the Sahara Desert. She grew up running and playing other sports in high school and college and focused on road running after graduating, since it seemed to be the easiest and most accessible approach. Later, while living and working at Big Bend National Park in West Texas, she fell into a habit of backpacking or camping, doing long hikes with friends during the day, followed by a road run in the evening or the next day. It was only when a trail runner moved into the park and invited Hicks on a run that she was introduced to this corner of the sport.
"This was a moment of flow that allowed me to see that this sport is awesome and could combine all my hobbies," she says. "My running has always been very adventure-based since then, and I derive a lot of joy out of looking at a map and picking a route or planning something fun with a group of girlfriends."
RELATED: The Hardrock 100 Is Back After A Two Year Hiatus
Hicks last lined up to race the 38-mile footrace division at the Fat Pursuit in Idaho, which is a combination bike, foot and ski race, in January 2020, before the world shut down amid the COVID-19 pandemic. From there, like many runners, Hicks had to get creative to keep herself challenged while maintaining her fitness while most live races were ending up canceled.
"The last year was a very tenuous time where I didn't know where the world was going personally or professionally," she says. "For me, those adventures and getting out every day to run was a great way to find calm and find a period of normalcy. I didn't really mind not racing as much as the isolation and not seeing the greater community. That was probably the hardest part of the pandemic for me."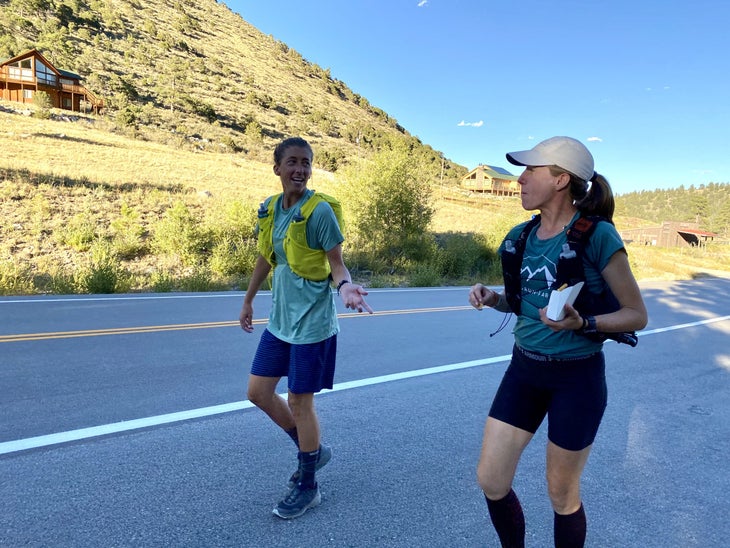 Women Supporting Women
One such challenge was reclaiming her Fastest Known Time for the Nolan's 14 from Sabrina Stanley last September, which entails completing 14 14,000-foot summits in Colorado's Sawatch Range in under 60 hours. Hicks, who noted that her running tends to be very adventure-based, first completed it in 2016, when she set the supported women's record. She immediately wanted to see if she could do a faster and cleaner attempt and tried it again for several years. Hicks' new FKT was once again reclaimed by Stanley (who is also running Hardrock this weekend), a month later.
"Even though the trails go far beyond our region, there's just unending adventures to have around home, so the pandemic made [Nolan's 14] an easy sell as a thing to do for the year, because the Sawatch Range is not that far away," Hicks says. "I'm also motivated by working together with women to bring that time down. Progressing the story of women in the mountains is what really lights my fire."
Progressing the story of women in the mountains is what really lights my fire
When live racing started to make a comeback this year, Hicks laced up for her biggest effort leading up to Hardrock, which was the Scout Mountain 50-miler in Pocatello, Idaho in June, which she approached as a training run.
RELATED: Courtney Dauwalter's Problem-Solving Approach To Ultra Running
"[Scout Mountain] went well, although it was hot, with record temperatures in Pocatello that weekend," Hicks says. "It was a really good test of going slowly, managing [myself and avoiding overheating] and playing with all the variables."
Hicks also had to get creative in fitting her Hardrock training in around long workdays (she currently serves as the managing editor for iRunFar, which her husband, Bryon Powell, created in 2009), sometimes starting her long runs at 5 p.m. and finishing at 9 or 10 p.m. after 10- to 11-hour workdays, in addition to getting a treadmill to do some training at home during early mornings. 
"I don't exactly know how it's going to turn out performance-wise, but given everything that's happened in life and work and running this spring, I'm really proud of the training I put in and I'm excited to see where that takes me around the 100 miles on Friday and Saturday," Hicks says.
Nighttime at Hardrock is one of the most incredible experiences I think you can have as a trail runner, because there is no light pollution out here and the stars are so bright," she adds. "To me, that's kind of an unreal thing that humans so rarely get to experience, be by yourself in nature with no signs of humanity, just you and raw nature."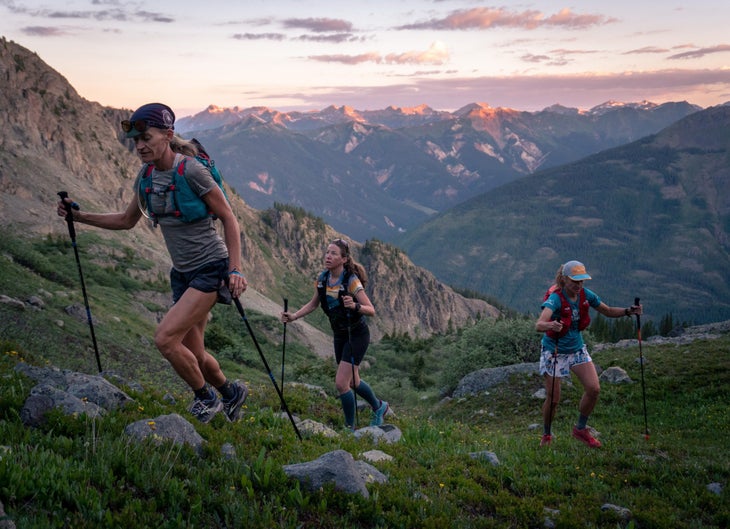 What's Next?
Looking forward, Hicks is currently slated to run The Last Secret in Bhutan in September, for which she was selected as one of 25 participants. The race entails running approximately 200 kilometers over six stages, through very high altitude and remote terrain in the Himalayan Mountains. 
Off the trails, Hicks is also committed to helping the sport maintain a sustainable place socially and environmentally, specifically through her work with iRunFar. 
SEE IRUNFAR'S LIVE HARDROCK COVERAGE
"There is a lot of movement among our community to see how we can grow while taking care of our people and our places," she says. "I'm really compelled to try to watch those people and document those stories and help share that part of our growth story."
Hicks also continues to be committed to helping to boost diversity and inclusivity within the sport, and specifically the representation of Black American runners on iRunFar after pledging to do so last year, at the height of the Black Lives Matter movement and social justice efforts taking place in the wake of George Floyd's murder.
"In making sure that we're open and inviting in a lot of different ways to whoever wants to be a part of trail running and ultra running is the challenge of our days in terms of being a socially sustainable community," she says. "If we were to look 10 years in the future and ask who wants to be a trail or ultra runner, whatever we can do to remove the barriers that have prevented people from trying is what all of us should be acting on. I think the biggest mission for all of us right now is to have our eyes and ears wide open to listen and learn."