Once And For All: Here's How You Should Poop In The Woods
Recent news out of Arizona has led to an increased discussion by runners about bathroom etiquette. Those conversations apply to trails too.
Photo: Getty Images/Westend61
Heading out the door? Read this article on the new Outside+ app available now on iOS devices for members! Download the app.
We might be a trail running publication, but if you also happen to follow the niche world of track and field, you've probably heard about "Poopgate" by now. Heck, the drama at Sedona High School made it all the way to The New York Times! If you don't spend as much time on niche-track-and-field Twitter as I do, the gist of the situation is this: 
Many professional track groups train in Flagstaff, Arizona, and it's not infrequent for them to drive down to Sedona for big workouts (losing about 2,500 feet of elevation in the 45-minute drive). The Sedona high school track was recently thrust into the national spotlight after administrators restricted access to it. The reason? A rash of guest athletes, implied to be a professional squad or squads, have been, well, pooping in and around the track facility.
Oh no. It is 100% real. A certain professional team that came to town, showed no respect…

The athletes that live here are furious. This is our local community and they've essentially ruined our relationship with the high school.

— McKirdy Trained (@McKirdyTrained) February 22, 2022
Moving away from that Twitter cannonball, the closure of the Sedona track is a crappy situation (sorry) for all parts of the running community, and it warrants conversation. Outside the fact that many professional teams only access track facilities through local high schools and other public community facilities, all runners need to think ahead about avoiding their own "Poopgate" situation.
And that's why we'd like to settle, once and for all, what trail runners should do if they get into an urgent situation while on a run. 
RELATED: 5 Ways To Reduce Your Impact On The Trails
What To Do
We've all been there (and if you haven't, I think you're lying). You get deep into a long run and your GI tract develops a mind of its own. You need to go, and fast.
If you thought ahead, maybe you tucked some toilet paper into the waistband of your shorts, or maybe not. The long-accepted best practice for trailside restroom situations has been to dig a cat hole and make sure everything is buried.
"That's going to be 6-8 inches deep and as wide as you need, and 200 feet from water, trails or, camp," says Faith Overall, community engagement manager at Leave No Trace and a runner herself. "[But] the first thing to do really is before you ever go out, to be sure you know what the local regulations are."
Some places, says Overall, especially sensitive ecosystems like deserts, may require that you pack out your waste. Forests and woods may be easier places to dig a cat hole, but desert soils are often more porous, so any influx of water in those areas can sweep human waste – and the pathogens it can carry – into local water sources used by wildlife and other recreators.
"Another one that comes up is pets," says Overall. "People's dogs can get into human waste, eating it or rolling in it, so it impacts a lot more than just you. It's a lot more than just seeing human waste on the side of the trail, which nobody loves either. It goes into the ecosystem and impacts other visitors."
RELATED: The Inconvenient Truth Of Trail Running
What To Use
If you've ever picked up after your dog – and we hope you have – then you know it's not the most pleasant thing to do. But, like your pets, there are a number of outdoor products designed to make it easier for runners to either pack out their own waste or dig a sufficient cat hole to make sure it's properly covered.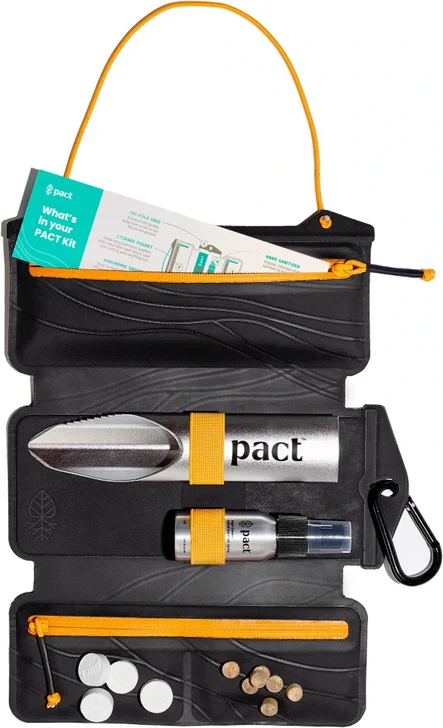 Based in Colorado, Pact creates small, portable kits that contain everything you need to take care of business when the situation demands it. Each pack includes a lightweight trowel, biodegradable sanitary towels you can toss into your cat hole, mycelium tablets (which break down waste when added to your cat hole), hand sanitizer, and a washable trash bag for packing things out. Faith Overall recommends packing out traditional toilet paper when you can, and throwing it away rather than burying it.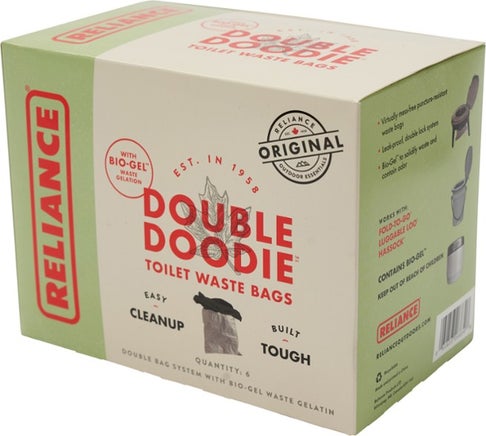 Reliance Double Doodie Waste Bags
Overall recommends "wag" bags for situations where you're required to pack out waste. WAG stands for "waste alleviation gel," which these bags are lined with. 
"Basically, the chemicals in the gelling stuff they have in there make it so that you can safely dispose of your waste in a landfill," Overall says. These bags are double walled and seal tight, and the gel powder inside solidifies waste for easier disposal and masks odors.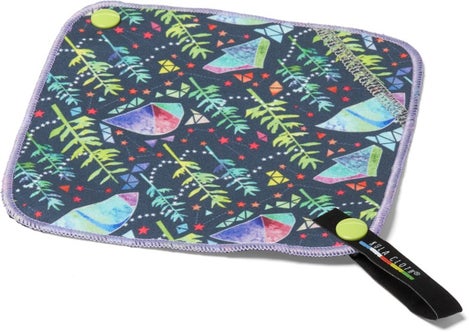 Kula Cloth Antimicrobial Pee Cloth
Since it's not always #2 that you're jumping off the trail for, it's always best to be prepared. These antimicrobial, reusable cloths are great for long runs or camping trips. With one waterproof side and one super absorbent one, it'll keep your hands dry while eliminating moisture. Convenient snap closures means it folds up tight, and it's fully washable and reusable.
RELATED: Running In The Time Of Coronavirus
What To Say
Overall manages relationships with over 450 Leave No Trace partners in nearly every state. She knows that she talks about awkward topics more than most people.
"It's not normal to talk about it as much as we do at Leave No Trace," she says with a laugh. "But with runners, there's an understanding that we're going to talk about this at some point. We try to just encourage people to break down why it's important to talk about disposing of our waste, explaining the bigger impacts it has on the ecosystem to just leave your waste out on the ground."
Her advice for having those unpleasant conversations? Don't shame people for not knowing what to do in uncomfortable situations. Talk to your running buddies and make sure you have the equipment necessary for backcountry adventures with little or no bathroom access.
"The majority of things that we see in the outdoors, whether it be the improper disposal of human waste or somebody getting too close to wildlife, it's not because people are trying to be jerks," says Overall. "It's just because they don't know better or don't understand the consequences of those actions."
Education is a key part of making a difference when it comes to protecting and preserving trails and wilderness. Making sure to dispose of waste properly is a big part of that…and it'll keep your local track open to the public, too.
Reagan Colyer is Trail Runner's assistant editor. She lives in the Northern Rockies of Montana and came to the trails after college as a middle-distance track athlete. She is a copy editor by trade and a reader of literally anything.