Dylan Bowman is on a Mission (To Spread the Gospel of Trail Running)
More people are running and racing on trails than ever. Here's how Dylan Bowman is stoking trail running's flame. 
Heading out the door? Read this article on the new Outside+ app available now on iOS devices for members! Download the app.
It started when Dylan Bowman was eight years old. 
"I've been the world's biggest sports fan since my earliest memories. All of my peak life experiences are related to sport," says Bowman, based in Portland, OR. The biography page on his website says simply, "I like exercising."
Bowman played lacrosse growing up, and got into trail running right after college. After entering his first 100-mile race – the Leadville 100 – and making the podium, Bowman knew he was home. "All of my best memories and best friendships originated through sport, and that's always where I've found my most success and most passion and the most motivation."
After almost a decade in the sport, Bowman hit a rough patch. After a banner year in 2018, with a second-place finish at TDS and wins at Terawera, Ultra-Trail Mount Fuji, and 2017's North Face Endurance Challenge, the bottom fell out.
"2019 was the toughest year of my personal and professional life," says Bowman. "I was dealt a series of setbacks, and I just kind of fell into a depression, for lack of a better word."
RELATED: Watch – Dylan Bowman's Lost Coast FKT
To The Well – And Back Again
It started when Bowman broke his ankle trail running. Then, he got a concussion and separated his shoulder in a bike accident. He got "wildly sick" several times, in what he calls a "physical manifestation of his inner state." In health and in sickness, Bowman's love for trail running never wavered, and he was far from ready to walk away from any opportunity to have an impact on the sport. 
"In that dark night of the soul, I started to think a little bigger," says Bowman. With the onset of the pandemic, more and more people were venturing onto trails. As early restrictions lifted, many events set participation records. A record number of FKTs were set, and the sport was garnering mainstream attention in outlets like NPR, FiveThirtyEight, and the New York Times. Bowman saw trail running at a critical inflection point, a rocket ready to take off. And he wanted to witness the countdown. 
"I had a unique opportunity to be of service to the community and create something that would be purposely fulfilling for me," says Bowman. "So that's sort of how it started."
It is Freetrail, Bowman's brainchild. Part training platform, part event company, part content production entity, part online community. Freetrail is aimed at giving people the tools they need to get out onto the trails, providing training plans and advice for runners via an app. Bowman also hosts weekly Zoom calls for paid community members to provide an even deeper sense of connection. In addition to its training resources, Freetrail has also styled itself as a content creator  to give runners even more insight into the sport. 
Bowman teamed up with Seattle-based runner and photographer Ryan Thrower to film his workouts and races, and bring his community along for the ride. 
"We're constantly talking about opportunities in the space and ways we can be a service to the community. We are trying to embody all of the things we love about the sport and make information and resources accessible and entertaining," says Thrower.  
Bowman and Thrower want to celebrate through documentation the increasing momentum behind the trail running community. Leaning into what Bowman calls the "YouTube-ification" of the sport, they're generating short training videos and even their first feature-length film that follows Bowman's adventure at the infamous Grand Raid 100.
RELATED: Running from COVID
Talking Trail Heads
Growing up, Bowman lived for the NFL's pre- and post-game shows, where commentators took him on deep dives into the nuance of the sport, letting him feel like he had a unique insight into what was playing out on the field. Bowman wants Freetrail to bring folks into the more professional end of trail running, and explain the ins and outs of what's happening at the elite level. 
As a professional athlete with years of experience – who's still actively competing – he provides a unique perspective about what's happening in at the front of the pack. 
"Developing the professional end of the sport is really important to me," says Bowman. "That's what I want to educate fans about. Who the athletes are, what the significance of the races are, what the history of this sport is . . . I want to package it in a way that tells the story effectively and helps turn people from casual observers to die-hard fans."
Bowman hosts his own podcast, which has evolved from 2020's "The Well" to today's "Freetrail Podcast." In addition to in-depth interviews with athletes like Clare Gallagher and Jim Walmsley, he live-streams more casual conversations that speculate on the outcome of races, and the sport more broadly. 
"It's easy to forget that ultrarunning is actually relatively hard to get into as a sport without some guidance. Creating media is essentially making an entry point for more new runners to come into the sport – and sharing training programs and stories and insight is so important to helping bring new people into the sport," says Aaron Lutze, who has worked with Bowman as athlete manager at Red Bull. "He's giving people a place to come and enjoy discussions and more content around the sport that they love – from the source of one of the sport's top athletes. I think he brings such a high level of insight into the sport, from the front of the pack, and it is fascinating to hear his takes on what is happening within the sport."
Freetrail also hosts the Trail Society podcast, featuring athletes Keely Henninger, Corinne Malcolm, and Hillary Allen diving into science, training, and the growth of trail running from a female perspective. The face and narrative arc of trail running is changing, and Bowman is trying to capture it from all angles. 
And there's never been a more interesting time to tell that story. 
"The fact that an elite athlete is taking so much time out of their training schedule to help the sport grow . . . I mean, that's a noble cause. I truly believe what Dylan (and the Freetrail crew) is doing will have a massive long-term impact on the sport," says Lutze. 
RELATED: Here's What Race Directors Want You To Know About Cancelled Races
Growing the Community
As more and more money comes into the sport, Bowman hopes to shine a light on how to develop the community in a way that's inclusive and sustainable, while preserving what makes trail running special. 
"We feel this is an important moment in the sport and hope we can add to the broader conversation in a productive way. Basically, we view ourselves as the voice of the diehard fan," says Thrower.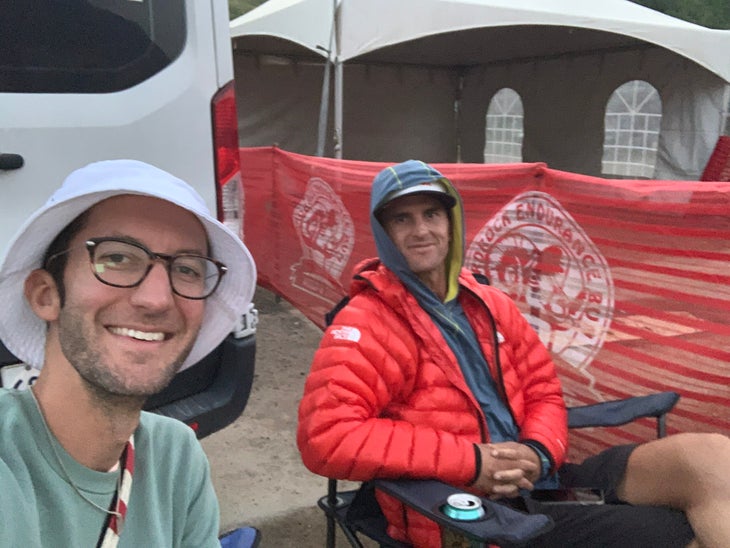 Freetrail's mission is simple: To change people's lives through trail running. According to Bowman, trail running has helped him become the healthiest, happiest, best version of himself. It's given him an outlet to explore and connect with other people and cultures all over the world. 
"Few people care as deeply about the sport of trail running as Dylan does, so he's always looking for ways to participate and give back beyond racing and being a professional athlete," says Harmony Bowman, Dylan's wife and head of perations at Freetrail. 
"I do take it upon myself, probably to the chagrin of a lot of people, to kind of preach the gospel as much as possible, because I really do believe that the sport and the community has the power to make a difference in the world, beyond our niche core community," says Bowman. "I  love this sport as much as I did when I was 22, and I want everyone to have that same opportunity."
Bowman has positioned himself as a Johnny Appleseed of sorts, sowing his love of trail across the country. Now we sit back, and wait for it to bloom. 
Zoë Rom is Editor In Chief of Trail Runner and host and creator of the DNF podcast. When she's not running, she's writing, and when she's not climbing she's cooking or eating. She starts every day with a cup of strong coffee and a good story.