How Dani Moreno Became the First-Ever American Woman to Podium at the OCC Race at UTMB
By running her own race and trusting her own pace, Dani Moreno finished third at UTMB's OCC race, the first of three American women in the top 10.
Heading out the door? Read this article on the new Outside+ app available now on iOS devices for members! Download the app.
(Video created by Tony DiPasquale and Laura Green)
"How far is the podium?!" Dani Moreno yelled to her French friend as she crested a high point in the race at this week's hyper-competitive OCC race, based in Chamonix, France.
"Too far!" her friend responded.
He would later regret saying that. Why? Because 6 hours and 17 minutes after starting, Dani Moreno, 30, from the Mammoth Lakes, California, secured her spot on the podium to finish in third place, the first-ever American woman to reach this level at OCC.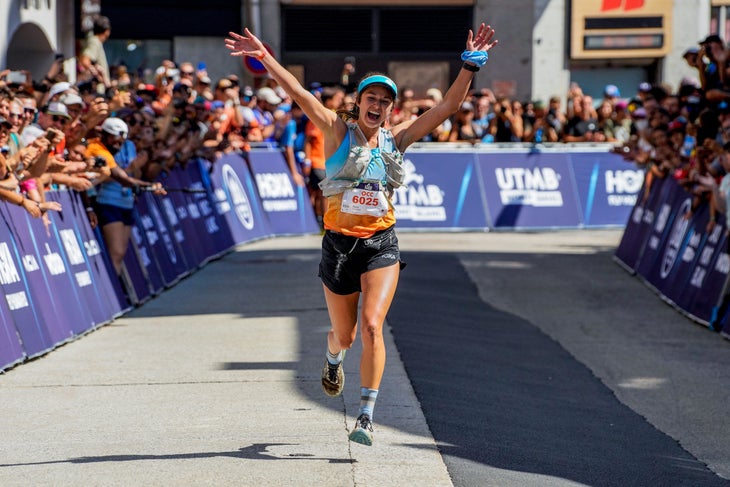 The OCC (Orsières-Champex-Chamonix) race is a 56km (35 mile) option with 3500 m (11,500 feet) of elevation gain. Unlike the UTMB 100-mile race that circumnavigates Mount Blanc, starting and finishing in Chamonix, France, the OCC option begins in Switzerland and stays in the Valais region, until the finish, where it drops into the Chamonix valley. Winners expect to arrive at the finish in under six hours, while the cutoff is 14 hours, 30 minutes.  
RELATED: 2022 UTMB Race Coverage
Weeks prior to OCC, Moreno experienced an unusually difficult race at Sierre-Zinal, in Switzerland. Before the race, she lost someone close to her back at home and a funeral service was the week of the race. She thinks the emotion caught up with her. 
"I went into that race realizing I hadn't fully grieved," said Moreno. "I didn't represent myself and all this work I'd done." But after overwhelming support from friends and family, she recalibrated for OCC and showed up ready to compete. Her fiancé traveled to Chamonix to help crew, along with a couple of friends.
Early in the race, Moreno would pass competitors on the ups and get passed on the downs, and yet she kept saying to herself: trust, trust, trust. Trusting in her strengths and pacing was critical, and it paid off halfway into the race. 
"I passed five girls and moved into fourth at the halfway point," she said. "I could see the third-place woman but didn't know what was happening in front of them. Then third place and I were battling it out."
"You are As Strong As You Think You Are"
Moreno's secret weapon? Having fun—no matter what. 
"It was fun the whole time," said Moreno. "Well, maybe the last downhill was agonizing because I was really trying to see if I could catch second place." She would make airplane arms, pretending to fly, while high-fiving spectators, always with a smile. "It felt like a fun day out with my friends." 
Before the last descent, she received a huge boost after seeing her ultrarunning hero, Ruth Croft, who offered her words of encouragement. And at one of the last spots along the course, she remembers her fiancé yelling to her: "You are as strong as you think you are!"
"Those last 90 minutes I sort of blacked out," said Moreno, digging deep to try and catch up to the second place woman. A few hundred yards from the finishing chute, she knew she'd done it, and the joy of her last few hundred yards was palpable. "It was a lot. First, I was like, I did it, but then I was like we did it. My coach, my family, everyone that believed in me."
Moreno finished in 6 hours and 17 minutes, only 7 minutes off the winning woman, Sheila Avilés, from Spain. The second-place woman, Núria Gil, finished only one minute ahead. Other American women in the top ten were Kimber Maddox (4th) and Allie McLaughlin (6th).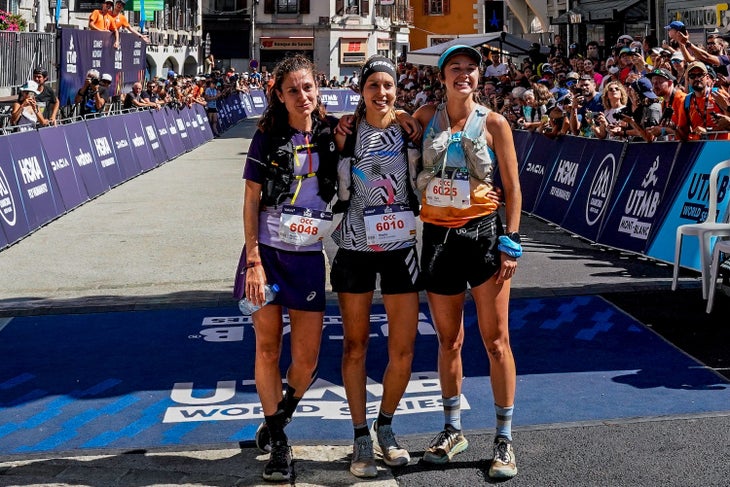 Running As Expression, Running As Order.
Dani Moreno moved to the eastern slope of California's Sierra Nevada Mountains after living and attending university at UCSB, where she ran cross country. Moreno is a four-time member of Team USA and a two-time USA champion. In addition to competing at the highest levels of the sport, Moreno maintains a full-time job at a construction firm, working in mergers and acquisitions. 
"First, I was like, I did it, but then I was like we did it."  
OCC was the longest race–both time and distance–that Moreno had ever pursued. But on her website, she writes that her goal is "to solidify myself as one of the best mountain runners in the world at the sub-ultra-distances." Refreshingly, she appears content with fine-tuning her performances in shorter trail races. So often in this sport, athletes feel pressure to level up to increasingly longer distances. For the next couple years, Moreno hopes to focus on marathon trail distances. However, more ultras are very much on the horizon.
RELATED: Trail Runner's Guide to UTMB
"My plan is to do a 100K in the next year and a half, nestled between other shorter races, and keep inching my way up," she said. Moreno mentioned not wanting to do the CCC yet, the 101K option at UTMB. Yet.
"I'd like to do OCC again, and go about a little more aggressively this time." She plans to finish the Golden Trail Series, too, which she did last year.  
Want to Run a UTMB Race? Here are Moreno's Three Rules:
Respect the weather

. The weather in this dramatic region can change in an instant. Be ready for anything. "Practicing with your equipment is key," she says. 

Learn how to move and fuel

. Moreno is strict about practicing eating and drinking while training. During her OCC race she mixed up sports drinks and foods, things she was familiar with. The best place to learn what works–and what doesn't–is during training. "It's okay to fail during training," she said. Better to fail in training than in a race.

Be prepared for undulations

. Constant ups and downs. "The undulations. Sometimes in the U.S. we tend to only go up and then down, and that's it. Here, there are multiple [big] ups and downs." 
Beyond the competition, Moreno seeks trails not only as an elite athlete, but as a way of becoming a whole person, of building order and resiliency into her life.
"It helps me get through a lot of stuff," said Moreno. "It helps me organize and compartmentalize stuff in my life. Sometimes in life I can get overwhelmed by my emotions, Running provides important guidelines for that."