Heading out the door? Read this article on the new Outside+ app available now on iOS devices for members! Download the app.
Ultrarunning is booming. And not just based on how quickly races fill up.
According to a new report from RunRepeat and the International Association of Ultrarunners (IAU), ultrarunning is at a historic peak around the globe. The report, a study of more than 5 million results from 15,451 ultrarunning events from 1996 through 2018, examined events longer a marathon. (That's more than 26.2 miles, for the non-runner in the back.) While the data set doesn't differentiate between road and trail races, it includes key international events like the Western States 100-Mile Endurance Run, Ultra Trail Du Mont Blanc, and Comrades Marathon (90k).
Together with IAU—the worldwide governing body under World Athletics (fka International Association of Athletics Federations) that hosts trail, 50k, 100k, and 24-hour championships—RunRepeat, a footwear review site, compiled the results to see what, exactly, was going on in the world of ultras.
As with all research, we don't want to confuse correlation with causation (whether we can resist speculating!) and note that this study is hasn't been published in a peer-reviewed journal. Nevertheless, this chunk of data paints an interesting picture.
Here are four key takeaways.
More Ultrarunners 
Participation in ultrarunning has increased around the world. The RunReat/IAU data shows an increase of 1,676 percent over 23 years and 345 percent over 10 years, bringing individual yearly participants to 329,584. The data also shows a higher growth rate for ultrarunning than, say, marathons since 2009.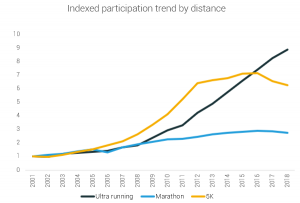 While participation in organized road races (up to marathons) has declined or flatlined in the last five years, it still dwarfs ultrarunning with 18.1 million racers, according to Running USA. For perspective, Running USA reports that 8.9 million people registered for the most popular road race event, the 5k, in 2018. According to the RunRepeat/IAU report, participation in the most popular ultra events—under 50 miles has yet to reach half a million.
Looking at another dataset of endurance runners, Strava's 2019 Year in Sport report is based on data from 48 million users in 195 countries. It showed an 8.8 percent year-over-year increase in U.S. users who recorded a marathon or ultra from 2018 to 2019. For context, 7.6 percent of U.S. runners on the social network have recorded a 'thon or ultra, and Strava confirmed that three percent of its U.S. runners recorded at least one ultra.
More racers, and race opportunities
More ultrarunners are also racing more. Whereas 14 percent of ultrarunners in 1996 ran more than one event per year, 41 percent of ultrarunners ran multiple events in 2018—hitting 611,098 total ultra participations. "Ultra racing is a sport of obsession, and when we compare these numbers to other distances, ultra racers as a group have a higher percentage of multiple race entries per year than any other distance," wrote Paul Ronto, RunRepeat's chief marketing officer and content director, in an email.
The sheer number of events has increased, too. "New events are popping up everywhere," he wrote. Despite the constraints of some trail races, others are growing. Hardrock, for example, is a small race with upwards of 140 starters and strict qualifying standards. On the other end of the spectrum, Comrades Marathon, in South Africa, has more than 27,000 entries slotted for 2020, says Ronto.
According to data compiled by Jessie McClurg, race director at Banshee Running, participation in some 100-milers in recent years (for example, Javelina Jundred) has increased while others (including Hardrock 100 and Western States 100) has declined, if slightly.
Slower Paces
As more people have entered the sport, the average times have slowed across all distances, age groups, and genders of participants. For all ultra events, the average pace is 13:16 minute per mile—a 1:41 minute per mile addition to the pace in 1996. Interestingly, all age groups hit similar paces, something not common in other distances.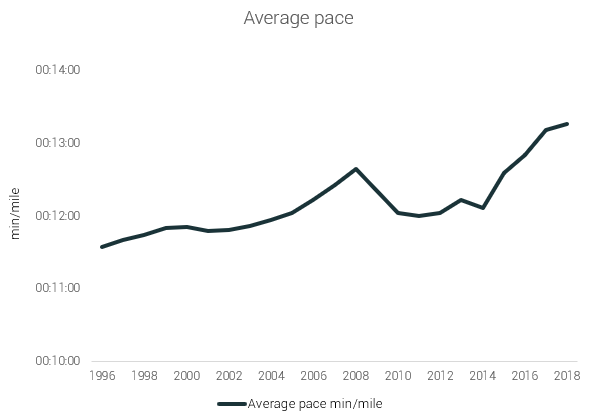 That said, those who race longer distances—think 100ks and 100-milers—tick off faster paces than their peers in shorter races. The pace of 100-mile runners has actually improved in 23 years, from 9:58 to 9:46 minutes per mile.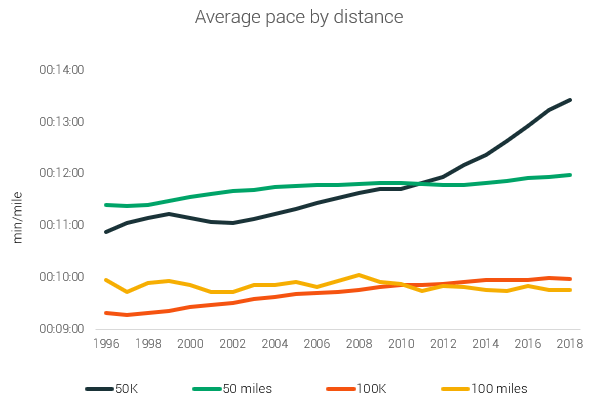 Changing faces
When it comes to gender in ultrarunning, women are still a stark minority. But their numbers are increasing, to 23 percent in 2018 (compared to 14 percent in 1996) across all distances. What's more, at distances over 195 miles, these runners log slightly faster average paces than males: 17:19 minutes per mile compared to 17:25 minutes per mile.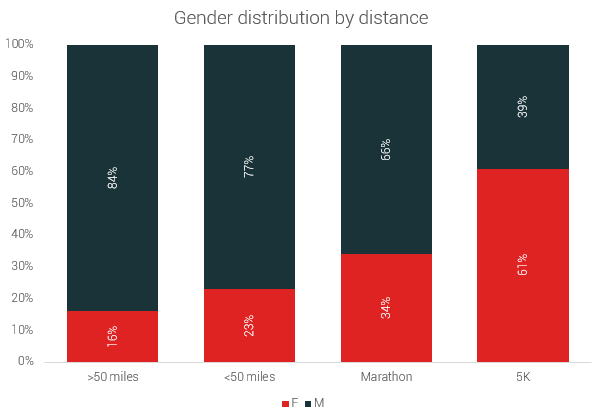 The longer the distance, the more women appear to be closing the gender gap with their finishing times. In 100-mile races, the gap between men and women is .25 percent. And yet, the longer the distance, the fewer the females participating. This trend bears out on the roads, too, despite women representing 60 percent of road racers. According to RunRepeat/IAU, the US, Canada, and Australia have higher-than-average women participating in ultras. For example, in the US, 35 percent of ultrarunners identified as women.
View the full report at https://runrepeat.com/state-of-ultra-running.
Elizabeth Carey is a freelance writer and running coach based in Seattle, Washington.