Here's What We Loved about Trail Running in 2022
Trail Runner's editorial staff highlights some of the best moments of the year
Heading out the door? Read this article on the new Outside+ app available now on iOS devices for members! Download the app.
As 2022 comes to a close, it's pretty clear that it was an amazing year for trail running. Here are some of the highlights worth noting. (But we know the best ones are those idyllic runs and personal race experiences impossible to capture in the media.) 
Courtney Dauwalter Returns to Hardrock, Breaks Course Record
One of my absolute favorite moments from this year was getting to see Courtney Dauwalter kiss the grubby stone at the finish line of the Hardrock 100. After a heartbreaking DNF in 2021 due to GI issues, Dauwalter spent a year on some nutritional problem-solving and playing in her backyard near Leadville, Colorado. 
Dauwalter took the lead immediately, though running relatively conservatively and not jumping too quickly on the course record pace. She worked her way into the top ten overall of the race relatively early, but was smooth and collected through the checkpoints as she focused on her fueling strategy. By mile 73, she was over five hours ahead of the next woman. Dauwalter had been running a balanced race but turned her attention to the course record in the last ten miles of the race, picking up her effort considerably. She eventually finished in 26:44, well ahead of the clockwise and overall course records on a longer course.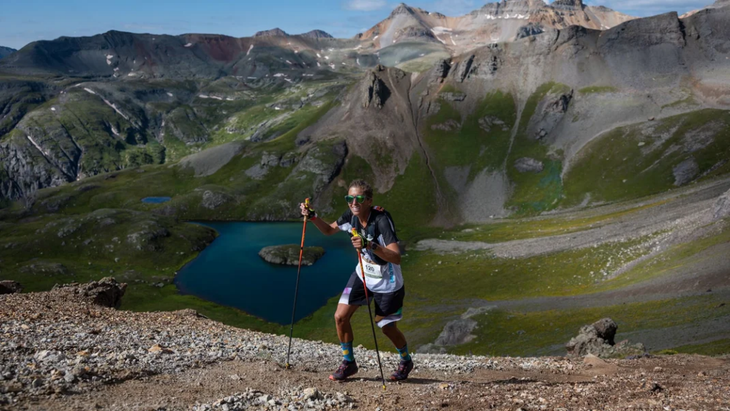 When she knelt to kiss the legendary Hardrock rock at the finish line in Silverton, she was all smiles. "That was hard!" she laughed, hands on knees as she took in the cheering crowd. Seeing (in my opinion) one of the best living athletes finally tick an accomplishment they clearly have a strong emotional attachment to is an amazing and inspiring thing, and hopefully encourages other women to qualify for and compete in the legendary mountain circuit. 
That's what this sport is really about," Dauwalter said after setting a new Collegiate Peaks Loop FKT later in the summer. "People are supporting each other, whatever that looks like. Even if it's a record or whatever, they don't care. It's just cool that we can elevate each other. Everyone is just supporting each other to do their best.
This year's Hardrock saw 27 female entrants, the most ever in the field's 31-year history, after announcing a change to their lottery last year to expand opportunities for entry. Now, the number of women on the start line must match the percentage of women in the lottery.
Canadian trail runner Stephanie Case, a human rights lawyer for the United Nations who lives in Chamonix, France, who finished second in Hardrock in 2022, served on the committee that helped forge the change. Prior to the 2023 Hardrock lottery, she encouraged more women to enter the lottery to help increase the percentage of women who could get in. But when runners started to point out that Hardrock only returns 50 percent of the deposit and runners who didn't get in would lose $200, Case agreed to reimburse the difference for 10 entrants and also rallied several other women to follow that generous gesture. So far, it has helped move the needle a little, but more than anything it has brought more attention to the gender imbalance at Hardrock and in trail running. For the 2023 race, there will be 29 women on the starting line.
"The issues with gender equality (and other equality issues) are not unique to Hardrock," said Stephanie Case in an article in Trail Running Canada. "They are endemic in our sport. The best way to make progress is to listen to one another and work together to promote understanding and inclusivity."  — Zoë Rom, Editor in Chief
Katie Schide finishes PhD thesis, wins UTMB 
I remember meeting Katie Schide at UTMB in 2019 and becoming intrigued about her story. Despite all she has accomplished, she was probably the best American trail runner I didn't know very much about. That's because, although she grew up in Maine and spent years hiking the White Mountains and later trail running in Utah, she's spent the past several years living in Switzerland and France and working on a PhD in geology. (Her thesis, which she submitted in June, is focused on landslides caused by earthquakes in Nepal.) 
If that wasn't enough for one year, the 30-year-old Schide also won three of the hardest European races in 2022 — the Maxi Race Marathon in France, Val d'Aran By UTMB 100km in Spain and the Ultra-Trail du Mont-Blanc (UTMB) in Chamonix. The UTMB win came after back-to-back top-10 showings — sixth in 2019 and eighth in 2021 — and a runner-up showing in the CCC 100km race in 2018. That's a serious body of work that should be lauded in high regard among most accomplished American ultrarunners who have ever competed in Europe's most difficult races.
Schide said she learned a lot from her previous UTMB experiences and was more prepared when the difficult moments came in this year's race. She's running Western States in 2022, so she'll likely get plenty of well-deserved notoriety while stateside.
Don't worry about being too fast or too slow or just follow your feelings.
"I didn't have any type of race strategy. My only strategy was that if I felt good, I was going to run fast, and if I didn't feel good, I was going to be okay with that and just do what I could in the moment. And I do think it worked," she said. "I would say some people probably think that I started too fast. And I would say that it depends how you define too fast. Early in the race, I just felt good, relaxed, no stress. I was kind of waiting for the next girls to catch up with me, but no one ever came up behind me, so I just ran by feel. I told myself, If you feel good, just go. Don't worry about being too fast or too slow or just follow your feelings. The rest of the race, I just tried to keep it cool and move as efficiently as I could." — Brian Metzler, Contributing Editor
View this post on Instagram
Kilian Is Still Kilian
We've known Kilian Jornet has been trail running's G.O.A.T. for more than a decade. But it had been a minute since we'd last seen him dominate an ultra-distance race. Yes, we've watched his mountain exploits on social media and YouTube, ascending the world's highest peaks, chasing FKTs, insane daily runs and ski adventures and even running a fast 10km effort on a track. But his last big race pre-COVID was the Pikes Peak Marathon in 2019 (which, of course, he won handily) and his last big ultra was the 2017 Ultra-Trail du Mont-Blanc. It seems like forever ago now, but that's the one where he finished second to French stalwart Francois D'Haene. Speaking of ancient history, it had been 11 years since Jornet had last won UTMB.
Would Jornet recapture his otherworldly status in 2022 as he planned to run both the Hardrock 100 and UTMB in the same summer? Or did anyone think, at the age of 34, as a busy entrepreneur launching a new shoe brand and busy like a bee with his family, his best days might have been behind him? Let us not be so foolish! In a six-week span last summer, Jornet recaptured his mystical throne in both Silverton, Colorado, and Chamonix, France, with masterful races that left competitors, fans and observers of the sport in sheer awe.
A year after D'Haene pulled off one of ultrarunning's most difficult doubles and became the first male runner to win both the Hardrock 100 and UTMB in the same year, Jornet returned to those hallowed grounds and did it even better. He won Hardrock in a new clockwise course record of 21:36:24, beating D'Haene by 15 minutes and also topping D'Haene's counterclockwise record from the year before. 
Then, after racing hard enough to finish fourth at the Sierre-Zinal 31km race in Switzerland and coming down with COVID, Jornet then dismantled a strong field at UTMB with a new course record of 19:49:30, outlasting Frenchman Mathieu Blanchard, Brit Tom Evans and American Jim Walmsley in the most compelling (and most-viewed) race in the 19-year history of the race. Oh, and he did it all while wearing new shoes from the NNormal brand he launched earlier in the year.
RELATED: Kilian Jornet isn't the G.O.A.T. just because he wins big races
Americans Bring Home World Championships Hardware
Team USA had an exceptional showing at the World Mountain and Trail Running Championships in Chiang Mai, Thailand in October. One of the best stories of the four-day event, was how the four-person crew of Team Visor, aka Adam Peterman, Jeff Colt, Eric LiPuma and Adam Merry, forged a bond en route to winning the 80km long-distance race. 
Peterman was the overall winner in 7:15:53, while Eric LiPuma (7th, 7:52:13), Jeff Colt (14th, 7:58:23) and Adam Merry (53rd, 9:02:42) ran strong and helped the U.S. capture the team gold medal. As cool and compelling as their actual running was, the sense of camaraderie and team cohesion that spilled through their social media dispatches and post-race podcasts was even better. 
It was thrilling to see the ol' red white and blue win gold at the inaugural combined championships, and even more so to feel invited into their story through their mutual encouragement and stoke for the sport. 
"It was pretty funny because we all had individually arrived at the conclusion that we were going to be rocking the Team USA visor on race day when we arrived in Chiang Mai," Merry says. "I do believe it was Adam Peterman, though. who officially coined the slogan, 'Team Visor!'"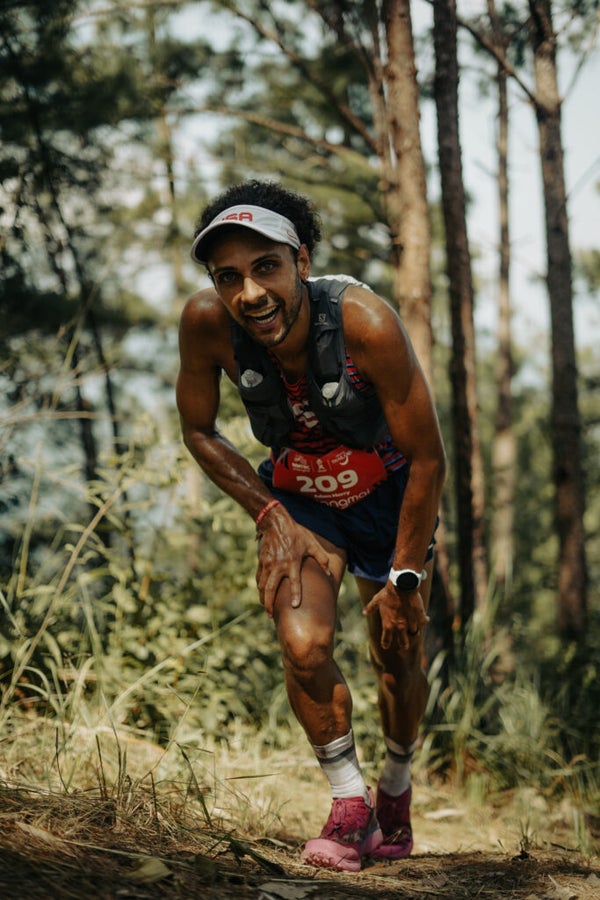 Leading up to the race, the quartet shared some great trails, meals and hangs. The morning of the race, the visor was their unifying call to action. They moved in unison, gearing up, warming up, and before they left the call room, they put our hands in for a team "cinnamon roll" and chanted 'Team Visor!"
"I think the beauty in the Team USA visor is the absurdity of it. It's something that I expect (beach volleyball player) Misty May-Treanor would wear earnestly and beyond that, it's quite ridiculous," Colt says. "The rest of the day, my three teammates remained top of mind throughout the entire race — rooting for them, praying for them, and trying to catch them."
Team USA also got big results from Allie McLaughlin, who won the gold medal in the 8.5km Classic Uphill Mountain Race and earned bronze in the 10.5km Up/Down Mountain Race (48:31). McLaughlin's efforts, along with strong running from Lauren Gregory (12th, 1:00:06) and Rachel Tomajczyk (26th,1:03:43), helped the U.S. women earn the team gold medal in the uphill race. The American women earned the team bronze in the up/down race thanks to McLaughlin (3rd, 48:31), Tomajczyk (19th, 52:23), Corey Dowe (23rd, 53:19) and Samantha Lewis (40th, 56:24). The U.S. women also won the silver medal in the 40km race, thanks to strong running from Kimber Mattox (7th, 3:57:40), Ashley Brasovan (11th, 4:04:05) and Stevie Kremer (13th, 4:06:55).
"The team dynamic was so dope," Merry says. "The collective 40-plus Team USA athletes and staff felt like a big family and everyone was super friendly, supportive and stoked for everyone's race. It was unique to get to meet so many folks with shared interests and be united by representing Team USA and our own team-based competitive aspirations." — Z.R.
RELATED: 'Allie Mac' Wins World Championship, Leads Team USA to Gold
Marianne Hogan Podiums at Western States and UTMB 
Marianne Hogan had an incredibly strong year, finishing third at the Western States Endurance Run and second at the Ultra Trail du Mont Blanc (UTMB), just months apart. Despite an obviously painful hip in the later stages of the race, Hogan surged to an exciting second-place finish behind Katie Schide. 
"It means a lot to be on the podium of both WS and UTMB this year, but the bigger win for me in 2022 was to be able to show up on the start line of both of those races, healthy," says Hogan. 
After undergoing multiple surgeries to address a spiral fracture in her leg, Hogan developed a new appreciation for the ability to move and compete again – especially at such a high level. It's hard not to cheer for such an incredible comeback. 
"Making it on the podium of the two-biggest 100-mile races in the world is certainly icing on the cake, but in reality, I am just incredibly thrilled to be able to run these incredible races around the world with people I very much admire. And I think that it is that exact enthusiasm that allowed me to get on the podium! I can't wait to do it all over again," says Hogan. 
New Shoes, Part I: Hoka Tecton X and More Super Shoes on the Trails
I don't usually get this excited about shoes, but the Hoka TectonX is an exception. Combining the traditional squish of a well-cushioned Hoka trail runner with parallel carbon-fiber plates embedded in the midsole (hence the "tecton", a reference to tectonic plates) that provide propulsion (and protection), you've got pretty close to a dream shoe. 
The Tecton X ($200, Hoka.com) might be a bit more accessible to the everyday trail runner who's not sure if they're ready to embrace a full carbon plate (and the devil's bargain of speed for stability) or tackle gnarly mountain trails because it serves up a relatively balanced ride across varied terrain. I've been psyched to see an expanded range of super-shoe offerings for the trail, from the Brooks Catamount and North Face Flight Vectiv to the Craft CTM Carbon Trail and Saucony Endorphin Edge. Bring on the plates, rods and superfoams! This runner is ready to welcome a new age of speed to trail running shoes. — ZR
New Shoes, Part II: Small Shoe Brands Forge a New Path
There's a mini running shoe revolution afoot, one in which small entrepreneurial brands are forging their own ideas about how shoes are built, what they look like, how they're made and how they're sold. And I have to say, it's refreshing and exciting. Speedland, Norda, Vimazi and Atreyu have all crept onto the scene in the past couple of years, offering new creative takes on shoes while the big brands owned by massive multinational corporations. 
Founded by longtime shoe designers and industry execs Dave Dombrow and Kevin Fallon, Speedland thoughtfully designs and builds one-off shoe models in small-batch production using the best materials and fabrication techniques without corporate oversight or cost-cutting bean counters. Its first two models in 2021-2022 (SL:PDX, SL: HSV) were nimble, low-to-the-ground models with carbon-fiber plates, but next year's GS:TAM will be a maximally cushioned model with a carbon plate sandwiched between a unique dual-density midsole that has a dual BOA Li2 fit system that secures a breathable knit bootie upper by wrapping three thin suede wings of fabric over a runner's foot with bidirectional adjustability. It might be hard to consider the price ($275, runspeedland.com) but it's $110 cheaper than the original Speedland shoes.
On the other end of the spectrum Atreyu launched its uber-affordable Base Trail model ($115) in 2022 with its simple design ethos. It has an energetic supercritical midsole, a one-piece rubber outsole and a one-piece mesh upper, plus, of course, a cushy footbed, a strobel board, laces, glue and stitching. Those elements all come together as a comfortable, smooth-riding and surprisingly stable shoe for mild to moderate terrain. Atreyu is also launching a new road-to-trail shoe called the Daily Trainer ($115, atreyurunning.com) in the spring with the same lively supercritical foam midsole as its Base Trail and a lower-profile knobby outsole. 
Another new kid on the block is Norda, a small Canadian company that launched last year with its Norda 001 G+ ($325, nordarun.com) maximally cushioned model. The entrepreneurial start-up has a dual-pronged mission to focus on high performance and sustainability, using materials and manufacturing processes with the lowest carbon footprint possible. One of the prime examples of it made its lightweight, durable upper from bio-based Dyneema Fibre material, which uses a mass balance approach, is sustainably sourced and is a BlueSign-approved material and is certified by the International Sustainability and Carbon Certification.
Lastly, a new brand called Vimazi has taken a revolutionary approach by making pace-tuned shoes. Yes, each model is engineered to perform best within a certain pace zone. It's launching with six road running models ($175, vimazirun.com, but it also has two trail running shoes in the works. To be sure, it's both an interesting and complicated concept, but we were impressed with the fit, feel and ride of their initial models when we tested them at a trade show in December. — B.M.
Run the World: La Vie UTMB
After circling their events as a journalist and crewmember for years, I was excited to compete in one of the UTMB World Series events this year — the new Puerto Vallarta by UTMB. It was a wild ride. 
There was comically little information about the race before it started (I competed in the 100k), and no amount of Trail Run Project or Strava heatmap stalking revealed much runnable trail in the area. Much of this race traversed wild, off-trail sections of Mexican jungle, traversing from the inland town of Mascota to the beachside resort town of Puerto Vallarta. The course brought us through quant Mexican villages where locals served handmade tortillas and coconut water. Some of the downhills were so steep that I laughed while essentially glissading down a cascade of enormous pine needles. I reached new levels of dehydration and exhilaration. It was more than I had bargained for in exactly the kind of way I needed. At a time in my life when I needed adventure, it found me in droves.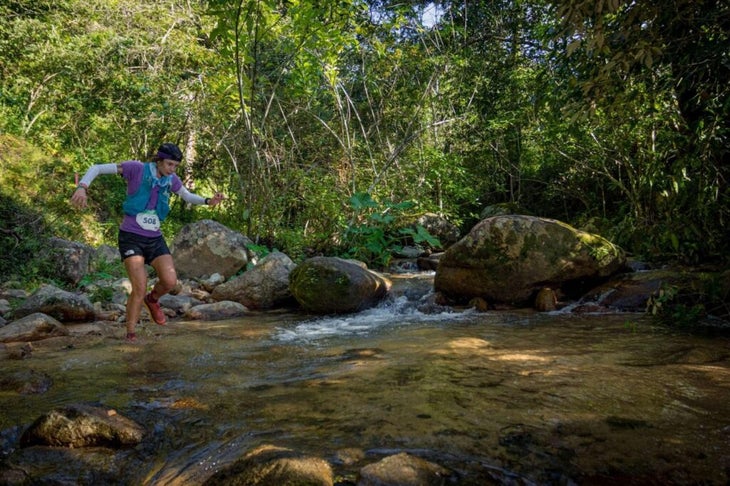 While I don't need to do this particular race again (scorpions, stray dogs, and aforementioned pine needle covered slopes), I'm excited to check out other offerings in the UTMB World Series line-up that serve as the qualifiers for the UTMB, CCC and OCC championship races in Chamonix. Not just to collect stones, but because those events in remote places serve up memories far more valuable than any CCC qualifying rock. – Z.R.
More Prize Money in Trail Running 
Let's face it, $600,000 isn't a lot of money in the bigger picture of a growing, global sport. But that's the total amount of prize money that was paid out by some of the biggest trail running races in the world this year. The cumulative 2022 prize purses of the Spartan Trail World Championships, UTMB, Golden Trail Series, Cirque Series and the lucrative outlier of the Run Rabbit Run 100-miler in Steamboat Springs, Colorado, was almost $650,000. While that's not nearly as much as what marathoning, track and field, triathlon or obstacle racing paid out to its top athletes this year, it's still a lot more prize money that's ever been awarded in trail running — and it doesn't include a lot of other races that off small to medium cash prizes. 
What's perhaps more interesting, is that it shows there is a lot more money flowing into trail running — by way of race registrations, event sponsorships, athlete sponsorships — and that trend will certainly continue into 2023 and beyond. While the prize money is great for the athletes who can finish on the podium, it will soon force the sport to create a legitimize an anti-doping strategy lest it attract dopers chasing a chunk of that cash. 
"People would be fooling themselves if they thought that every trail running performance was clean. If you think that that's the case, then I have a bridge to sell you," says Jason Koop, an ultrarunning coach, author and podcaster who's a passionate advocate for out-of-competition testing and mandatory drug-testing at major races. "Prize money or no prize money, I think the bigger thing is that the ecosystem is developed enough and there is enough financial reward at stake to where everyone kind of owes it to everybody else to get something done." 
What's next? Stay tuned. More money and more competitive races are on the horizon in 2023. — B.M.
Fantastic Fastest Known Times
Since the COVID-19 pandemic — when many races were postponed or canceled for a year (or, in some cases, two years), trail runners, hikers and mountaineers have been ripping a lot of speedy solid efforts. Known as Fastest Known Times or simply FKTs, they're essentially the records for a given route out in the wild. Those marks are known as FKTs and not records, because, well, those routes aren't marked courses with consistent conditions. Almost every FKT takes an exceptional effort, not to mention plenty of research, scouting and fitness, and, for that reason all the new ones set are usually pretty fast. 
But whereas you could argue which marathon time or even trail running race effort was the best of the year, it's really hard to split hairs to determine which of the thousands of FKTs set this year were the most exceptional. The bottom line is that there were many stunning performances out this year, including 49 efforts that were culled for consideration as the best FKTs of the year by our colleagues on the Fastest Known Time crew. (The results will be announced later this year.) In the meantime, here are a few of the best efforts.
Asian Trail Running Culture Catches Fire
A recent trip to race and report on the Doi Inthanon Thailand by UTMB Asia Pacific Major race happened only several weeks after the Trail and Mountain World Championships in the same area, and yet my first-hand experience offered an energizing look into the widespread interest and explosion of trail and mountain running in the Asia-Pacific region.
With over 5,000 runners and thousands more spectators, crew, and media, countries in Asia are coming out of the pandemic with a new zest and confidence, driven to perform at the highest levels in the sport, both regionally and internationally.
Top spots at the UTMB Doi Inthanon event were secured largely by Chinese, Thai, Japanese, Filipino, and Nepali athletes. This year, we saw a cautious return to racing in Asia, in the wake of the pandemic and the 2021 race tragedy in China. We also saw innovations in Asia-based trail brands, like Kailas, that are really supporting trail elites and their future ambitions to race internationally. The three largest international races in Asia continue to be Japan's Ultra Trail Mount Fuji, UTMB Thailand, and the Hong Kong 100.
"This year, both the World Championships and UTMB race in Thailand both really helped put Thailand on the trail running map," said Montri Boonyasat, managing editor for Running Insider and editor-in-chief at ThaiRun, based in Bangkok. "It makes me very proud. Because in trail running, we're all family – it's a similar language." – Senior Editor Nicholas Triolo