Ultrarunner Mikey Mitchell Wants You to be Your True Self
Michael Mitchell is unafraid to express his glittery self on the trail. 
Photo: Courtesy Michael Mitchell; Photo by Cam Cross
Heading out the door? Read this article on the new Outside+ app available now on iOS devices for members! Download the app.
Michael Mitchell really likes glitter. A lot. It makes him feel good. It defines his whole being. Flashy, fun, tends to rub off on you. 
Mitchell, 23, is an ultrarunner who lives in Denver. He likes to do things his own way, and encourages others to do the same. While he's been called wild and crazy, he prefers to think of his personality as loud, proud, and an advocate for all. Sometimes he summits mountains wearing only a Speedo, and he frequently poses at the top with a pride flag. It's who he is. 
Mitchell grew up in Minnesota, and knew early on that he was different. He frequently thought about how he seemed different from some of the other boys. 
"When I was 12 years old — when I was transitioning from fifth to sixth grade — I was friends with a lot of girls," Mitchell said. Things changed at the middle school transition — suddenly it wasn't okay for boys to only be friends with girls. "My male peers would call me gay I didn't realize what the word gay even meant. But then when I did find out I wanted to do everything I could not to be gay, and so I stopped hanging out with girls. It was really isolating for me. I didn't feel like I belonged. I didn't have many close friends." 
Around that time, Mitchell discovered running, and it saved him. 
RELATED: Unseen – Nonbinary Athletes And The Journey Toward Safety
"They Treated Me Like Family"
In seventh grade, Mitchell joined the cross country team. It was something to do — a way to connect. 
"I immediately made the varsity team and ran a 17:11 5k." Varsity meant practicing and competing with high schoolers, hanging out with much older kids. And instead of the taunting he had experienced from his peers, the older guys took Mitchell under their wings. 
"They treated me like family. I was struggling with my sexuality and also just my relationships with the male gender, and then [when I made the varsity team] I had all these older boys who were loving me unconditionally." 
That in turn made all of his male peers see Mitchell as legitimate. He had a whole team of older guys looking out for him. Running became a safe space — a place where he was successful and could express himself without judgment. 
"​​I really 'came out' later, in high school, when I was 17. But I was always very open with a lot of my teammates and my friends when I was in my younger teenage years." 
Mitchell went on to run track and cross country for Lehigh University in Bethlehem, Pennsylvania, and continued to find support in his running community. After graduating, he moved to Denver for a marketing job, but has found unexpected success on TikTok. Mitchell started documenting his new life in Colorado, running in the mountains and discovering new things. He fully embraced his identity on the social media platform, and became known for epic adventures in tiny outfits, shotgunning a beer at the summit, and genuinely enjoying life. And people loved it.
Mitchell's following on TikTok has grown to nearly 60,000, and for him, it feels like his followers are part of his community and support group. He also sees social media as a way to help others feel comfortable fully being who they are. Mitchell looks up to athletes like queer professional ultra runner  Ryan Montgomery, but wants there to be even more queer visibility in the ultrarunning world. 
"The outdoors is for everyone. The outdoors doesn't care about your gender, your sexuality, or literally any attribute about you. The outdoors is truly where you can be whoever you want and do whatever you want." 
"It's important for me to address issues that I'm passionate about — issues that affect me." Mitchell encourages everyone to get into running and go on adventures — he wants people to know that there's no one correct way to adventure and dress and be outdoors. Drawn by his genuine joy and radical acceptance, brands and sponsors have been reaching out to collaborate. 
"Denver Beer Company has asked me to promote a pride party they're having, and all their proceeds are going to an organization that supports LGBTQ issues and provides resources for all LGBTQ people and youth," Mitchell said.
RELATED: Can We Run Away From Politics?
One athlete Mitchell is particularly inspired by in both the running and social media worlds is Erin Azar (aka Mrs. Space Cadet), who happens to also be a big fan of his. 
"I love Mikey!" Azar admires Mitchell because of his openness about who he is. When Azar started running she was intimidated because she didn't see a lot of folks in the running community who looked or acted like her. In that way, she feels especially attached to Mitchell and what he's doing. "It's so important for all types of people to show up and be supported in the community. Some people are more willing to start running when they can relate in some way to other runners."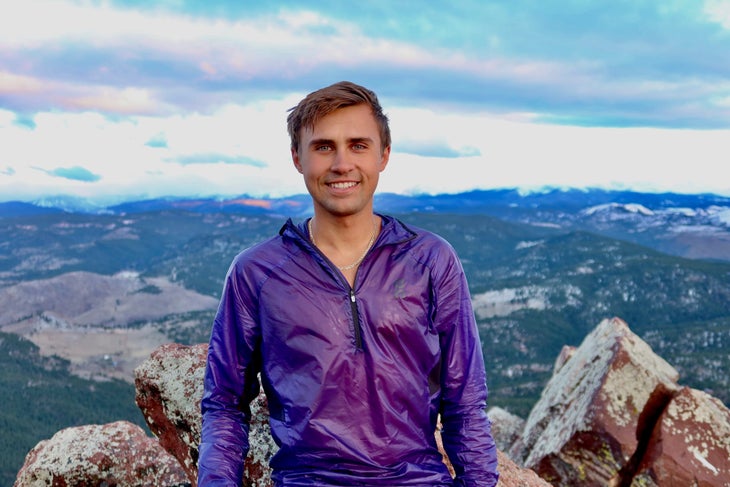 After college, Mitchell decided that he wanted running to be fun — he doesn't keep a strict training schedule, and mostly thinks of running as his time to fully be himself. He started running trails and climbing mountains all around Colorado. And as his first ultra trail race, Mitchell chose the 2021 Leadville 100 — arguably not a place most people start. But he felt like he had to take on the challenge. "A teammate from Lehigh was interning for the Leadville Race Series that summer and he helped get me in." 
He had the time of his life, and was even leading the race for a good bit of the first 25 miles. After that things fell apart a bit, and he experienced all the ups and downs of 100 high-elevation miles. But he finished (in 26:42:33), and vowed to tackle the distance again. Mitchell's family and friends came out to support him in Leadville, but more than anything, he couldn't believe how many people he met who helped him throughout the race — strangers there to lend a hand. 
Mitchell learned early on how welcoming the ultrarunning community is — he doesn't feel like he has to hide who he is when he's in that atmosphere. 
"It's such a niche community. People aren't [participating in ultras] to make a ton of money or to be famous, they're doing it because they love it," he says. "And the more people participating in it, the better."
Mitchell's second ultra was in May 2022, the Quad Rock 50-miler in Fort Collins, Colorado. Mitchell came in third in a stacked field. He had a whole crew of friends decked out in glitter. 
"It was a really positive experience," Mitchell remembers. "So many people came up to me after the race and were like, 'Your crew was amazing. They were so supportive. So nice. And you guys made the race so much more fun for all of us.'" 
RELATED: Dylan Bowman Is On A Mission (To Spread The Gospel Of Trail Running)
Biggest Goal: Keep Loving Yourself
Mitchell's biggest goal is to keep being himself, to keep loving himself, and to help others do the same. "The outdoors is for everyone. The outdoors doesn't care about your gender, your sexuality, or literally any attribute about you. The outdoors is truly where you can be whoever you want and do whatever you want." 
Mitchell sees the ultrarunning community as his link to his true self. "I want to encourage people to be more open about their identity. I encourage anyone who wants to get into trail running, or anything in the outdoors — climbing, skiing, hiking, backpacking — to just get out there and do it." 
Mitchell also says that he wants to use his platform to show all aspects of his life. In the outdoor industry, people can get obsessed with one thing — like running — and feel that that thing defines their life, which makes it more depressing when they get an injury or have a bad race. "It's just like being gay doesn't define who I am. It's one aspect of who I am. [In the same way] running isn't all of me — it's a big part of my life but it isn't everything — so I like to use my platform for more than just one thing." 
The upcoming summer and fall are packed with races for Mitchell. From the Steamboat Marathon, to the World Track Championships (as support with On Running), to the Ouray 50-Miler. And then, redemption at the 100-mile distance with the Run Rabbit Run in September. "I have a lot of plans coming up and I'm going to be wearing glitter for all of it because it's a fun thing to do. I'm going to be gay and I'm going to be fast."