These Women Say Trails Aren't Safe For Everyone
Certain groups and individuals are considering how gender and race interact to limit women's access to, and experience on, the trails.
Heading out the door? Read this article on the new Outside+ app available now on iOS devices for members! Download the app.
Every morning, as 41-year-old Lindsley Kump laces up her shoes and prepares to enter the trails near her Denver, Colorado home, she repeats a mantra to herself: be the energy. When Kump moved from Hawaii to Colorado in 2007, she found herself one of few BIPOC runners—a fact that appeared especially stark on the trails. While running or hiking on trails, Kump would wave at passersby, but seldom received a reply—unless she was accompanied by her white husband. So, for the next 13 years, Kump logged most of her miles on the road. 
Then, COVID-19 came and Kump yearned for the safety of a more isolated setting—a running route where she could pull her mask down and breathe the Colorado morning air. She took to nature, appreciating the mental clarity that only trails could provide. Today, Kump continues to awake each morning and lace up her trail shoes, repeating her mantra, be the energy. 
"I'm not going to let anyone in outdoor spaces make me feel bad. I'm not going to let what they're projecting come back to me. I will provide my own positive energy," explains Kump. It is this internal speech, and the reminder of what she represents for other Black women who aspire to trail run, that keeps Kump pounding dirt every morning. 
RELATED: A Trail Runner's Guide To Environmental Justice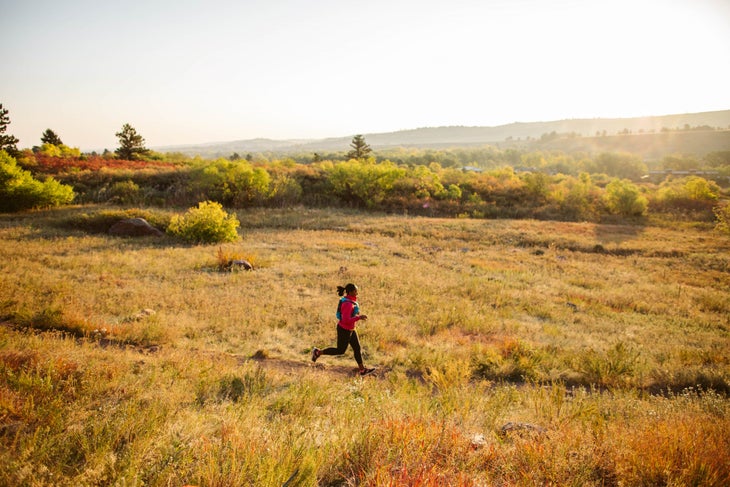 Time and Money
There is no denying the romantic appeal of the trail run, especially the long trail run. We see it in documentaries and Instagram shots of dramatic landscapes, mountainous terrains, and cut-up legs—rugged survivalism meets nature-infused Zen. It's the same allure that drives ratings of shows like Survivor, that inspires 3,000 individuals to attempt an Appalachian Trail thru-hike each year, and that stirs writers outside the running community to cover the Barkley Marathons. Who could blame them? There is something incomparably alluring about seeing humans in their most animalistic form—or perhaps, about being that animal ourselves. Yet, when we conjure up romanticized images of the trail running experience, it's crucial to ask ourselves: whose experience are we imagining? For women, and especially women of color, the trail running experience is often far less romantic. Kump highlights some of the barriers that women, and particularly women of color, face when accessing the trails. 
"Trail running is not free," she says, emphasizing how the costs of gear, shoes, and transportation add up quickly, especially for people with less access to financial resources. In 2018, the United States Census Bureau reported that women's median individual earnings were 82 percent those of men. Plus, women often face greater time constraints, due to family, household, and other unpaid labor expectations. For households whose main wage-earners were Black or Hispanic, median incomes were between 59 percent and 73 percent that of households with non-Hispanic, white main earners. 
Kump reflects on how, too often, the outdoor industry exacerbates these financial and time barriers by portraying trail runners as thin, white people. "Why would someone who doesn't see themselves in the trail running community spend so much money on gear?" she asks. 
RELATED: How Childcare Responsibilities Limit Women's Participation in Trail Running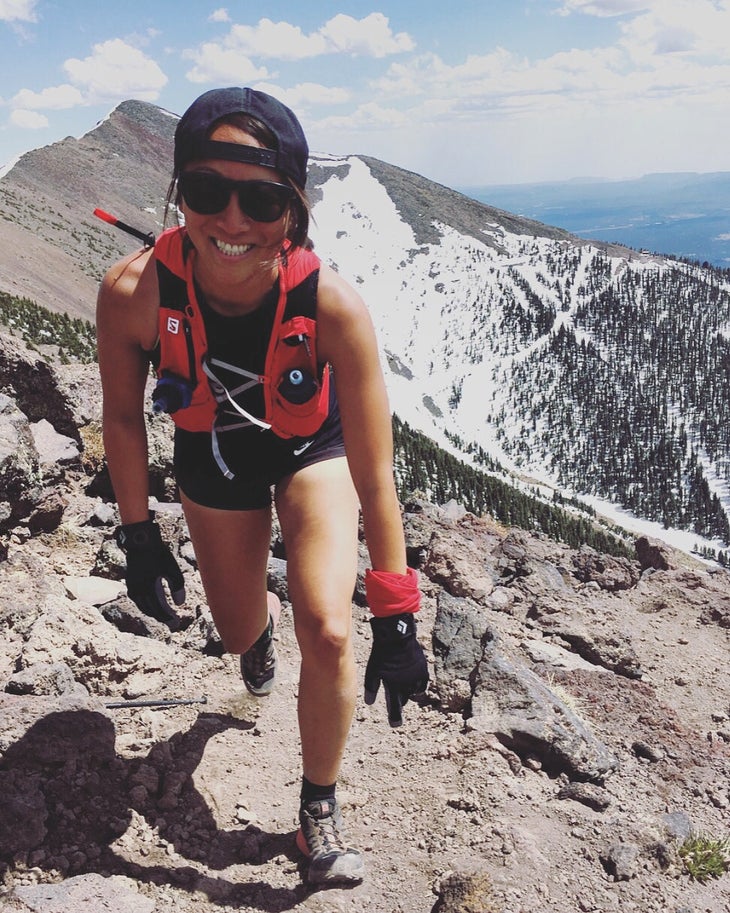 Phycological Barriers
Alex Elizabeth, a 35-year-old trail runner and public health professional, explains how countless women and BIPOC in her city lack the time, money, and transportation to access trails near her Minneapolis, Minnesota home. She feels lucky to have the financial means to uphold her passion for trail running—one that led to her supported FKT on the Superior Hiking Trail. Still, she is impacted by an additional barrier, and this one is harder to measure with statistics and survey data. Elizabeth, like many women and runners of color, is impacted by fear. 
Adopted at a young age by a white family and raised in rural Wisconsin, Elizabeth spent much of her life rejecting her Korean American identity. Coming to terms with her cultural identity coincided with the rise in anti-Asian hate crimes over the past year and a half. Soon, cultural acceptance merged with concern—how would she be perceived while running in rural places with overwhelmingly white populations? Elizabeth's fear was stoked by others' actions on multiple occasions, such as by the group of men who used their bodies to block a trail she was running on—a joke that was far from funny—and other runner's comments: Are you out here alone? Why aren't you scared? 
"As a woman, there are certain things you consider before running—What am I going to wear? What time of day is it?" explains Elizabeth. "If you take into consideration being a person of color on the trails, there's a whole different set of factors you must think about." 
Elizabeth cites the Runner's Alliance as an initiative doing important work to discuss how the world—not women themselves—must change to make women feel safe. The Runner's Alliance also addresses the intersecting identities, such as race, that affect women's experiences on both trails and roads. Yet, the Runner's Alliance is not alone. In February 2021, Strong Runner Chicks and Chaski Endurance Collective teamed up to hold the virtual Trail Running Women Summit. At one of the panel discussions, a group of BIPOC women, including Kump, shared how they navigate gender and race on the trails. 
RELATED: Opinion: You Can't Sell Safety
"We really have to be intentional about building space for these conversations," says Megan Flanagan, Strong Runner Chicks founder and Chaski Endurance coach. "It's not enough to say you welcome women or people of color. You need to be intentional about your invitations." Another woman who is intentionally writing these invitations is Gina Lucrezi, the founder of Trail Sisters, an organization that works to increase women's participation in trail running and hiking and create a more equitable outdoors community. 
Both Elizabeth and Kump act as forces for change as well—Elizabeth as a board member for the Superior Hiking Trail Association, increasing access to, and representation on, the Superior Hiking Trail; and Kump as the founder of Womxn Who Move, through which she features women athletes and adventure-lovers of different races, ethnicities, and bodies. 
RELATED:Meet The Woman Making Space For Black Trail Runners In The UK
 "I realized that trail running brought me so much joy," reflects Kump. "When women are doing things for the love and joy of it, they find so much purpose in themselves." It is with an appreciation for this joy that Kump, Elizabeth, Flanagan, Lucrezi and others continue to write the invitations—openly addressing gender and race barriers, and how they intersect, to limit trail access. They beg the rest of the trail running community to ask: what changes must be made, and how can we make them? What must be done so that all women can feel the earth under their legs and the mountain air filling their lungs? How can all women access the full joy of a trail run?