Heading out the door? Read this article on the new Outside+ app available now on iOS devices for members! Download the app.
Jeff and I crested Col de Chavannes and pulled pizza from our packs, refueling for the monstrous climbs and descents that were still to come. Clouds blew about the summits of Mont Lechaud and Mont Perce on either side of the pass, alternately obscuring then revealing the valley below.  Our slices were nearly as good as they'd been the night before in Courmayeur, Italy, where we'd begun our journey on the TDS (Sur les Traces des Ducs de Savoie, which translates to "the footprints of the Dukes of Savoie"), one of the races of the famed UTMB, the "world summit of trail running."
We weren't racing though; instead, we were doing the 90-mile route in our own style—approximately 30 miles a day, town to town, staying in hotels along the way—just half a week before the mega-popular event would draw a massive international crowd of mountain-obsessed runners.  We'd chosen to attempt the newly lengthened TDS because it would be beautiful and challenging and provide more solitude than the crowded Tour Du Mont Blanc (TMB) and other race routes that shared some of the same trails.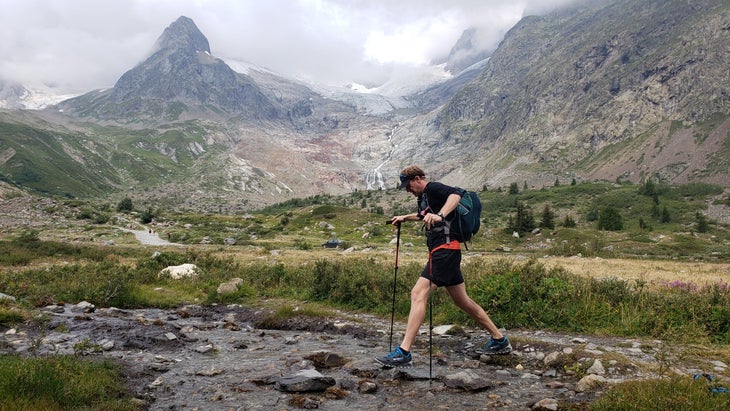 "Fastpacking"—lightweight backpacking with a trail-running mentality—is empowering, allowing you to tackle objectives that would otherwise demand the support of a race organization or hired guides.  There were other reasons to choose that style: we'd get to see all those breathtaking views, not missing any of that beauty by traveling at the night.  Also, this was the Alps, ground zero of mountaintop luxuries: baguettes, fromage and charcuterie, espresso and pain au chocolate.  Beer too.  Why rush when we could take those epicurean pitstops, indulge in tasty traditions and soak in the local culture?  It's easier to put your head down and grind in true wilderness, harder—or simply less desirable—when some of life's greatest pleasures are close at hand.
Why rush when we could take those epicurean pitstops, indulge in tasty traditions and soak in the local culture?
The evening sun cast a soft glow as we crossed from Italy back into France at the Col du Petit Saint Bernard and descended to Seez and neighboring Bourg St. Maurice, our home for the night.  We settled into our accommodations, showered and headed for dinner upon the recommendation of Thierry, the innkeeper.  In the morning, we ate croissants and drank coffee listening to the soft crooning of Serge Gainsbourg and Edith Piaf, reluctant to leave and tackle the looming climb to Fort de la Platte and Passeur Pralognan.  The second day was our shortest but most rugged, proving why many consider the TDS to be more difficult than the longer 100-mile route around Mont Blanc.  I'd fastpacked the TMB with friends in five days a couple of years prior and the differences were already clear.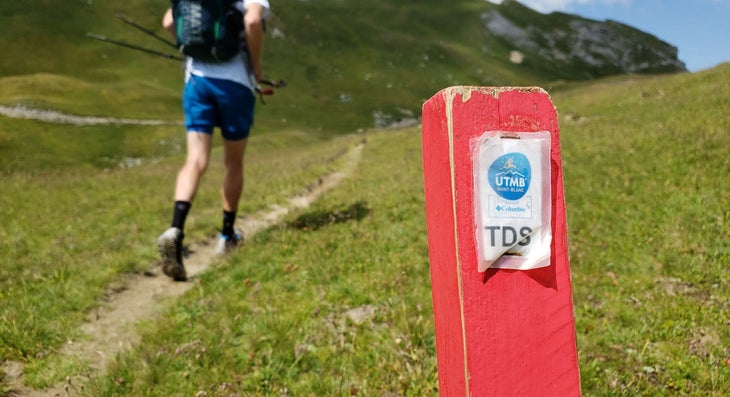 The trails became less obvious on day two. Some were non-existent, marked at times only with occasional wooden stakes.  We didn't encounter any other travelers, save a lone sheepherder and his dog on the final climb from Gittaz before the rock-and-root-laden descent to Beaufort.  We hit the cobbled streets as darkness fell, dirty and disheveled, and repeated the process upon checking into our hotel: shower, change and head out for dinner, tired feet happy to be in flip flops, washed body relishing the delightful feel of clean clothes.
Day three, the final push back to Chamonix.  We shouldered our packs and walked the main street out of town, soon climbing again to Hauteluce, a chateau-rich hamlet perched above Beaufort on the way to the Col du Joly.  It was there that Jeff and I discovered something breathtaking in an entirely different way than the soaring views: a free-standing pizza vending machine, ready to deliver hot pie with the swipe of a card.  It was 9 a.m. and we'd eaten breakfast only an hour before but there was no question whether we'd stop.  We made our selection, paid, and five minutes later a rectangular, pizza-box-shaped slot opened and dispensed our treasure.  We sat there on a wooden bench and devoured the thing, slicing it in half with the very card that we'd purchased it with.  A group of spandex-clad runners from China we'd met that morning came running by and all we could was hold up our folded pizza halves, wave and smile, giddy at our discovery.
The Mont Blanc massif shone in its full glory in the distance—myriad glaciers broken by tension, crisscrossed with crevasses and precipitous seracs—as we gained the open ridge leading to Mont Colcher and Mont Vorey.  We cruised gentle terrain to the Col du Joly then dropped steeply to the Notre-Dame de la Gorge and Les Contamines where we rejoined the TMB.  A pitstop for Coke and potato chips ensued, knowing we still had one major climb to go.  We managed to resist the delicious food and cozy accommodations of the Chalet de Miage, the Col de Tricot looming above us in plain view; we were homeward bound and determined to keep moving.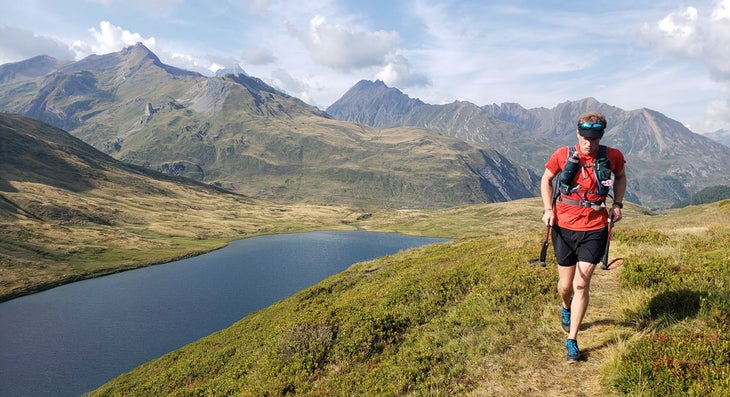 Anticipation is worse than the real thing and so it was with that last high pass on our journey.  We celebrated with a short break atop it, then pushed to Bellevue and down the ski slopes to Les Houches.  It was dark when we reached the valley floor, still almost five miles to go.  The fear of missing an open dinner spot made us push hard despite our exhaustion and we ran steadily until the bustling Chamonix promenade came into view at long last.  We weaved through the crowds, rounded the corner and passed under the famous UTMB archway that was our finish line.  Jeff and I pulled each other in for a sweaty hug then headed straight for the food.
As we sat eating, I thought that maybe we had been racing after all.  In competition there's the old adage to "run your own race" and thinking back to the array of delicious things we ate and drank, the towns we'd strolled and restaurants we'd lingered at, I realized we'd done precisely that.
Willie McBride is a Columbia Montrail athlete and co-owner/founder of Wy'east Wolfpack in Portland, Oregon.