So Your Race Was Canceled For Coronavirus. Now What?
Heading out the door? Read this article on the new Outside+ app available now on iOS devices for members! Download the app.
As the World Health Organization officially declared the coronavirus outbreak a pandemic, trail races from Madeira Island to Moab to the New York City Half Marathon have been called off (as of publication, the Boston Marathon has not yet been canceled, though might potentially be postponed until the fall). As the U.S. reports more cases every day, race directors are canceling and postponing events. It is obvious that things are going to get worse before they get better, and many more trail races will be postponed or canceled in the coming weeks. 
Many runners view early season races as an opportunity to tune-up for longer events, or as a springboard for their summer season. In the face of cancellations and uncertainty, what's a trail runner to do?
"Races don't determine what kind of athlete you are or who you are for that matter," says the coach and accomplished trail athlete Anna Mae Flynn of Marble, Colorado. Many of Flynn's athletes are continuing to train through an unexpectedly empty spring race season, but she urges them to use caution. "Health and safety are always the number one priority." 
Make sure whatever you do is in keeping with the CDC's prescribed prevention guidelines and wash your hands often, avoid close contact with others and stay home if you're feeling sick.
DOUBLE DOWN ON TRAINING
And, heeding Flynn's cautioning, there's no better time than one under mandatory social distancing to go all-in on training. The universe has just handed you a bonus, uninterrupted training block. 
Says Flynn, "It's a great time to work on your base, or become fitter overall."
Races require tapering and recovery, and, without that dip in mileage, athletes can add or maintain meaningful training volume.  Use the gift of extra time off racing to re-focus on consistency. To bone up on your base building, do relaxed, easy runs and sprinkle in some strides that might not have happened with a race on the schedule. 
If you're facing a canceled race, use the opportunity to honestly assess what your weaknesses might have been in your training, and double-down on addressing them. Were you feeling nervous about your climbing ability going into the event? Drill those hill repeats! Insecure about your fueling strategy? Now you have extra time to find the GU that works for you!
Fitness is fitness, whether you're racing with it or not. 
REASSESS
Many athletes who have had the race-rug pulled out from under them could be left feeling listless without a goal to latch onto. 
"Even though there are bigger issues in the world, caring about races is a great thing," says coach David Roche. "But also think about why you race in the first place. I like athletes to frame events as a means to structure the day-to-day process they love, rather than the end goal." 
Consider the following to evaluate your "why" for competing in the first place. If your goal was to push yourself, how can you do that without a race? Find a creative way to channel that competitive impulse. Go for a PR on your favorite training route. 
If you're racing for the social aspect of events, how can you invest in your community outside of racing? Challenge friends and running partners to a virtual race, and signal your support for them during this challenging and uncertain time. 
"Running is a lifelong sport, and the daily process of showing up is what matters," says Flynn. "Training can sometimes feel self-absorbed, and narrowly focusing on the immediate race goal. Maybe we can use this time to zoom out and practice being selfless."
Reflect on your training so far. What would you change about it if you knew you weren't going to get to race? Use an emptier race schedule to reconnect with what you love about the process, even if the end conclusion isn't what you expected. 
PLAN YOUR OWN ADVENTURE
"Most likely, any athlete with spring races will have to face this new reality," says Roche. "My message is to find something else that motivates you!" 
In the wake of 2018's wildfire season that canceled a slew of races, many runners channeled their race-day fitness into FKTs and adventure runs. In the space of a week, the Rim-To-Rim-To-Rim record was beaten twice. 
So this could be time to safely explore what you're comfortable doing without the support of aid stations on a longer adventure run. Plan for your adventure with the same care and attention you'd give a race. Layout your strategy and stick to it, whether it's a goal to fuel as if you were racing or a time-based goal. 
"Races can be canceled, but FKTs or adventure runs cannot," says Roche.  "Still, practice all precautions recommended by experts, and keep putting yourself out there as an athlete and being vulnerable with your goals." 
Just in case you want a bib,  here's one you can print out for your adventure run.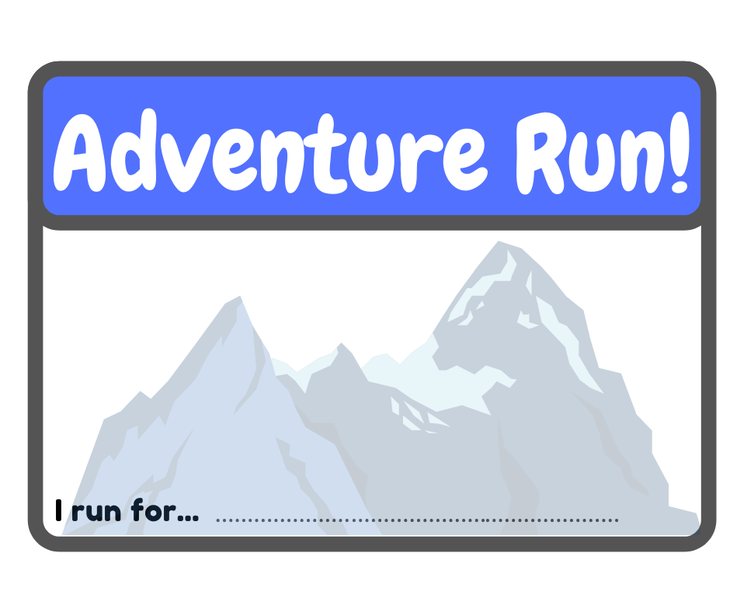 Add new Strava segments along the route, and encourage friends to follow your adventure as if it were a race. Throw yourself a finish-line-style (though socially distant) celebration. 
"Even if there is no result or finisher's medal at the end of the rainbow, you're still left with a badass, uplifting, motivating process that makes you a better athlete and person long term," says Roche. 
A lot is still uncertain about what's to come, so take that uncertainty, and use it to fuel an adventure.
Zoë Rom is Assistant Editor at Trail Runner, host of the DNF Podcast and a trail running coach. She enjoys podcasts and pizza.