Heading out the door? Read this article on the new Outside+ app available now on iOS devices for members! Download the app.
At the beginning of 2020, Josh Ostrander, frontman of alternative rock band "Mondo Cozmo", was feeling optimistic about the year ahead. He had poured himself into making music for the band's latest album, "New Medicine," and all of the hard work was about to pay off: a headlining tour up and down the East Coast was scheduled to kick off last March.
With his signature high-energy stage presence, Ostrander has come to rely on daily runs around his local Los Angeles streets and trails. This cardio training helps him stay in shape for Mondo Cozmo's dynamic performances, which include running and jumping around on stage, interacting with fellow band members and amping up the crowd.
"Our live shows are like the equivalent of running a five-mile sprint," says Ostrander. "I know how I feel after a super long run, and the way I feel after a show is very similar."
Soon after the band arrived on the East Coast, concerns surrounding the coronavirus began to heighten as more new cases were confirmed and limits were starting to be placed on public gatherings. The tour started on March 10—within the week, COVID-19 was officially declared both a pandemic and a National Emergency, the world was turned upside down, and touring plans were abruptly canceled. Mondo Cozmo had only been able to perform one show before packing up and heading back to the West Coast.
"…There was so much uncertainty around the situation…we didn't even know if we were going to be able to fly home. It was terrifying."
Like many runners who have had to face the disappointment of canceled races and the feeling of wasted training this year, Ostrander was crushed. Not only was his primary musical outlet cut off, it felt like a personal and financial setback instead of a career win.
"It sucked," says Ostrander. "It was a huge expense to get the band, gear, and merchandise out there, and then there was so much uncertainty around the situation…we didn't even know if we were going to be able to fly home. It was terrifying."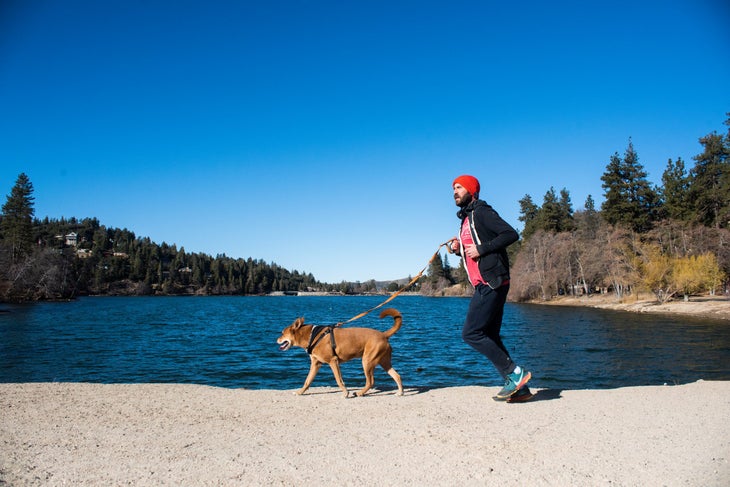 Upon his return to Los Angeles, Ostrander soon found himself in a slump—mentally, creatively, and physically. With no performances lined up, he felt sapped of inspiration to work on music and lacked his usual motivation to head out the door for exercise. That's when he realized that running had become more of a tool to stay in shape for live shows rather than a thing he did for the pure joy of it.
"I started running right when I started Mondo Cozmo, around six years ago—I'd never done it before, but I needed to make a change in my life," he shared. "If I felt stuck while working on a song, I wouldn't wrestle with it; I'd just make an MP3, put it on my headphones, and run while listening to it on a loop."
As he jogged along with his own music streaming through his headphones, Ostrander was able to hear the song more from a listener's perspective rather than dissecting it in the studio. This was a huge help in figuring out arrangements, and before long, he was hooked on running as a way to power through creative stalemates.
Joined by his energetic dog Cozmo (part of the band's namesake), he got in the habit of doing a 5K every day on the trails near his Los Angeles home. Running became an essential part of his daily routine from then on, providing a boost for both his mental health and his music career. He once wrote the lyrics to an entire song during the course of a three-mile run—excitedly typing the lyrics into his phone as he jogged along—and recorded it as soon as he got home.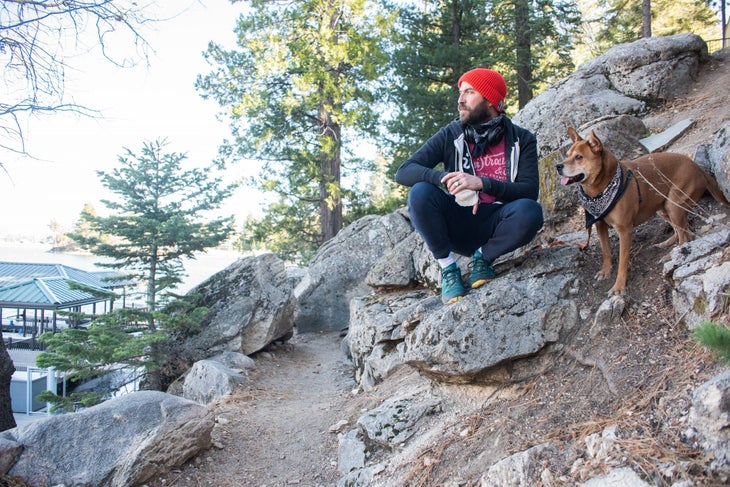 "It was the most cathartic thing," says Ostrander. "I thought, wow, this is really special."
It took some time to rally from the letdown of his disrupted future plans, but Ostrander has resumed writing and recording new music. With the creative process back in full swing, he once again feels the irresistible urge to get outside and run when he feels stumped on a song. A loop around Lake Gregory, his and Cozmo's favorite running spot in Twin Peaks ("Cozmo loves it because he gets to jump in the water when it gets hot"), often works wonders in clearing his head and helping him find answers.
"These are historic times, and this is when artists need to get to work."
As a whole, the year didn't go as planned for Mondo Cozmo (and for everyone else), and Ostrander doesn't downplay the effect it had on his headspace. For weeks after his tour was canceled, he didn't know what to do with himself.
"I had this record, 'New Medicine,' that I was super proud of and had worked so hard on—I should have been on tour all year. It was really tough to put out that labor of love and not be able to go work it."
His advice for other athletes and creatives feeling stuck during these uncertain times? Readjust your routine, stay focused, and get outside often. It's time alone in nature that provides clarity, and Ostrander finds that he is able to make his strongest decisions when running with Cozmo out in the fresh air. He encourages others to stay hopeful for whatever lies ahead.
"I feel like things are about to change, or we're getting close," says Ostrander. "These are historic times, and this is when artists need to get to work."
Paige Triola is a freelance writer covering athletics and outdoor adventure. She spends most of her time interviewing fascinating people, reporting on races and events, and doing important field work (testing out the best running trails).