Running as Prayer
For Indigenous cultures, running represents a spiritual connection to the natural world.
Photo: Sekaquaptewa Family
Heading out the door? Read this article on the new Outside+ app available now on iOS devices for members! Download the app.
Running holds deep cultural and spiritual significance for many Native peoples. It is a sacred form of prayer, embodying ancestral traditions. This practice unifies Native cultures, despite variations in how running is incorporated. Ultimately, the inherent bond with nature and spirituality remains a common thread.
Running with focused intentions, like honoring ancestors, seeking healing, and expressing gratitude, enables Native individuals to forge a profound connection with the natural world and spiritual connection. This transcendent form of prayer goes beyond physical exercise, a practice that holds immense significance when approached with intention and reverence.
We spoke with three Indigenous runners, each with a unique comprehension and perspective on prayerful running. Their insights reveal the diverse ways this practice is intertwined with Native cultures, fostering connections to spirituality and ancestral traditions.
Caroline Sekaquaptewa: Endurance and Inspiration of Prayer Runs
Caroline Sekaquaptewa, 49, a citizen of the Hopi tribe hailing from Sipaulovi village (in Arizona), has etched her name into the annals of long-distance running. With an impressive record of 10 finishes in the Boston Marathon, and as an ultrarunner, Sekaquaptewa embodies the enduring spirit of her Hopi heritage.
"In the mornings, we were taught to wake up when the sun comes up and pray, and to run as part of your prayer," explained Sekaquaptewa. "Ceremonial races are part of the Hopi life cycle; these runs are our prayers and strength. You do not run for yourself. You run for everyone. You run for people who cannot run, those who are sick, or those who are struggling. When you run, you are bringing strength to these people."
RELATED: A Collaboration You Can Taste: GU Announces New Flavor and Partnership With Indigenous Advocacy Group 
This understanding reflects the Hopi belief that endurance in running is a means to endure for the betterment of life.
"We are taught that Hopi people chose a life in which we would have to endure, and when we run, we endure for the good things in life to prosper," she said. "A Hopi understands that to realize a dream come true, he or she must pray for desires and make the commitment and work diligently to pursue the dream until it is achieved."
Sekaquaptewa infuses her sessions with intention and positive energy. 
"In these ways, all running is prayer, whether in an organized run or on your own," said Sekaquaptewa. "Getting out and moving, no matter your pace, while praying and thinking of good intentions, adding good things to the world—that is my idea of a prayer run. In this spirit, I am glad to see prayer runs these days being used to bring awareness to many of the issues Native American communities face.  Collectively we are stronger." 
Jordan Marie Whetstone: Legacy of Prayer Runs
Jordan Marie Whetstone, 35, a citizen of the Lakota tribe, sheds light on the rich history, significance, and current state of prayer runs, offering invaluable insights into this centuries-old practice.
"Prayer running isn't new," explained Whetstone. "Running has been within Indigenous communities for centuries. We run in prayer. We run in ceremony. We run to carry messages, and we run to exhaust prey."
Whetstone was introduced to prayer running in 2015 through groups such as Wings of America, Bears Ears Intertribal Coalition, and to protect Oak Flat by Apache Stronghold. These runs provided a powerful platform to raise awareness about protecting Indigenous sacred sites and a way to foster community unity. 
"It's about running with a deeper purpose, with intentions, and with beauty," she said. "It's not about pace, fast times, medals, or rankings. It's about running for something higher than oneself."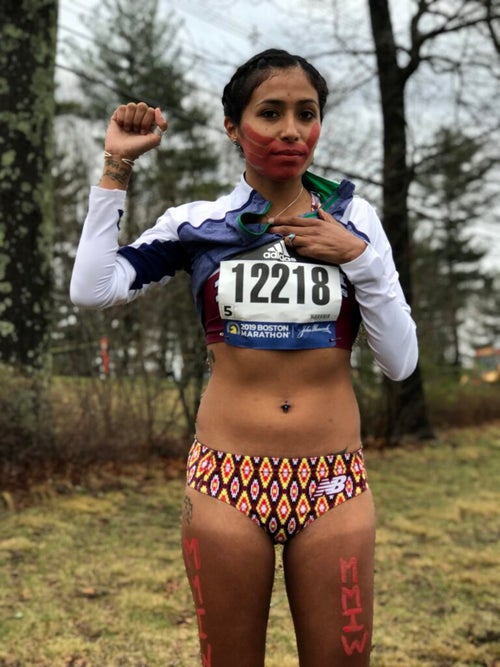 Central to prayer running is the notion of running for causes that transcend personal gain.
"For me, it's my way of running for those no longer here, running for community, running for and with the lands, and running for our next generations," said Whetstone. "The current state of prayer runs has evolved to be more public in certain ways, to communicate something I or we, as a community, care so much about." 
Understanding prayer runs requires non-Indigenous individuals to approach them with respect, humility, and a willingness to learn.
RELATED: These Eight Conversations Explore The Intersection Of Race, Environment, And The Outdoors
"For non-Indigenous peoples, a prayer run is not a political statement," said Whetstone. "It's not a performative act, and it's truly about connecting within yourself, with your surroundings, and for the reasons or causes that matter most to you. It's about setting the right intentions and being in the right headspace. You can participate in them as allies. Have respect for the person, the runner, and their purpose in doing so. It's about honor, praying, and giving back to those you are carrying and saying these prayers for."  
It is crucial to recognize that each Indigenous runner may have their unique way and practice of prayer running, shaped by their specific cultural traditions and personal beliefs. By respecting the individual and the purpose behind their prayer run, non-Indigenous people can actively contribute to honoring, praying, and giving back to the runners' communities and causes.
As more individuals embrace the significance of prayer runs, they become catalysts for understanding, dialogue, and positive change.
Dustin Martin: Origins and Cultural Significance of Prayer Runs
Dustin Martin, 33, a citizen of the Navajo tribe and the executive director of Wings of America, sheds light on the rich history and cultural significance of prayer runs in the Navajo tradition, offering profound insights into this ancient practice.
The oral histories of the Navajo people recount the tales of two seminal figures, the hero twins Monster Slayer and Child Born for Water, whose training involved endurance and running. 
"Part of their training by their father, the Sun, to prepare for their fight with the beasts that ravaged the world and made it unsafe for the people to live on the earth," explained Martin. "Their training involved endurance, running, and having to make pilgrimages to specific sites and certain places to gather things, to offer prayers so that they could amass the strength and the knowledge that they needed to defeat the monsters that were ravaging the world and made it an unsafe place for people to live." 
To prepare for their battles, they realized that these encounters were endurance tests.
"I don't know if it's necessarily running in the way that we understand it in the modern context, but it certainly required travel on your feet, making pilgrimages to certain places to gather certain items and knowledge so that they would have the strength and the tools that they needed to vanquish their foes," said Martin.
Martin also expresses a reverence for Southwest Indigenous communities, who have been undertaking pilgrimages to sacred sites within their ancestral lands for generations. These are some of the earliest examples of prayer running.
"I have a deep respect and admiration for the fact that Pueblo people have been making pilgrimages to sacred sites in their land base forever to help bring the rain and help bring prosperity for not only their community but everyone on the earth," said Martin. "Those [early] pilgrimages I'm talking about might have been to a spring or to a shrine related to a creation story. 'Prayer running' is inextricable from the Indigenous land itself." 
"I would say there are endurance traditions across the Americas," said Martin. "At the very least, Indigenous people, we're making those endurance trips to certain places with not just a personal goal or a coming-of-age ceremony in mind, but for the entire community."
RELATED: Join Us For a Panel Discussion With Indigenous Athletes and Activists
Reflecting on the impact of colonial influence, Martin shares a sobering perspective. "The tradition of running and regional travel on foot among Native people, sadly, was weaponized by colonial forces," he explains. 
"Cultural or traditional knowledge of the people who knew those routes or places," said Martin. "I feel very strongly that there were likely more ceremonial runners prior to that [colonialism]. They knew those routes because they had made a pilgrimage to the ocean, or they had made a pilgrimage to salt flats or to some place to get something for their community that was needed. But when colonial forces came, that knowledge and that experience suddenly became a weapon." 
Martin argues that the essence of prayer running lies in communion with the earth and the landscape, enabling a profound connection with higher powers. 
"You compare that to modern ultrarunning, or trail running sensibilities. It's easy to feel jaded or frustrated that, 'Oh, people see this as recreation, or they see this as fun, or as competition,'" said Martin. "But I believe the prayer running tradition is rooted in an intrinsic knowledge that your communion with the earth and landscape creates an ability to communicate with higher powers. And to communicate your gratitude to those higher powers, hoping they will continue to provide abundance for your community. You learn as much about yourself from your communion with the landscape as that communion strengthens you to be better for your community."
Ben Pryor (Choctaw) is a contributing writer for several national and regional publications, including Native News Online and Indian Country Today. He has graduate degrees in Political Science (American Politics) and Philosophy (Philosophy of Language). His writing interests include running, politics, and the environment.