Men's FKT of the Year: Jack Kuenzle's Bob Graham Round In England's Lake District
A Fastest Known Time panel voted on the top 5 most impressive men's performances of 2022. Here's what won.
Heading out the door? Read this article on the new Outside+ app available now on iOS devices for members! Download the app.
Jack Kuenzle knows a thing or two about living out of a vehicle for an extended period of time, so it's best to believe him when he says his time spent living in a 20-year-old minivan last summer in the UK was rather miserable.
Yet, when he had posted a note on social media last summer about buying a van for 4,500 British pounds (or $5,400) in preparation for FKT attempts on fell-running routes in Scotland and England, some followers might have gotten the wrong impression.
"The van I bought was a 2002 Mazda Bongo, a glorified minivan, and it was gnarly living in there," Kuenzle said. "I think people thought when I was buying a van it meant I had a fully outfitted Sprinter, but that was far from what it was. The refrigerator didn't work. The seats wouldn't fully fold down and there was no way to cover the windshield or rear window. It was a challenging experience."
Kuenzle, a 27-year-old American, proved to be much more tenacious than the ramshackle vehicle he temporarily owned.  On the morning of September 2, he departed Moot Hall, a medieval courthouse in the town of Keswick, England, and ran, hiked and scrambled his way through the entire Bob Graham Round in 12 hours, 23 minutes and 48 seconds, shaving 28 minutes and change off of Jornet's supported FKT.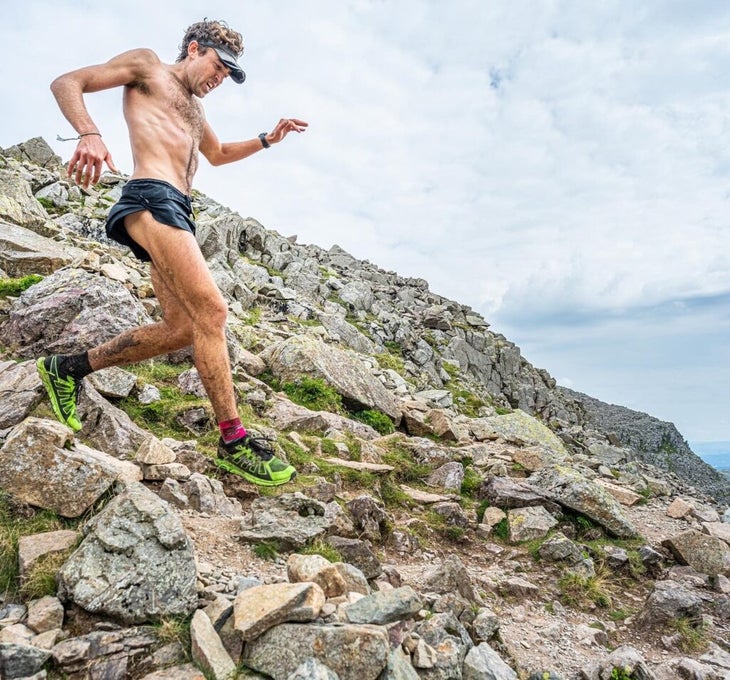 Kuenzle's Bob Graham Round FKT effort was chosen as the 2022 Men's FKT of the Year by the Fastest Known Time voting panel.  Andrea Sansone's new FKT on Colorado's daunting Nolan's 14 line was voted the 2022 Women's FKT of the Year. A non-binary award was planned for 2022, but a lack of nominations this year pushed the introduction of the new category to the future. 
Kuenzle is a bit of an outlier when it comes to elite athletes pursuing Fastest Known Time efforts. A Yale graduate who went on to become a Navy SEAL, he mostly lives out of the camper on the back of his pickup truck.  Although he's set 20 FKTs in the past four years — including six in 2022 — and had several podium finishes in ultra-distance trail races, he's not interested in sponsoring brands for support. He mostly works as a coach for Evoke Endurance, earning just enough to sustain his passion without sacrificing flexibility or training time.
Despite awkward living conditions while posted up outside of Edinburgh, Kuenzle got enough training and sleep to prepare himself for the Tranter Round derivation of the Ramsay Round. That's a 39-mile loop with 20 summits and about 20,000 feet of climbing and a mixture of tall grass, scree and various off-trail terrain features. 
On July 28, Kuenzle deftly circled the loop in 8 hours, 38 minutes and 23 seconds, lowering the FKT by 14 minutes and 30 seconds set by Scottish runner Finlay Wild the day before.
But because of the high cost of the insurance on the van — £200 per month on a three-month minimum policy, so £600 or $725 — he decided to stick around and shoot for the moon with an attempt on the more daunting Bob Graham Round in the English Lake District. 
That's a 66-mile loop over 42 fells with 27,000 feet of elevation gain that was first achieved under 24 hours by the loop's legendary namesake in 1932. Heading into last year, modern legend Kilian Jornet held the supported FKT of 12 hours, 52 minutes after breaking Billy Bland's 36-year-old record in 2018.
Kuenzle knew the Bob Graham Round was a much more difficult challenge, but he had the time and, well, a place to crash, so he decided to give it a go.
"I paid for the insurance and I didn't want to waste that extra money," said Kuenzle, who was planning to sell the van before returning to the U.S. "I figured, if I ever want to give 'the Bob' a shot, even if I'm not completely ready and even though I don't have enough experience, I might as well just go for it and get a time. I didn't think I would ever return to the UK, buy a van and go through the whole process again."
RELATED: Jack Kuenzle is Coming for Your FKTs
To beat Jornet's record, Kuenzle relied on many local runners as his pacers and support crew. It went mostly well, although a secondary waist belt carrying his cell phone, a backup tracking device and nutritional supplements was temporarily lost when it bounced out of a pacer's pack. 
Kuenzle was also slowed by dehydration during the second half of the effort because he ran out of water on a couple of occasions. But he eventually pulled ahead of Jornet's time splits and had enough time to change from his trail-running shoes into carbon-plated road racing flats for the final few miles on paved roads. 
"I always try to go into these things thinking, 'OK, this time it's going to be perfect,' but it never is because you never know what is going to happen," he said. "From a physical point of view, it went perfectly. I don't think I would have changed anything, but I was pretty messed up for a while from everything else I did earlier in the year that kind of accumulated. When I got to the end of the Bob, I think it all just kind of hit me. I took the most time off from running I've ever taken and even after that it took me another month to even feel right after that."
As for the van, Kuenzle said "good riddance" and sold it in mid-September for £4,000 (or $4,800) before returning to the U.S., where he eventually resumed living in the Capri camper on the back of his Toyota Tundra in Utah and Colorado.
"After I got the Bob record, I was just so sick of the van," Kuenzle said. "I came really close to just dumping it in a parking lot with the keys in it and leaving. It was just very very hard outside of the running and the physical process of it all. It was a very tough experience. I live in my car in the U.S. and when I came back to my truck camper in the U.S., it was like coming back to the Ritz Carlton. It was unbelievable." 
MORE: FKT Podcast: Episode 193: Jack Kuenzle Makes the Rounds
The Top 5 Men's FKTs of 2022
The FKT of the Year voting panel was asked to select the top five men's FKTs of 2022 (from a pool of 27 finalists culled by the Fastest Known Time staff) and rank them in order from first to fifth. Kuenzle received 12 first-place votes, seven second-place votes and two fifth-place votes, for a total of 93 points. 
Josh Perry's new self-supported Pacific Crest Trail FKT was voted as the runner-up effort for 2022 (73 points), followed by Jeff Garmire's unsupported John Muir Trail via Whitney Portal FKT (55 points), John Kelly's Wainwrights 214 supported FKT (45 points) and Art Brody's unsupported Arizona Trail FKT (30 points).
Despite being slowed by fire closures, Perry covered the 2,592.6 miles and 400,000 feet of vertical gain on the Pacific Crest Trail through parts of California, Oregon and Washington in 55 days, 16 hours and 54 minutes to take 10 days off the previous self-supported FKT.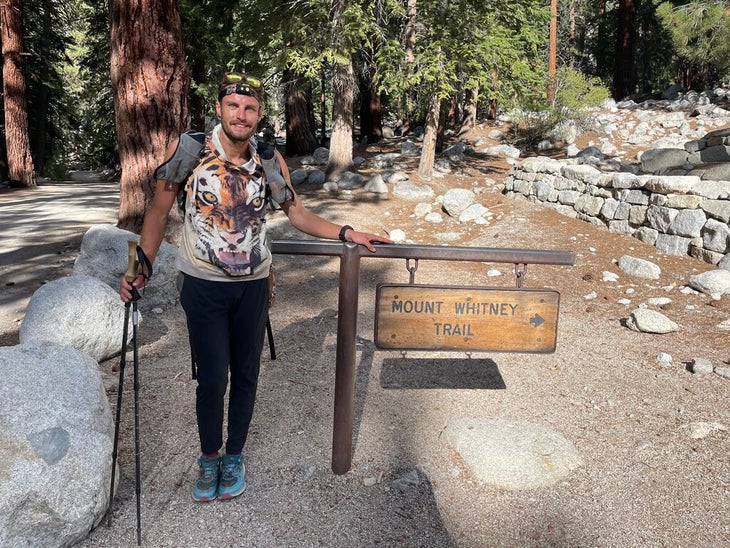 In covering 223 miles with 47,000 feet of elevation gain along the John Muir Trail from Whitney Portal entirely unsupported, Garmire sliced 12 minutes off the previous FKT set weeks earlier by Joe "Stringbean" McConaughy and also came within 5 hours of the supported record set by Francois D'Haene.
To set a new Wainwrights 214 supported FKT, Kelly covered 352 miles and tackled 118,000 feet of vert while linking up the 214 fells around the English Lake District in five days, 12 hours, 14 minutes and 43 seconds. That took nearly a day off the previous supported FKT set a month earlier by James Gibson.
Brody covered the 817-mile length of the Arizona Trail, which included 114,000 vertical feet, in 28 days, three hours and 11 minutes to set a new unsupported FKT.
"I'm certainly honored to be voted No. 1," Kuenzle said. "I think it will take a test of time to confirm if my time on the Bob is fast or not. It saw a lot of attention after Billy Bland set the record, but you didn't see a lot of international runners coming to try it until Kilian did it. I think Killian had a really hard day, even though I think he absolutely gave his 100 percent on that day. But I think any FKT adds a volume of super-fast attempts, so we'll see how long it stands."
–
RELATED: Women's FKT of the Year: Andrea Sansone's Supported Record on Colorado's Nolan's 14