Inside A 3700-Mile Run Across America
Heading out the door? Read this article on the new Outside+ app available now on iOS devices for members! Download the app.
At age 23, Rickey Gates loaded up a motorcycle and charted a rambling course to South America. Later, after establishing a career as a professional runner, he maintained a curiosity for exploration in which running was the medium but not necessarily the motivation. Gates, now 38, has in recent years gravitated toward project-based runs such as his Every Single Street project, in which he ran 1300 miles through the streets of San Francisco over 46 days. He calls these projects "more fulfilling than racing ever was."
With the release of Cross Country: A 3700-Mile Run to Explore Unseen America, Gates shares his largest undertaking to date: a 5-month run from Charleston, South Carolina to San Francisco. As someone who has traveled the world to run, Gates was motivated by a desire to better understand his own country. "I knew more of Germany than I did of the South," Gates writes.
Cross Country weaves together Gates's poignant writing with photos and short stories of the people he encountered along the way. The result is a patchwork of America as seen through Gates's discerning eyes. It is inspiring—not for its glamour, but for its rawness.
Trail Runner caught up with Rickey about self-supported running, embracing the suck and the basic goodness that brings people together.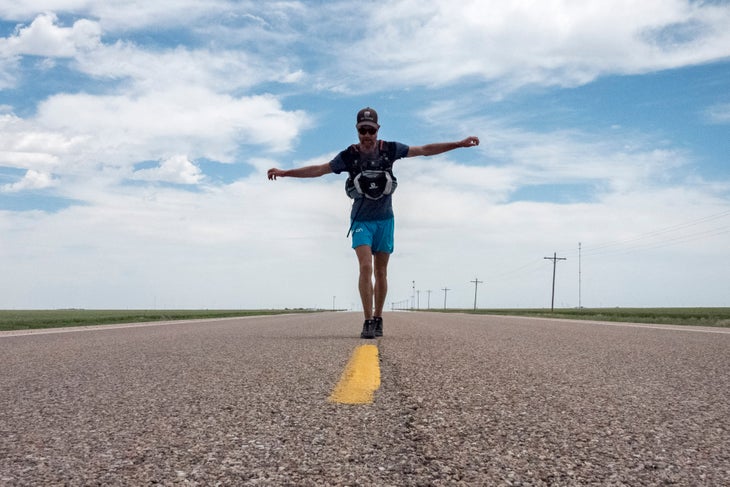 TR: You ran across the country unsupported and on a meager budget. In fact, you told Salomon—your title sponsor—that you didn't want any money from them for this trip. Why was it important to you to do it in this style?
RG: I'm not going to take anything away from anyone who's done a run across the country (or the Appalachian Trail, or the Pacific Crest Trail) assisted, but when I look at their budget and the number of people involved… it's a full-on operation. What sort of message is that sending to a broader public? Yeah, you can run across the country—all you need is $30,000, one or two RVs, and a support crew. That's not accessible. So I wanted to do it in a manner that was accessible to the common person.
TR: You reflect on the  2016 election in this book —which happened just months before your run—and the political divide in America. How did politics play into the conversations you had with people you met along the way?
RG: Once the trip started, I really didn't talk about politics all that much. When you go into a gas station in the middle of Oklahoma and you've got a two-and-a-half-month beard, and you've got a backpack on and walking sticks, and you order two beers and two bags of chips and two hot dogs, and you go use the bathroom for 15 minutes in order to wash your socks, when you come out of the bathroom, no one's going to ask you who you voted for, or what your political agenda is. They want to know what you're doing. And so, contrary to what I had anticipated, politics really didn't come up that much, which was actually quite telling.
TR: You encountered snow in South Carolina and relentless rain on the Great Plains. How do you maintain a positive mindset during a five-month run?
RG: I had this possibly unhealthy commitment to reaching the other side. When things got really hard, the idea of dropping out wasn't even there. So then it's just like… it sucks. Just flat-out admitting and saying, "This frickin' sucks," can be quite cathartic at times. I don't consider it all that different from asking a dog what it thinks about the terrible conditions. It doesn't think about it; it is what it is.
TR: Generosity comes up repeatedly in your book, from people buying your meals to one man literally emptying his wallet for you. Did that influence your ideas about the general goodness of people?
RG: Two or three weeks into the trip I had already experienced so much generosity and kindness that I was thought if ever you're bummed out about life, or about humans, then pack your bag and just go start walking, because you're going to realize how kind our species actually is.
TR: You subsisted almost entirely on roadside food for five months. Any particularly memorable meals?
RG: A friend set me up with his friend in Memphis, and over the course of 10 miles at the edge of the city, the three of us ran together and we kept stopping at different restaurants. In the course of five hours, I had microbrews, creole, the best, fried chicken I've ever had, and then the best barbeque I've ever had. When it came time for the barbeque, I almost wasn't hungry… but I thought, no, I'm gonna eat this.
TR: The popularity of thru-hiking the AT, PCT and CDT has exploded in recent years. Do you think more people will begin to explore America via cross-country routes that aren't established, as you have?
RG: I certainly hope so. When I was on the Appalachian Trail, going backward from Mile 80 down to Mile one, I got to experience the culture of the AT. It's really fun and awesome. But I don't think that you're really experiencing America; you're experiencing a tiny sliver of America. I think the AT is a lifetime achievement for many people. But for me, a run or walk across the country is so much more rewarding, on a lot of different levels. You're going to go across three or four mountain ranges, the Great Plains, a huge desert, and you're going to see two different oceans. And then you get the cultural aspect of it, too.
TR: In your book, you highlight tons of characters that you met along the way. Who made a deep impression on you?
RG: I started the trip off with a videographer, and a friend drove up from Florida to join me for a few days. My bag was light, and I had friends. The moment those guys left me, it was just instantaneous loneliness. I was questioning what I was doing. I walked into this gas station in Newberry, South Carolina, and there was an older black woman behind the counter, doing biscuits and hot dogs and stuff like that, and she could see immediately that I was bummed out. She asked me, "Can I give you a hug?" And I said, "Yeah, I really need a hug." And that was just so impactful.
Max Owens is a trail runner and writer who can't decide if he likes the mountains or desert more. He lives in Durango, CO.