Heading out the door? Read this article on the new Outside+ app available now on iOS devices for members! Download the app.
Let me tell you about an old hero of mine: a high-school classmate named Claire. Claire, as the legend goes, once ate 12 crab rangoons (deep-fried, cream-cheese-stuffed wontons) in a sitting, shortly after crushing the competition at a cross-country meet.
At the time, this seemed to me an incredible human accomplishment. She had given the middle finger to societal norms for how girls should act. (Nearly that two decades later, I'm still talking about her gastronomic feats.) I learned of the rangoons through the grapevine; I was never on the XC team myself, though not for lack of trying on their part. At 15, I'd fallen in love with running, and frequently encountered the team on my solo runs on the bike path after school. "You should join cross country!" they'd exclaim.
I shook my head. "I like running alone," I'd call out as I jogged away. I'd quit team sports that year for a reason; I'd spent my childhood on a soccer team with some girls who bullied me relentlessly, and I'd finally had enough. I just wanted to be left alone. That year I read an article in Runner's World about a runner in Seattle named Scott Jurek who sold running shoes and ran in the mountains with his husky, and I decided that would be the life for me, too. Seattle seemed sufficiently far away from Kansas, where I'd grown up. In the mountains, I'd surely find peace.
I did eventually move to Seattle and sell running shoes and run in the mountains. (No husky, though.) Discovering the local trail-running scene at 22 was one of the first times in my life that I felt the warm, unconditional embrace of a community. How novel it seemed! I attributed that sense of belonging to being an adult.
"Go catch them! You're amazing! Finish strong!"
Perhaps it was really just about being a runner.
Until recently, I'd never been to a bonafide cross-country meet. This fall, my stepson joined his school's XC team—"only to get in shape for basketball," he told his dad and me, lest we make the mistake of thinking that he thinks running (and we, by proxy) are cool. In spite of our uncoolness, we've been invited to spectate.
The first time we went, I felt awe at the intensity with which kids cheered their teammates on. They put the parents' polite, grown-up golf claps to shame. They shouted and stamped their feet so hard the dirt beneath the grass shook. As each runner went by—even those on opposing teams—they bellowed, "Go catch them! You're amazing! Finish strong!"
I'd never thought of high school as a particular wellspring of kind, supportive peers—but maybe things were different in XC land.
I was reminded of the high-school cross-country team that hosts the Snowshoe Butte aid station at Cascade Crest 100. Every time a runner comes through, the kids erupt into thunderous cheers, which reverberate through the mountains. You can hear them from a mile away, and you leave their aid station feeling invincible.
These kids have access to the greatest metaphor running has ever taught me: We're all essentially running our own race, but, damn, it sure is easier when we don't feel alone. Behind every Claire is usually a team, yelling, "You can do it!"
In the years since high school, I've notched a few Claire-esque feats myself—like the time my buddy Ben thought it would be a fun challenge to connect all the Seattle locations of Dick's (a local burger joint) on foot, eating burgers and fries at each one along the way. (Plus at least one milkshake.) Fun is not the primary adjective I'd use to describe what transpired—but I held down my five cheeseburgers, 16-ounce chocolate shake, and several hundred fries like a champ, while jogging 22 miles around the city with the kinds of friends my high-school self dreamt of someday having.
It wasn't a dozen crab rangoons—but I like to think that Claire would be proud. Had the gifts of the trail-running community been available to me all along? Maybe I hadn't needed to grow up and move 2,000 miles away to find them.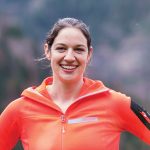 Yitka Winn was the sole female finisher of the Dick's Challenge, dubbed by some the "Barfley Marathons."