How Ultrarunners Can Keep Crushing In Their 40's, 50's, 60's – And Beyond
Age slows everyone down eventually, but that's no reason to quit trail running.
Heading out the door? Read this article on the new Outside+ app available now on iOS devices for members! Download the app.
It's a common misconception for some trail runners to believe that, as they get older, their days of running ultra-distance races are behind them. Many assume that age will limit their performance and potential so much that it will force them to retire their running shoes.
In the 1970s through the early 2000s, it was common for runners in their upper thirties to early forties win or place in the top ten at most ultramarathons. The sport has only gotten considerably younger since the early 2000s. Scott Jurek was one of the first twenty-something runners to excel when he won seven straight Western States 100 (1999-2005), but even then, it took a while before the sport's average age dropped
However, a remarkable group of runners in their forties and sixties is shattering these misconceptions. These individuals have defied expectations and continue pursuing their passion for running and achieving great success. We connected with three exceptional runners who shared their experiences, challenges, and advice for older athletes.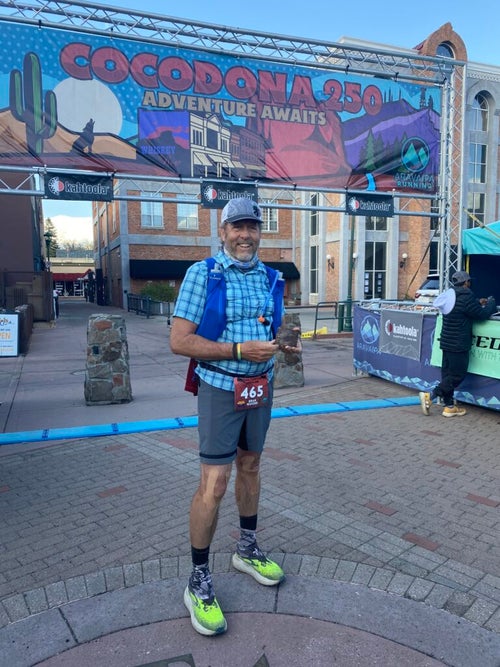 Brian Wilford on Flexibility and Keeping it Simple
Brian Wilford, 59, from Tucson, Arizona, highlighted his challenges as he's aged. He's run the Javelina Jundred three times in his fifties, and this year ran the Cocodona-Sedona Canyons 125.
"The biggest challenge has been that it takes me longer to get warmed up and get into the 'flow' when out for a run," Wilford explained. "I used to be able to start running the second I shut the door, but now I need to ease into it. I usually walk a quarter-mile before I start running. Also, my shins and legs, in general, take about four to six miles before they are pain-free, and running feels easy. That was never an issue before."
Adjusting to these changes, Wilford has found ways to adapt his routine and ensure a smooth running experience.
"I have not changed much, other than I don't do any speed work until the end of my run or after a few miles of warm-up," said Wilford. "I still run three to four days a week, try to have one speed or hill session a week, and one long run. Otherwise, all my runs are pretty easy."
RELATED: Aging for the Record
Wilford recognizes the importance of maintaining flexibility and focuses on specific areas of his body to prevent injuries and ensure optimal performance.
"I incorporate some yoga moves, mainly for my pelvis and back, three to four times a week and right after I run. I have always been terrible about stretching, but I find that five minutes of yoga does wonders."
Inner dialogue has been a critical factor in Wilford's ability to maintain his fitness.
"I have always wanted to 'own' my life and its direction," Wilford said. "Years ago, I decided my definition of being fit was the ability to go out and run 50 miles without any warning or issues. So I always have that little voice in the back of my head."
Wilford offered words of wisdom when asked about his advice for older runners.
"Relax and enjoy it. There is always someone faster and someone slower, and that never changes," said Wilford. "So get out and do your thing. Don't let the number of birthdays determine what you can do. The human body will adapt to whatever stresses you put upon it. Just be smart and consistent."
Wilford emphasizes the importance of embracing the journey and keeping it simple.
"Don't overcomplicate exercise," he said. "If you can't run, then walk until you can run. If something hurts, don't do that, or figure out why it's hurting. However, embrace discomfort as you will become stronger. Lastly, always challenge yourself. You should never know your limits and certainly not let your perceived limits define you."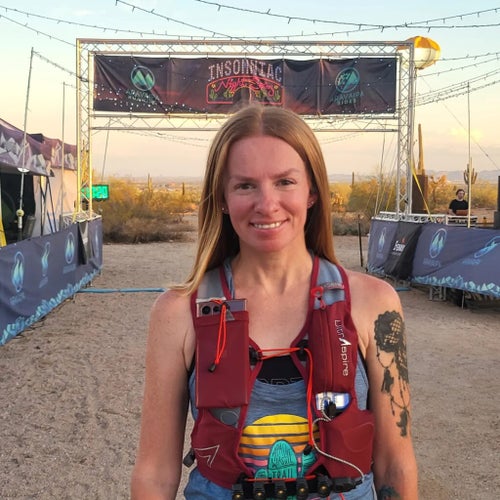 Jennifer Goins: "Forward is a Pace"
Jennifer Goins, 42, from Avondale, Arizona, shared some of the challenges of age and how to overcome them. She's run numerous ultra-distance trail races since turning 40 in 2021, most recently Oregon's Wy'east Wonder 50K in late June.
"I think sometimes as we age, we become scared of trying new things, or even when we try something, we play it safe," Goins said. "Even through injury, I've always managed to dig deep and find my way to get out there and do the hard things, to believe in myself. I had to learn to believe in myself, keep pushing when things get tough, and not quit. I've learned to listen to my body and slow down when needed."
Reflecting on her growth in the sport, she acknowledges that the fear of not measuring up has been her greatest obstacle in embracing her identity as a runner.
RELATED: Mitochondria Can Help Researchers Crack the Training (and Aging) Code
"My running mantra is, 'Forward is a pace,' which helps me overcome most challenges while training and racing because it reminds me just to keep going," she said. "The biggest challenge was always the fear of not being good enough or fast enough to call myself a runner."
Goins's training routine has evolved to accommodate her changing needs. She highlighted the transition from self-training to hiring a coach who provided valuable guidance.
"In the last year and a half, I was able to find a coach who has helped me train safely, to balance running and working full-time, and still raise a family," she said. "I've learned to embrace the experience and have fun, that the journey and the people you meet make running enjoyable. My husband now runs with me, and we have a trail dog that spends time out there with us, and those runs are always the ones I look forward to the most every week."
Maintaining consistency and avoiding injuries are vital considerations for older runners. Goins highlighted the significance of coaching and listening to her body.
"Following the plan but modifying when necessary by listening to my body," she added. "I used to do whatever was in the plan no matter what, which contributed to injury and burnout. Learning to modify on days I was stressed or tired has helped exponentially as your body doesn't know the difference between stressors, like work, running, lifting, and emotional stress."
When asked to advise other older runners aspiring to succeed in their sport, Goins emphasized the power of dreaming big. 
"Dream big. If it doesn't scare you, you aren't dreaming big enough," she said. "Step outside your comfort zone and attempt something larger than you could ever imagine is possible. Believing I could do something, even if it sounded scary, allowed me to pick a goal and register for the race, put in the work then, and enjoy the journey along the way. Show up with the only goal of having fun and finishing."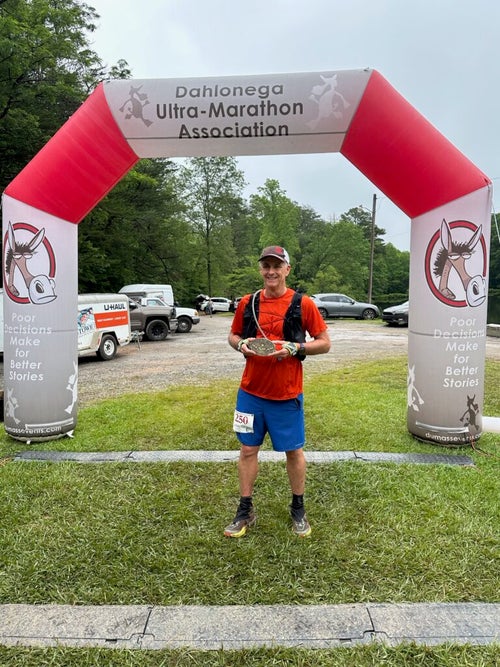 Lindsay Raley on Balance, Consistency, and Sleep
Lindsay Raley, 63, from Lakeland, Florida, offered insights that provide valuable guidance and inspiration to runners of all ages who aspire to continue to improve. In May, he finished Georgia's Cruel Jewel 100-miler, a race known as one of the toughest ultras in the U.S. One of Raley's challenges as he ages is finding the right balance between training load and rest.
"One challenge is finding the right balance of volume and not doing too much so that I can recover but still progress and improve," said Raley. "My running coach has a great approach for older runners that focuses on quality versus quantity. Adding strides into my easy runs as well as targeted speedwork, like hill repeats, tempo, or fartleks, and one long run a week has been a winning combination."
RELATED: Krissy Moehl On How to Embrace Getting Older
As Raley ages, his training routine has evolved to suit his changing needs regarding critical themes.
"I've become very consistent with my training. This is important because it appears that, as you age, your fitness declines more rapidly. Therefore, keeping up a regular running schedule has become more important," Raley explained. "Second, I've decreased my overall volume, added quality speedwork, and allowed time for recovery. Third, sleep is particularly important as you age. I just can't get by with six or seven hours of sleep. I need a minimum of eight hours a night to feel well-rested."
Maintaining consistency and avoiding injuries are crucial considerations for older runners. Raley credits his coach for creating a customized training plan that keeps him accountable and ensures consistency.
"Having a coach create a customized plan and checking in regularly has improved my consistency and performance," said Raley.
"I've had to cut some things from my calendar and make training a priority. Luckily, my spouse is also an ultrarunner, and all my kids are out of the house, which helps tremendously in keeping a consistent schedule. Regarding injury, I've had to come to terms with the fact that more and faster isn't always better. Finding a good balance of volume and the right speed is key."
When asked for advice for other older runners, Raley emphasized the accessibility of the sport for older runners and the potential for continuous improvement.
"It is a great sport and still very accessible for older runners. In fact, you can even continue to improve," said Raley. "I think having a good coach who has experience collaborating with older runners is important. Stay consistent and don't focus on volume—more miles aren't always better. Add speedwork into your routine, incorporate race-specific workouts and course recon, sleep more, eat well, and most importantly, have fun!"