How Childcare Responsibilities Limit Women's Participation in Trail Running
Heading out the door? Read this article on the new Outside+ app available now on iOS devices for members! Download the app.
While we've come a long way recently in terms of division of household labor in the U.S., the burden of childcare still falls predominantly to women. That extra time and effort can make it more difficult to train and race, and keep women for competing and training on the trails.
A House Divided
Although the gender gap is narrowing in many ways, women still perform a disproportionate amount of unpaid labor such as childcare, all on top of their regular jobs. In a 2018 survey conducted by the Center for American Progress, women were 40 percent more likely than men to report negative consequences of childcare duties on their careers. Women are eight times more likely than their male partners to look after sick children or spend time managing their kids' schedules, which takes time away from training and racing.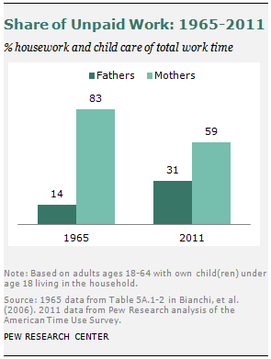 According to the Pew Research center, parents who are married or living with a partner, dual-income couples are the most egalitarian couples, who split household responsibilities the most evenly.  However, even those couples don't divide the work in a 50/50 way. Dual-income fathers spend about 11 hours more than mothers in paid work per week, but mothers make up their hours by spending more time on average time in childcare and housework. Dual-income fathers have more leisure time, such as racing or training, than mothers; the gap is about 4.5 hours per week.
"It's important to be open about talking about the hidden work that goes into running a house with kids, even when both parents are working," says Katie Arnold, winner of the 2018 Leadville 100. "So often the logistics of kids fall to the mother, and the time we spend on that isn't as valued as it would be if we were earning money from those hours."
While Arnold says her partner has been an incredible support in both her writing and racing career, she's noticed that's not always the case with her female friends. "There's this sense that if women want to keep working or racing after having kids, it's totally up to them to make it happen."
In Search of Free Time
According to the American Time Use Survey cited above, men are more likely to participate in sports with their four-and-a-half extra hours of leisure time. On days that they participated in sports, men were also able to spend more time pursuing athletic activities, averaging almost two hours a day compared with women's hour and twenty minutes. While that doesn't seem like a lot, extrapolated over the course of a week, that means that on average, men have almost five extra hours of training time each week.
Training for a trail race, let alone an ultra, takes a lot of time. Though it varies from athlete to athlete, many runners need to train in the neighborhood of six hours a week for a 50K, and nine hours a week for a 100K. In that perspective, those extra four to five hours of free time a week seem very precious.
For mom and triathlete Jennifer Connor of Arlington, Virginia, it was easier to buy a treadmill than to constantly find a sitter for her workouts. "I used to miss two to three runs a week because of a lack of childcare," explains Connor. "On its face, I think it can sound stupid and whiney because I'm essentially complaining that I didn't get to run or swim because I had to do something for my children.  But the truth is it is more than that—my workout time is literally the only time I have to clear my head and be alone."
Deanna Feller, a mother and runner from Beacon, New York, says, "My training goals have greatly decreased due to the free time I have. I can't fathom training for a marathon, even though I was an ultrarunner before I was a mom."
More Than Ever
While mothers can be time handicapped, more women than ever are entering the sport and crushing at the highest levels of competition. According to a recent report by RunRepeat, female participation in trail races has been growing. Over the past 23 years, the percentage of female participants in races has increased from 14 percent in 1996 to 23 percent in 2018, the most recent year studied. Twenty-three percent is still a long way from gender parity in the sport, and access to childcare might at least partially explain that gap.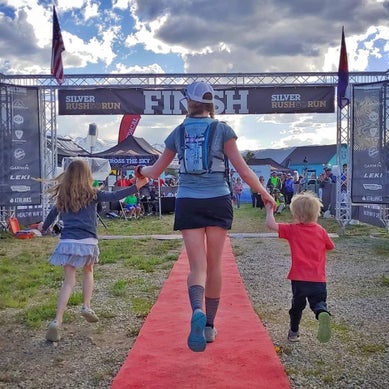 Figuring out childcare for races can be logistically complicated.
"An early morning race means paying the sitter to spend the night before and an out of town race means finding someone to stay with kids at home or paying someone to travel with us," says Andrea Meury, a trail runner from Arizona. Meury and her partner will often coordinate childcare responsibilities and sitters with other parents while they're racing to help divvy up the cost. "So many times we don't register for races because we can't justify the expense," says Meury.
Dialogue With Dads
The responsibility for this conversation shouldn't fall entirely to women. According to the Pew Survey cited above, both mothers and fathers indicate that mothers usually do more—although a higher share of fathers report that these responsibilities are shared equally, meaning, there's a mismatch in perception. Many fathers would benefit from childcare opportunities as they race and train as well.
Calum Neff, who knows a thing or two about running and parenting (he holds the Guinness World Record for running a half marathon while pushing a stroller, a lightning-fast 1:11:27), has advice on how to better involve fathers in challenging conversations about splitting childcare responsibilities. "More productive conversations would happen if both sides move away from the labeling of time alone with Dad is babysitting or 'Daddy Duty,' says Neff. "The barrier tends to be negative perception and pressure on any time not spent in the home being perceived as being an absent father."
Getting Rid Of Guilt
The gender psychologist Sandra Bem has written that women can empower themselves by taking their own goals and wants seriously and expecting their partners to take them seriously as well. Women should see their own pursuits, Bem says, "as no less important and no less deserving of special consideration than those of the men in their lives."
"It has taken me a  year to get over the guilt of stepping out to train, even though I have an incredibly supporting husband," says Roxane St-Pierre, a runner from Vancouver, British Columbia. "Although he tried to convince me that it was OK for me to go run or ride, it took me months to finally be OK with me taking time for myself."
Says Connor, "Unfortunately, I think, with a few exceptions, we still live in a culture of moms being the primary caretaker and dads being a hero for babysitting their own kids. It is not at all unusual for dads to get their time to go the gym, golf, hang out with their buddies while mom makes sure the kids are covered.
"But if mom wants workout time, it has to be before the sun (and kids) get up, in the cold and dark, or by arranging a babysitter. I'm not sure what we do to shift the culture, but I'd like to see it happen."
Races Stepping Up
To address this clear need for childcare, some race series are stepping up. For the inaugural Salomon WMN's half-marathon, free on-site childcare was going to be offered for all race participants with kids (though the race was later canceled because of coronavirus).
Some races have started working with sitting services like RaceKids and PRKids to provide childcare at larger events, though racers have to pay. Trivium Racing in North Carolina offers a childcare option with race registration so that parents can race worry-free. However, most of these services aren't free and can put a financial strain on families already shelling out cash for race entry fees and travel.
What We All Can Do
Talk to your partner

Women are told (overtly and subtly) that they should be responsible for family duties. The job of advocating for change shouldn't fall on women. Men and women need to work together against this imbalance. This conversation starts at home.

Talk to your Race Director

Support races that provide childcare, and let other races know that you'd love to participate if they could offer childcare options.

Talk to your senator

The U.S. is the only industrialized country without a national paid leave policy for mothers, let alone fathers. Let your local lawmakers know that you care about childcare access and paid parental leave.
Zoë Rom is Assistant Editor at Trail Runner , host of the DNF Podcast and a trail running coach. She enjoys podcasts and pizza.