This Essential Race Director Toolkit Supports Inclusion and Sustainability
This week, Runners for Public Lands launched a free, comprehensive online resource for event organizers to implement priorities of community building and environmental stewardship.
Photo: Courtesy Runners For Public Lands
Heading out the door? Read this article on the new Outside+ app available now on iOS devices for members! Download the app.
In the ever-evolving race space, big and small events can sometimes struggle to keep up. Trying to add anything on top of the work it takes to organize an event can be daunting, even when a race director wants to make their event more inclusive—like creating a nonbinary policy, for example—or more eco-friendly. 
Runners for Public Lands (RPL) wants to help make that easier. After a two-year effort by the nonprofit, founded in 2019, they've created a comprehensive toolkit for race directors and runners to educate, share ideas, and inspire discussion around how we relate to the lands in which we run. 
"The reality is that the majority of race directors don't own events companies that do 20 races a year,"  said Mike Foote, a professional runner and RPL National Advisory Council member. "It's a lot of people just wanting to build something in their community and do it the right way, and they don't have the resources or the experiences to pull from. Hopefully, this toolkit will provide support for everyone, especially those folks."
Utilizing the expertise of professional athletes, race directors, activists, and others, the free toolkit is now available to the public. RPL is looking to create a membership program specifically tailored to events and race directors, but the toolkit's guidance is voluntary and simply offers best practices and examples.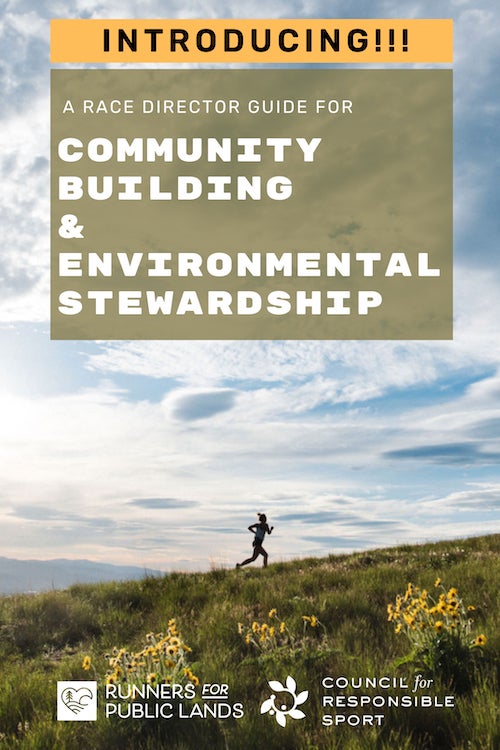 What to Know About the Toolkit
Depending on a race's needs or curiosities, the RPL toolkit is broken up into the four searchable sections:  
Indigenous Collaboration

Diversity and Belonging

Natural History

Environmental Stewardship
Each section includes both beginner and advanced information and tips, links to existing resources, frequently asked questions, examples from existing races, case studies on what races have tried and if/how they failed, succeeded, evolved, and sample policies that races can copy and paste or adapt, depending on their community's needs.
Notable examples include providing options for runners to opt out of receiving race swag and redirecting those funds toward a donation, creating reusable race signs, dedicating a "green team" to separate and collect waste from aid stations, prominently placing a inclusivity statement on an event page, and actively making space on the start line for underrepresented runners.
"I feel we exist in a world today where we need to see examples," said Jordan Marie Brings Three White Horses Daniel, an Indigenous activist and RPL National Advisory Board member. "We need to have those breadcrumbs that lead us to that aha moment, "Oh I get it," and have a better understanding, which is fine as long as people are part of that process and open to learning something new. It's such an amazing resource hub."
Additionally, the toolkit has a checklist feature which events can use to select the tasks they want to prioritize and then get a customized to-do list.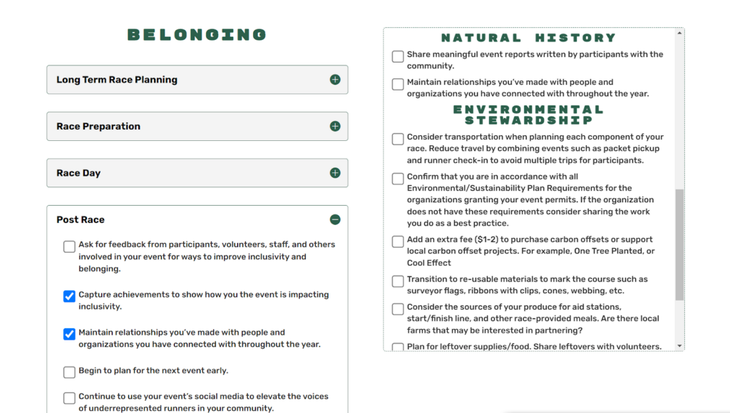 "It includes everything from long-term community relationship-building work that will be ongoing throughout the life of an event, to the very short term, like prioritizing composting for your event," Baker said. "Our hope is that races will create specific, achievable things that they might want to tackle in the first year. Then, they'll make another list for the next year so it's not just overwhelming all at once."
Like an ultra, the toolkit can appear a bit overwhelming at first. RPL Executive Director Kathleen Baker says that for big and small races, races with limited and unlimited resources will have the ability to find attainable goals and increasingly add more if they can.
"I wouldn't want a race director to feel discouraged because they're in the early stages of doing this type of work," Baker said. "I also wouldn't want very experienced RDs with years of implementing values at their events to feel like this is a check-the-box type of thing. It's really not. I think that this is something that if we can support each other and understand we're all in varying stages, we can continue to grow together."
My hope is that it creates a ripple effect of inspiration and change and even self-reflection, organizational reflection, coming from the people that want to know, 'What can my first step be?'. . . 'Where do I begin?' This paves the way for that first step.
A Collaborative Effort
When RPL was created in April 2019, the idea for a toolkit was in mind. However, over the years, that idea morphed into a much larger project with a holistic approach to running culture and public lands. This approach stemmed from conversations that led to increasingly more people joining the effort. The process also included working with organizations like the Council for Responsible Sport, a nonprofit that promotes environmental, social, and economic sustainability in sports.
The RPL National Advisory Board features several big names in the sport, including Clare Gallagher (2019 Western States 100 champion), Dustin Quinn Martin (executive director of Wings of America), Peyton Thomas (runner and marine biologist), and others. 
Daniel, also a member of the advisory board, reached out to RPL when she heard about the toolkit. Her organization, Rising Hearts, also has a toolkit for race directors for land acknowledgements, so she wanted to add to the conversation to ensure that "history wasn't being lost in the conversation when we talk about protecting and preserving public lands." Her work ended up creating an entire section of the toolkit about Indigenous collaboration and using honoring words as opposed to conquering/ownership words.
RELATED: These Eight Conversations Explore The Intersection Of Race, Environment, And The Outdoors
"I appreciate how receptive RPL is to taking in this information and to being informed or even reeducated, and making sure they're upholding their mission and vision to making sure they're talking about protection of public lands and the stewardship of lands and how we can all be part of that," said Daniel.
Following countless Zoom meetings and working groups, the toolkit is now available and it's already making an impact. For example, Foote, race director for The Rut Mountain Run in Montana, said that he's been attempting to make his event zero-waste for years but has been unsuccessful. While an activist and knowledgeable of many best practices, this isn't technically Foote's expertise. Once he joined RPL's toolkit efforts, the zero-waste goal is within reach. He also discovered several ways to offset the race's carbon footprint that he'd never considered. 
"Just this year, we're finally trying to support folks offsetting their travel to get to the event," he said. "We tried in the past, and finally, we learned by asking others. So, we're going to be raising money for a local climate nonprofit as opposed to us trying to create some sort of carbon market. We're still in talks with local partners, but at least now we have people at the table who know what they're actually doing. It sounds obvious but there's not always a chance to ask questions like this."
Examples like these are what RPL hopes to see from the toolkit.
"It's that first effort that leads to the next one that leads to the next one," Daniel said. "My hope is that it creates a ripple effect of inspiration and change and even self-reflection, organizational reflection, coming from the people that want to know, 'What can my first step be?' Sometimes it's a big question to ask yourself, 'Where do I begin?' I want to make sure I'm doing it in a way that's not harming another community or isn't co-opting. This paves the way for that first step."
RELATED: Your Guide To The Best Sustainability-Minded Trail Gear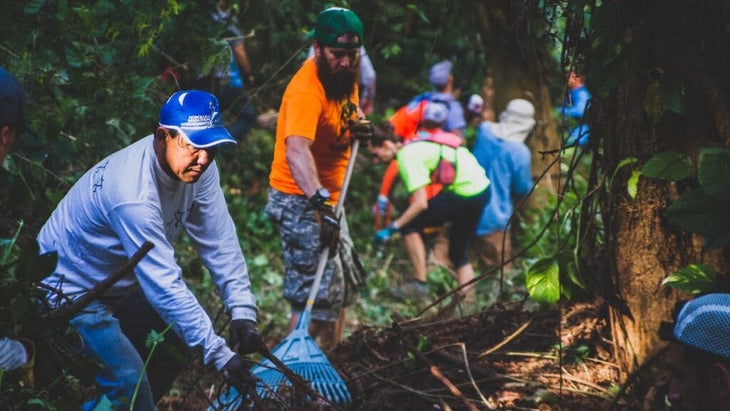 Not Finished Yet
While the toolkit has been published, it is far from complete. "It's imperfect," Baker said. "There sure is a lot of room to grow this and improve it, and with more participation from the community, we can only make it better. I really hope that there's more resources that come from it in the future because there's a gazillion different opportunities here."
RPL's hope is that more people come to the table, bring and share ideas, and update the toolkit with best practices and examples. Baker said that one thing the working groups found was a significant lack of BIPOC representation in leadership positions in trail running and very few BIPOC race directors.
Baker said RPL wants to address this and is looking for partners for follow-on projects based around the toolkit. For this, and other topics they plan to expand, RPL plans to create a collaborative working space with race directors runners via round tables, virtual panels, and event organizer coalitions "to grow this resource." 
"This resource will evolve the second that we publish it," Baker said. "It's intended to be living and informed by the community. We just want to create a space where we can come together and learn from one another and continue to evolve the work so it stays relevant, and we grow as the work grows as the trail running community grows."