Why Septuagenarian Eric Spector Isn't Slowing Down
Eric Spector, 75, on chasing his ultrarunning dreams and how running helps him live life to the fullest.
Heading out the door? Read this article on the new Outside+ app available now on iOS devices for members! Download the app.
Eric Spector, 75, of Greenbrae, California, is resolute in his advocacy for health and fitness. While speaking with Spector, you immediately notice the sharpness of his mind and evident tertiary understanding of fitness matters.
"I've always been a believer. There's so much more science that says if you're fit, you not only avoid disease, but if you get a disease, it's usually diminished. Your recovery times are greater, and you usually live longer," said Spector.
For Spector, his belief extends beyond mere theoretical constructs. His views are constituted by his empirical observations. 
Since the onset of the pandemic, Spector has spent two-plus years being extremely cautious. His caution originated from previous episodes of pneumonia in his sixties. Still, at 65, Spector completed the full-distance Ironman Los Cabos just five weeks after a severe bout of pneumonia. His pulmonologist had never witnessed a uniquely speedy recovery but strongly suspected his fitness propagated his quick rebound.
Health, Wellness, and Magic Moments
Spector's first running event was the 1979 New York City Marathon. Since then, he has fallen in love with running. Spector typically runs in the mornings, as the solitude of the early mornings is medicinal. 
"And I can't recommend anything more for anybody, a combination of running, fitness, and nature. It is such a gift," said Spector. "I kind of describe running like channel surfing, except you're not hitting the buttons. One of the channels is on trails, always looking at your footing. But it's just one channel. It's like free association. I have had some of my most creative ideas while just running, where just boom hits me."
Spector recalled a particularly memorable moment during a training run for his Western States 100 run.
RELATED: Tips From Lifelong Trail Runners on Longevity
"I was training for the Western States, and there was a piece of the trail there that runs through many canyons along the water. But in the canyons, at one time, I was running at night training on a piece, and there was this cacophony of crickets and frogs – that was overwhelming," said Spector. "In other words, it was almost like you were in surround sound, the highest pitch for about a mile."
There's no slowing down for Spector, who is currently training for the USATF National Club Cross Country Championships.
"I just signed up for the USATF National Club Cross Country Championships in San Francisco this year. And I started going to once, and most weeks, I'm twice a week doing track workouts," he said. "It's only a 5-mile race, but you know the elite Masters of America are going to be there."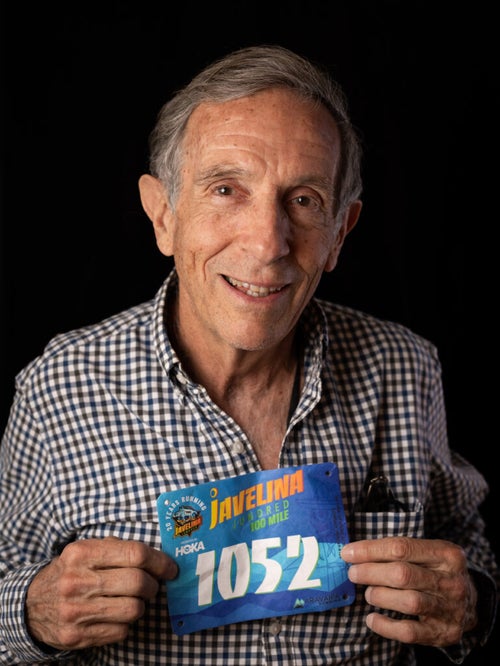 Grand Canyon Rim to Rim to Covid-19
During a running trip at the Grand Canyon, Spector ran from the South Rim to the North Rim. "I had never been down in the Canyon, and it is so beautiful," Spector recalls the beauty of that drizzly Sunday. "There was some rain, and therefore, there was moisture. The green. It was so lushly green that you can't see from above, and you would have no idea because there's water running through much of the Canyon." 
Spector and his crew completed the run without any real insight. After the run, though, he got a chill with the rain and needed to change into dry clothes. He changed in a public hotel restroom near the Grand Canyon, where he thinks he picked up covid-19. 
Recovery to the Javelina Jundred
Within a few days of returning to California from his trip, it was clear his health was deteriorating.
"By Wednesday or so, I had a cough that was probably the worst in my life," said Spector. "Especially in the evening. I could never stop."
He was soon diagnosed with covid-19 and prescribed Paxlovid.  
In three short weeks after his covid-19 diagnosis, Spector was signed up to run the Javelina Jundred outside of Phoenix, Arizona. His health status for the race was unknown at the time, but he decided to do everything possible to make it to the start line. 
Spector's anecdotal account may not be applicable to others. It is important to work with your own healthcare team to make individual decisions around running post-covid.  
"I rested, shut everything down, and ate very nutritionally," said Spector. "But the race that was entered was three weeks away. I had my flights and, you know, the whole shebang 100-mile race."
He didn't run ten steps from diagnosis to the day before his departure. Key to his individual recovery was medical care, adequate rest, and paying close attention to hydration and nutrition. He did nothing from the standpoint of exertion and slept for 9-11 hours per day.
After three weeks of rest and recovery, Spector felt good enough to start the race. The race went well up until mile 60 when his pace began to slow. At mile 71.6, Spector made the difficult decision to bow out of the race for safety reasons. 
"There's some pretty technical pieces on that run. I just said to my pacer, 'You know this is going to put me at risk of a bad fall or worse,'" Spector recalls of the running terrain at night. "I decided I was not going to risk my running career for one finish."
In addition, he wasn't completely confident that he had fully recovered from covid-19, given that it affects everyone differently. In the end, the risks didn't measure up to the reward.
Ultimately, it was a testament to his health that he was fit enough to attempt such an endeavor. Given covid-19's attack on the upper respiratory system, his lungs were healthy enough, and he had no issues with inflammation or shortness of breath (dyspnea).
RELATED: VO2 Max Output As A High-Performance, Anti-Aging Superweapon
"I was actually grateful. Surprised. Literally three weeks after full-blown covid. Being able to start a race and crank out 71 miles at 75 years old," said Spector. "I do believe that the lesson is that fitness really matters in recovery from any kind of disease. And that certainly I had recovered – perhaps, likely – not 100% because covid takes longer to get out of your respiratory system. And no pattern says, 'Okay, by four weeks, you're done.' With everyone, it's different." 
During Javelina, he didn't experience any residual effects beyond a bit of coughing, but nothing concerning. Spector's primary concern was getting enough fluid. "I drank more than usual because I was more afraid of dehydration. In terms of if I did have any residual impact, that if I did not drink enough, I'd be taxing the system." 
Covid-19 generally puts older individuals at a higher risk of severe disease or death. Current trends identify that nearly 9 in 10 covid-19 deaths are in people 65 or older — the highest rate since the pandemic began. Of those deaths, 71 percent were in people aged 75 and up.
Epidemiologists predict this trend to continue among older and sicker individuals.
Spector's message is one of inspiration and squeezing the most out of each day. And running is key to more life.
"And I'm just saying that people want to live, want to live every day, and you want to live to your fullest," he said. "Being fit really not only prolongs your life but gives you more life. Because you can get up and run an hour and a half early, do a run, and then go to work. The fact is, you can have more energy by getting up and doing that run for the whole day, and therefore you have more life. Where your eyes are open, and you know you're living." 
Want Trail Runner delivered directly to your inbox? Sign up for our newsletter here.