Heading out the door? Read this article on the new Outside+ app available now on iOS devices for members! Download the app.
It was 1986 and I was 8 years old.  My mom and I were listening to a song on our cassette player by Bruce Hornsby and the Range called "The Way It Is". When I heard the line, "Hey little boy, you can't go where the others go, 'cause you don't look like they do" I asked my mom what the singer meant. She said that there used to be some very unfair laws against people that "look different". I was so puzzled. I thought, "Just by the way they look?" She could sense my confusion and comforted me by telling me that a lot has changed, and folks are working hard to shift these ways of thinking, too. In that moment I still remember looking down and feeling broken-hearted. I lived in a city in Pennsylvania where I had friends and many school mates that looked different. I looked different.
A few years later we moved 2 hours away to a rural town of 5,000 people, of which 99.5 percent were white-skinned. My brother, sister and I were part of the .5 percent minority.  That town was where I first experienced racism. I was called n*****, spic, camel-jockey, wetback, terrorist. I remember touching a kid's arm as he wiped off my touch with disgust.  A neighborhood man insisted on me going by Anthony or Tony because it was easier, and he had a hard time remembering and pronouncing Yassine. 
Nevertheless, I made friends because I was athletic and involved in sports teams.  I was accepted into the community.  The overt racism minimized but microaggressions continued and I tried to ignore and brush off the comments. During an away basketball game, I told myself the reason the spectators of the opposing team were yelling, "Saddam Hussein" was because they were just mad that I was schooling their team on the court.   Deep down, growing up differently affected me.  I felt like I had to prove myself, had to work to fit in.  I started acting out in many ways.  This made me popular.  It also ignited what would become many years of substance abuse as a solution to my feelings of separateness.  
The overt racism minimized, but microaggressions continued and I tried to ignore and brush off the comments.
My mother moved me down to Florida to live with my Moroccan father after one too many difficult situations with me.  I was suddenly in a big Orlando high school with students from many different cultures.  I didn't experience the blatant slurs and actions, but I still didn't feel comfortable in my own skin. Through my late teens and early to mid 20's I was numb. Everything was drowned out and deadened by serious substance abuse that took me to some pretty dark places in my life.
In 2004 at the age of 25, I hit bottom. With professional treatment, help from friends and family I turned my life around.  Athletics, my first love, became a healthy outlet and source of healing for me.  
I began running.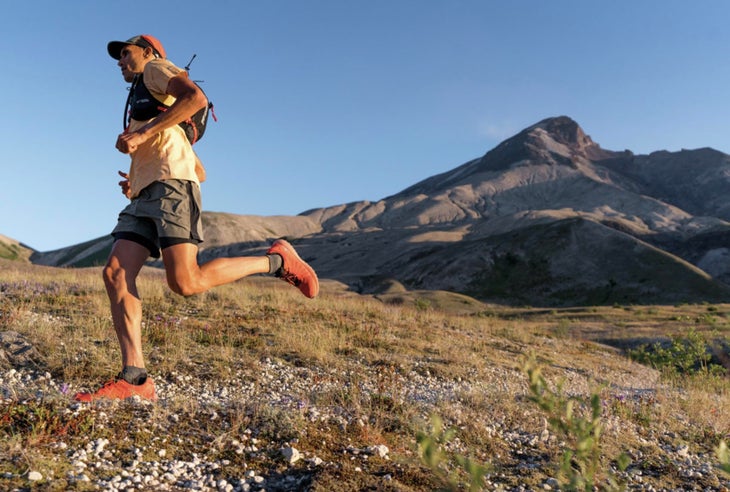 First on the road for short distances, but it was the trails of Ithaca, NY where I found my refuge.  I began to run races, perform well, and make friends who enjoyed ultra-long-distance trail running.  I fit in, but I still looked different.  I heard comments like "you look so scary, but you are so nice", "where are you from, you are so exotic looking", and I got used to the same finish line announcer mispronouncing my name for many years, even after phonetically spelling it for him.
 I  gravitated mostly towards the trail and ultra running community, and over the course of my career, I have been able to experience the best this sport and community has to offer. Trail runners are my tribe! However, there is one glaring reality – ethnic and racial diversity is lacking and I don't believe it is because only white-skinned people like to run trails.   There is truth that out in nature we are "all one".  But until we recognize that there are systemic barriers that prevent many people from participating, thing's aren't going to change. Saying that we're all one while doing nothing to dismantle the systems that prevent people of color from accessing the sport, just perpetuates inequalities. After a dozen years in this niche sport part of my mission is to actively recruit young people of color to use trail running as an outlet, a vehicle for self-expression, exploration and resistance!
There is one glaring reality – ethnic and racial diversity is lacking and I don't believe it is because only white skinned people like to run trails.
When I made a recent post on Instagram (@YassineDiboun) about microaggressions I was experiencing during Covid-19, many of my well-meaning followers responded with comments that they never thought of me experiencing such things. Perhaps this is in part because I am light-skinned and can pass for white? Or maybe it's because these folks know me, or see me as a family guy, a trail volunteer, a goof doing Tik Tok dances with my daughter?  Yes, I am a good person, and, like so many others, I am still discriminated against because of preconceived opinions based on appearance. 
The other day I had a talk with my 9-year old daughter about racism. 33 years after I was listening to "The Way It Is" song with my mom having a similar conversation, I saw my daughter's face looking down, broken-hearted. It is still the way it is.  We must do better, together.  Join us. 
Here are some resources that are stepping stones towards equity, but are by no means an exhaustive, complete or final list of actions we all must undertake for better understanding.
Yassine Diboun is a Portland, Oregon based Columbia Montrail ultramarathon runner. He co-owns Wy'east Wolfpack & is dedicated to helping athletes of all abilities including kids & people in recovery from substance addiction. He lives close to the trails with his wife, daughter, & pets.  
Donate/Follow:
Tamika D. Mallory @tamikadmallory
Alishia McCullough @blackandembodied
Jessica Wilson @jessicawilson.msrd
Read:
Articles:
A boot is crushing the neck of American democracy by Cornell West
Ahmaud Arbery: The Continued and Condoned Lynching of Black America by Faith Briggs
Op-Ed: Don't understand the protests? What you're seeing is people pushed to the edge by Kareem Abdul-Jabbar
Ahmaud Arbery and Whiteness in the Running World by Alison Desir
We Ran for Ahmaud Arbery. But What's Next? by Alison Desir
The Death of George Floyd, In Context by Jelani Cobb
Of Course There Are Protests. The State Is Failing Black People by Keeanga-Yamahtta Taylor
This Is How Loved Ones Want Us To Remember George Floyd by Alisha Ebrahimji
You shouldn't need a Harvard degree to survive birdwatching while black by Samuel Getachew, a 17-year-old and the 2019 Oakland youth poet laureate
The Case for Reparations by Ta-Nehisi Coates for The Atlantic
How to Make This Moment the Turning Point for Real Change by Barack Obama
Black Male Writers For Our Time by Ayana Mathis
Books:
Race Matters by Cornel West
The Warmth of Other Suns: The Epic Story of America's Great Migration by Isabel Wilkerson
A Spectacular Secret: Lynching in American Life and Literature by Jacqueline Goldsby
The New Jim Crow: Mass Incarceration in the Age of Colorblindness by Michelle Alexander
So You Want to Talk About Race by Ijeoma Oluo
Born a Crime: Stories from a South African Childhood by Trevor Noah
How To Be An Antiracist by Ibram X. Kendi
White Fragility by Robin DiAngelo
Biased by Dr. Jennifer Eberhardt
Wilmington's Lie: The Murderous Coup of 1898 and the Rise of White Supremacy by David Zucchino
Raising White Kids: Bringing Up Children In A Racially Unjust America by Jennifer Harvey
Waking Up White by Debby Irving
Citizen: An American Lyric by Claudia Rankine
Brutal Imagination by Cornelius Eady
Listen:
Seeing White (14-part series) on Scene on Radio
Intersectionality Matters! with Kimberle Crenshaw