Heading out the door? Read this article on the new Outside+ app available now on iOS devices for members! Download the app.
"It's not always. It's just right now."
—Krissy Moehl and Canine Sidekick Piedra Dura
Growing up in Bow, Washington, Krissy Moehl, 42, didn't exactly get off on the right foot with dogs. When she arrived on the scene, there was already a first kid—one with four legs, named Liza. Upstaged, Liza didn't warm to the new pack member and often bit Krissy's fingers and toes when the toddler and pup were out of Mrs. Moehl's sight.
Things got better. A trio of burly labs followed: Breena, Abby and Rusty. For Moehl, that cemented a lifelong friendship with dogs. Years later and married, she welcomed Ellie, an Australian Shepherd, into her world. In 2006, however, a divorce ensued. The ex got Ellie, and for Krissy there were no pads plodding around the house. Fortunately, "god-dog" Piper, a mid-size Aussie, shared many miles on the trail in the months of healing that ensued.
"For the next 10 years, I wanted a dog," says Moehl, who during those years developed into one of the world's strongest ultrarunners, ticking off wins at the Ultra-Trail du Mont-Blanc in 2003 and 2009, a course record at the Hardrock 100 in 2007 and a woman's record on the 170-mile Tahoe Rim Trail. She also authored the popular trail-running book, Running Your First Ultra. Those were busy years, and Moehl was frequently on the road.
"I just never thought it would be fair to the dog," she said.
Then came the 10-year mark of longing. "I thought to myself, 'Man, I've been talking about this for years. You've got to do this or stop talking about it.'" Moehl set herself a Christmas deadline. "I told myself, if I didn't have a dog by Christmas," she says, "I had to let that that dream go."
PD, a miniature Australian shepherd, arrived just in time, on December 15th, 2016.

"Roch Hard"
The name was already waiting. Running alongside the nearby Fragrance Lake Trail the month prior, Moehl was dog daydreaming, when she landed on a rock—hard—a collision that, with some free associating, reminded her of longtime ultrarunner friend, Roch Horton.  "I thought, 'Roch! That's a good name. I love Roch and I don't get to hang out with him much.'"
Set on a female dog, though, Roch was decidedly too masculine. Enter the Spanish equivalent, Piedra. Her Spanish-speaking grandfather added "Dura," meaning "hard," which, together with "Piedra," reminded Moehl of one of her favorite races, the Hardrock 100. The double name was shorted to PD.
"I now realize why people name their dogs Fluffy or Sam," says Moehl. "I have this incredibly long story of how I named my dog!"
On the Trails with Piedra Dura
For Moehl and PD, the adventures started right from their door in Fairhaven, a quiet coastal suburb of Bellingham, Washington. Three to five days a week, for an hour or an hour and a half, the two run the Chuckanuts, a range of low, wooded peaks just a few minutes away. The duo heads to the yearly start line of the Chuckanut 50, a renowned trail race for which Moehl is Race Director, and this year will celebrate its 28th running. From there, it's into the woods to explore.
Other days, Moehl and PD run through a nearby forest called One Hundred Acre Woods. "There are unmarked trails back there. It's just PD and me," says Moehl. "She loves it. We do all these little loops."  To keep track of all the turns, Moehl taught PD the same commands that mushers use—"Gee" for Right, and "Haw" for left. Australian Shepherds are smart, and Piedra Dura picked it up in one run—albeit with a bit of bonus training.
"We were in Home Depot, weaving through aisles in the appliance section, and I was yelling, 'Gee! Haw! Gee! Haw!,' Moehl says, laughing at the memory. "It might sound silly, but with those commands, I feel like she's empowered. She'll run ahead, I'll holler and she'll know which way to go."
Moehl goes easy on the miles with her dog. "Does PD really need to run all the miles I do?  She wants to be with mom, so she'll run whatever I run. But I'd rather she be able to run an hour or two every day for many years."
"Trail running is when we're at our best," says Moehl, "We just get each other out there." Moehl explains, "We get to an intersection and I call one of those commands, and PD turns." Moehl pauses, considering the moment. "Dogs want to understand us so much, right?"
PD's on the Call
Much of Moehl's time is spent working from home, whether coaching, writing or planning her next adventure. PD is almost always at her feet, sharing her dog bed with an array of squeaky toys. She has a knack for awkward home-office timing. "We can sit all day. I won't talk to a soul. And then when I get on a call, it never fails," Moehl says. "The squeakiest toy comes out. Always!" (Editor's note: You can hear the "PD effect" in a recent episode of the podcast, Coach's Corner.)
The benefits outweigh the occasional interruption, of course. "I can run for hours and hours, but I can also get in that same headspace and just sit at the desk. PD gets me up. She'll put her head on my knee and be like, 'Mom!' She'll start barking, and I know in my heart she's right—we've got to get out."
"It's not always. It's just right now."
PD has helped Moehl be more in the moment. "When she's calm and resting," explains Moehl, "she's teaching me to appreciate it. She's always in whatever the moment is."
For Moehl, that approach reminds her how easily we two-legged types can start to think that, as Moehl puts it, "This is how it's always going to be. I'm always going to feel this way. But that's not true. Everything is always changing. You might be loving your meal, but you're going finish it. You're going to move on. Dogs," Moehl points out, "do that with a lot more grace than humans."
That contemplative approach to the moment works both ways, too. When PD is barking crazily to get the attention of a nearby dog, Moehl remembers that it won't always be that way. "So, I let her be crazy for a minute."
"PD," she says, "reminds me that, 'It's not always. It's just right now.'"
Three, Two, One, Go!
These days, Moehl is busy coaching. She has nearly three-dozen clients. "I'm still really focused on that firs- time ultrarunner who is getting into the sport," she says. "I love watching the impossible become possible."
She's got a coach of her own—two, in fact. Trail Runner contributing editor David Roche is helping her prepare for her next race, the Miwok 100K trail race in Stinson Beach, California.
That other coach? PD. "David had me doing 30 second sprints with a minute of jogging in between. I had PD with me, and I counted down, 'Three, two, one … GO!' She loved it—sprinting strong and pulling on my waist leash, making my speed even faster.  I was supposed to do four sets and we did six. Now, she comes on the workouts intentionally."
"Overall, PD is a great copilot," say Moehl. "She gets to do a lot of what I do. I'd like to figure out how she can spend more time with me. We like to just hang out. I really appreciate her right now."
******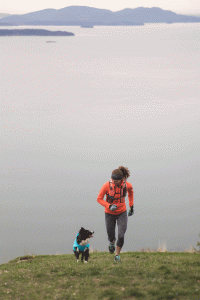 BY THE NUMBERS
Dog: PD
Human companion: Krissy Moehl
Home den: Fairhaven, WA
Age: 4 in February
Weight:  33 pounds.
Typical week: Running the Chuckanuts from the door of Krissy's house in Fairhaven. Three to five days a week for an hour or an hour and a half. One will be a longer run of about three hours.
Longest run:  Twenty-two miles in the Chuckanuts. "We do that maybe once a month, even if I'm running more. I don't have her do it frequently."
Total mileage on pads: "It's hard to know," says Moehl, "But they're mostly happy ones!"
Preferred food: "Peanut Butter! And the girl also loves cheese and meat. Some dogs will eat sweet potatoes and all that. Not her. She is not a vegetable girl. She likes her big heavy fat calories."
Regular Diet: "She has her kibble, and she has a bunch of supplements from Flora Health. I think those have been really helpful. Glucosamine, and supplements that are good for her skin and fur, and a multivitamin."
When she's not trail running: "PD sleeps a lot, so she has the energy to wiggle when guests arrive, and to bark at everyone walking across the street." And she spends a lot of time watching Moehl for signs she might be baking treats. "She knows not to beg," says Moehl, "But she makes her presence known."
Worst thing she's ever done: PD once nipped Moehl when Moehl took away Halloween candy she had discovered. A week of serious training ensued. "If she growled or nipped when I reached for her bowl during dinner, I took the food away for a moment, then would try again." Says Moehl. "It sucked, but the whole thing works much better now."
Sponsorship: Ruffwear.  "We both love Ruffwear. When I lived in Bend, Oregon and worked for the Conservation Alliance, we partnered with them on a lot of projects," explains Moehl.  "When I was about to get a dog, I was so excited. I wrote and said, "I'm getting a dog and I want Ruffwear to be her sponsor!" They wrote back and said, 'You know what? Why don't you get the dog and then let us know?' I thought that was such a great response!"
Got a suggestion for a dog we should profile? Email Doug Mayer at doug@runthealps.com