Coree Woltering Sets New FKT On Iconic Ice Age Trail
Heading out the door? Read this article on the new Outside+ app available now on iOS devices for members! Download the app.
Like many runners, Coree Wotlering's summer race schedule was in shambles, but his fitness was as good as it had ever been. And so, the idea to undertake an iconic Midwestern FKT was born.
"The Ice Age Trail has always been really special to me," says Woltering. "I was born and raised in the Midwest, and it's an awesome place with a lot of trail-running history."
Woltering, 30, is a native of Ottawa, Illinois, and has long been inspired by the iconic long trail. The Ice Age Trail starts in St. Croix Falls, Wisconsin, and ends in Potawatomi State Park in Sturgeon Bay. The previous record on the 1,200-mile trail was 21 days 18 hours 7 minutes,  held by Annie Weiss, who Woltering cites as a major inspiration. Woltering took over five hours off that record to finish in 21 days 13 hours 35 minutes.
In just a few weeks, Woltering devised a plan and assembled a crew to tackle the FKT. His crew was captained by his husband and athletes he coaches as pacers. He was also joined by former trail FKT holders Annie Weiss and Jason Dorgan for sections of the trail as well.
Woltering's approach was pretty simple. "Every day you wake up, and you move forward. You just take it one day at a time," he says. Each day, Woltering would start running before the sun was up and continue on until eight or even 11 at night.
"It was definitely a mental exercise," says Woltering. "I would start counting to 10 in my head, just to keep going and stay focused."
The first 350 miles were muddy, rocky and wet. The trail winds through swampy marshland and is technical and rocky, which made it tough for Woltering to cover his ideal pace of around 100K each day. The mosquitos and ticks were brutal, an ankle roll early on also presented a challenge, but Woltering persevered to maintain his record-breaking pace, despite swelling that Woltering likened to a baseball.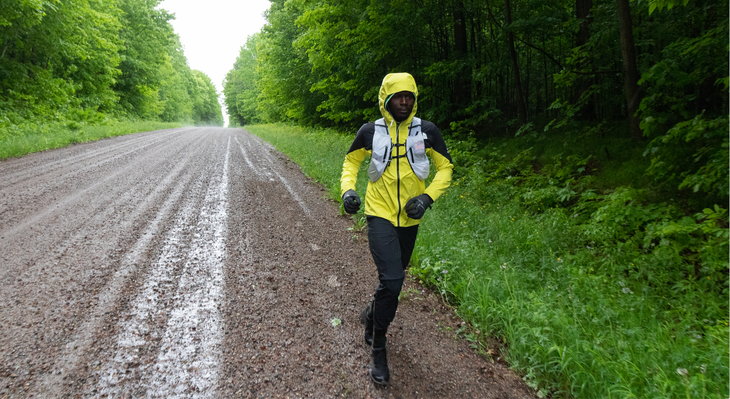 The first eight days were a warm-up for Woltering. The next two weeks were a race. Once the Ice Age Trail heads south, it becomes a lot more runnable and includes many road connectors and singletrack.
"People really should come and check out the running in the Midwest," says Woltering. "It's not flat and boring!"
Woltering loves his Midwestern stomping grounds not just because of the history and terrain, but also because of the vibrant running community and kindness that the region is known for.  Woltering had been sharing FKT updates on his Facebook page, and one such post mentioned how much he was craving a lasagna and red-velvet cupcakes.
The next day, someone along the trail had baked him a lasagna and red-velvet cupcakes and dropped them off at the trailhead. Another family invited Woltering and his crew to stay the night and shower in their home.
"The kindness of people has totally blown me away," says Woltering. "The Ice Age Trail has these incredible communities along the way, and it's been amazing to connect with some of those people."
To fuel his first-ever FKT, Woltering's crew has been relying on gas-station staples like Ramen noodles, instant mashed potatoes and Quik Trip chicken sandwiches. For a real treat, Woltering would slurp Spaghettio's straight out of the can. One day, Woltering ate six cheeseburgers.
Amidst his record-breaking run, Woltering was also raising funds for Feeding America and for the Ice Age Trail itself, which is maintained primarily by volunteers.
At half-past 8 on the night of June 22, Woltering reached the easternmost finish line of his FKT, becoming the fastest person to ever run the trail.
When asked what he was most looking forward to after almost 22 days on the trail, Woltering noted that the trail ends in Wisconsin's wine country and that he was eagerly anticipating sharing a nice glass of wine, and perhaps a salad with his husband.
Zoë Rom is Assistant Editor at Trail Runner and produces its DNF podcast. She enjoys long runs in the mountains and making pizza at altitude.