What It's Like To Finish A 100-Miler With One Second To Spare
Virginia's Bob Gaylord had a serious lean as he crossed the finish of the Massanutten Mountain Trail 100 with no time to spare.
Heading out the door? Read this article on the new Outside+ app available now on iOS devices for members! Download the app.
Bob Gaylord was leaning hard to the left coming down the finishing chute of the Massanutten Mountain Trail 100 on May 14. Normally, the 73-year-old leans right when his body gets tired, but a yet-to-be-diagnosed broken rib was changing things up. 
The 20-yard stretch was wobbly. With his pacer Ivory Lira on one side and his friend Deb Cawthorn on the other, Gaylord swerved to the finish.
"I'd go too far right and they'd push me left or I'd go too far left and they'd push me right," Gaylord says. "I felt like a ping pong ball as I navigated that finish."
The crowd intently watched both him and the clock. Seconds remained before the cutoff and he was surely the last possible finisher before the 35-hour cutoff. As Gaylord beeped across the line to get his official time, the clock read 34:59:59.
"I looked like a pretzel doing a crab walk, which is not the finish I was looking for," he says. "But I did it."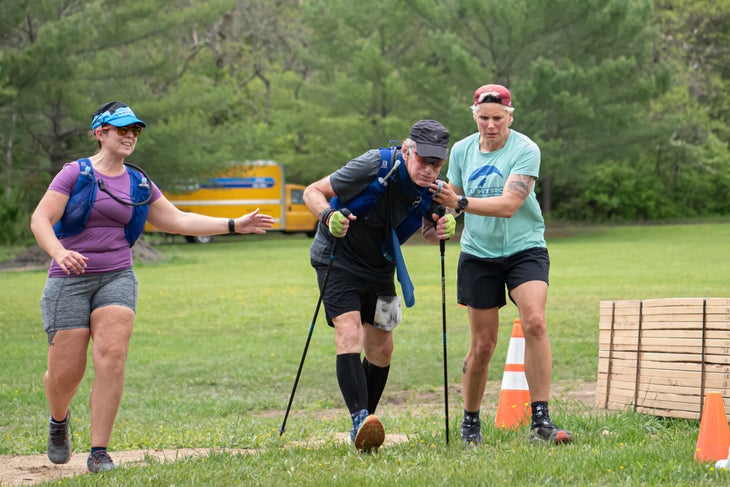 Back For More
The race was redemption after a 2019 MMT attempt that ended with a DNF. Having started doing ultras at age 50 after three decades in the military, Gaylord is no stranger to the distance. 
"He's done a few choose-your-own-adventure 100 milers and a 200-mile out and back through Shenandoah National Park," said Katie Keier, a longtime friend and running partner of Gaylords. "He loves to plan the toughest and most challenging climbs. He really tries to make the run as tough as possible. He is unstoppable. He will not quit no matter what."
RELATED: The Victory of DFL (Dead F*cking Last)
However, Gaylord admits that things have to change as he gets older.
"I was pushing my luck," he says. "I last did this race when I was 70. I'm going on 74, so I knew it was going to be a challenge and indeed it was."
For once, Gaylord says, he took the early part of the race at a comfortable pace instead of burning out like he did in 2019. That strategy paid off, even when he slipped and fell hard on his side around mile 56. Though he didn't feel discomfort for the next 25 miles, the ramifications hit hard at mile 93.
Once his rib started to hurt, it caused a strain on his back muscles and forced him into that hard left lean. 
"I couldn't straighten up," he says. "All I was thinking was I needed to walk it in."
Powering Through
Keier says this isn't the first time he's powered through an injury during a run. She wasn't there with him this time, but she imagines anyone who asked him how we was doing received Gaylord's catch phrase: "I'm practically by god perfect."
"We were supposed to do Grindstone 100 a few years back," Keier says. "During a training run two weeks before, he tripped and fell. He wouldn't let anyone carry his pack and we got burgers after. He's grumbling, 'I'm fine,' the whole way. When he gets home, his wife makes him go to the Urgent Care. He had a broken collarbone."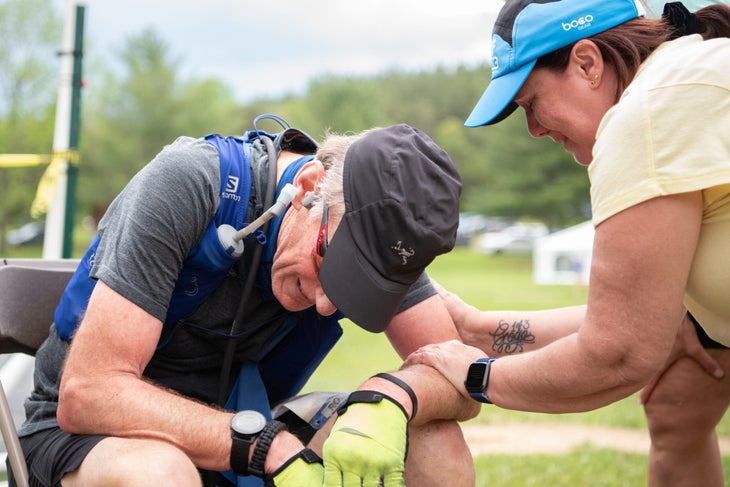 While Gaylord didn't care if he finished MMT in time to get a belt buckle (the prize for finishing most 100 milers), he knew he was close to the cutoff. He trudged along as fast as he could – around 15-minute mile pace – to the final hill and into the field that hosted the finish, where a roar from spectators greeted him.
Many of those spectators were friends he has made as part of the Virginia Happy Trails Running Club, which hosts Massanutten Mountain Trail 100. They all screamed for him to hurry as the final seconds of the race ticked off.
Gaylord says he'll never forget that one-second margin.
"I said I was going to do this doggone thing, and to see them come back out and cheer me in was a hoot," he says. "It was hyper emotional and it's a humbling experience. To get in there and feel that love; it's all worth it. There is no amount of pain that can take that away."
RELATED: Trail Running Involves Walking, And That's Awesome
He also says it took him less than a second to sit down.
"I got three feet over the line and I sat my ass down in a nanosecond," he says. "It's one of the moments when I'm dead and trying to process it all, that moment and the entire day. It hits you all at once. It's almost a transcendental or surreal experience. You're sort of above it and looking at it from above. It's hard to describe."
He took some time to soak in congratulations from friends before packing up. Once again at Donna's urging, he went to Urgent Care to get his ribs checked out. Before going, they made a bet: Donna bet it was a broken rib. Gaylord bet it wasn't.
Donna won.
"Now, I owe her a steak dinner," Gaylord says. "I haven't done it yet, but believe me, she will call my hand on it and make sure that I do."
Not Slowing Down
The doctor gave Gaylord orders to prevent worsening the injury. Keier says he found a loop hole.
"Nothing is ever wrong with him," she says. "Two weeks after MMT, he ran at the Holy Cowans Gap 50K (in Pennsylvania). Bob said, 'The doctor didn't say I couldn't run. He said I couldn't fall.' Running is play for him. A runner asked a group of us there what one word describes why you run and Bob said, 'Play.' It's truly his playground."
At 73, Gaylord has no plans of stopping any time soon. He says he's already out running again, preparing for whatever comes next.
"There are a lot of people who look at me at my age and say, 'You're still doing 100s?'" he says. "I'm alive, so why not? The day you say you can't do something is the day you start to die because you're limiting yourself. One should never do that."
RELATED: A Training Plan To Run 100 Miles