Black Trail Runners Is Leading the Way in the United Kingdom
Sonny Peart founded Black Trail Runners in 2020, to build a community of runners who felt safe and seen. This May, they're launching the UK's first-ever trail race organized by Black runners.
Heading out the door? Read this article on the new Outside+ app available now on iOS devices for members! Download the app.
Sonny Peart, 54, is an ultrarunner, co-founder and Trustee of Black Trail Runners, from northwest London. For many runners of color, running is not as inclusive as many white runners naively believe it to be. Peart is here to change the antiquated global model of the sport and is central to the movement to diversify trail running with intentionality. 
The former soccer center forward found himself in middle age, somewhat displeased with some of his holiday photos. His running evolved from years in athletics as a youth in Essex and Durham. As a business management lecturer from King's College London, Peart started running in the wake of the 2012 Olympics-inspired optimism. Peart recalls a general sense of buoyancy in the city that summer. The timing was right for him to improve his health and revive his lifestyle that had grown dormant. 
On a rainy Monday night in November 2012, he joined his local running club for a run. "I kind of thought no one was going to turn up. I sat in my car at the meeting point thinking, surely people won't come out in this, but sure enough, they did." From there, he joined the club every Monday. Then twice a week, and then three times a week. "It's one of those things where if you apply yourself a little, I got better fairly quickly in those early weeks and months," said Peart. "So that in itself is encouraging. Then there's the social side of it. You're meeting new people, and you talk about running while learning new stuff."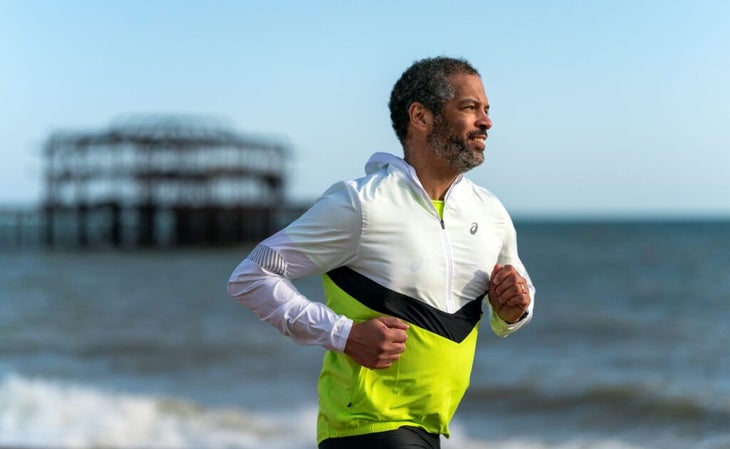 Peart established an affinity for trail running after a race in the rolling countryside of Sussex, England. "It was a whole different way of running. Not the emphasis on hanging out at a particular pace per mile," Peart said. "But having a look around, having to climb over stiles [steps used in climbing over a fence or wall] and crossover streams that run through forests and stuff like that. And I thought, 'This is really cool.'" 
His running progressed from 5Ks and 10Ks to marathons and 50Ks. Peart has now run over 30 marathons and ultras, including six 100-mile races. This July, Peart's evolution continues as he faces his most challenging race yet – the Wendover Woods 100, just outside of London. The course features 20,000 feet of climbing and 20,000 feet of descent. To date, just five runners have earned buckles at this event, with finishes under 24 hours.
Black Trail Runners
Following George Floyd's death, on May 25, 2020, and the resurgence of Black Lives Matter, Peart was on the British Ultra Running Podcast, where the host raised the discussion of a lack of Black people at trail events. At the time, it wasn't something Peart had consciously given much consideration. But when he did, it became clear. "I was often the only person of color on the start line of trail races, and so I started to look into why that might be. In the UK, the population is roughly 5.5 percent Black. When we looked at the entrance to trail races, the equivalent figure was less than 1 percent," Peart explained. "So if you think something like 1 in 19 people in the UK identify as Black. In trail races, it's 1 in 126." 
In collaboration with other UK-based runners of color, Peart made the decision to create Black Trail Runners (BTR) on July 29, 2020. Shortly thereafter followed the launch of BTR's social media, including a Strava group now nearing 9,000 global members.
Black Trail Runners is a community and charity that aims to increase the inclusion, participation, and representation of Black people in trail running. They welcome individuals interested in helping develop the representation of Black runners in trail running, promote the inclusion of Black runners, and increase participation of Black runners in trail running, ultrarunning, and mountain running.
"That was one of the things we discovered quite quickly. We're all based in the UK and were set up as a UK organization," Peart explained, referring to his small team of organizers. "But we immediately started getting contacted by people in the US and Canada and other parts of the world, with the same concerns." Individuals were eager to find people and a community where people looked like them and shared the same concerns. A place to feel seen and heard.
Along with other founders, Sabrina Pace Humphreys and Phil Young, they spent time thinking about why Black people were so underrepresented in the sport. For BTR, the lack of runners of color boils down to three things: representation, access, and skills.
Representation. The representation aspect is easy for Peart, as the sport has historically presented and marketed itself as a white, male, middle-class sport. "I spent some time looking at websites of trail races and ultras that I had run," Peart explained. "I could only find one photograph of a black person on any of those websites, which was remarkable." The photo he found wasn't even of a runner. It was from a race called Escape from Meriden, with a prison break vibe where people run chained together and sport orange jumpsuits. 
"The one photograph I found that had a Black person in it was actually from that race, and rather than it being a run, it was a still from a film from the 1960s called The Defiant Ones, which stars Tony Curtis and Sidney Poitier," Peart recalled. "The one lone image of a Black person I could find was actually of an actor playing a criminal."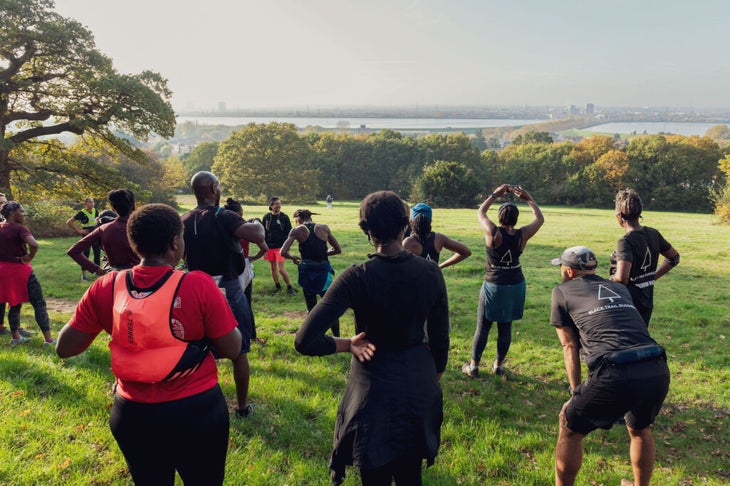 Access. The sport of trail running–certainly at the competitive and long-distance end–is not the cheap, easy-to-access sport that some runners believe it is. That is partly economic and partly geographic. The fact is this: people of color in the UK–as is the case in the US–are, on average, less well off than their fellow white citizens. 
"You can't go out running in the mountains over long distances without a decent kit, and even getting to those places is expensive," said Peart. Most people of color in the UK and the US tend to live in urban areas. This is a result of historic systemic racism and exclusion, which has created clear barriers regarding resources needed for transportation, time off, and other services.
Skills. Trail or mountain running requires a different level of knowledge than simply lacing up for a run around the block. "Going out into the mountains, being able to navigate, knowing what the right running kit is, knowing what's safe to do and what's not, that's the stuff you learn from experience and peers," said Peart. "But if you haven't grown up in that environment, then that's something you don't have, and that becomes a barrier because you just don't have the confidence necessary to go and do those things. These things disproportionately affect people of color because of their position in society from both a historical and current-day situation."
RELATED: How Footprints Running Camp Uses Trail Running to Support the Next Generation of Climate Leaders
Black to the Trails
Initially slated for September 11, 2022, BTR's inaugural Black to the Trails event was postponed following the death of Queen Elizabeth II. "We decided last year that we wanted to put on our own trail running event because we want to effectively demonstrate that it is possible for trail running to look different from the way it has looked," Peart explained. "And so we launched an event which we call Black to the Trails."
The event has been moved to May 14, on land held by the National Trust, and offers 1K, 5K, and 10K distances. BTR decided on a location in Bedfordshire called Dunstable Downs that's accessible from London. "We've removed as many barriers as possible for people to participate, so it's in a place people can get to. We put on transport from London to people who want to go, and we've made the entry fees as low as possible," Peart said. "And indeed, anyone for whom finance is a barrier, we will give them a free place [race entry]."
The entries to Black to the Trails are 70 percent people of color, compared with the typical trail races in the United Kingdom's 0.7 percent. "That's a huge difference," Peart said. "But what's also interesting is that the majority of entrants are women, and this speaks to the intersection between different underrepresented groups. We're finding that if you make things as inclusive as possible, then underrepresented groups feel as though this is something that is actually for them, that they feel included, too." 
The event will be the most people of color ever at a trail event in the UK, and the first time a UK trail race is being created and organized by Black runners. "And so it is for us going to be an opportunity to show what trail running can look like," Peart said.  "If people actually want it to be different."
Ben Pryor (Choctaw) is a contributing writer for several national and regional publications, including Native News Online and Indian Country Today. He has graduate degrees in Political Science (American Politics) and Philosophy (Philosophy of Language). His writing interests include running, politics, and the environment.