Alyssa Godesky: A Student of Endurance Sports
Preparation and determination have helped her achieve success in numerous disciplines
Heading out the door? Read this article on the new Outside+ app available now on iOS devices for members! Download the app.
Long Trail. Adirondack 46 High Peaks. New Hampshire 4000 Footers.
These three arduous fastest known time (FKT) challenges in the Northeastern U.S. attract national attention and have more DNFs attempts each year than completions, so you might be surprised to learn that one woman currently holds all three marks in a supported style.
Alyssa Godesky. 
In 2018, she lowered the female supported Long Trail record—heralded as a Premier Route, one of ten highly visible routes on fastestknowntime.com—by five hours. That record had been held by American ultra runner Nikki Kimbell and untouched for six years. She covered the notorious 273 miles through the Green Mountains of Vermont with 66,000 feet of vertical gain in five days, two hours, and 37 minutes with a strong crew pacing and resupplying her along the way. The accomplishment earned her the FKT of the Year accolade beside Karel Sabbe who lowered the Appalachian Trail FKT by four days.
In 2020, she set her sights on a cluster of mountains to the west of the Greens and went for the Adirondack 46 High Peaks, 46 mountains originally measured over 4,000 feet in upstate New York. Running and power-hiking over 161 miles of rugged terrain with 67,400 feet vertical gain, Godesky secured the women's supported record and the second-fastest time ever in three days, 16 hours, and 16 minutes. Ryan Atkins, a professional athlete from Canada holds the overall record and says, "Adirondack trails are steep, wet and relentlessly technical. I've never been anywhere with consistently harder trails."
Last July, Godesky journeyed to the White Mountains of New Hampshire and made history yet again, taking the overall record for the New Hampshire 4000 Footers, 48 mountains over 4,000 feet. She covered the 174 miles and 68,800 feet of vertical gain in three days, eight hours, 56 minutes.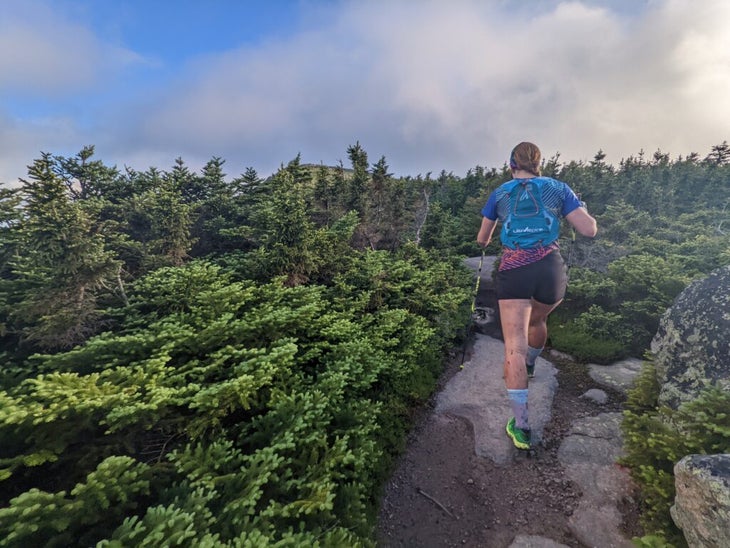 Each of these records is unfathomable to many trail runners and hikers. Let alone tackling all three. Adding to that, Godesky got them all on the first try. 
So, what is it that gives this 37-year-old athlete from West Fairlee, Vermont, the edge over other athletes who try for the same records? 
RELATED: Two Women Tackle The Adirondack 46 High Peaks
Always Learning
She grew up in Severna Park, Maryland, just outside of Annapolis, in a neighborhood where most of her time was spent playing outside, getting dirty and riding bikes. Her dad coached soccer teams she played on and took her along for weekend 5K races. A self-described perfectionist when she was younger, Godesky got straight A's in school and was that kid who was always running extra laps after practice. 
"I was very driven and looked up to my coaches. I felt like I was thriving when I was being challenged and pushed," Godesky reflects. "I was lucky and had good leadership in my life and was in a good positive environment. It set me up well to be an athlete as an adult." 
After high school, Godesky spent her first two years as an undergraduate at the U.S. Naval Academy, but she later transferred to the University of Virginia to study mathematics. It was during this time she found a sport in which she could combine her tenacious athleticism and structured academic nature: ultrarunning. 
"When I started running ultras in 2005, women were very much in the minority," she says. "But I feel like I've always had an acute awareness that women can close the gap in a major way."
Godesky was inspired by champion runners like Nikki Kimball and Pam Reed, and knew that she wanted to keep pushing herself as an athlete. Around this time, she began following the world of Ironman triathlon with an interest to compete, and one name kept popping up: Hillary Biscay.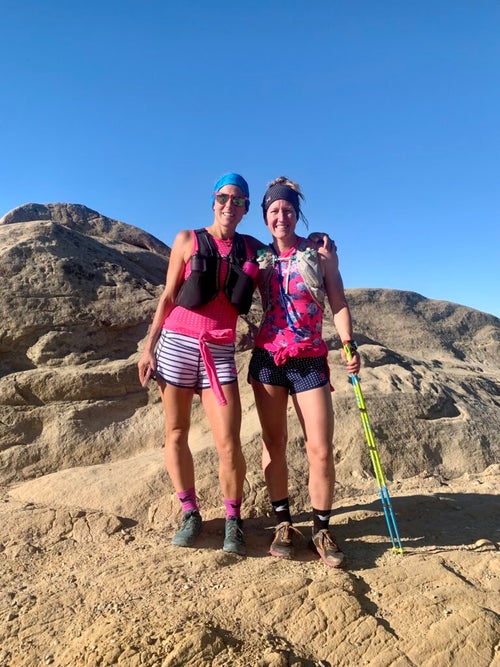 "As I was following Hillary's career, I was reading her blog and I realized that she was adding in some ultra-marathons at the end of her seasons," Godesky said. "I knew that if there was going to be a coach who understood my transition from ultrarunning to Ironman, and even embraced my love of the trails with me, it would be Hillary."
So, she reached out, with the hope that Biscay would coach her.
"When she emailed me, I knew this was a project I wanted to take on," Biscay reflects. "I knew if she could do the ultrarunning, she could do the triathlons."
Biscay had been a competitive swimmer who competed in the 2000 U.S. Olympic Trials. After that, she went into triathlon and raced professionally for 10 years while starting to build a coaching career. 
From day one, she saw greatness in Godesky and the two bonded. 
"She is extremely focused and driven," Biscay says. "And she's proactive in figuring out what she wants to do and how it has to be done."
Transitioning from Triathlon
For years, Godesky competed as a professional in Ironman races. She saw the world, fought for podium finishes and even earned enough money to pay some bills along the way. It was during an Ironman event in Lake Placid, New York, that she heard rumblings about mountain athletes and speed records. The idea intrigued her and brought her back to her ultrarunning roots. And with the help of Biscay, Godesky set her sights on the fastest known time of the Long Trail, a 273-mile trail that runs the length of Vermont. 
"When we prepared for the Long Trail, it was a big experiment because she had been predominantly focused on triathlon racing," Biscay recalls. 
Other parts of the experiment would include developing a nutrition strategy different from that of triathlons, understanding what gear was necessary and putting together a support crew for Godesky. 
At the time, Godesky was dating Matt Cymanski, an endurance athlete from northeast Ohio. The couple met at a bike shop where Cymanski worked and supported Godesky for triathlons. 
"I convinced her that she needed my help for the Long Trail," Cymanski recalls. 
Going into the Long Trail, Godesky had a solid start for a crew with Cymanski and Biscay. But, as her team grew in size, and the logistics of everyone moving in sync, Godesky began to have doubts.
"There were a lot of little details, and the more I tried to talk it through or write out the plan, I didn't feel good about it being foolproof. I felt like something was slipping through the cracks. I needed to see the plan playing out," Godesky says and it made her think about when she played the Game of Life as a kid.
"Those little people and mini cars would be exactly what we needed to simulate the logistics. I went onto ebay and found someone selling a set of people and cars from the game, and we started using them to work through the logistics."
The creative strategy proved effective. Godesky's team was able to see where the holes in the plan were so they didn't encounter them on trail. When it came time to tackle the 273 route, they were ready and the calculations held true.
RELATED: Women-Only Trail Running Groups Are Key to Growing Female Participation in Trail and Ultrarunning
Barkley Dreams
After the success of the Long Trail in 2018, Godesky thought about competing at the notorious Barkley Marathons, a dastardly five-loop 100-mile course in Frozen Head State Park, Tennessee—an event that many of the world's toughest runners have entered but few have ever finished. To even have a shot at being successful on such a grueling course, she knew she'd have to learn off-trail navigation skills and get more experience being in an unstructured environment out of her comfort zone, so she paired up with Cymanski in multisport adventure racing. 
"It typically involves trekking, paddling and mountain biking. Races can be four hours to five days," Cymanski explains. "It's sorta a surprise."
Adventure racing helped Godesky prepare for the Adirondack 46 High Peaks, which involved rugged, remote terrain and off-trail navigation—sometimes bushwhacking from one mountain to the next. She learned a lot on the way to achieving that FKT in the summer of 2020 and was eager for more.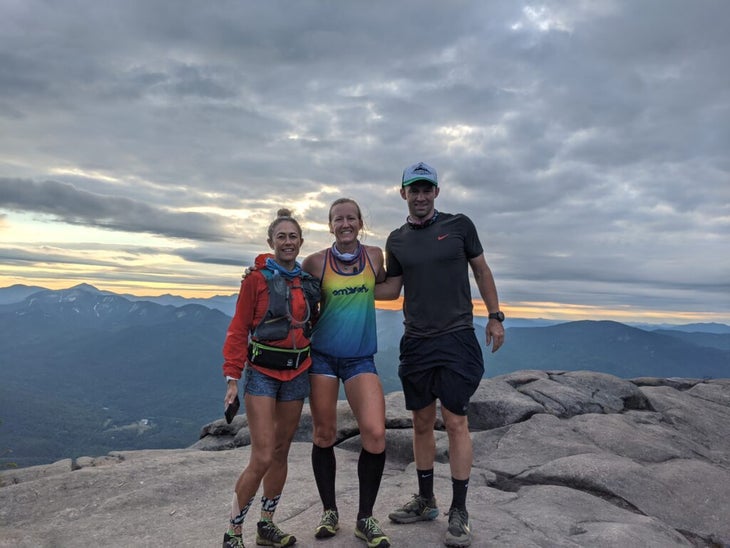 In 2022, Godesky applied to take part in the Barkley Marathons and was accepted for the early March event. Weather-wise, it was a harsh draw—with bouts of rain showers, cold temperatures and damp, slippery terrain—and out of the 35 starters, there were no finishers. Godesky made it to the second lap, but that's actually a big accomplishment for a race that has seen only 15 finishers since its inception in 1986.
"When I think about Barkley, it has played an important role for me as an athlete," Godesky says. "I want to continue to be an athlete that is strong and has a large range of what I can do."
By the time Godesky lowered the overall FKT on New Hampshire's 4000 Footers last July, she was ready, taking what she learned from each experience from Ironman to adventure racing to Barkley and applying it to the equation. 
"I think that Alyssa is able to get a lot out of herself by doing the preparation and training, taking care of every detail that goes into the attempt," Cymanski says. 
As 2023 gets underway, Godesky trains and coaches full-time with Biscay. Most of her days begin around 5:30 A.M.. With her coffee and breakfast, she scans her emails to see if any of her athletes have an urgent need or adjustment to their plan for the day. 
"I find endless inspiration from the athletes I coach," Godesky says. 
After check-in's, she takes the dogs for a walk. Having raced Ironman professionally for the past decade, Godesky's day consists of multiple training sessions that heavily depend on where she is in the season. For example, when she was preparing for the New Hamspire 4000 footers, she put in 20-33 hours a week with everything from time on trail scouting the route to treadmill work to keep her cadence strong. For recovery work, Godesky mixed in swimming and cycling. 
"Many of our clients are inspired by Alyssa and her FKTs and want to accomplish what she did in four days in two weeks," Biscay says. And Cymanski agrees. When Godesky took the overall New Hampshire 4000 Footers record, it was monumental because it "showed other women that they can set big goals for themselves and compete with everybody."
When asked what is next, Godesky contently smiles, "I'm really happy with what I've done." 
And maybe that's Godesky's greatest strength. Making calculations and assessing which way to move in the Game of FKTS. Through the equation of it all, she has reached greatness and found balance. And within that great balance, her longest trail run might be yet to come. It might even go from Maine to Georgia. Stay tuned for 2024.