Using Whole Foods To Fuel An Ultra
Big runs require big foods. Here's how to incorporate more whole foods into your long runs and races.
Heading out the door? Read this article on the new Outside+ app available now on iOS devices for members! Download the app.
Fueling an ultra can feel like a balancing act. One minute you feel like a boss, ready to take on the next 80 miles, the next, you hit a wall. It can be a tough puzzle to solve, and gastrointestinal issues are a leading cause of DNF's. 
Sports nutrition products like gels, chews, or hydration mixes are great options for many athletes. They're made exactly to excel as fuel during long runs and races.  Though it has been in vogue to demonize these products in corners of the internet because they contain sugar (gasp! carbohydrates). Overall, these products are useful and reliable for many athletes and should not be written off simply because they are processed. 
Whole foods have steadily gained popularity among the endurance community because of their ability to provide nutrition without as many gastrointestinal effects. They also offer a convenient way to take a break from the intake of sweet hydration mixes and gels.  Whole foods most commonly seen out on ultra circuit include pierogies, boiled potatoes with salt, peanut butter and jelly sandwiches, and tater tots.
Before trying to dial in if whole foods might work for you, It's important to understand what your body needs during long distance events.   You've got to have a delicate balance of calories, sodium, and fluids.  Without sodium, your ability to absorb the carbohydrates you are taking in is affected, while fluid intake allows for you to maintain proper concentration gradients, temperature regulation and basic bodily processes to occur.  And without the right amount of calories, well, you risk the dreaded bonk.  
RELATED: 3 Tips To Nail Your Long Run Fuel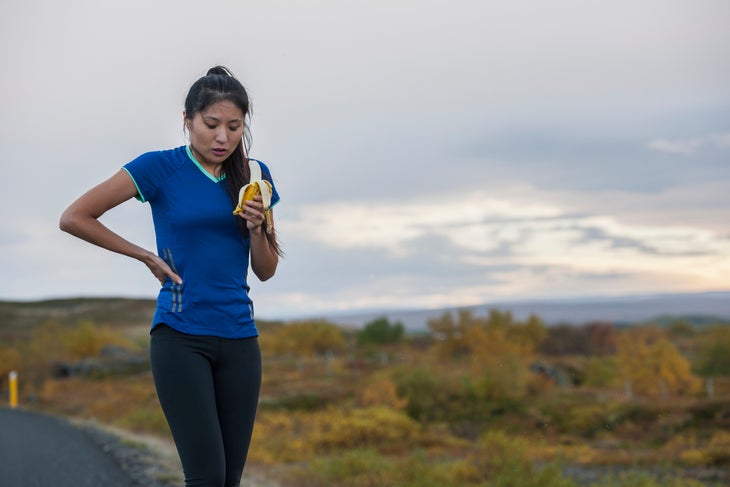 Going The Distance
In longer events, your body is going to be moving at a slower pace (ie lower intensity effort).  At lower intensities, you may be able to tolerate more fat and protein than you would at higher intensity running, like during a marathon.  But, carbohydrates remain important because they are the most efficient source of energy production and can keep you alert and able to crush things like hills out on the course.
Now, where you get those calories from is the puzzle that many runners struggle to pinpoint.  Some runners like to get some of their calories from hydration mixes as well as gels because they are a convenient way to drip them in.  Keep in mind that if you don't get the calories from hydration mixes and gels, you will need to get them from somewhere else.  That's where whole foods like boiled potatoes with salt, PBJs, and even perogies and tater tots come in!
RELATED: What's Causing My Stomach Issues On Runs?
Consider the following when making food choices:
Low Fiber (~<5G/hour):

One thing that can be agreed upon is that high fiber is a big 'no-no' during an ultra.  Mile 50 is not the time to be worrying about whether something is whole grain unless you want to land yourself in the portable toilets.  

Fat Content:

While runners can tolerate some fats, they take longer to digest and can be risky when it comes to possible gastrointestinal distress. 
Examples: Nuts, seeds, avocado, fatty meats, cheese
Sugar Types:

The carbohydrates you choose to have together every hour can impact how you feel during your event.  Our small intestines contain glucose and fructose transporters in them.  Varying the sugars can be a good way to maximize the use of the transporters and avoid stomach problems.  Doing too much of one type of sugar is not advisable. 
High fructose foods: Fruit, candy, juices, sodas
High glucose foods: Dried fruit (also contains fructose), molasses, honey, maple syrup
Consider a Bit of Protein:

The further you get into your event, the most muscle protein breakdown is occurring in the body.  For events longer than 3 hours in duration, taking in a small amount of protein (~8-10G/hr) can help prevent some muscle-related fatigue and breakdown.  
Examples: BCAAs, Nut Butters, Potatoes
Practicality:

Pizza may sound like a great option for fueling, but is it practical to carry?  Maybe you will only be able to get some from your crew members.  Make sure you consider this with any foods you choose to incorporate into your fueling plan.
Examples: Boiled potatoes with salt, uncrustables, fig bars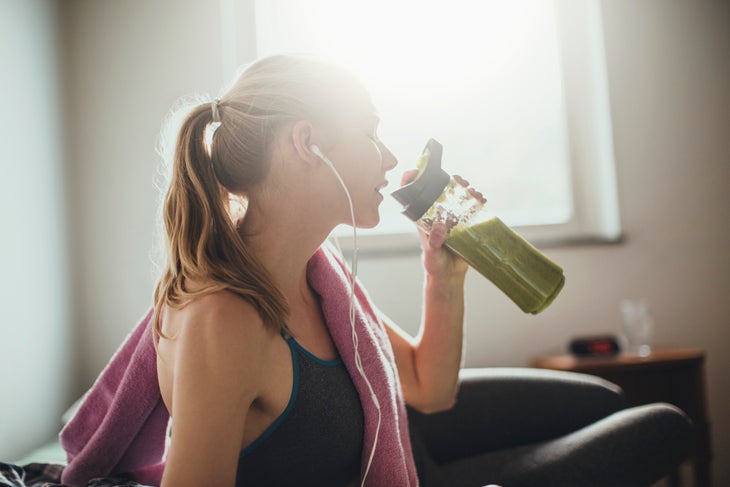 Build Your Ultra Fuel Plan With Whole Foods
A good starting point for calorie per hour target for an ultra event is 200-300 calories per hour.  The exact amount may vary depending on body frame size and length of the race.  Those with a smaller frame should start by targeting the lower end and when distance increases, calories should follow. Choose items ahead of time and practice with them in your training.  Anticipating what may be at aid stations can also be helpful.  Practice intake of fluids, electrolytes, and food options.  Pay close attention to how it makes you feel in your training runs, but don't count any one item out after only one run.  A good rule of thumb is to trial things 2-3 times before making the decision as to whether it will work or not. 
As a final reminder, every ultra athlete's fueling plan must be individualized.  What works for your friend might not work for you.  And in this case, using whole foods may be a whole new ball game that should be taken seriously before race day!
This whole-food gel alternative will keep you fed and ready to rock any endurance running event.
Nutrition Facts (per serving):
Calories: 109
Carbs: 27G
Sodium: 311mg
Potassium: 514 MG
RELATED: Make Your Own Banana Date Real Food Blend
Preparation:
Puree 1/2 cup roasted or steamed sweet potato (peeled) with 1 medium banana
add 1/4 teaspoon salt and 1/2 cup water and blend until smooth
Add more water, 1 tablespoon at a time to achieve desired texture
Store up to 3 days in the fridge. Put in flask or Ziploc bag for in-run whole food fueling!