Heading out the door? Read this article on the new Outside+ app available now on iOS devices for members! Download the app.
You've heard it before: breakfast is the most important meal of the day. And I agree—it can make or break your day, and workout.
Have you ever eaten the wrong thing before heading out to run?  It's the worst. Or not fueled adequately and almost gnawed off your arm mid-morning? That's not fun either. Here are five recipes to help you nail breakfast, and the day ahead.
Toast!
Eat this: Before a hard workout.
Why: It's quick and simple, and it'll give you energy for a hard workout. And it won't sit heavy in your stomach. Choose high-quality bread; my favorite is sourdough from a local bakery – it has few ingredients and will sit well. Avoid bread with a lot of fiber and/or seeds and additions, as it may not agree with your stomach.
Ingredients
2 slices sourdough bread

2T almond butter
1 banana, sliced
2t honey
Directions: Toast bread and slather with almond butter. Slice a banana on top and drizzle with honey. Yeah, toast!
Smoothie Bowl
Eat this: When it's hot as heck outside.
Why: When it's tough to imagine eating anything because it's so hot, this bowl has you covered. Not only does it taste like ice cream, it also looks pretty and has lots of nutrients.
Ingredients
1 frozen banana

1/2 c frozen blueberries
1/2 c cooked sweet potatoes
1/3 c plain, whole-fat Greek yogurt
1 handful spinach
1/2 avocado
Directions: Add everything to a blender and process until smooth. Top with fresh berries, banana slices, shredded coconut, chia seeds and granola.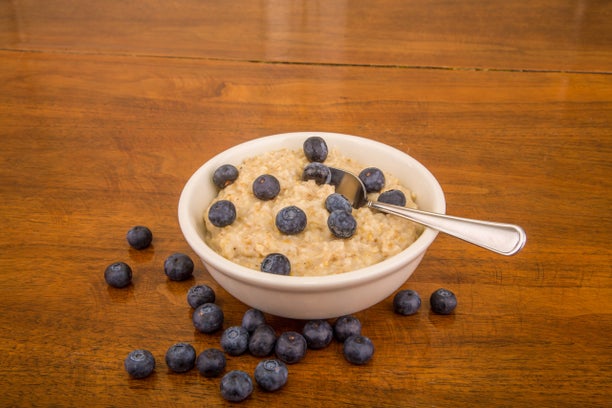 Steel-Cut Oats
Eat this: Before a long run or race.
Why: The nutritional value of steel-cut vs. rolled oats is the same, but you can make a large batch of steel-cut oats ahead of time and reheat them in the morning, cutting down your breakfast time.
Ingredients
1 c steel-cut oats

3 c water
Directions: Add oats and water to a large saucepan. Bring to a boil and reduce heat to a simmer. Cook for 20-30 minutes until oats are soft. Cool to room temperature and store in the fridge.
To reheat: Add 2/3 c cooked oats, 1/2 c milk and 1 t coconut oil to a small saucepan. Heat over medium heat for 5 minutes or until warm. Top with anything you like! Some options include:
1/2 avocado and sea salt

1T peanut butter and sliced bananas
1/4 c chopped walnuts and cinnamon
1 fried egg and 1/2 avocado
1/4 c blueberries and 1T chia seeds
Cut banana bread with crumbs.
Banana Bread
Eat this: For a quick bite before heading out the door.
Why: It's better to have something to eat before running than going on an empty stomach. Not only does it get your blood glucose up so you feel better, it also results in higher-quality training. When you are maximizing your sleep time, grab a piece of banana bread before heading out the door. Top it with almond butter for a little more nutritional value.
Ingredients
¾ c almond meal

¼ c flour
¼ c brown sugar (or maple syrup)
¼ t baking soda
½ t baking powder
1 egg
¼ c milk
1 T lemon juice
2 bananas, ripe and mashed
¼ c coconut oil or butter
1 t salt
½ c chopped walnuts (optional)
½ c chocolate chips (optional)
Directions
Add lemon juice to milk and set aside. Mix dry ingredients in a large bowl. Melt coconut oil or butter over low heat and add to a medium bowl. Stir in banana, egg and curdled milk. Stir wet and dry ingredients together and fold in nuts and chocolate (if using). Grease a bread pan and add banana-bread mixture. Top with sliced banana if desired. Bake at 350 for 40 minutes, or until the top of the bread is browned. Allow to cool before serving.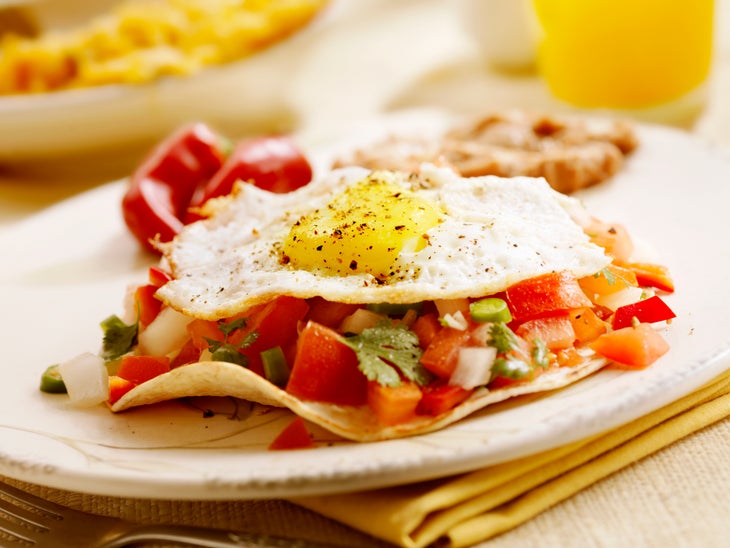 Huevos Rancheros
Eat This: After a long run.
Why: Post-long run is a great time to get in some nutrients. The eggs and black beans provide high-quality protein, and the spinach and avocado add nutrients for recovery. Most runners crave savory flavors after a long run, especially when it's warm out.
Ingredients  (Serves 2)
4 corn tortillas

4 eggs
1 avocado
½ c black beans
1 c spinach
2 T olive oil
Pico de gallo
Directions
Heat a cast-iron skillet to medium high. Add olive oil to coat the pan. Fry tortillas for 1 to 2 minutes on each side, and transfer to serving plates. Crack the eggs in the skillet and cook for a couple of minutes on each side. Carefully transfer the eggs to the tortillas. Top each tortilla with spinach, black beans, avocado and pico de gallo. Serve immediately.