Your Guide To The Best Sustainability-Minded Trail Gear
As athletes prioritize environmental responsibility, brands are listening and creating gear that's both high-quality and sustainable.
Photo: Kalen Emsley/Unsplash
Heading out the door? Read this article on the new Outside+ app available now on iOS devices for members! Download the app.
If there's two things we love as runners, it's the places we run and the gear we wear while doing it. It could be the pair of socks you've had since high school that you're 100% certain are lucky; the jacket you've patched with duct tape in a dozen places because it's just that good; or the shoes that have seen so many miles you can almost describe what you do in them as barefoot running (you really should throw those out). 
But when it comes to blending our love for the land and our love for  gear, there's a lot of progress to be made. Striving for durability, flashy colors and technological progress has led to gear that takes a heavy toll in water and natural resource consumption. As athletes become increasingly vocal about their desire for brands to prioritize sustainability as much as quality, companies are rising to the occasion to make high-quality equipment and clothing in a way that keeps sustainability in mind. We rounded up some of our favorite environmentally-minded pieces from brands you know and love, plus a few newcomers. 
But there's a lot of jargon surrounding environmentally-friendly gear and products, and it can be tough to figure out what to look for. Watch for the descriptors below when looking for responsible manufacturing. Most brands also have sustainability pledges, progress reports or goals on their websites, so do some research to make sure your favorite companies are putting their money where their mouths are when it comes to making good on environmental consciousness. 
RELATED: How To Build A Sustainable Race
Terms to Know
1% for the Planet: Co-created by Patagonia founder Yvon Chouinard, 1% for the Planet is designed to hold companies accountable for environmental responsibility. Partner brands pledge to contribute 1% of their gross annual income to environmental or sustainably-oriented causes. The organization certifies all charitable giving to ensure member companies are standing by their pledge, so you can be sure products with their seal are making good on their commitments. 
Bio-based: The USDA can certify bio-based materials when they are made from organic matter or renewable agricultural materials. When it comes to outdoor gear, bio-based materials can include plant-based inks, adhesives, fibers and plastics.
Bluesign-certified: Similar to FSC certification, Bluesign focuses on textiles, ensuring that a fabric's journey through manufacturing is evaluated for sustainability. Criteria include consumer safety, responsible use of resources and minimal environmental impact.
Carbon-neutral: This term can mean one of two things: either a product or process produces no carbon dioxide at all, or its carbon dioxide emissions are offset through means such as land restoration or the planting of trees. Since virtually no manufacturing processes are natural carbon neutral, many brands purchase carbon offsets or offset credits to make their emissions net-neutral.
FSC-certified: The Forest Stewardship Council sets standards for responsible use of forest products, including timber and paper. Both forest managers and companies using forest products can become certified by meeting criteria for sustainable forest use. For a product to be FSC-certified, every partner in the supply chain process, from harvesting to retailers, must meet certification requirements. 
Parley Ocean Plastic: Parley for the Oceans is a nonprofit organization that advocates for the creation of a sustainable plastic alternative while also facilitating ocean and shoreline cleanup around the world. Brands can partner with Parley to use ocean plastic in their products rather than creating new plastic in manufacturing.
RELATED: Your Guide To Responsible, Sustainable Gear Usage
Our Favorite Greener Gear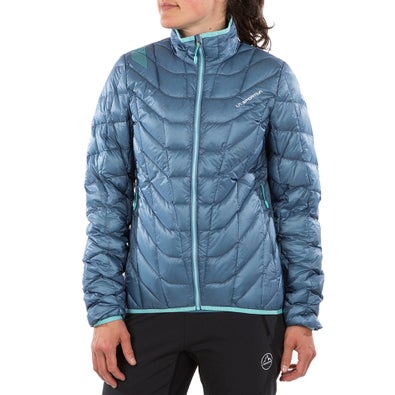 This ultralight down jacket weighs in at less than 7 ounces (for a women's medium) and is super packable. Light and easy to move in, it keeps you warm without overheating or trapping sweat inside. It's also filled with P.U.R.E Platinum down, which is made from 100% post-consumer waste without any virgin feathers. Its fabrics are also Bluesign certified. ($199)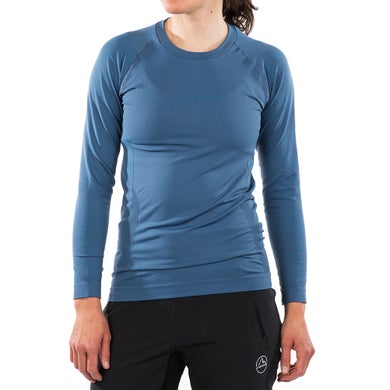 This snug and stretchy, female-specific base layer uses Amni Soul Eco yarn, a material with enhanced biodegradability that can break down into organic materials in about five years. It's seamless, so there are no itchy spots against your skin, and with an antibacterial odor reducing treatment, it resists that base-layer funk we've all experienced. La Sportiva is a 1% for the Planet partner. ($69)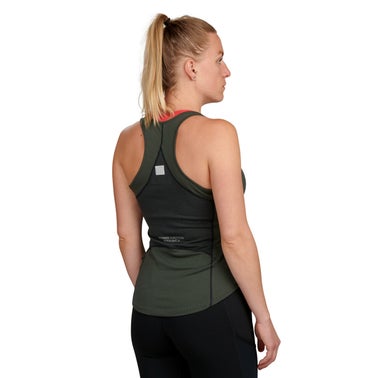 This superlight tank top (weighing less than 3 ounces) is built for speed. Minimal seams mean no under-arm chafing, and the wicking fabric will keep you cool when temps are at their hottest. It's made form 47% recycled polyester and 44% biodegradable fibers. ($65)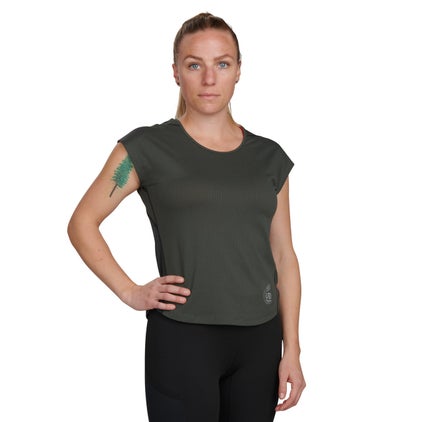 Our testers loved the cut of this shirt, finding it super flexible and easy to move in. The Nimbus uses hydrophilic and hydrophobic fibers to pull water away from your body, maximizing moisture wicking and keep you extra cool. It weighs 3.1 oz and is made with 91% recycled or biodegradable materials. ($70)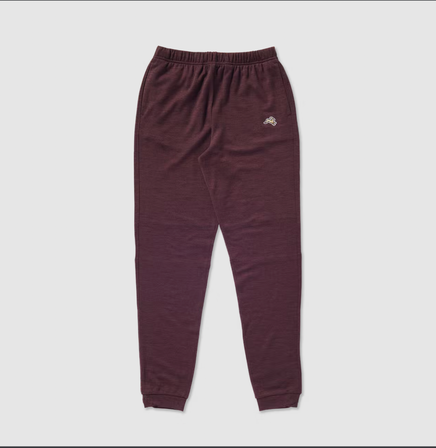 These pants are the definition of "cozy." Whether you're wearing them to warm up before a big workout, lounging around in them post-race or layering them on over a base on a cold-weather run, the Merino wool blend will keep you toasty while being super breathable and maximizing movement. Merino, a sustainable wool from New Zealand and Australia, offers odor resistance blended with polypropylene for wicking. Tracksmith uses only wool gathered without mulesing, a process by which strips of skin are removed from fully conscious sheep during shearing. That makes their Merino a double dose of maximal sustainability and animal welfare. ($148)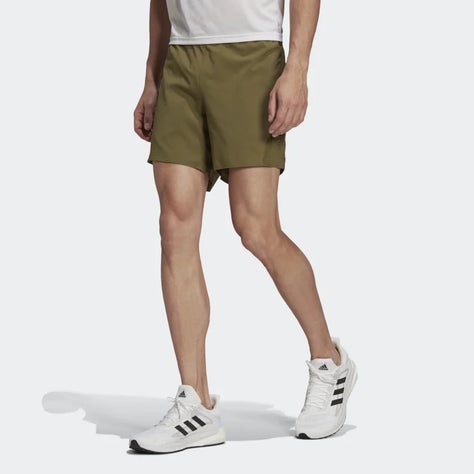 These fully recyclable shorts are, as the name suggests, made to be remade. Along with road shoes, sneakers and t-shirts, this new line from Adidas can be sent back to the company once you've gotten all the miles out of it that you can, to be broken down and made into a new product. Simply scan the QR code on the product to start the return process. These shorts use Adidas' Aeroready system to maximize moisture wicking, and are just the right length to go from the trails to the gym and right back. ($45)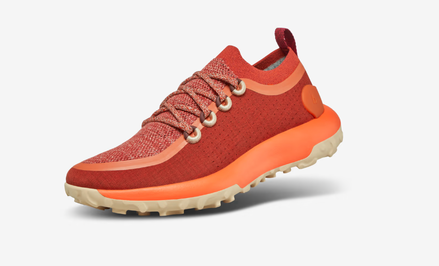 The "SWT" in the name of trendy Allbirds' first trail shoes stands for "Sugar, Wool, Tree" a nod to three of the sustainable materials that go into making them. The shoes include eucalyptus tree fiber, recycled polyester, laces made from recycled bottles, sugarcane-based foam midsoles and eyelets and seam tape made from natural materials. Allbirds recruited a diverse group of over 100 runners to test and retest the model, resulting in a shoe that balances major traction with the comfort the brand has become known for. ($138)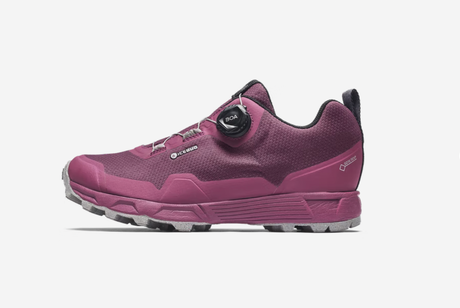 Icebug set a high bar for shoewear companies in 2019 when it became the first climate positive outdoor footwear brand and began offsetting 200% of its carbon emissions in 2020. A 1% for the Planet participant, they aren't stopping at offsetting their existing emissions: they've also pledged to reduce their carbon footprint by half by 2030 and are striving toward incorporating more renewable energy into their production process. The Rover, made from 8% recycled materials and 10% bio-based materials, is a versatile shoe with a Bluesign-certified polyester upper, tough lugged sole for traction across muddy and rocky terrain, and BOA fit system for the right fit every time you take them out. ($160)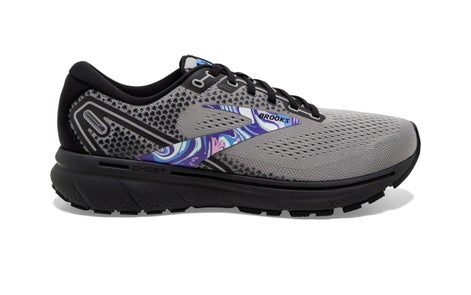 It might not be a trail-specific shoe, but our testers loved the versatile Ghost. Brooks has committed to being a zero-emissions company by 2040, and the new Ghosts (launching July 1) are a step in the right direction. Using less traditional polyester and more recycled alternatives, the Ghost 14 is Brooks' first carbon-neutral shoe, and every future Ghost iteration will be carbon neutral as well. By 2023, Brooks will move to 100% recycled polyester in footwear and has a goal of eliminating footwear manufacturing waste in landfills, incinerators and the environment by 2025. ($130)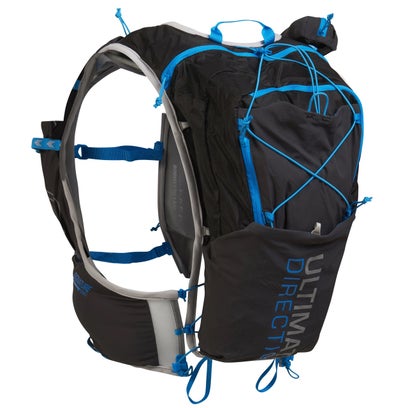 UD seems to always find a way to make lightweight packs even lighter, and the new Adventure Vest does just that, coming in at a 17-liter capacity while weighing only 9.5 oz. With sliding sternum straps and adjustable cinches, our testers found it easy to find the right fit and found the shaped shoulder straps comfortable over long distances. With a trekking pole attachment and attached rain fly, it's a pack that will be up for your longest days. 100% of UD's apparel and gear is BPA-free and their pack factory uses both solar energy and hyper-efficient cooling processes. They've also joined the growing cadre of brands with an in-house team to repair damaged products after use, so you buy less and keep your gear longer. ($180)
RELATED: Big, Sexy Mountain Running Workouts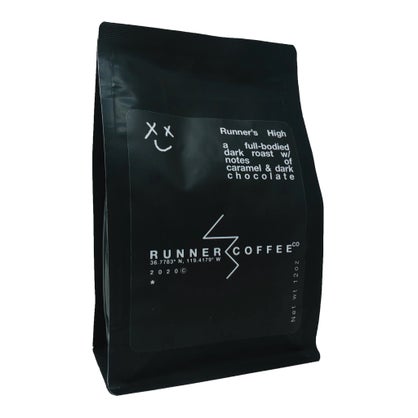 Keren Blount founded Runner Coffee Company in 2020 when she realized she could blend her two passions while learning about the sourcing and roasting process and its environmental implications. Blount, who is originally from El Salvador, is involved with every step of production, from choosing which producers to partner with to packaging and shipping beans. 
"One thing I love about this industry is that it's very hands-on. By that I mean that literally people's hands are very involved in every step of the process," says Blount. "I get to build relationships with producers at origin to make sure practices are sustainable for our environment.  It is also awesome to see how this benefits the livelihood of the producers and their families."  
In 2022, Runner Coffee Co. will partner with the Cocodona 250 a first for both her and the company. Blount hopes to expand her offerings in the future, which currently include a house blend medium roast coffee, "Runner's High" dark roast and rotating single origin. ($18)
Reagan Colyer is Trail Runner's assistant editor and gear editor. She lives in the Northern Rockies of Montana, fuels her runs with scones, and prefers to race in cold, rainy conditions. This article originally appeared in our Spring 2022 issue.