5 Trail Gear Trends From Utah's Big Gear Show
Plus, seven pieces of gear we can't wait to get on the trails and test out.
Heading out the door? Read this article on the new Outside+ app available now on iOS devices for members! Download the app.
In early August, our gear editor hit the trails of Park City, Utah, for the Big Gear Show. She had the opportunity to meet with brands, test gear, and check out all the upcoming trends in all things trail gear.
After two full days of full gear immersion, here's what we're most excited for in the future of backcountry and endurance gear. But first…
What is the Big Gear Show?
Many outdoor enthusiasts are familiar with Outdoor Retailer, an enormous annual outdoor gear expo where brand ambassadors show off the latest offerings to athletes, media, and each other. The Big Gear Show is a similar setup aimed at runners, cyclists, climbers, backpackers, and even water sports athletes, with a focus on connecting brands with retailers and storytellers. It also takes place entirely outdoors, which allows for testing of everything from stand up paddleboards to trail shoes right at the show!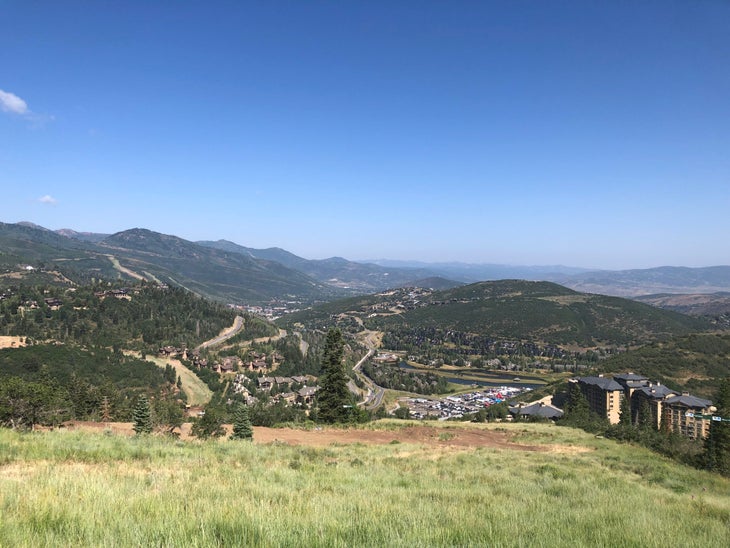 Retailers and media members can set up appointments with brands to hear about their lineups in depth, or they can simply wander through the expo and drop in at whatever booths catch their eye. At first, it's an overwhelming experience – this year's show featured around 120 brands. We could have spent a week and not seen everything!
But as always, we zeroed in on the trail running gear. And boy, was there a lot of it. Of all the gear offerings on display, we collected five trail running gear trends you should keep your eyes peeled for in the next weeks, months, and years, as well as seven specific products we're particularly excited about.
5 Trail Running Gear Trends To Watch
One: Portable First Aid
As trail running excursions (and races) get longer and venture into less predictable terrain, it's important to be prepared for minor emergencies. As Uncharted Supply Company founder Christian Schauf notes, most backcountry emergencies are rectified within 72 hours – but if you can't keep yourself safe for that long, you're in serious trouble. That's why Schauf created Uncharted, with an aim to make products that backcountry adventurers can not only use but understand. If you carry jumper cables but can't use them, they're not going to help you very much.
The evolution of superlight, portable first aid kits is huge for trail athletes. From a broken shoelace to a mild bee sting allergy, having the right gear while on the trail will keep you safer and happier.
Two: Performance apparel featuring animal fiber
We've seen merino base layers for several years now – they're a runner's best friend during the coldest of cold winter runs. But even in the warmer months, animal fiber like sheep's wool and alpaca is making its way into the performance sphere. 
Many animal fibers are naturally antimicrobial, which means they keep you from stinking up the place, post-run. They're also softer than many performance fabrics and can be easier on the environment, as they release fewer microplastics when they're washed in your laundry.
We've found multiple animal fiber brands that create great performance running gear, including Paka, Minus33, and Tracksmith.
Three: Female-specific designs and fits
As one retailer noted at the Big Gear Show, the downside to a lot of unisex gear is that, in trying to fit everyone, it ends up fitting no one. That's why we're particularly excited to see brands creating everything from packs to poles with gender-specific designs.
For packs, that means adjusted and resized straps and buckles to accommodate a more feminine body shape, and adjusted lengths and hand grips on poles designed for different hand sizes, heights, and even body angles when hiking uphill. 
Brands are also involving women in the design process to help ensure that the "shrink it and pink it" mentality is a thing of the past when it comes to women's apparel and gear. Black Diamond puts its women's gear through dozens of field tests on female athletes to ensure that the intent behind the designs comes through in on-the-trail performance. (Check out one of their packs that we can't wait to test out below!)
Four: Max capacity, minimal weight.
The ultra scene is getting faster and faster, and gear is developing to match that demand. All of your favorite brands, from CamelBak to Black Diamond to Mountain Hardwear, are making lighter-than-ever packs with mind-boggling capacity. 
This reflects not only the burgeoning popularity of fastpacking, but also the explosion of longer ultra races, including the growing 200+ mile trend. Runners will no longer have to MacGyver together overnight setups to get through the dark hours: you'll be able to swap out your daytime hydration vest for something with more capacity that doesn't feel like a backpacking setup. 
Five: A greater commitment to sustainability than ever before.
Aside from race travel, buying gear is one of the biggest elements of an athlete's carbon footprint (and, a reminder: the greenest piece of gear is the one you already own). 
As many athletes turn their focus to environmental responsibility, brands are hearing and responding, and that is reflected in the new lines of many trail-oriented companies. Shoe companies are turning toward more recycled products and elements in their offerings, and more brands also offer repair kits or services so that the gear you buy will last longer and stay out of the landfill. 
Carbon neutrality is also becoming a central point for many companies, offsetting their carbon footprint to minimize environmental impact.
7 Products We Can't Wait To Take On The Trails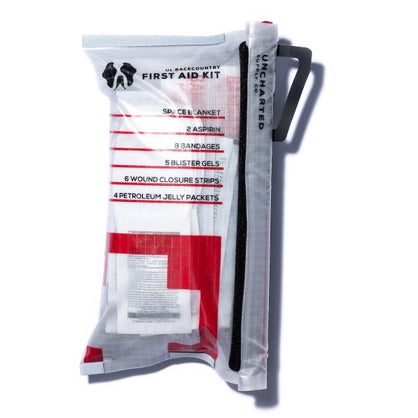 Uncharted Supply Co. Triage First Aid Kit ($39)
I'll be real – I was gifted a backcountry first aid kit several years ago, and it still lives under my bathroom sink. Why? It's too heavy and bulky for me to ever actually take on the trails. Not so with this kit. Weighing less than 150 grams (5.3oz., about the same as your average checkbook), it includes an astounding amount of first aid gear: aspirin, an emergency blanket, zip ties, Band Aids, blister bandages….and that's less than HALF of what's in it! And at less than 8×4 inches in dimensions, it can slide into a jacket pocket or pretty much any running vest, so you'll be prepared for whatever mishaps may occur on your next run.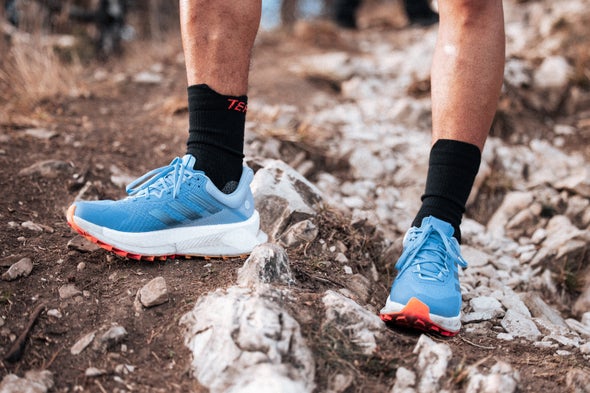 Adidas Terrex Soul Stride Ultra ($190, launching Spring 2023)
Next spring, Adidas will debut its new Light Boost foam, which will reflect a 32% drop in weight and 4% increase in energy return (insert exploding brain emoji). With an updated tongue and upper to maximize comfort, it also features a Continental rubber outsole and deconstructed strobel board to allow more feel for the terrain while maximizing grip and adaptability over varied trails. With a balance of speed and protection, we can't wait to take these for a spin. And keep your eyes peeled for the updated Speed Ultra, which features a gravel-bike-inspired sole for traction and mobility, and looks like the lovechild of your favorite trail shoe and a road racing flat (read: SPEEDY.)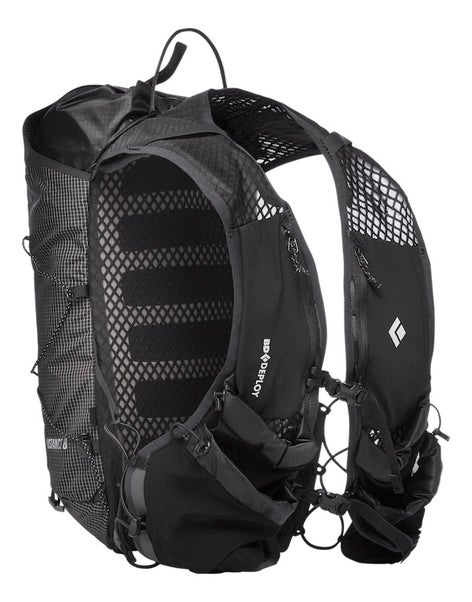 Black Diamond Distance 8 Pack ($150)
This 8-liter pack is also available in 15- and 22-liter options. The newest iteration will be the first to feature separate men's and women's designs, making it a great example of the gender-specific adaptation trend mentioned above. But our favorite thing about it is the design: with a hydration-vest-inspired front, it's the comfort of a long-distance hydration pack with the capacity of a fastpacking pack. Completely flat seams eliminate chafe, too, while the wider surface area on the front means straps aren't digging into shoulders and pulling in weird directions like we often find on standard hiking packs. If you've ever fallen in love with a hydration vest but just wished it could carry more, this is the pack for you. Empty, it weighs only 12.5 ounces, and higher bottle holsters on the front mean you won't be messing with pulling out your hydration flasks while you're trying to keep moving.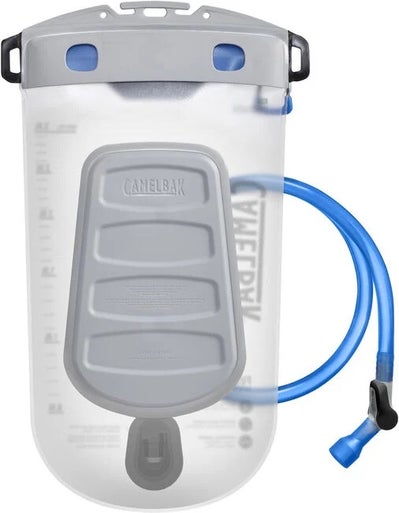 CamelBak Fusion Reservoir ($55)
One challenge with hydration vest reservoirs (a.k.a. bladders) is that they don't hold their shape very well once you get them into your pack. The water creates a lack of stability and can make it hard to fit other things into your pack, or to keep things balanced. CamelBak is taking direct aim at that problem with an updated back panel that offers more structure, so your reservoir doesn't throw off your entire pack once you get it filled and inserted. And speaking of filling: improved pinch grips and new, fully waterproof zipper seams mean this is one of the easiest reservoirs to fill single handedly, which will save our kitchen floors and countertops from a lot of splash. Pair that with the fact that CamelBak has just debuted its first line of pre-, mid-, and post-workout hydration mixes, and you've got your hydration bases covered.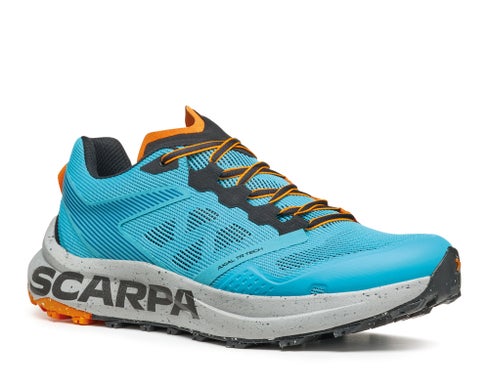 Scarpa Spin Planet ($159)
The entire Spin line from Scarpa offers an impressive variety of trail shoes, but the Spin Planet is the first to add significant sustainability considerations, blending them into a fantastic shoe. With a midsole and outsole partially made of recycled materials and a 100% recycled upper, it also features a slightly flared heel, which offers more stability and control on technical terrain. Weighing under 300 grams and with a 4mm drop, it's a nicely neutral ride that offers a snug fit due to a tongue that's fixed on one side and free on the other, wrapping your foot in an accurate and secure hold. Grippy, 4.5mm lugs mean you'll stay grounded, and over 20mm of stack height (28.5mm/24.5mm heel/forefoot) offer excellent cushion and protection.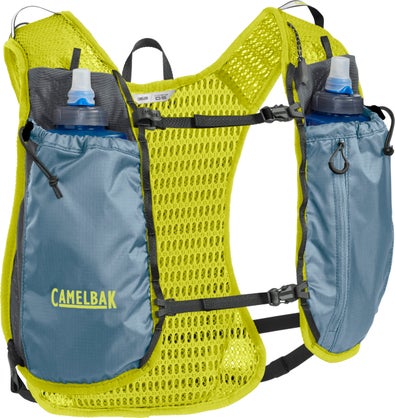 CamelBak Trail Run Vest ($100, launching Spring 2023)
Similar to CamelBak's popular Zephyr vest, this one is a trimmed-down and lightened-up version for the trail runner who knows they need to hydrate but still wants to go fast. Also with specific men's and women's designs and fits, the Trail Run Vest weighs only 8 ounces but has a 7-liter capacity. With double straps, super-breathable mesh, a trekking pole attachment, and reflective accents for visibility, it's everything we've come to know and love from CamelBak, but lighter and faster. Plus, it's made with recycled materials. Watch for it in Spring 2023!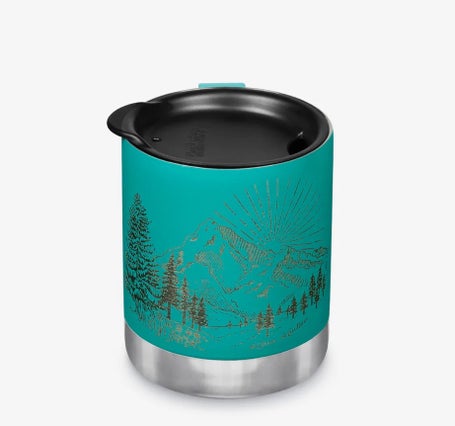 Bonus: Klean Kanteen Insulated Camp Mug ($25)
Are we going to run with this mug? No. But we know that most of our readers love their pre-run coffee just as much as we do, and knowing that it'll stay warm waiting in the car for us for up to 3.5 hours (!!!) while we're on the trail is a major plus. Plus, Klean Kanteen has some of the best environmental standards we've seen, which places it firmly in our "win" column. Made of 90% recycled steel, this mug is reinforced on the bottom so it won't dent when we (inevitably) drop it, and it's dishwasher-safe and BPA-free. By 2023, 95% of Klean Kanteen's products will be made from recycled steel. The brand is family- and employee-owned and certified as both a B Corporation and 1% For the Planet member. This means that it's held to the highest transparency standards when it comes to environmental and social responsibility, and it donates 1% of its profits to sustainability efforts (more than $3.6 million to date). Plus, they've been climate neutral since 2019!
Reagan Colyer is Trail Runner's assistant editor and gear editor. She lives in the Northern Rockies of Montana, fuels her runs with scones, and prefers to race in cold, rainy conditions.