Sports Bras Are Serious Gear
Heading out the door? Read this article on the new Outside+ app available now on iOS devices for members! Download the app.
Imagine if we put the same amount of scientific focus and scrutiny that goes into developing the next, super-advanced nutritional hydrogel or carbon shoe into creating a great sports bra. 
The first sports bra patent (for just two jockstraps sewn together—seriously!) was issued in 1979, and, though the sports bra has evolved, it hasn't always been seen as the critical piece of gear that it is. This is demonstrated in part by the fact that you can find sports bras near lingerie in department stores (though I'd argue they should be with other sports equipment), and that this magazine has only published a couple of sports-bra reviews in the past year. This is, in part, my failure to recognize that the sports bra, like socks and shoes, is one of the pieces of equipment that I use on every single run. (For further evidence, most stock photos don't show them being particularly sporty, or even bra-like).  And, sports bras aren't niche gear. Half of all people require them to exercise—if we want to take women seriously as athletes, then we need to take sports bras seriously as gear. 
Sports bras should be seen for the miraculous feats of engineering that they are. Breast tissue behaves pretty differently than other body parts, and motion-sensitive camera studies have shown that a 36D breast can go from zero to 60 mph in less time than a Ferrari, and oscillate up to eight inches. Sports bras should be viewed with the same respect and necessity as shoes, and every running specialty store that prides itself on it's the ability to fit runners for shoes should be able to do the same for bras. 
Part of this can be attributed to a misunderstanding of what a runner's body looks like. Runners come in all shapes and cup sizes and each deserves a bra tailored, nay, engineered to meet their biomechanical breast needs. One study conducted after the 2017 London Marathon found that 17 percent of women surveyed reported reducing or altering training intensity or distance to reduce breast pain. Another study showed that runners with ill-fitting bras will alter and shorten their stride to avoid discomfort, losing an average of four centimeters with each step. Throughout a marathon, that's like running an extra mile. By not providing runners with cutting-edge gear, we're limiting their ability to advance the sport.  
Sports bras are so important that a lack of access to and information about them is cited as a reason that young women in middle school (about the age of breast development) quit sports. According to a survey published in the Journal of Adolescent Health, almost half of the girls surveyed reported that breast development affected their participation in sports. 
Sports bras are not flimsy accessories or apparel, they are serious gear. So, let's talk about bras, and make talking about bras necessary and normal for athletes and companies that want to provide athletes with the best equipment to push the boundaries of the sport. 
Fit
For a bra to perform it's best, make sure you're getting a good fit. According to fit expert Julianne Ruckman from Brooks, when you try on a sports bra, it should immediately feel cozy, nothing should pinch and it shouldn't restrict any movement or breathing. Your breasts should fit the cup size so that there's no bulging on the sides or space left in the cup. You shouldn't be able to slide more than two fingers under the band or strap to ensure a nice snug fit. 
Here are a couple of our favorite bras for women getting after it on the trail. Look for more reviews to be coming regularly in the future.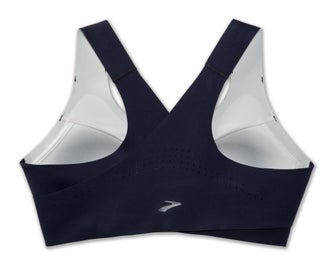 This spring, Brooks is taking the run bra to a different level with a complete re-engineering of previous products. Instead of "sports bras", Brooks has designed "run bras", made specifically for the movement that running entails.  The new Dare Crossback has a pullover design that slides easily overhead without any obnoxious hooks or zippers. It's all cut from one super stretchy, supportive fabric for a streamlined silhouette that won't chafe or bounce. Molded cups provide support and comfortable stabilization lab-tested and designed to reduce breast movement by 60 percent.
Women with larger cup sizes will enjoy the Dare Zip, which provides easy closure with a front zipper that won't pull or chafe. The bottom band of both bras is fully integrated, which gives the bra smooth, light feel that doesn't sacrifice support. Coming this fall, Brooks will offer even more extended sizes (through size EE) in some bra styles. This run-specific bra feels and performs like the feat of engineering that it is.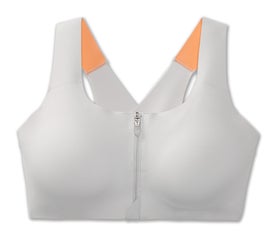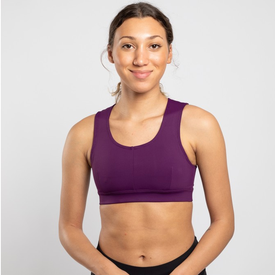 This bra was designed with the specific needs of trail runners in mind. Wide shoulder straps can fit more comfortably under a hydration pack, and an extra-wide chest band and higher neck provide excellent, all-around support on the trail that won't chafe during an ultra. Since the straps are non-adjustable, it might ride a little high for some people.
A center back pocket can hold gels or a phone for long hauls and is easy to access on the run. It's available up to size D with trail-specific support and features such as storage and hydration vest-friendly shoulder straps that recognize the demands of trail athletes. 
Zoë Rom is Assistant Editor at Trail Runner. She enjoys podcasts, pizza and supporting women. You can follow her trail running adventures on Instagram @carrot_flowers_z .