The Best Trail Running Shoes For Spring And Summer 2022
Weather is warming up and racing season is beginning, so here are the best trail shoes for this spring and summer.
Heading out the door? Read this article on the new Outside+ app available now on iOS devices for members! Download the app.
Spring has sprung and summer is right around the bend, so it's time to lace up some new kicks and hit the trails.
For 2022, there's a star-studded class of new trail running shoes that are more comfortable, lively, agile, protective and durable than ever before. Although supply chain issues delayed the arrival of some models, there are plenty of great shoes available at running stores. You'll find shoes with new materials —  including more energetic foams and carbon-fiber plates — but you'll also notice higher price tags ($5 to $20) on most trail running shoes this year. 
Here's a rundown of a handful of the best models we've wear-tested and would highly recommend.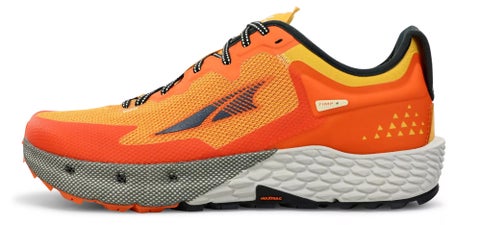 Altra Timp 4 – $160
The Timp 4 is a versatile, mid-range trail running shoe capable of tackling just about any surface. It has been overhauled with a slightly thicker midsole made from Altra's new energetic EgoMax foam and a new upper and tongue configuration that provide a better fit to a wider range of foot shapes. The updated MaxTrac outsole retains the claw-like grip on both loose and rocky technical terrain, but the array of lugs are low-profile enough to handle smooth dirt trails and gravel roads. Like all Altra shoes, it features a wider-in-the-forefoot shape that gives toes room to flex and splay and a level or "zero-drop" platform. The revamped Timp 4 is about an ounce heavier than the previous version, but that's barely noticed on technical terrain.
Weights: 9.3 oz. women's 8; 10.7 oz. men's 9
Heel-Toe Offset: 0mm (29mm in the heel, 29mm in the forefoot)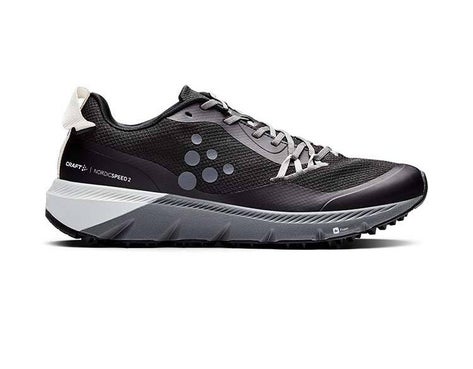 Craft ADV Nordic Speed 2 – $140
To develop this exceptional jack of all trails, Craft combined a soft, responsive foam midsole and easy-flexing flow of a road running shoe with the effective traction of low-profile outsole lugs and forefoot protection plate of trail running shoe. The compression-molded AR midsole foam isn't hyper energetic, but it provides a nice balance of softness and resiliency without sacrificing stability. It's a shoe that feels light, airy and nimble on gravel roads, but protective and stable on mild to moderate trails. If you're looking for a shoe that does a bit of everything pretty well, the ADV Nordic Speed 2 is worth a look.
Weights: 8.6 oz., women's 8; 9.7 oz. men's 9
Heel-Toe Offset: 9mm (32mm in the heel, 23mm in the forefoot)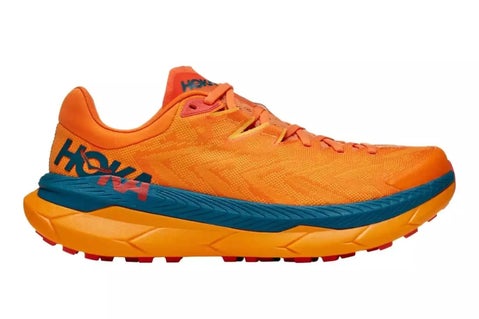 Hoka Tecton X – $200

Hoka has upped its midsole game with the new Tecton X, a unique shoe with two parallel carbon fiber plates embedded in a new super-critical foam midsole that's designed to provide a smooth but propulsive stride on uneven terrain. Built for race-day speed and bolstered by superior traction from a Vibram Litebase outsole, it's a light, soft, bouncy and reliably grippy shoe. It has a 4mm heel-toe offset, a durable jacquard engineered mesh upper and a protective forefoot and toe bumper, but it's the energetic foam that wins the day for this model. The Tecton X can run fast on smoother terrain and handle a wide range of semi-technical terrain with aplomb. It's not quite burly enough to be a full-time big mountain shoe, but it can hold its own on craggy sections and get through the most technical sections of an ultra-distance race course.
Weights: 8.0 oz. women's 8; 9.1 oz. men's 9
Heel-Toe Offset: 4mm (33mm in the heel, 29mm in the forefoot)
RELATED: First Look – The Tecton X, Hoka's First Carbon Trail Shoe
Brooks Caldera 6 – $150
Brooks dramatically upgraded the Caldera's midsole, implementing a high-stack supercritical nitrogen-infused DNA Loft v3 foam that is soft, responsive and designed to handle the rigors of ultra-distance running. A runner's foot sits deep inside the midsole's raised sidewalls and is embraced by an internal support, creating cradle-like support and stability on uneven terrain. The Caldera 6 has a wide and aggressively lugged outsole, an 8mm heel-toe offset and a protective engineered mesh upper. Although it's not the lightest , it's certainly one of the cushiest and bounciest shoes out there. 
Weights: 9.9 oz. women's 8; 11.0 oz. men's 9
Heel-Toe Offset: 8mm (38mm in the heel, 30mm in the forefoot)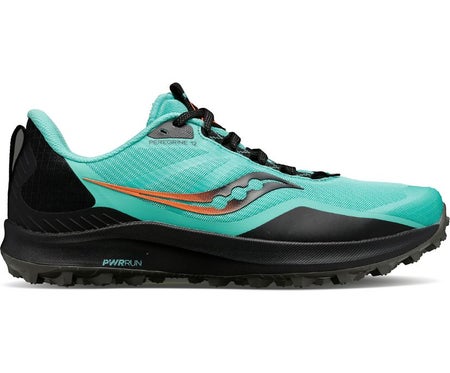 Saucony Peregrine 12 – $130
The Saucony Peregrine 12 is an agile, neutral-oriented shoe, a nice blend of cushioning, traction and protection and a low-to-the-trail feel from the 4mm heel-toe drop and lower overall stack height. Numerous updates — a new engineered mesh upper to keep dust and debris out, an updated outsole with more aggressive lugs, an improved lacing system for a more secure fit and additional protective features — have made this version considerably lighter, faster, more comfortable and more protective without changing the inherent vibe and versatility of the Peregrine. The updated flexible rock plate embedded in the midsole defends against sharp, protruding rocks and roots while the new reinforced toe bumper minimizes painful toe stubbing. 
Weights: 8.3 oz women's 8; 9.5 oz. men's 9
Heel-Toe Offset: 4mm (26.5mm in the heel, 22.5mm in the forefoot)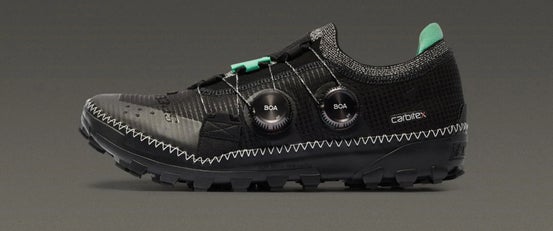 Speedland SL:HSV – $375
Speedland has set the innovation bar (and the upper price range) of trail running shoes sky high. The new SL:HSV stands for Speedland Huntsville, as in Huntsville, Alabama, which is known for its mix of technical and mushy terrain. That was the recent stomping grounds of Liz Canty, an elite trail runner and engineer who helped inspire the development of this shoe and provided some subtle aesthetic cues from her tattoos. The SL:HSV has a pair of top-tier BOA anodized aluminum dials that provide a quicker, dual-pull action for reliably secure fit to every foot shape, plus a new Michelin outsole rubber compound (OCX3) for improved traction on both dry and wet rocks. There's also a more durable, removable Carbitex carbon-fiber plate under the midsole. The new version weighs about the same as the original SL:PDX, has the same 5mm heel-toe offset and is still gaiter compatible. 
Weights: 9.0 oz. for women's 8; 10.7 oz. for men's 9
Heel-Toe Offset: 5mm (28mm in the heel, 23mm in the forefoot)
Dynafit Sky DNA – $180
Dynafit has been making a bigger push into the competitive trail scene and this shoe is geared for running fast up and down steep slopes without losing control. The Sky DNA is lightweight and low to the ground with a 4mm heel-toe offset that serves up amazing agility and feel for the trail. It features a resilient Pebax foam midsole for maximal energy return, a Vibram Litebase outsole for optimal traction on steep slopes, a roomy toe box for more wiggle room on bomber descents and a reinforced mesh upper with double speed lacing forms to ensure no pinch points. Bottom line? The Sky DNA is all about speed and agility, but not at the expense of sacrificing protection and stability. If you're racing a 5K or 10K on trails, this would be an ideal tool for the job.
Weights: 7.0 oz. women's 8; 8.4 oz. men's 9
Heel-Toe Offset: 4mm (19mm in the heel, 15mm in the forefoot) 
RELATED: How To Build A Sustainable Race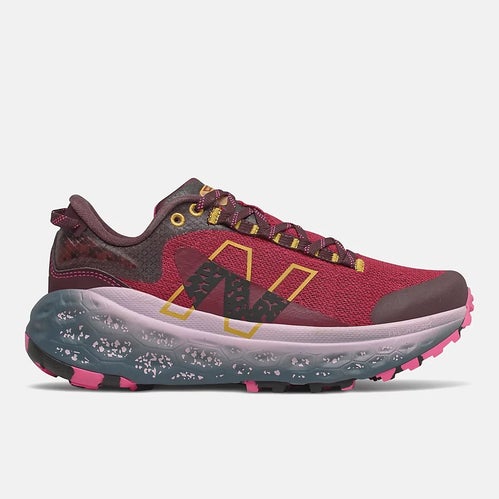 New Balance Fresh Foam X More Trail V2 – $165
When you pull this shoe out of the box, you might have a skeptical outlook of its cartoonish size and shape. But slip it on and run on any mild to moderate trail and you'll be sold on how amazing copious amounts of cushioning can feel. The rocker geometry and energetic feel of the midsole foam creates a soft but smooth sensation that's also surprisingly stable. Yes, it's definitely a hefty shoe, but it doesn't feel awkward or bulky. The biggest updates to this edition are a new Vibram XT Trek EVO outsole, which provides a huge boost in traction and durability, and an updated breathable, debris-resistant mesh upper. If you haven't run much in maximally cushioned shoes, this one might change your outlook.
Weights: 9.7 oz. for women's 8; 11.5 oz. for men's 9
Heel-Toe Offset: 4mm (38mm in the heel, 34mm in the forefoot)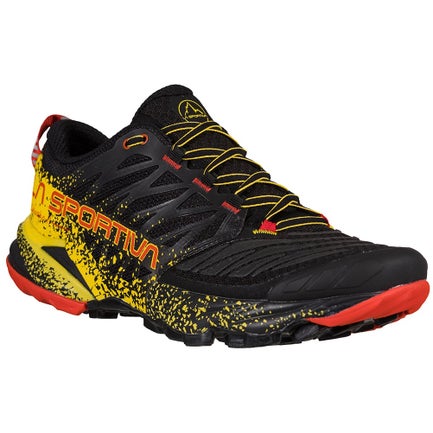 La Sportiva Akasha II – $150
Built for running rugged mountain trails, the Akasha II is gritty, durable and protective. It's built on a dual-density EVA midsole that's firmer in the heel and softer in the forefoot. The ride feels a bit firm and rigid on mild trails, but it's comfortable and smooth enough on technical routes with variable footing. It has a moderate 6mm heel-toe offset and a nice blend of feel for the trail and underfoot protection. The best part of this shoe is the Frixion XT 2.0 sticky rubber outsole with 4.5mm lugs that adhere to just about everything. The outsole adds some weighty girth, but it only seems to feel slightly heavier on smooth terrain. 
Weights: 9.2 oz women's 8; 10.9 oz. men's 9
Heel-Toe Offset: 6mm (31mm in the heel, 25 mm in the forefoot)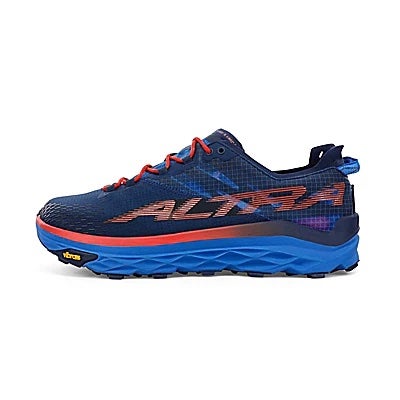 Altra Mont Blanc – $180

Altra's new Mont Blanc shoe is a maximally cushioned long-distance racing model inspired by the highest mountain in Western Europe and presumably that huge races on the trails below it. Built on a "zero-drop" or level platform and Altra's responsive EGO Max midsole foam, it is extremely cushy and energetic but also very agile and stable. It is slightly lower to the ground (31mm in both the heel and the forefoot) than Altra's high stack Olympus trail shoe, but it's also considerably lighter and more nimble. It has a Vibram Litebase outsole for traction and a dynamic engineered mesh upper that cinches down the foot for a race-day fit without feeling too constrictive. (There's also a Mont Blanc BOA version with two BOA Technology performance closure dials with a $210 price tag.) 
Weights: 8.4 oz. for women's 8; 9.6 oz. men's 9
Heel-Toe Offset: 0mm (31mm in the heel, 31mm in the forefoot)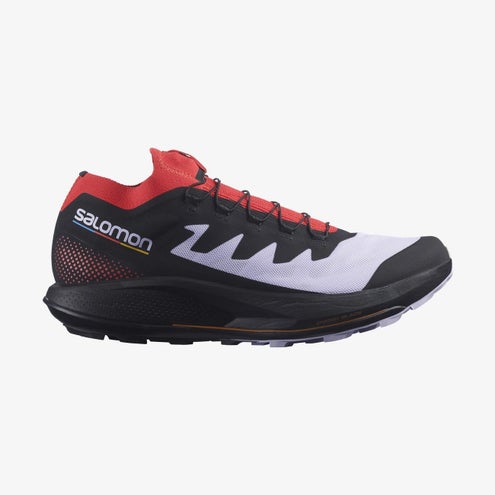 Salomon Pulsar Trail Pro – $150
The Pulsar Trail Pro is a new quick and nimble shoe built with Salomon's new Energy Blade technology. While many brands are focused on carbon-fiber plates, Salomon is bringing TPU composite plates and super-responsive foams to its trail shoes in 2022, including the Pulsar Trail Pro. The Energy Blade is a stiff plate embedded in the energetic Energy Surge foam midsole that gives more propulsive power by limiting the energy lost in every stride. Combined with a decoupled midsole construction and a reverse-camber rocker geometry for smooth transitions from heel to toe, the lightweight Pulsar Trail Pro is agile and lively, but also notably stable and smooth. It has a 6mm heel-toe offset , an anti-debris collar and a Contagrip MA outsole for optimal traction. 
Weights: 8.3 oz. for women's 8; 9.8 oz. for men's 9
Heel-Toe Offset: 6mm (31mm in the heel, 25mm in the forefoot)
From Women's Running.