I Used to Avoid Waterproof Trail Shoes, but These Changed My Mind
In 1969, the invention of GORE-TEX revolutionized waterproofing gear. Trail running shoes, however, left much to be desired—until now.
Heading out the door? Read this article on the new Outside+ app available now on iOS devices for members! Download the app.
When GORE-TEX was first released in 1969, it changed the face of the outdoor industry. The theory behind the fabric was that it prevented external moisture from penetrating the shell, but that it was also breathable enough to release moisture molecules your body creates. 
Since the material entered the market, GORE-TEX has championed a series of material innovations to make it one of the best waterproof solutions for outdoor sports. This magical material took cold-weather athletes to the next level by providing one of the most durable and long-lasting solutions to saturation.  
Over the past 50 years, waterproof materials like GORE-TEX and eVent have morphed into jackets, pants, shoes, and gloves. But many athletes doubt its ability to truly release interior moisture like the manufacturer claims. Common questions that surround the fabric include: Does wearing GORE-TEX or a similar fabric actually make a difference in moderately wet conditions? Do the insulative qualities work with us or against us? If you choose a GORE-TEX trail shoe, will you still retain moisture in your shoes, and would it be better to wear a shoe that dries fast, or that repels water efficiently?
RELATED: Why You Should Train Outdoors Year-Round (Yes, Even When it's Freezing)
What Even Is GORE-TEX?
GORE-TEX (often referred to as GTX) is made with an ePTFE fabric (a material that is based on teflon, to make you as non-stick as your skillet!) that is stretched after it is manufactured in order to create millions of miniscule holes per inch. The essence of this fabric, being one of the most waterproof options, relates to these hole sizes. The manufacturer of the fabric claims that the holes are so small that they cannot be permeated by water, which is bigger than the size of the hole. However, the size of vapor molecules that your body releases is smaller than most external water droplets, which means, in theory, that it could escape from the fabric. 
According to GORE-TEX, the most popular technology the brand uses for trail runners is its Invisible Fit Technology because it provides the same feel that a non-waterproof shoe would have, while still implementing waterproof technology. This particular style of GORE-TEX is bonded to footwear uppers instead of being applied as a subsequent layer. The result is maximum waterproof capabilities with a standard-feeling shoe. Compared to alternative technologies, this one is also lighter, picks up less water, and improves dry times. 
"GORE-TEX Invisible Fit footwear was developed as a solution to the common concerns (and misperceptions) consumers have about waterproof shoes. Road and trail running shoes with GORE-TEX Invisible Fit product technology have the same fit comfort as the non-GTX equivalent, a 20 percent reduction in weight, 30 percent reduction in water pickup, and 50 percent improvement in dry out time," said Kirk Christensen, GOR-TEX's Global Product Specialist.
Common Arguments For Why GORE-TEX Doesn't Work
One of the reasons athletes raise their eyebrows at GORE-TEX shoes is because their membranes still tend to trap heat from the interior, which can result in sweaty or moist feet. While this isn't an issue for some runners, it does call into question whether or not this style of shoe is ideal in moderate temperatures. If you have particularly sweaty feet, under normal circumstances, waterproof materials might add to any trapped moisture issues that you might already have. 
Another argument skeptics commonly point to is that, without a high-rise trail shoe (a shoe with a tall neck), moisture will inevitably seep into your shoe from the top, trapping those large water molecules into the collar and into your socks, which means they'll remain wet for the rest of the run. While this theory is valid, insofar as you avoid the most extreme wet conditions (don't try and swim with your GORE-TEX shoes on), expect your feet to stay dry. 
My Change of Heart
As a GORE-TEX skeptic, I've always expected my feet to get soaked while running through snow, slush, or mud. I used to prefer using a pair of shoes that would air out faster than the GORE-TEX alternative, since my favorite type of activities commonly require all-day use (which means that a non-GORE-TEX shoe would likely dry out over the course of the day, while a GORE-TEX pair might not). 
Much of the skepticism surrounding GORE-TEX as a shoe protector is warranted, but there are actually several reasons why adding this extra protective layer of material to your shoes could make a difference in trail running. GORE-TEX is a phenomenal insulator, which could make it a great solution for runners that struggle with cold feet. Its durability sets it apart from some competitive waterproof materials. Also, its ability to shed water could help keep your feet dry for longer. I personally had a change of heart about GORE-TEX after I discovered a few new pairs that consistently performed in every environment, from downpours to deep snow, offering a perfect warmth-to-water-resistance ratio. Here are four of the highest-performing GORE-TEX shoes that stood out in extremely wet environments: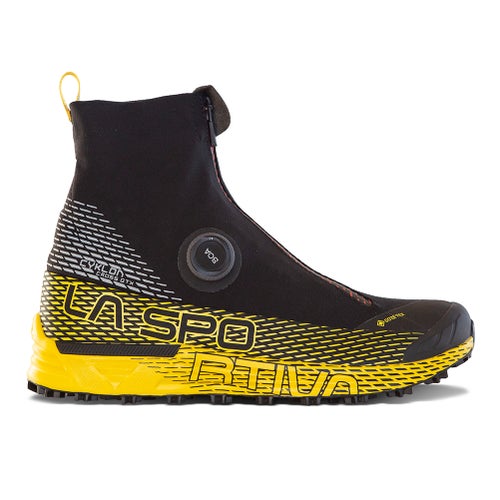 The La Sportiva Cyklon was the running shoe that changed my mind about waterproof shoes once and for all. This product sets itself apart from other trail running shoes in that it comes with a GORE-TEX embedded gaiter that covers the ankle and the shoelaces.
Because of its design, the GORE-TEX makes it virtually impossible for large water molecules to pass into the shoe from the exterior. But the feature that enhances its breathability is the top of the gaiter, which allows for airflow directly into the shoe. So, even if the waterproof membrane on the GORE-TEX begins to fail, there is enough air movement at the top to allow for evaporation. That's not to say you'll never have wet feet while wearing these shoes—but it's much less likely that you'll have to run with soggy socks. 
The La Sportiva Ckylon GTX is a shoe-boot hybrid, which allows for an easy transition from winter to spring settings by providing a higher level of coverage and warmth over your feet. So, if you're running through a layer of snow, the shoe should keep moisture from penetrating the GORE-TEX liner. Overall, it's a great option for the most extreme environments.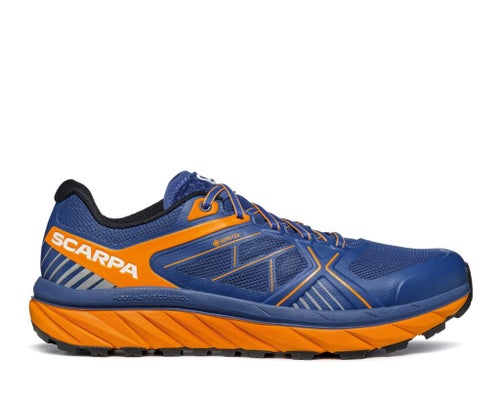 While the La Sportiva Cyklon Cross GTX comes with a gaiter directly built into the shoe, the Scarpa Infinity GTX offers runners a low-rise option that makes it easier for internal moisture to evaporate near your ankle and reduce overall water retention. When paired with the shoe's generously cushioned midsole, this shoe makes a great companion for runners in unpredictable terrain, or who often head out on endurance runs in adverse conditions. This shoe helps to enhance dynamic movement while providing all of the protection you want out of a waterproof shoe. 
RELATED: Our Five Favorite Winter Trail Running Shoes in 2023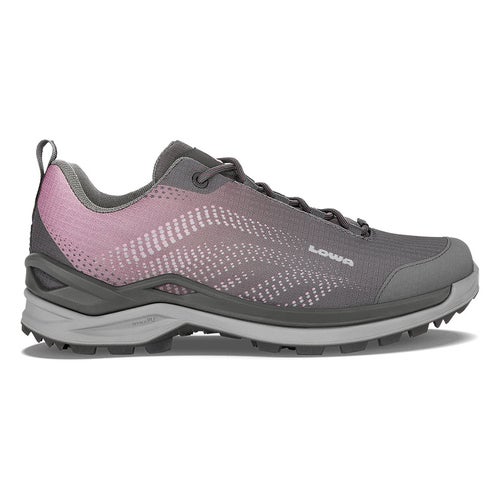 A common problem that foul-weather athletes face when their feet become waterlogged is softened skin, a precursor to blisters. Without a proper-fitting shoe, the moisture, combined with a shoe flaw like an internal bump, can make for a painful recipe. Fortunately, the Lowa Zirrox GTX stands out from other GORE-TEX shoes in that its shape is free from inconsistencies. It also comes with a GORE-TEX layer in order to reduce exterior moisture and skin softening. While the length of the shoe tends to be on the longer side, the shoe itself is well-built and made with very few inconsistencies. This makes it a good shoe for those who are blister-prone but unwilling to stay home when it's wet outside.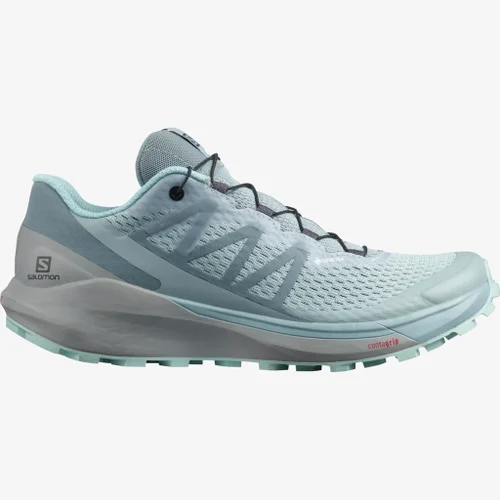 The Salomon Sense Ride 4 GTX Invisible Fit sets itself apart from other trail shoes because it doesn't feel like a GORE-TEX option. Most of the time, trail runners feel a hardened layer of material or a GORE-TEX coating on waterproof shoes. But the Salomon Sense Ride gives runners all of the waterproof qualities they want without the extra weight and bulk. This shoe also comes with Salomon's quicklace option, making it super easy to tie your shoes with one hand and head out the door. 
Caring For GORE-TEX Trail Footwear
In most cases, those who are using GORE-TEX shoes won't have to worry about maintaining its breathability over time (since runners will typically wear through shoes before the liner wears out). One potential issue that athletes may encounter is puncturing the GORE-TEX liner itself, which makes the water resistance ineffective. For this reason, try to avoid rubbing the fabric of your shoes on abrasive materials like rocks and sticks. This will help you keep your GORE-TEX trail runners primed and ready to go for months to come. 
"GORE-TEX footwear products are designed and integrated to support the intended end-use of the shoe throughout its lifecycle," said Christensen. "No special care is needed for the GORE-TEX technology; if the shoe needs to be cleaned, we recommend hand cleaning." 
If you have specific preferences about material style and weight, make sure to look at different types of waterproof shoes to optimize your chances of finding the right one. And if you've always been a GORE-TEX skeptic like me, don't be afraid to give the material a shot. You might be surprised by what you'll find.