One With The Trail
Dialed in, locked in, and connected to your foot, the BOA-powered La Sportiva Cyklon is paving the way for the next generation of mountain trail shoes.
The idea of being "one with the trail" is as old as the sport of trail running itself. We're all looking for footwear that can hit the sweet spot between offering fluid, organic connection with our foot while still providing the protection and support we need for rugged terrain. The key piece of that puzzle, of course, is fit… 
…which is exactly what BOA has spent the last twenty years working on. 
The Denver-based company collaborates with footwear brands in a variety of disciplines, from cycling to golf to mountaineering to trail running, with one main goal: to develop the ultimate fit system. 
By all accounts, they've done exactly that. The innovative BOA Fit System, featuring (1) lightweight laces, (2) low-friction lace guides, and (3) a push-and-turn micro-adjustable dial, has won numerous awards across the footwear space.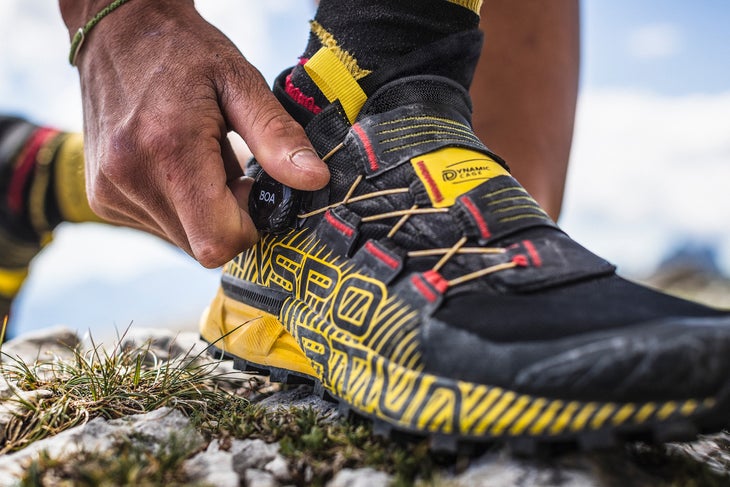 That's probably because although lots of brands talk about the science behind their products, with BOA it isn't just marketing hype. At BOA's state-of-the-art, 2,700 square-foot Performance Fit Lab, each prototype builds off of in-depth validation studies and is put through hundreds upon hundreds of hours of rigorous testing. The Performance Fit Lab operates on the cutting-edge of biomechanics, with everything from thermal guns to a high-speed motion-capture system able to analyze movement over 2000 times per second.
BOA's newest collaboration, on the La Sportiva Cyklon, represents the pinnacle of everything they've worked towards in trail shoe fit. Over the last two decades, BOA has partnered with tons of brands in the trail space and beyond, but their work with La Sportiva is unique. "Even when you buy a pair of running shoes from La Sportiva, it says "mountain running" on them, not trail running," said BOA Biomechanics Research Engineer Dan Feeney. "La Sportiva is super concerned with making sure their shoes are performing well on the most technical trails, and they rely heavily on their skyrunning athletes throughout testing the process."
"With the La Sportiva Cyklon, we're starting with a mountaineering company and stepping into the trail space," he said.
The development of the Cyklon builds off of an Agility and Speed study (Part 1 + Part 2) BOA performed over the last three years, taking 31 high-level athletes into their biomechanics lab and studying ways to improve performance in changing direction. Another long-term BOA study on Endurance and Health, which heavily informed the Cyklon's development as well, is also currently wrapping up. "The goal with these studies," Feeney explained, "is to create a scientifically validated method that we can then bring into the lab and use to test shoes like the Cyklon." 
Developed hand-in-hand with La Sportiva's Jonathan Wyatt, six-time World Mountain Running Champion, the Cyklon's upper features a unique configuration of overlapping panels. This Dynamic Cage™ completely locks in your heel, grounding your foot to the midsole so that your foot and the Cyklon truly move as one. "The BOA Fit System offers a lot of flexibility itself, but a lot of the panels BOA has used in the past have little to no stretch in them," said Feeney. "The Dynamic Cage™ offers four-way stretch, so as you change shape throughout the course of a gait cycle, it will accommodate those minute changes in shape."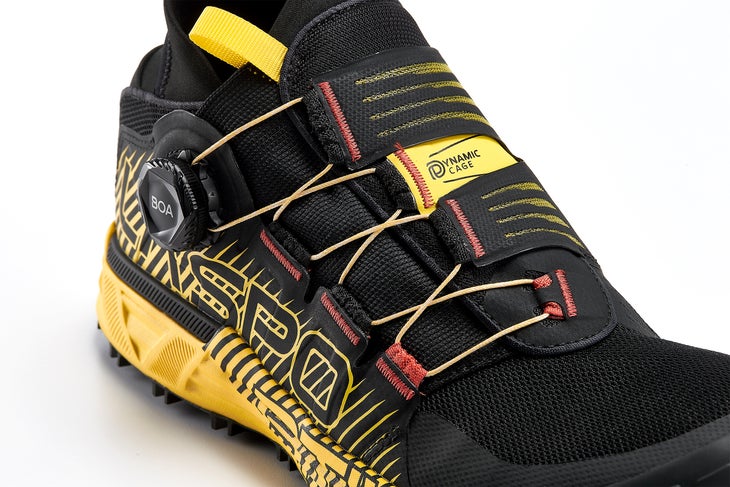 The Cyklon's fit offers a trifecta of specific benefits, all combining to create a shoe that is "Dialed In, "Locked In," and "Connected." 
"Dialed In" refers to BOA's micro-adjustable dial. Each click brings or lets out a mere 1 mm of lace, offering the most fine-tuned trail fit on the market. Meanwhile, "Locked In" refers to the extremely secure fit the Dynamic Cage™ provides. "This shoe is meant for rugged territory, traversing tactical ridges and steep descents," said Feeney. "The Cyklon is custom-built for terrain that will really challenge your foot in a medial-lateral perspective." On techy trails, a locked in, fluid fit like this can prevent a misstep off a ridgeline or other fumble that could result in serious injury.
Finally, the "Connected" feature refers to a fit that not only improves agility and security on the trail, but performance, as well. As extensive studies in BOA's Performance Fit Lab have shown, the locked in heel and overall connected fit of the Cyklon not only improves endurance and efficiency, it reduces impact with each step, making the Cyklon an excellent choice for races well into ultra range. 
All these factors combine to create a piece of footwear representing the apex of rugged, long-haul trail shoes. The La Sportiva Cyklon can take you up, down, and everything in between. 
A shoe that makes you "one with the trail" might've sounded like a marketing gimmick in years past. With the Cyklon that may have just changed…
Find out for yourself.
The La Sportiva Cyklon is available now.