NordicTrack Commercial X22i Treadmill Review
The NordicTrack Commercial X22i Treadmill offers one super special aspect—it tilts up to a quad-burning 40-percent incline.
Heading out the door? Read this article on the new Outside+ app available now on iOS devices for members! Download the app.
$3,248 (Includes White Glove Delivery & Assembly)
70.2" L x 39.6" W x 71.6" H footprint
-6% to +40% Incline Adjustment
22" Smart HD Touchscreen
4 HP Motor
Aside from knee replacement, investing in a treadmill could be the biggest purchase decision you as a runner could ever make. But for those city-bound, snow-bound, flatland and time-limited runners, it could be the best money you ever spend, allowing you to run no matter the conditions or limitations of your living situation. And especially relevant to "trail" runners, the NordicTrack Commercial X22i Treadmill, aside from being one of the most full-featured units in the consumer marketplace, offers one special aspect that all others don't—it tilts up to a quad-burning, balance-challenging 40-percent incline. So you can get your hill training even if you live in western Kansas.
"As an athlete trying to balance managing a full-time coaching business and raising three kids, sometimes I'm crunched for time," says Jeff "Bronco Billy" Browning, a super-accomplished ultrarunner and ultra endurance coach who has tested and used the NordicTrack X22i extensively over the past three years. "The treadmill is a perfect tool for grabbing a workout without having to drive to a park or trailhead or simply supplement my training with a quick 20-to-30-minute uphill power hike after my kids are in bed."
It was fortuitous that the NordicTrack folks contacted Trail Runner last winter, in that this tester had just gotten the green light to begin (easy) running after a six-month rehab from surgery for a torn quadriceps tendon (not recommended). Included in the purchase price of the unit is the company's White Glove Delivery and Assembly (recommended), which saves not only potential setup hassles but also your body—the beast weighs 400 pounds so my fresh knee was glad not to wrestle it down a set of stairs. In the gym, you don't necessarily notice a treadmill's spatial bubble, but if you're considering one for home use, take some room measurements first as the X22i has a substantial footprint and height.
At 22-by-60 inches, the tread belt itself offers an ample running and, best of all, impact-absorbing surface (not mushy but noticeable, like that perfect packed snow on a trail). It is truly pleasurable to run on, a welcome asset in the early stages of my knee rehab. The "control tower" sits atop aesthetically curved support arms, and features a generous, clear 22-inch touchscreen, two 3-inch speakers, sled grips and push bar. One of my favorite features were the dual, multi-speed fans that offered a welcome cooling "breeze" on sweaty workouts.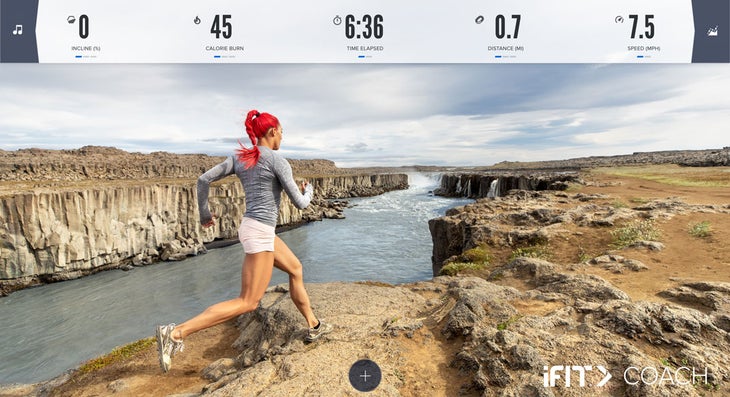 With a purchase also comes a year's membership to iFit Coach (three years if you sign up for NordicTrack's three-year, interest-free payment plan). Once registered, you will have access to a huge array of workouts, from virtual studio classes to elite-athlete-led runs in exotic locations across the globe to a 16,000-workout library. For the classes and runs, the treadmill adjustments are truly interactive, i.e. not just a simple streaming workout—iFit automatically adjusts incline, decline and speed. For example, on an iFit Global Workout, I did a mellow run with a few surges through the maze of the largest medina in the world—Fes, Morocco—led by elite marathoner Tommy Rivers Puzey, and didn't need to fuss manually setting anything along the way. It was an interesting cultural "experience," although it felt a bit awkward being led by Puzey through the hoards of curious shoppers and owners. Some of the askance looks kept it entertaining, though
On an unmotivated day, I hopped into a short class with the trainer Betina Goza, who led "us" in a high-energy interval workout. Most of my runs, though, were simply via manipulating the touchscreen manual controls on the fly. (Here are some examples of effective treadmill workouts.) The touch controls (speed on the right and incline on the left) are super easy to use, and, with its strong 4HP motor, the treadmill responds smoothly, quickly and relatively quietly to both incline and speed increases and decreases.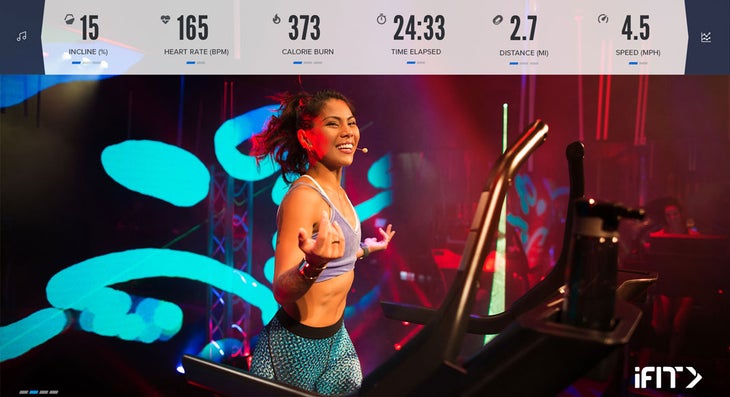 "My X22i sees a lot of use in the winter months. I use like to use it for power-hiking speed training while pushing a steep grade and speed work, and, with the negative grade [tilts down to -6 percent], you can run downhill workouts, too," says Browning, 48, of Bozeman, Montana, who has many ultra victories to his credit, including the Hardrock 100, Bear 100 and Tarawera Ultras 100 (see some of his favorite workouts below). "I have several East Coast and Midwest athletes who have successfully utilized the NordicTrack Incline Trainer to prepare for the vertical challenges of hard mountain ultras."
Personally, long runs were challenging, especially mentally, so often times I would don a weight vest (I'm a fan of the trim-fitting Hyper Vest Elite Weight Vest) and do shorter workouts, with steep hill intervals between mellow recovery stints at lesser inclines. Believe me, the max 40-percent incline is burrrrly and not only challenges your quads but your balance, tempting you to grab for the sled rails (which kinda simulates the boost you'd get by using poles on the trail).
BRONCO'S FAVORITE NORDICTRACK X22i TREADMILL WORKOUTS
Ladder Hill Repeats: 20 min warm-up at flat grade, easy pace; 10 x 2 min at 5% grade at comfortably hard effort, followed by 2 min easy running at -3% grade; easy cooldown
Power Hike Repeats: 20 min warm-up at flat grade, easy pace; 5 x 3 min at 25-30-35-40-25% grade at hard power-hike pace, with 3 min strong aerobic running at -3% grade in between; easy cooldown
VO2 Max Intervals: 20 min warm-up at flat grade, easy pace; 4 x 4 min at threshold pace w/ 2 min easy running between; easy cooldown
Mountain Climb: 15 min warm-up at flat grade, easy pace; 30 min strong power hike at @15-40%; finish with 10 min at -3% at aerobic pace; easy cooldown
On your iFit.com page, you can track, export and share all of your workouts, and even schedule and create your own customized workouts.
As far as downsides, I didn't have any major issues; at one point, the control board did go south but customer service scheduled a tech and the problem was solved.
"The monotony of being stuck like a hamster on a wheel is hands down the biggest challenge to treadmill training—the lack of stimulus of varying terrain, foot strike and changing scenery," says Browning. "That said,  the treadmill can be your knight in shining armor in certain circumstances."
And, while the price might seem daunting, NordicTrac's 36-month, 0-percent APR payment plan offers a reasonable option, especially if you consider the bump you might get from dropping that monthly gym membership …
Trails are normally where it's at, but on recent sleeting-sideways, blustery fall day, the NordicTrack X22i standing in my family room coaxed me in for a toasty hill-training burn in shorts and a T-shirt. I had no regrets.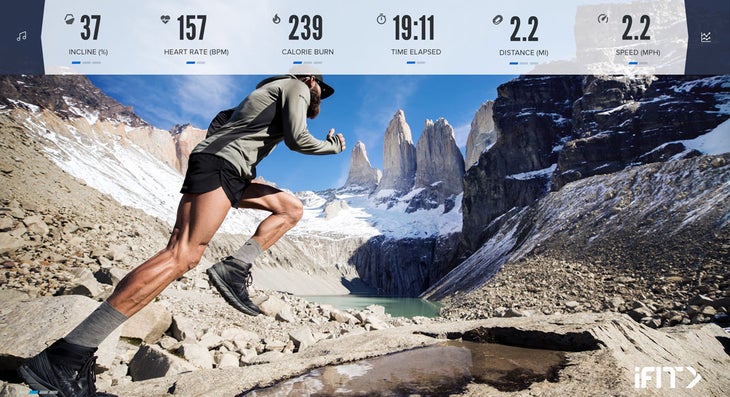 SPECS
Includes 1-Year NordicTrack iFit membership
Bluetooth Audio Capabilities
Two 3" Speakers
22" x 60" Commercial Tread Belt
Dual AutoBreeze Workout Fans
0 – 12 MPH Speed
iFit Bluetooth Chest Strap Included
300 Lb. User Capacity
50 On-Board Workout Programs
10-Year Frame Warranty
2-Year Parts Warranty
1-Year Labor Warranty