Here's What Our Editors Loved In April
As the weather warms and race season begins, here's what the editorial staff at Trail Runner has been running in, reading, eating, and more.
Heading out the door? Read this article on the new Outside+ app available now on iOS devices for members! Download the app.
We'll be honest: this column has become one of our favorite monthly projects here at Trail Runner. We get so excited to share the things we're loving in the moment with you! Our editorial team is currently training for 100-mile races, 50-mile races, road half marathons, and athletic endeavors in between. So we go through a serious amount of running gear.
As spring (finally) arrives and we all start to feel the fear and excitement of our races coming closer on the calendar, here are the clothes, shoes, podcasts, books, and snacks that are fueling us right now.
Running Gear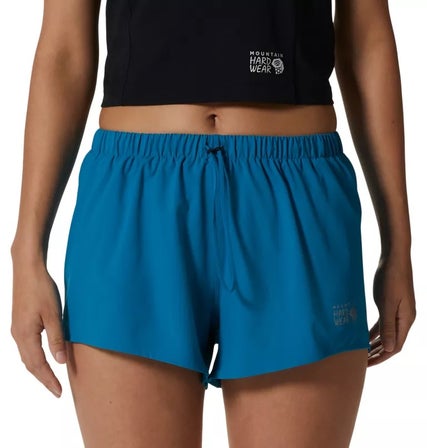 Mountain Hardwear Shade Light Shorts ($59) 
These shorts might be the most breathable and move-able that I've ever worn. Am I wearing them right now while I write this? yes. With overlapping panels rather than side seams, I can run the speediest strides or the most technical terrain and know that I'll have extreme range of motion through my hips and legs. The fabric is billowy and super lightweight, with a drawstring waist to dial in fit. The back pocket is flush and nearly bounceless, even with several keys in it. They're the closest you can get to not wearing shorts while staying PG. – Reagan Colyer, assistant editor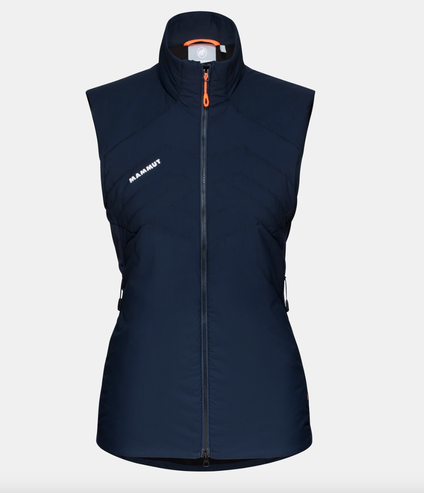 Mammut Rime Light IN Flex Vest ($159)
I live in Montana, which means the onset of spring carries with it spontaneous gusty winds and sleet storms. This vest has been my go-to when the weather is howling but the temperature is still around or above freezing. It keeps my core warm and comfortable and offers wind protection, and can be packed down into a stuff bag attached to the inside of the right pocket. Stretchy side panels give it enough movement to fit over – or under – other layers on extra cold days. – RC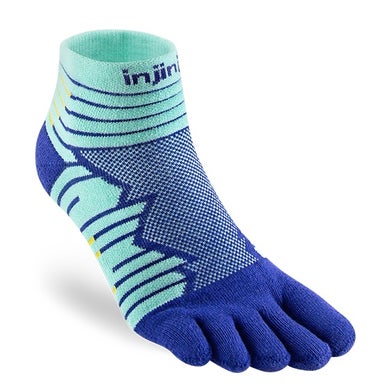 Injinji Ultra Run Mini Crew ($18)
These socks are a godsend for blister prone runners. The funky toe feature helps cut down on friction between your piggies, and the light, knitted structure provides a bit of arch support and cushion. These are my go-to for long runs and races, and I've found that they're great at minimizing blisters in hot dry conditions, and in cold or soggy weather too. – Zoë Rom, editor in chief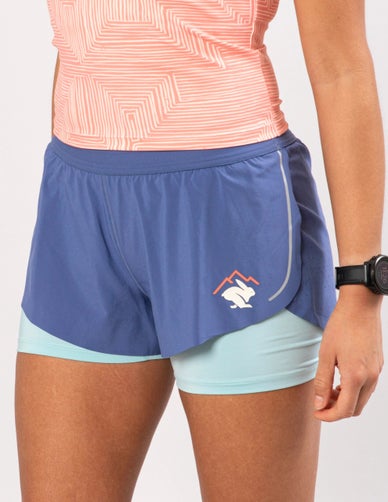 Rabbit 2-in-1 Split Shorts  ($70)
When you want the mobility of super short shorts (2.5 in!) but the coverage of built-in shorties, these are  your go-to. Light and airy without being revealing, these are great shorts for short and fast trail runs. – ZR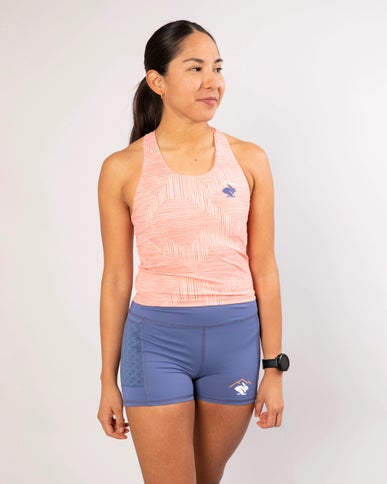 Rabbit Crusher Crop ($68)
I love a crop top. Rabbit's latest short tank features built-in support with seriously bright Cali vibes. The shorter cut might not be everyone's favorite fit, but I like the sporty feel and performance-oriented breathability. I feel faster just wearing it! – ZR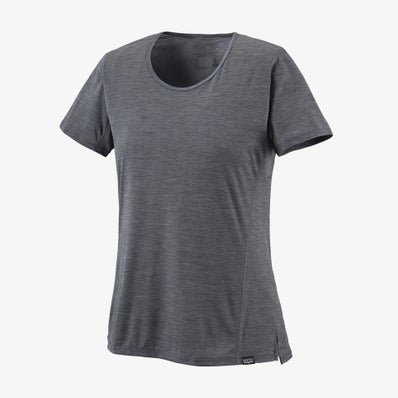 Patagonia Capilene Cool Lightweight Shirt ($45) 
I've been known to wear a Caplilene Cool shirt for 100-mile races, or tucked into jeans for brunch. This seriously versatile performance tee feels incredibly soft on the skin, and the performance fabric is sweat-wicking and anti-microbial (smell better for that post-run brunch!). This is an essential top for every trail runner, beyond worth the $45 dollar price tag. – ZR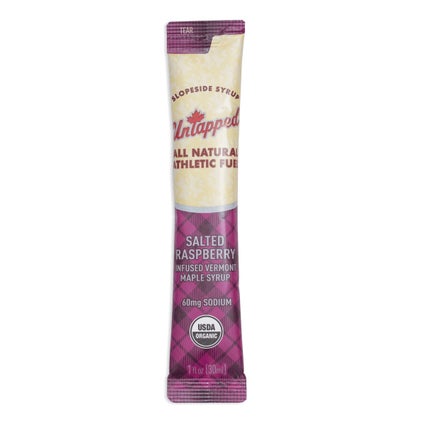 Salted Raspberry Untapped  ($19/10 packets)
Untapped has long been one of my favorite fueling options for long runs and races. The tasty maple syrup is all-natural and plant-based, and the salted raspberry has an extra kick of sweetness and electrolytes for the long run. This stuff goes down easy, and is infinitely digestible.  – ZR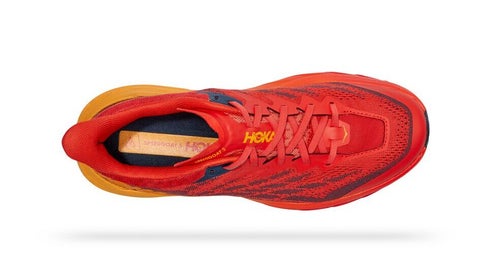 Hoka Speedgoat 5 ($155)
This has been a go-to shoe for trail runs this training block. It's a fantastic update to a heritage line that goes beyond aesthetics. If you loved previous versions of the Speedgoat, you'll love this shoe. If you weren't sold on the sometimes heavy, occasionally sloppy feel of previous Speedgoats, give this one a try. And if you LOVED the Speedgoat Evo (like we did!), this is the next best thing. You can read our full, in-depth review here. – ZR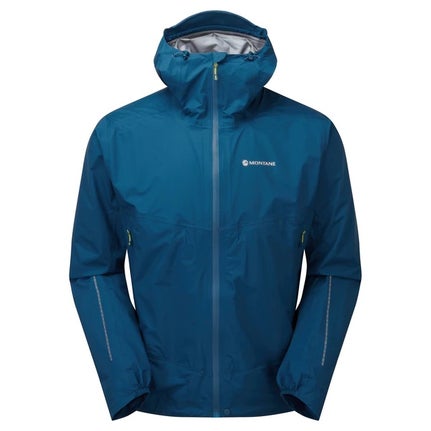 Montane Men's Spine Waterproof Jacket ($325)
Finding a watertight jacket that is ultra lightweight and breathable is a holy grail of running gear. Montane might be getting as close as anyone I've found yet with this jacket. GORE-TEX active shell technology, a perfect cut, with just the right amount of bulk but absolutely something you can run and race in. Unlike the many minimal running shells I've owned, with this one I'd feel confident getting stuck in a storm and coming out dry and warm. Though over twice the weight of a Patagonia Houdini (3.7 oz.) or the Black Diamond Distance Wind Shell (3.5 oz.), the Spine clocks in at 8oz. Think roughly the weight of a billiard ball. Still minimal, and far better protection from the elements. – Nick Triolo, digital production editor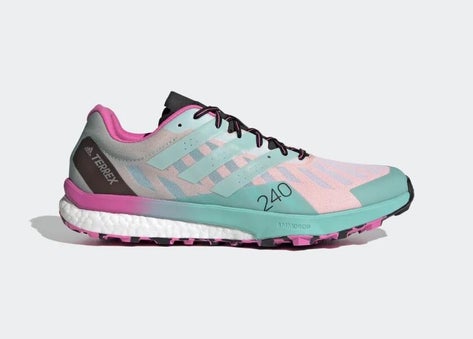 Adidas Men's Terrex Speed Ultra Trail Running Shoe ($112)
To be honest, I haven't been very impressed with Adidas's trail lineup until last year. I've always been a fan of their road shoes, but something about the trail shoes never quite worked. No more! The Terrex Speed Ultra is one of the best shoes I've ever experienced straight out of the box. Super light (8oz) but the cut just works. BOOST midsole. Continental rubber outsole, and a breathable upper, these are my go-to kicks during the week. I honestly get excited whenever I lace up. Plus they are nearly art objects with a super fresh design, and the price is more than reasonable. – NT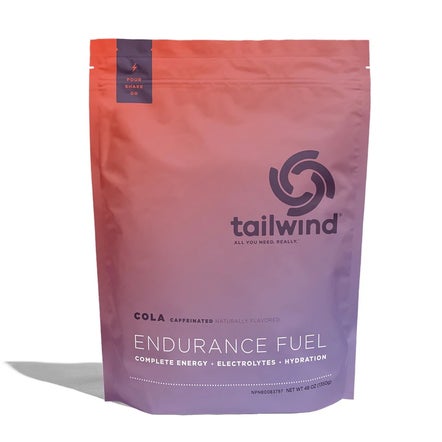 Tailwind Caffeinated Cola ($39/50 servings) 
Whenever I go to a bakery, I always swerve into an existential tailspin when deciding between an almond or chocolate croissant. To my great surprise, my local bakery started offering chocolate-almond croissants, and now I feel like my life has entered a new phase. This is sort of how I feel about Tailwind's Caffeinated Cola. I've always enjoyed their flavors, but to now offer Cola to the unified theory of calories, electrolytes, and sugar? Yes, please. – NT
RELATED: Space Inspo – How NASA Is Influencing Trail Gear
Reading Material
100 Ways To Improve Your Life Without Really Trying 
This article is bookmarked on my laptop so that I can remind myself it can do other things than connect me to work, and that I am more than a vehicle for working. From always bringing ice to a party (there really is never enough) to hanging a bird feeder outside your window, it's full of easy but meaningful ways to alleviate stress, activate your brain, improve relationships, and make yourself happier than you were five minutes ago. I promise there's something on this list you could do in the next hour. – RC
A local newspaper
Did you make a New Year's Resolution to be better informed? Or to support more local businesses? Or to spend less time on social media? Subscribing to your local newspaper will help you do all of those things. My own costs less than $10 a month and is much more valuable than my streaming services, allowing me to be a more informed voter, a more knowledgeable conservationist, a savvier spender of money, and a better fan to my local sports teams. And the local journalists I've met have thanked me personally for my support, something my national newsletter authors have never done! Make it your hometown paper, the paper where you currently live, or a publication from a random place you've never heard of: no matter what, your dollars will be well-spent supporting important storytelling. – RC
Underland by Robert Macfarlane
Macfarlane is one of the best living writers, exploring the intersection of landscape, language, and the mind. If I had a favorite book of his, perhaps I'd recommend The Old Ways, but his newest, Underland, is such a gift. Here, he travels across time and space to take us into the land of the netherworld. He spends days beneath Paris in the catacombs, explores fungal networks underfoot, charts prehistoric art in Norwegian sea caves, and so much more. What do we "sweep under the rug" into these underworlds, unexamined places and parts of ourselves? Macfarlane goes there to find out, and I can't recommend it enough. – NT
Sweat  by Bill Hayes
A deeply historical examination of our obsession with exercise, this is not your average read. If you're reading this, we know you love running and the way it makes you feel. Bill Hayes charts an uncommonly literary path through why. – ZR
RELATED: Got A Race Coming Up? Here's Your Essential Gear List
Now Playing
Podcast – Two Writers Slinging Yang
From learning how Jimmy Kimmel writes jokes to asking the co-editor-in-chief of Sports Illustrated whether print magazines are still worth reading (hint: they are!), Jeff Pearlman has been hosting this podcast and catching up with all kinds of writers for nearly five years. It's a testament to the fact that even the people who write the stories have their own: every episode leaves me with a nugget of inspiration for becoming a better writer and teaches me something about how I should approach storytelling. – RC
There's a reason Jon Batiste was nominated for 11 Grammys this year – and won five of them. His entire discography makes me want to dance in the best way, and his most recent album blends hip hop, rap, classic jazz, and R&B so seamlessly I can't always tell where one genre ends and the other begins. I guarantee the music video for his song "I Need You" will make you want to take up swing dancing and meet an attractive stranger in an art museum. – RC
The Lightning I,II – Arcade Fire
If I could teleport to one musical show right now, Arcade Fire might be that show. I've been tracking this band for years, and they always seem to deliver through an honest, political sound. In truth, I haven't been in touch with their music in the recent past, so it was an absolute joy to find this new track. – NT
An Overview on Phenomenal Nature – Cassandra Jenkins
This is one of my favorite albums from the past year. "Hard Drive" features Jenkins speaking about a spiritual transformation slowly over sparse but steady arrangements. Just an hour long, the album evokes hyper-specific scenes and characters that guide us through a sonic realization that there is strength in vulnerability. – ZR
Podcast – Still Processing
Still Processing is back for another season! Wesley Morris is one of the best culture critics in the game, and he's able to pop culture in ways that consistently challenge me and push me to engage more deeply with the media I consume. Whether's it's watching movies with a more critical eye, or thinning about the impact of top 40 radio, Still Processing breaks down why we like what we like. – ZR
Just Good Stuff
Fueling your spring long runs with stale Peeps
Easily digestible carbohydrates. 'Nuff said. – RC
RELATED: Kilian Jornet Co-Founds New Brand, NNormal
The Pomodoro Method
If you took my advice and clicked into the article above about easy ways to improve your life, you will have seen that this was one of them. Working from home, I find it easy to vacillate between panic-induced productivity driven by the length of my to-do list and struggling to get motivated to buckle down to do….well, anything. Enter the Pomodoro method, which has helped my mental health immensely. The premise is simple: commit to doing productive, focused work for 25 minutes, then allow yourself a complete 5 minute break. Do whatever allows you to take a mental rest: for me, it's focusing on nothing but the taste and temperature of my morning coffee or playing a quick game of fetch with my dog. It leaves me feeling refreshed and ready to jump back in for the next 25 minute block. – RC
INAUGURAL: A Story About the First Ever Cocodona 250
The second iteration of Cocodona might be almost done for 2022, but this documentary will get you preemptively hyped for the 2023 race. With its combination of stunning scenery, incredible athletes, vulnerable stories, and badass ultra madness, it will take you through all the emotions of hyper-long-distance running and will give you a hearty dose of motivation. – RC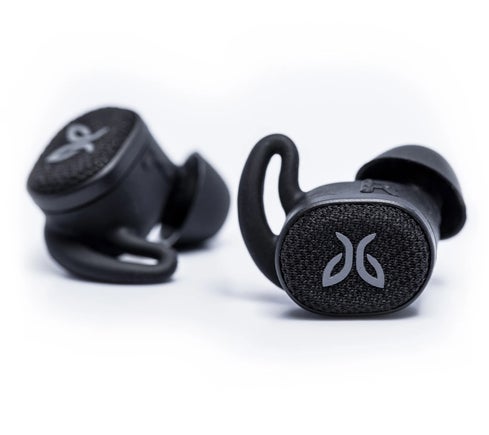 Jaybird Vista 2 Earbuds ($149)
I have a strict policy of zero music or headphones when I run trails, but we all need to log the road miles here and there, and podcasts and audiobooks are a great way to make road work more palatable. These earbuds are wonderful. Minimal. Sleek. "Earthproof" durability, meaning they can withstand a heavy dose of wind, rain, and earwax (gross). Plus, they've got an easy way to toggle between noise canceling settings and SurroundSense, to let a certain level of ambient noise in while you're logging those miles and need to retain some spatial awareness. I haven't owned them for very long, but so far, SO great. – NT
Killing Eve
I'm a huge fan of Phoebe Waller-Bridge and Emerand Fennel, so I'm not sure how it took me until April in the year of our Lord  2022 to find Killing Eve, but I did, and it's fantastic. This feminist take on a cat and mouse spy thriller to me, is perfect television. -ZR
At Trail Runner, we have a policy of showing no preference based on brand in our gear testing. We are not compensated by brands for testing or consideration, and we do not guarantee inclusion of a product in our coverage. Our testers live in the Rocky Mountain west and are both recreational and competitive runners. This list includes gear that we receive from brands for testing as well as our own personal favorites from decades of running.