Our Favorite Fastpacking Gear
Cut weight and save money for more backcountry enjoyment.
Heading out the door? Read this article on the new Outside+ app available now on iOS devices for members! Download the app.
There are so many ultralight (UL) products on the market these days that choosing among them can be dizzying.  Ideally, many pieces of your UL gear will be multi-purpose. Here's our favorite fastpacking gear. 
Ideally, strive to keep your fastpacking kit under 20 pounds, and food and water under five pounds. This presents obvious challenges for spending multiple nights in the backcountry and might turn you into an obsessive ounce counter. Due to the limited pack space, select food for its caloric density. Water is heavy, so plan to refill, filter and treat en route.
Will Thomas, who has summitted over 500 peaks (many of them while fastpacking) as well as Section J of the PCT in just 36 hours says, "I try to use the smallest pack possible for the outing. This helps me be mindful in the packing process to bring only the essentials and focus on multi-use items and their compactibility. If I start with a larger pack than needed, I add more and more discretionary items."
Thomas does splurge on a couple of luxury items. "You'll never catch me out overnight without my two-ounce inflatable pillow and, if the nights are cold, I'll always bring my 12-ounce cooking setup."
RELATED:This Year's Best Hydration Packs And Vests
"When you're choosing a fastpacking pack decide whether you'll be mostly hiking, or running….and be honest with yourself! Most backpacks aren't built to ride well when you're running, whereas running packs are. Beware how much you're carrying and look for a backpack with minimal load transfer and/or padded straps can make life a lot better," advises Heather "Anish" Anderson, Nat Geo Adventurer of the year and author of Thirst: 2600 Miles to Home and Mud, Rocks, Blazes: Letting Go on the Appalachian Trail. 
Pack A Punch
To add more structure to a frame-less pack, fold up a thin foam pad (⅛ inch will do the trick), slide it in your pack vertically.  That same pad doubles as your sleeping pad, and a soft place to sit during snack breaks. To shave off additional weight, make it a ¾ length pad and use your UL backpack under your feet to retain warmth while sleeping.  
"When packing your gear for the day, try to cushion your back with a soft piece of equipment like a puffy jacket or a Sol Z Lite Pad. If you are running or hiking at a hard effort, expect to sweat. Waterproof the inside of your bag with a trash bag to keep your gear dry," says Joe McConaughy, AKA "Stringbean", known for his long-haul FKT's including the Appalachian Trail and his recent speed record on the Arizona Trail. 
How you pack your gear is as important as what gear you bring. Take into consideration what gear is your heaviest, and pack that near the back and bottom of your pack to minimize bounce. Balance that with considerations around what supplies you'll need to have easy access to.  "Water accessibility is key. I like to have two 500-700ml bottles (I find 1L to be too bulky) on my front shoulder straps with a Sawyer Filter. This allows me to quickly refill water and keep moving, and also reduces the hassle of staying hydrated," says McConaughy. 
Food For Fuel
Top-notch fueling for fastpacking is key. Bring compact and nutrient-calorie dense foods. Keep food for the day accessible and stow other food in gallon Ziploc(s).For breakfast, good options include instant coffee (e.g. Starbucks Via), instant oatmeal or potatoes, bars and jerky. Lunch is usually an all-day snacking affair, just like long trail runs, and may include gels, bars, trail mix/nuts, nut butters, cheese and dried fruit.
While they're not something you will want to make a habit of eating, freeze-dried meals have come a long way in nutrition and taste, and make a gratefully easy-to-prepare meal at the end of a long day. Ramen and mac and cheese are quick and satisfying supplements as well. And, of course, you'll want to include some chocolate bars or some kind of treat for deserts.
Cut Weight, Save Money
If you're looking to save a little money and don't mind picking up gear with a bit of dust and dirt already applied, check out slightly used gear online.  You can often find DCF tents and packs, as well as poles and other gear at a fraction of the retail cost.  And you may just meet some really cool UL backpackers while you're at it.  Bonus! 
Prior to leaving for the backcountry, take your fully loaded fastpack for test runs on local trails, assessing unwanted bouncing and overall comfort and fit. As pack weight increases, it becomes more prone to bouncing, which leads to shoulder fatigue and potential issues with chafing at pressure points.
Most trail runners already own everything they need, which will, of course, depend upon the environment, climate and season of your destination. The biggest mistake budding fastpackers make is simply bringing too many clothes. For a typical summer mountain fastpack, you will need (at most, bring spares for under layers):
Short-sleeve top

Long-sleeve top

Light insulating layer

Running shorts and tights/underwear

Lightweight waterproof-breathable rain gear

Ball cap and beanie

Light gloves

Wicking socks (+ spare pair)

Sturdy trail-running shoes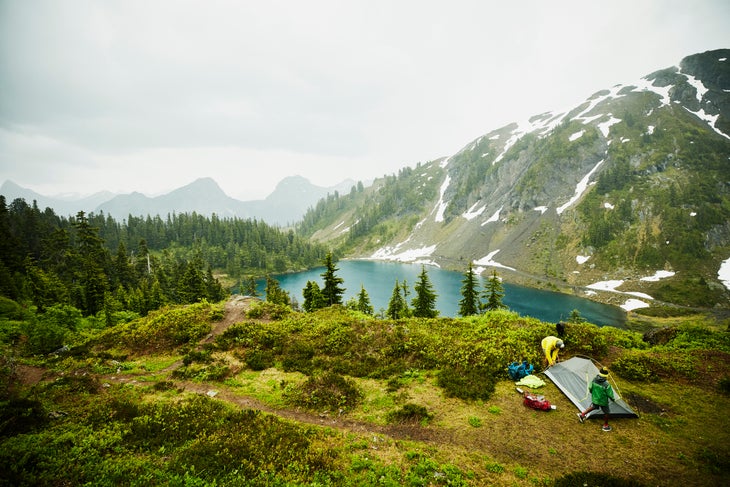 Nemo Tensor Ultralight Sleeping Pad, $160, 18 oz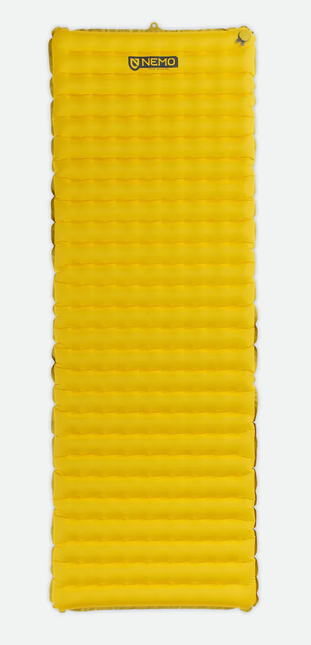 The Tensor Ultralight packs down to about the size of a Nalgene bottle, weighs in just over a pound, and best of all doesn't sacrifice comfort while maintaining a small size and weight profile.  It comes with an inflatable bladder-type pump sack, has a 3.5 R value of for warmth, and is more quiet than many UL sleeping pads.  
Six Moon Designs Haven Zero G, $500, 18 oz. for the tarp alone or add the Haven NetTent, $175, 14oz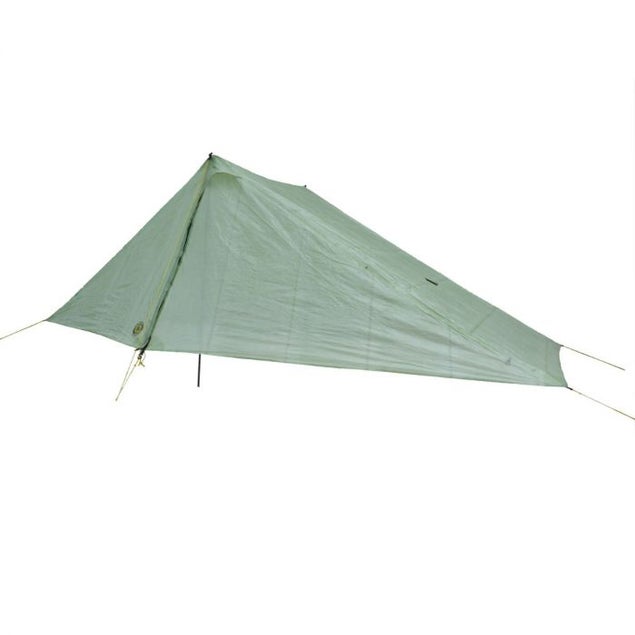 The Haven Zero G provides all you need for fastpacking in anything but the most extreme weather.  Going late in the season after the bugs are gone?  Leave the bug net at home.  Heading out mid summer?  Take the bug net as well and enjoy protection from the weather and pesty mosquitos as well while staying at 2 lbs total in packed weight.
Benchmade 533 Mini Bugout, $140, 1.5 oz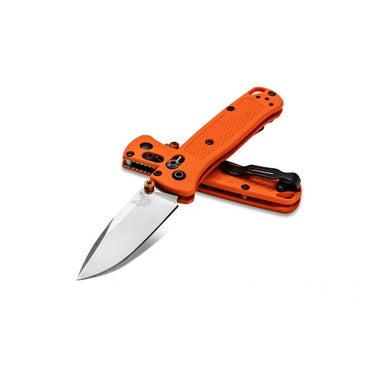 This barely-there blade is only 3.7 inches long when closed, has a do-it-all drop point style blade and can tackle pretty much anything you throw at it in the backcountry.  Benchmade makes high quality blades and this little guy is no exception.  It's easy to extend or fold with one hand.  
ZPacks Bear Bag, $50, 3.4 oz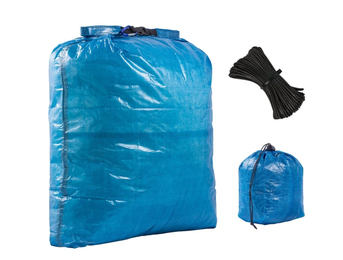 This bear bag comes with a small rock sack and 50 ft of 2.0 Z-Line Slick Cord.  It's constructed from 1.6 oz/sqyd Dyneema® Composite Fabric (by comparison their Dyneema dry bags are made from thinner 1.0 oz/sqyd material).  These bags are rodent resistant, big enough for three days worth of food and easy to hoist and access.  
Z Packs packing cubes, $29, 0.6 oz (for the small size)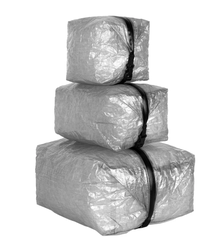 These handy little packs are barely there in terms of weight but allow you to easily organize key items in your pack.  They're made from Dyneema fabric and come in small, medium and large.
Good to Go pouches, $7.75 (for single serving pouches), 3.4 oz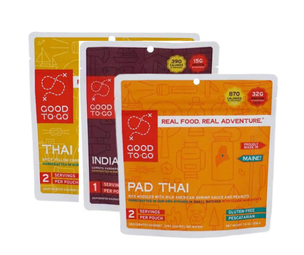 With vegan, gluten free, and meat options, Good to Go has dinner and breakfast options for hungry fastpackers.  These dehydrated pouches take just 10 minutes to heat up and only require adding water.  They're winning taste awards and the Thai Curry and Chicken Pho are definitely worth checking out.  
Garmin InReach Mini, $349, 3.5 oz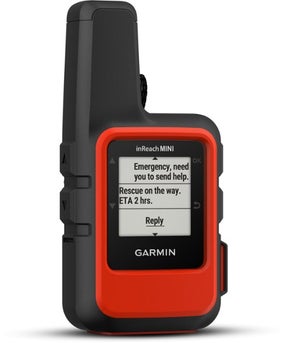 This little emergency device fits in the palm of your hand, attaches to the outside of your pack, and is surprisingly cute.  The mini pairs with your phone for easy messaging from the backcountry.  SOS alerts, weather updates and tracking are all provided via the global Iridium satellite network (satellite subscription required – $11-49/month).  The Mini can also connect with other Garmin Minis while out on the trail.
UD Fastpack 30L, $180, 1.52 lb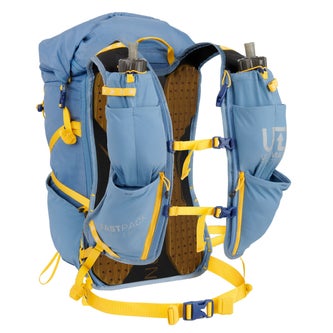 A fastpacking favorite, UD's fastpacks come in 20, 30 and 40L sizes and offer gender-specific sizing.  Made from MonoRip mesh, these packs are as strong as they are light.  They have a removable waist belt for heavier loads and feature sliding rail sternum straps.  
Petzl Swift RL headlamp, $120, 100 g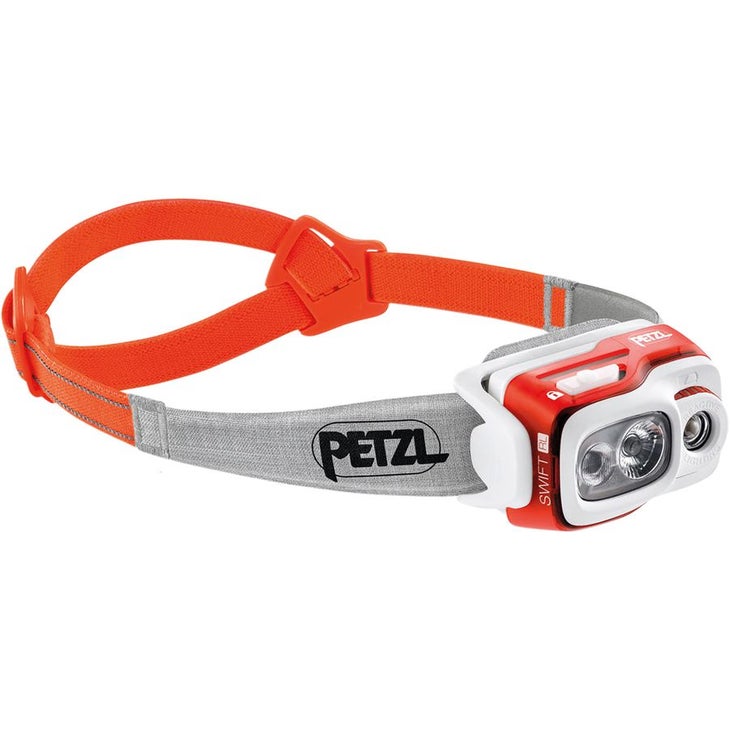 Cranking out 900 lumens, the Swift RL lights up the trail way ahead of you, allowing you and your group to keep an eye on otherwise confusing turns in the trail, or to find that ever elusive hanging bear bag.  It uses Petzl's Reactive Lighting system which analyses the ambient light and adjusts the beam/strength accordingly.  Best of all, it offers the same small size factor as their older 300-lumen lamps.