Heading out the door? Read this article on the new Outside+ app available now on iOS devices for members! Download the app.
When it's chilly enough to frost your nose-hairs, you might have to forego the short shorts and start layering up. Your core and extremities (think fingers, toes, ears) need the most extra insulation, but it's important to keep your legs and glutes warm too. We reviewed some of our favorite cold-weather running tights, so you can keep your hams warm while running. 
Salomon
Agile Warm Tight
Price: $80
Buy Now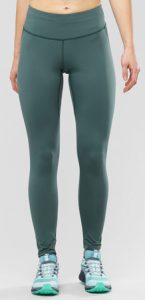 The Agile Warm Tights are like pulling on second skin. They hug the legs like a compression tight  and make you feel hydrodynamic, like a slippery seal. Due to their slim fit, they are perfect for a base layer or on their own. They're incredibly thin, but they have a cozy brush knit interior. Think: soft fleece. Their AdvancedSkin Warm technology absorbs sweat while containing the heat your body produces. If you constantly need to hitch up your britches mid-run, these have an adjustable waistband to get a tighter fit. With a back zip pocket for keys, as well as ankle zippers that aren't bulky, this tight has all the additions you might need. We tested them on snowy trails in 25 degree weather and felt chilled when the wind blew, but overall warm without overheating. This tight also comes in a softshell version that is wind and water-resistant for those extra blustery days. 
Craft
SUBZ Padded Tights
Price: $103.99
Buy Now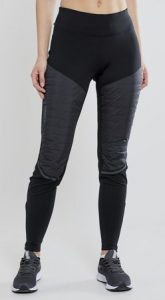 This Swedish company creates and tests their gear in far north, nordic regions, and produces some of the warmest tights we tested. Their gear is built for the ergonomics of endurance sports and feature articulated knees and form-fitting layers. These tights offer the ultimate wind and cold protection, right where you need it: on your large quad muscles. With lightly padded quilting encased in a wind-resistant fabric, the front panels are perfect for windy days. The fleecy soft interior is thicker than other options but not bulky, and the wide waistband includes a drawstring for adjustability. Additional features include ankle zips and an offset pocket on the waistband. Don't wear these when it's warm, or you'll be sweating against the quilted section, but they're the lower-layer go-to for extra cold or windy days. 
Craft
Essential Winter Pants
Price: $114.99
Buy Now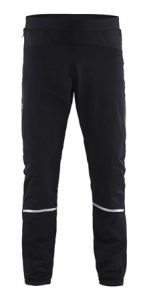 The name says it all. These pants function as a great training layer for running, cross-training and staying cozy indoors. They have a looser, jogger-like fit, allowing your body to heat up the air space between your skin and the fabric, and keeping you more comfortable. The key  feature of these pants is the wind-resistant fabric that overlaps the pants from waist to knee. The fabric is open at the knee, allowing for freedom of movement. It looks like you're wearing a pair of capris over your pants from the side, but it's functional. Zippers from knee to ankle make these pants easy to don with shoes on. These pants only sport one small, zippered back pocket which makes them more streamlined for running. The waist comes up a lot higher than other tights, all the way to the bellybutton. Wear these when you really want to be bundled, or for easy days; you could easily build up a sweat in these thick, brushed jersey layers. 
Brooks
Threshold Tight
Price: $95
Buy Now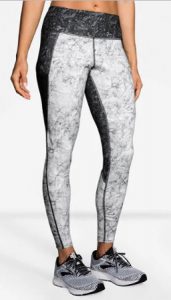 The Threshold tights are a warmer version of your everyday running tight. Simple and streamlined these tights sport zipperless pockets on the thighs and back. What makes them nice for colder temps is the interior that feels soft, fleecy and breathable enough to keep you dry and warm. Though these are the only tights we tried from a running specific brand, they can double for other activities, including cross-training, (not hot) yoga, or relaxation. You can find these in black or bright marbled patterns to make those grey days a little more vibrant. 
Norrøna
Trollveggen Warmwool2 Stretch Tights
Price: $129
Buy Now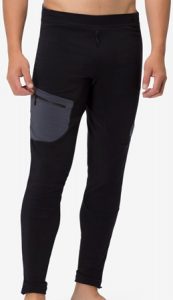 From the 90-year-old family owned Norwegian company Norrøna, these stretchy tights  are comprised of a wool-polyester blend. They're warm, wind-proof and breathable for tough runs on chilly days. Designed also as a cold-weather base layer, they offer a couple of features not found in most tights, namely a fly zipper (men's) and full-length side zips. (The latter feature can come in handy at the start line of cool-weather races, where you can wear the tights as warmups and zip them off just before the starting gun.) A gusseted crotch, stretchy thigh zip pocket and simple elasticized waist round out the features of this quick favorite. Norrøna takes environmental responsibility seriously.  The Warmwool2 Stretch Tights are made from 50-percent recycled materials (synthetic component), and the wool comes from sheep that are non-mulesed (look it up) and wherever possible is Responsible Wool Standard (RWS) certified. The fabrics are also Oeko-Tex and Bluedesign certified, and the company is working toward being 100-percent sustainable.
Brooke Warren is the winter intern for Trail Runner. She likes long, miserable, endurance missions and long, cozy naps.