Running to Heal
Diné ultrarunner Shaun Martin created the Canyon de Chelly Ultra to connect people from around the globe with an ancient ceremony in order to thrive.
Heading out the door? Read this article on the new Outside+ app available now on iOS devices for members! Download the app.
A warm orange-yellow glow strikes the rim of the sandstone canyon, reaching the eyes of 150 runners as they face the sunrise. As the first hint of light stretches from the horizon, the deities are present, according to the Navajo belief— and can hear the prayer of runners' feet on the mother earth. With the trail runners' first steps, they collectively yell to father sky, their voices reverberating up the canyon walls that reach up to 1,000 feet above the prickly pear and cholla cactus on the desert floor: the ancient practice of distance running is a traditional ritual of the Navajo, or Diné, people. 
"You can hear the echoes of the runners' yells up and down the canyon, and it gives me goosebumps. Their yells represent their celebration, prayers, and personal reasons to run, learn, and heal. We all come to the canyon to do those things in different ways," says professional Diné ultrarunner and coach Shaun Martin, who launched the Canyon de Chelly Ultra in 2012. It is the first-ever sanctioned ultramarathon in Navajo Nation, an Indigenous territory that reaches 27,000 square miles across Arizona, New Mexico, and Utah.
The 34.5-mile ultra is the first official race to be held in the sacred canyons of Canyon de Chelly, within which Indigenous peoples have lived for more than 5,000 years. Every October, trail runners from around the world venture through the piñon-juniper country and talus slopes, experiencing the power of connection in one of the most sacred Indigenous lands on the planet, tucked into the Southwest corner of the United States. 
By creating a local race in one of the most revered spaces to the Diné, Martin is aiming to lower the barrier to access for locals to participate in a communal run, a hereditary practice that had been lost to some Navajo people. Simultaneously, the race facilitates a space for visitors and those without Navajo history to learn about the connectedness of the Diné, and of humans as a whole, to the land, explains Martin. Recognizing the connectedness of humanity is a holistic perspective from which the country can grow and learn more sustainable practices—from an environmental, energetic, cultural, and agricultural point of view. 
A Traditional Way of Life
Martin grew up in LeChee, Arizona, in the northwest corner of Navajo Nation, just south of Page, Arizona. LeChee, population 1,600, sits adjacent to the mesmerizing and famed rock formations of Antelope Canyon, Lake Powell, and Horseshoe Bend, where Martin herded livestock with his brothers and their childhood friends as kids. There weren't any crowds or spur trails back then. 
Raised in a family that follows the Navajo way of life, as far back as he can remember, Martin and his brothers—Donovan, and twins Tim and Theo—would wake with their dad at 5 a.m. to go on a 4-mile run. His dad, Allen, worked at a coal mine 90 miles away and would drive off halfway through the morning run, letting Martin and his brothers finish solo. His mom, Lisa, was a nurse in LeChee. Those traditional Navajo teachings of running as a way to celebrate, pray, learn, and heal were their way of life and also inspired the boys' life path of racing and coaching endeavors. 
By the time he was four years old, Martin had entered his first race—a Memorial Day 5K in Page—and was the youngest finisher. He and his brothers continued to participate in local 5Ks and 10Ks. Eventually, their parents organized the Northern Arizona Rez Runners, a team under USA Amateur Athletic Union Track and Field, composed of Navajo kids throughout northern Arizona. 
As a middle and high schooler, Martin won many state titles in track and cross country, including being the cross country state champion his junior and senior years at Page High School. Next, he was recruited and ran at Northern Arizona University —where his brothers Tim and Theo ran—from 1999 to 2004. All three brothers honed their collegiate running careers under coach Ron Mann, who was later the men's middle distance coach for Team USA for the 2008 Beijing Olympics. By the time Martin graduated, he'd earned All-American honors in cross country.
After graduating college, Martin took his dream job teaching at Chinle High School and coaching cross country and track for nine years. In less than a decade, the cross country and track teams won 14 state titles, produced 19 individual state champions, and had 49 athletes receive college scholarships. Simultaneously, Martin's brother Theo also returned to Navajo Nation to coach the cross country team at Page High School, and their teams competed, encouraging a fun sibling rivalry.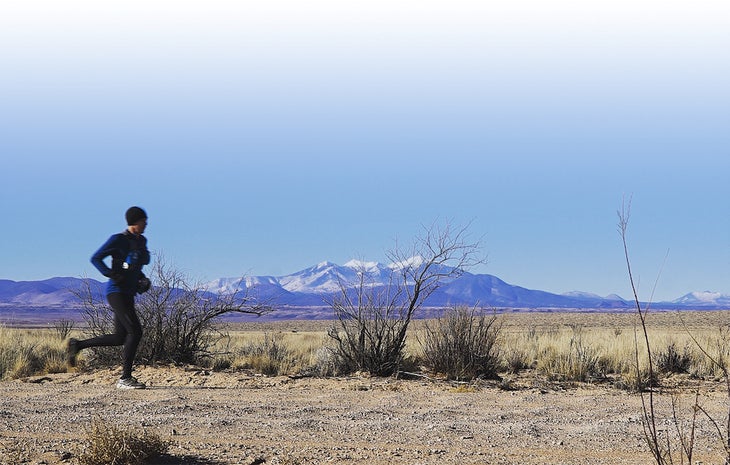 Throughout that time period, Martin started entering ultra-distance races and got hooked. He podiumed twice at the Red Mountain 50K and three times at the Goblin Valley 50K, as well as at the Desert Rats Trail Running Festival 50 Mile, XTERRA Estrella Mountain 20K, and Mt. Taylor 50K. He set the 2009 course record at the Kokopelli 150 Stage Race, a 150-mile ultramarathon from Grand Junction, Colorado, to Moab, Utah, in 21 hours and 27 minutes (the course record is now held by Ryan Guldan in 21 hours and 2 minutes, from 2018). In 2012, Martin also finished in the top 10 at the North Face Endurance Challenge 50-Mile Championships.
Albeit a competitive runner, Martin leans on his traditional roots to guide his long-term, evolving relationship with running, as well as his mentorship in the community, at the Canyon de Chelly Ultra, and with youth. According to Navajo teachings, "Running, first, is to celebrate life and all the blessings we've been given and all those hardships because those make us more prepared. We believe running is a form of medicine, healing us physically and mentally and emotionally and spiritually: all aspects of a human being. Running can make you a more holistic person. The act of running itself is a form of prayer. Running is like a mentor and teaches us to overcome obstacles in life and become a better person. The hardships our body overcomes and the mental struggle we overcome, we can apply those to our daily life and it will make us a better person. A better daughter, son, mother, father. A more valuable worker, and a more successful person," says Martin.  
His teaching approach works. To date, Martin has received many awards for his service, including being named the 2009 National Federation of High School Sports Western Coach of the Year, 2012 Arizona Rural Teacher of the Year, 2012 ASBA Golden Bell Award recipient, 2013 National Rural Teacher of the Year, and a 2015 Navajo Times Sports Hall of Fame inductee. Hundreds of Navajo kids have been inspired, encouraged, and supported by Martin to live a healthy, positive, driven lifestyle, which he has taught by passing down the traditional Navajo way of life.
RELATED: A Rare Run on Navajo Lands
As of today, Martin is an athletic director at Chinle High School, where the now 40-year-old returned to work in 2014. Alongside his wife, Melissa, he's raising two kids that love to run: Maverick, who is 13 years old and in the 7th grade, and 11-year-old Isabell. "Here, 7th grade is the first chance to participate in organized school sports and he tore it up in his first cross country season," says Martin, who also recently finished his master's degree in K-12 educational leadership in order to pursue principalship at an Indigenous school in the area when a position becomes available.
Sprinting With Wild Mustangs: A Catalyst 
Hurting and struggling, Martin was depleted in the middle of the canyon. Six hours into a long run, he was still 6 miles from reaching his doorstep. He was also mulling over a question: It was 2012, and he had transitioned out of his high school coaching role to work as the athletic director and coach cross country and track at Diné College. 
"I wanted to continue to support the high school team and program and new coach on staff. I didn't know how to do that," says Martin, until that mid-July run in Canyon de Chelly. It was monsoon season, and the Navajo believe there is a male and female version of all elements: "And aggressive rain with wind is male. Female rain is a soft, gentle rain with light drops and a calm breeze," explains Martin. 
A female rain began to fall and rejuvenate Martin, bringing "life back into me after being on trail for so long."
As he came around a bend in the canyon wall, Martin stumbled upon and spooked a colorful group of sixteen white, black, brown, and paint wild mustangs. The free-roaming horses took off. Pigeonholed by the end of the crevasse, they turned away from Martin and began to run in front of him. 
"The yearlings were just born that spring and were only 1.5 months old, were tiring after a mile. They started to slow down and the whole herd slowed down with them. As I caught up to the herd, they let me run behind them. Eventually, the young stallion in the back—that was supposed to scare me away—opened up and let me run shoulder to shoulder with them," recalls Martin. All of his physical suffering fell away while he was completely immersed in the present, connected with the wild horses. 
They ran in synchrony for another mile to the mouth of the canyon. At the terminus, the horses halted, unwilling to continue into the wide-open space at the canyon's mouth, letting Martin continue past. During the final mile from the end of the canyon to his home, "I started thinking that I have these amazing experiences running by myself. At the time, my kids were small and I felt selfish—my wife and kids were not out there with me and don't see what I see and experience what I experience and feel what I feel. I needed to do something. I needed to share this experience with people in the world," he says. 
He realized he could host a run in the canyon that celebrates Navajo culture and utilizes profits to support local runners and run programs. Concurrently, attracting visitors and incorporating race awards created by local artisans—such as handmade turquoise necklaces, paintings, baskets, and moccasins—as well as lessons on the Navajo meaning behind those artifacts, can help support the local culture and economy. 
"Runners will bless themselves by using those race items the way they were designed to be used and by breathing life into them," says Martin. "Native American people are still here and there are ailments, but through experiencing our way of life through running, arts, crafts, and food, people can connect to the culture here: Preservation begins with education. That education creates allies and friendships."
Martin successfully launched the race, selling out within two days that first year and every year since. Today, there's a lottery because people are registering from all over the world, says Martin. The lottery typically takes place at the beginning of February, and 150 participants are selected.
A Source of Power: Canyon de Chelly
Canyon de Chelly National Monument is co-managed by Navajo Nation and the U.S. National Park Service. After leaving Chinle Wash, the race experience is held within the chasm. The night prior to the event, the pre-race gathering includes an educational session on the canyon's history and sacredness from Martin's father-in-law, who also sings traditional Diné songs. "My wife's dad explains the significance of the canyon as it means to the Navajo and our culture and what it means to a Navajo person when you're there. He describes the parts of the sacredness and what it means to be embraced by the canyon walls and he translates to English and explains in Navajo." a Also in the pre-race gathering, Park Ranger and Navajo runner Ravis Henry, who has worked with the National Park Service since 2009 and who's family is from Canyon de Chelly, shares a presentation on the canyon's history, heritage, and importance to Indigenous peoples
"This place has been a national park unit since 1931, but has been a home for centuries and generations and is still a home today," says Henry. Close to 40 Navajo families also still reside in the gorge, including Henry's own—and those families are four or five generations large, he says. "For the Navajo people, the canyon is also a very powerful and spiritual place as it holds many roots of our ceremonies and certain songs and many sacred sites where our people still go to conduct ceremonies and to make offerings," Henry explains. 
Human occupancy of the canyon began with hunter-gatherers, who started practicing agriculture and building pit houses circa 200 BCE. Around 700 CE, the time period shifted from the basketmaker period to the Ancestral Puebloan, when cliff dwellings were constructed in the alcoves and along the canyon floor, many of which are still visible today and can be seen during the race. Near the year 1300 CE, the great migration occurred, perhaps catalyzed by a severe drought, though some Indigenous cultures say they were asked to leave.
"It's not my story to tell: the Zuni Pueblos and Hopi Pueblos have their own stories about why they left Chaco Canyon and Canyon de Chelly to their current residences," explains Henry. 
By the 1500s, the Navajo began to enter the canyon and have been there ever since. Though, a huge piece of the canyon's significance in Navajo history is tied to the Long Walk: In January 1864, the U.S. Army began the forced removal of more than 8,500 Navajo people from their homes. They were ordered to walk more than 300 miles in the middle of winter to a million-acre internment camp in Fort Sumner, New Mexico, called the Bosque Redondo Reservation. During the Long Walk, Canyon de Chelly was a prominent space for the Navajo to hide from soldiers or to ambush artillery, allowing them to retreat further west and seek refuge in the Grand Canyon and Glen Canyon. Hundreds of Navajo people perished during the genocide, including those that were killed if they were too slow, such as pregnant women, and others were stolen into slavery.
More than a thousand more captives died at the camp due to starvation, lack of wood for heating, and illness. The U.S. Treaty of 1868 established the Navajo Nation and some rights for Navajos, though the U.S. government continued oppressive policies. Navajo children were pulled from their homes to attend off-reservation boarding schools where they were robbed of their traditional appearance, language, and cultural practices. At the schools, the children were physically abused, malnourished, and poorly educated, practices that continued for several decades. 
Over time, this challenging history influenced two meanings behind the name Navajo: the Spanish word, navaja, in reference to a sharp knife and a derogatory identification of the Navajo people as savages. The Tewa Pueblo word navahu, on the other hand, translates as "the cultivators of large fields." As a result, some Navajo people prefer to be identified as Diné, explains Henry, whose family is comfortable being identified as Navajo. 
"Being Navajo means you don't hold onto grudges for too long. You focus on moving forward—it's who and how we are," he says. 
Throughout the race, ultrarunners meander at a level elevation while the canyon walls reach higher, passing residential cabins, off-grid homes, and traditional hogans; grazing land full of horses, cattle, sheep, and goats; and cornfields, gardens, and orchards. Alongside cottonwoods and spruce to ponderosa pine and sweet-smelling cliff fendlerbush, the canyon is also home to mule deer, coyotes, raccoons, and wild turkeys. Henry's family is based in Wild Cherry Canyon, one of the box canyons that branches off the main canyon. Following dryland farming practices that have been passed down, his family grows heirloom corn—including white, yellow, blue, and red—squashes, pumpkins, beans, melons, peaches, pears, plums, apricots, apples, and cherries. 
"A lot of times during the ultra, the families come out and set up makeshift aid stations and we encourage that connection—for racers to enjoy a canyon-grown peach from a resident who grew up in the canyon," says Martin.
Sacred sites speckle the canyon, including hundreds of rock art panels and cliff dwellings, several dozen of which are very large and still standing, like the White House Pueblo, Antelope House, and Mummy Cave Ruin. Spider Rock is the turnaround of the out-and-back of the race: an 800-foot spire of sandstone that rises from the canyon floor to the rim. 
"Spider Rock is the home of Spider Woman, who was a deity that was very influential in our creation stories and was also the deity that taught the Navajo people to weave beautiful rugs, belts, and baskets," says Henry.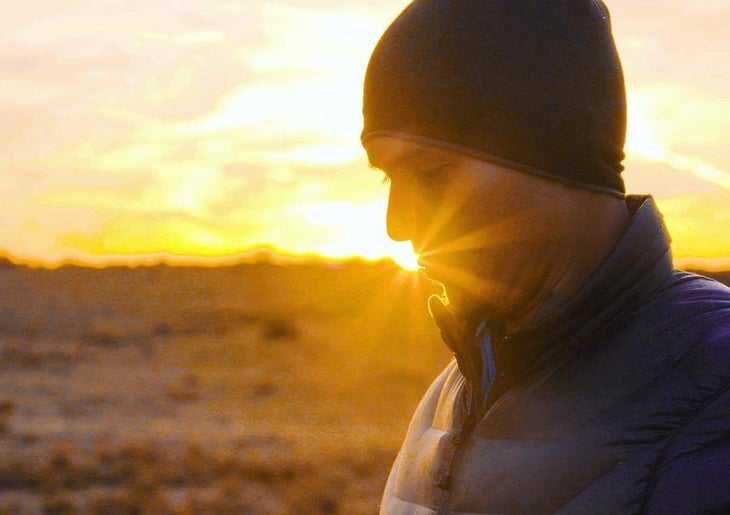 Supporting the Local Community 
The Canyon de Chelly Ultra funnels its profits to people in need in Chinle and the surrounding communities by covering race registrations, running shoes, and uniforms for students and entry fees for adults. The race has also hosted book drives, collecting more than 700 books to be donated to local schools and to the organization Chinle Planting Hope, which is launching a mobile library via a truck loaded with books and WiFi, so families across the reservation can check out books and do research. The race also partners with Canyon de Chelly Tours, a local family-owned and operated guide company, for racers to visit and learn about the canyon with their families. It's easy to pass by the countless historic sites during the race, and foot traffic is not permitted in the canyon without a certified guide. There is also a local outdoor market on Fridays, where visitors can find local food, arts, and crafts. 
Due to the pandemic, race entrants from 2020 have been rolled over for two years and will race October 8th, 2022. With the physical race being postponed, Martin launched a virtual event that he will aim to host alongside the in-person race moving forward.
RELATED: What We Can Learn From Indigenous Runners
"There's no predetermined distance for the virtual event. People are at the exact same time the world over running for the same reason and in essence, running with the people in the canyon and people in the canyon are running all over the world," he shares. (The best way to stay up-to-date regarding the virtual event is to follow the Canyon de Chelly Ultra Facebook group.)
The proceeds from the 2021 virtual event were used to fund college tuition for Navajo students during the pandemic. Beyond the remoteness of Navajo Nation, the longstanding political marginalization of Native Americans and Native lands nationwide perpetuates health inequalities and lack of infrastructure—including the absence of running water, electricity, and paved roads—and continues tostrain economic development. Today, there are close to 574 tribes, nations, bands, villages, rancherias, and pueblos that are recognized by the federal government in the United States–however, many tribes have not been recognized by the federal government, which further puts those communities at risk of government appropriation, according to the California-Mexico Studies Center (CMSC). "Native tribes continue to be 'wards of the federal government,' who at their whim impose laws that limit their sovereignty, way of life, education, economic life, and their natural resources," reports historian, educator, and author Dr. Frank Garcia Berumen for the CMSC. Often, families are broken up due to one parent needing to travel for work, explains Martin, and kids often need support to break through those barriers. 
"Our next step is a dream to use the race profits to support kids not just athletically but academically, and to help them go to college to earn a degree to change their lives. Running and academics changed my life and gave me the opportunities I have now," says Martin.
Racers generally visit from across the U.S. and a variety of other countries. Participation among locals is growing, too.
"In years past, there was very limited Native American and Navajo participation, because ultramarathoning wasn't very popular among Natives," explains Martin. In the early years, there might be a handful of Indigenous runners at the Canyon de Chelly Ultra. Now, an average of 10 to 20 Native Americans register and athletes with a variety of tribal affiliations.
"In the last 8 to 10 years, trail running has gained popularity through more Indigenous racers taking part in events, bringing their experience home, and sharing it with their family," says Martin. "I also see a resurgence of connection to running for the traditional Navajo reasons, which I think is drawing more people to the trail and ultra-distance scene—it's a natural fit for Native Americans to turn to the trail and ultra scene, because it's ingrained in the culture."
The connection of travelers to the land and culture can also spur advocacy, Martin explains, through allies then leaving and sharing their awareness of the existence, resilience, and continued land stewardship of Native Americans, as well as to help call for their cultural and environmental preservation and protection, such as with the detrimental Dakota Access Pipeline, a 1,172-mile underground oil pipeline that goes through Native lands, and the missing and murdered Indigenous women health crisis.
"When we can celebrate as one to learn, grow, and heal, it humiliates us, makes us a more humble person, and we put our guards down, connect with other people and have a better sense of being one and being a community member, making the community a better place," says Martin.
Visitors leave feeling a sense of healing that the canyon provides. The phrase K'é (pronounced 'keh'), means all of creation is related, all are my relatives and kin: we are all one. Martin says, "Most people are drawn to this race because of the cultural side and come with an open and willing spirit, mind, and heart. Besides experiencing a connection to land and culture, they leave a part of themselves here, and leave a better, more holistic person—we truly are one."
The race begins with a crackling fire at 4:30 a.m. and a ceremonial blessing, held by Martin's father.When the final runner returns, Martin's father does a healing ceremony for that person, representing a blessing for all of the runners. The day is formally ended by putting out the fire and giving thanks to the people, water, air, canyon, and land that provided the day. Martin says, "Most runners finish with tears in their eyes and share with me how the run helped them connect and heal—and how running was medicine for them."