Sneak Peak: Check Out Nebraska's First 200 Mile Race
This November, Nebraska's newest ultra-endurance event gives runners a chance to see the state in style. 
Heading out the door? Read this article on the new Outside+ app available now on iOS devices for members! Download the app.
Look out runners, there's a new 200 in town. 
The Cowboy 200 will debut this November in Nebraska, linking the towns of Norfolk and Valentine via the historic Cowboy Trail. The route traverses current and ancestral Cheyenne, Omaha, and Pawnee territories, following the old Chicago & Northwestern rail line. The rail-to-trail route boasts more than 200 railroad bridges, a unique fixture in a race distance that often takes place in steep mountain terrain. 
Race Directors Chase and Casey Hammond were both born and raised in Northwest Kansas, and wanted to highlight the endurance running potential of the Midwest. After years of planning, the pair decided the Cowboy Trail offered the best grounds for runners to test themselves. 
"This race was perfect for us because it's in Nebraska, is non-repetitive, and goes through many small, history-filled towns that remind us of home," says Chase.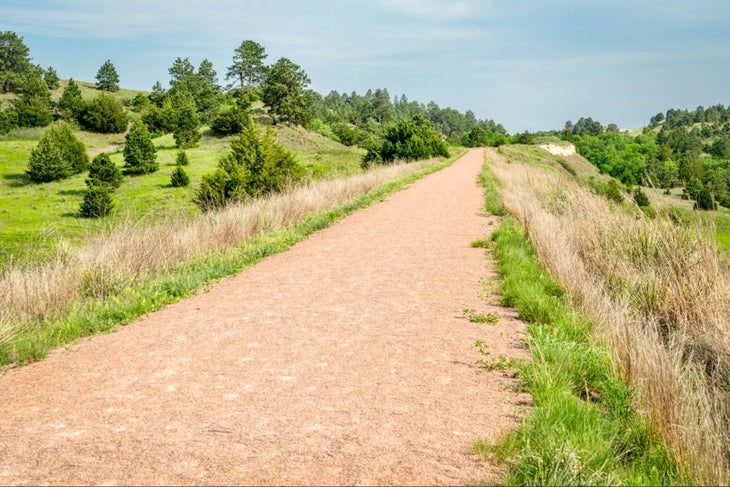 The race goes through almost 20 small towns, giving runners the opportunity to get off the beaten path and experience some old railroad history. Uniquely, as a point-to-point, this 200 miler doesn't repeat a single step, giving it rarefied status among longer races that tend to repeat sections of trail to reach their desired distance. 
"Runners will be greeted by some of the nicest people they've ever met in these small Midwest communities. It's a way of life that a lot of people probably haven't been exposed to and the trail rarely travels more than 10 miles before going through the heart of these awesome communities," says Chase. The RD's are striving to incorporate the history of local communities in their aid station planning. 
"I think that when people think of Nebraska, an ultramarathon might be the last thing that comes to mind," says Casey. "People don't expect to see a course like this run in that state.  I think that people will be surprised at how beautiful it actually is and will get to experience the Heartland."
RELATED: Destination, Nebraska
Gary Shaw is attempting to complete a race of 100 miles or more in all 50 states, and this is the first 100-mile-plus race in Nebraska.  Shaw jumped at the chance to sign up. "I'm looking forward to several things: seeing the state of Nebraska, hanging out with the Hammonds, the competition, but most of all, I look forward to the suffering," says Shaw. 
The Hammonds agree that the Cowboy race represents some love and appreciation for the region, which doesn't always get the recognition it deserves. 
"I think people are going to be surprised by how beautiful this area is.  When people think of the Midwest, they think of flyover states.  But, while there aren't huge mountains or vast rocky desert areas, it is beautiful in its own way.  The sunrises and sunsets are hard to beat!" says Casey. 
Agatha Kerr says she was attracted to the event because of the location and "positive vibe" emitted by the Hammonds. Cowboy will be her first 200-mile race ever.
"The idea of being part of the inaugural year of a new race attracted me," says Kerr. She's also excited by the challenge of the nearly 50K between manned aid stations, an opportunity to flex her self-sufficiency muscle. "This will be my first time running on a rail trail, and I have a feeling the beauty and solitude will be worth the pain."
The course itself is flat and non-technical, ideal for runners curious about the distance. The elevation profile of this particular race is a different kind of challenge for most ultrarunners. With just over 2,000 feet of gain over the entire 200 miles, Casey thinks the profile presents a unique opportunity.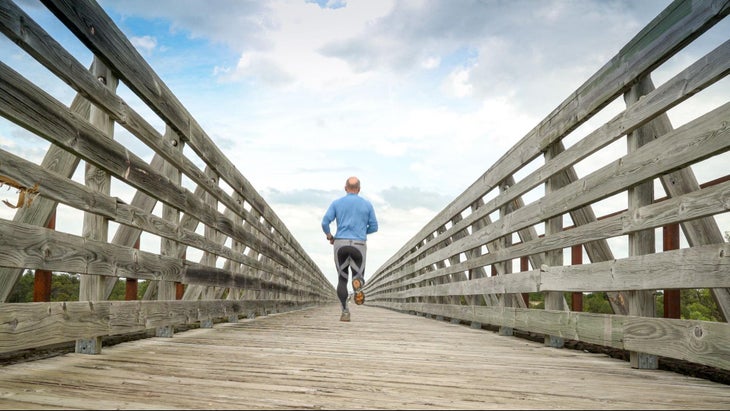 "Ultrarunners love a challenge.  While steep, technical 200s have their own unique challenges, so does running 200 miles on a flat surface.  You don't get to utilize different muscles like you do going up and down mountains."
"This is a great course to set a 200 mile PR," says Chase. The cutoff for 200 milers is 84 hours, or three and a half days from November 5-8. Participants who don't want to run the full 200-mile trail can consider a 100-mile option or a four-person relay. 
RELATED: A Training Plan To Run 200 Miles
Why race across Nebraska?
"The short answer is 'Why not?'! The long answer is that I am passionate about ultrarunning/trail running, about adventure, about gratitude, about expanding boundaries, and about empowerment," says Kerr.  "I think a point-to-point race in a state I'm not very familiar with will provide opportunities for me to grow in each of those areas."
Cowboy 200 Extra Facts
The race averages one railroad bridge per mile (yep, you read that right!)

<10: The number of total ultras in Nebraska, including the Cowboy 200.

Keep in mind that horseback riding is allowed on the Cowboy Trail, so you might encounter occasional hoofed traffic during the race.

Valentine, Nebraska's Bolo Beer Company is one of the race's sponsors. Of-age finishers will receive free local beer as part of their post-race swag.

The race finishes in Cherry County, the state's largest. Historic sites and museums abound around the area, and the nearby Fort Niobrara National Wildlife Refuge offers waterfall and river views and bison, elk, prairie dogs, and more.