What It Takes To Train For A 240 Mile Race
Power hiking, night running and practicing with a heavy pack. Here's how Jacky Hunt-Broersma is getting ready to run 240 miles.
Heading out the door? Read this article on the new Outside+ app available now on iOS devices for members! Download the app.
Training for the Moab 240 miler has definitely been equal parts challenging and rewarding.  I am amazed at how far you can actually push your body. For most of us, running is something we do part-time and for fun, for a challenge or just to stay healthy. It isn't our full-time job so we can't go for a nap after our training session or have someone else make us the perfect balanced recovery meal. Life goes on. Getting the kids ready for school, going to work, making lunches, preparing dinner for the family, helping the kids with homework. The list is endless. Then, you have to survive the back-to-back-to-back training runs which are very time-consuming.
Life doesn't stop because we decided to book an insane race, but that is all part of the challenge.
Life doesn't stop because we decided to book an insane race, but that is all part of the challenge. I always tell myself that every minute I spend on my feet during the day, adds to my training and makes me stronger. 
Trail Runner: What has your training looked like getting ready for the Moab 240?
My Moab training has been focused on strength, which means adding in power hikes with a weighted vest, running a lot of vert and a lot of core strength training.  I break my runs down into hours vs. miles because on paper, the mileage felt overwhelming, and running for time simplifies the training.  For example, I will run a 6 hour run on a Friday night, followed by a five-hour run on  Saturday morning, then complete another three-hour run.  
My coach from AllAbilityCoaching.com sends me an updated training program every week that builds on my previous training.
It is super crucial to build your running and strength up gradually. My coach built some flexibility into my training for those unforeseen circumstances like when one of my kids are sick or I just feel like I need an extra rest day because my stump feels too beaten up. 
I want to enjoy the journey, work hard and still have flexibility. I never try to catch up on a missed run by doing the run the next day or doubling up on another day. It will add too much extra stress to my training which will cause injuries. I found that I only get injured when I do too much too soon.
RELATED: Follow Jacky Hunt-Broersma's Journey To The Moab 240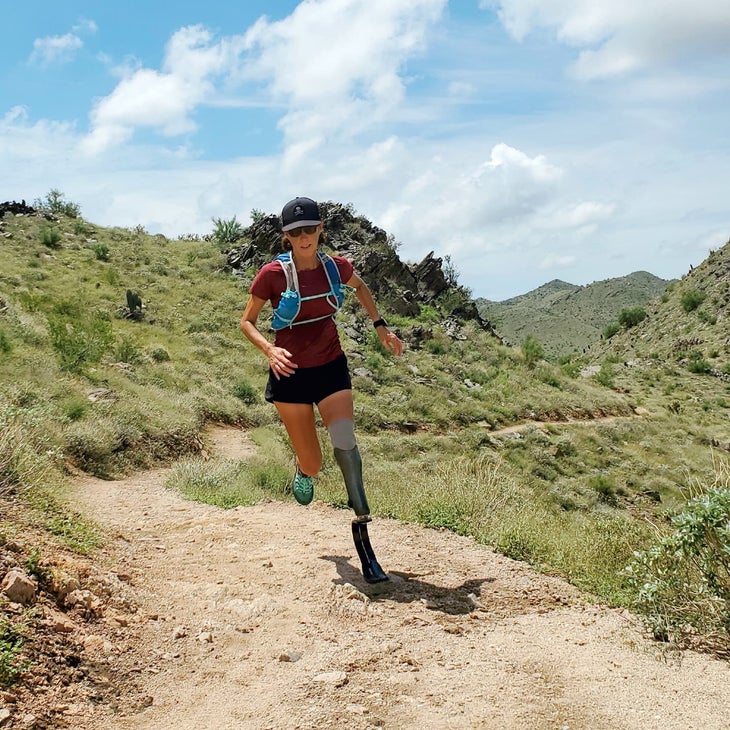 TR: How often do you run?
I run between four and six days a week. My training is a mix of recovery runs, vertical runs, power hikes (with power hiking I try to keep my pace at around 14min/mile) and long runs. Every run has a purpose and it builds upon the previous week's training. Moab has an elevation gain of 29,467ft/ 8981m, which makes preparing for vert very important. 
I do recovery runs at a nice easy pace or a walk with a weighted vest. The next day, I run with a weighted vest to build up core strength. Midweek runs are vertical runs/power hikes. The weekends are back-to-back-to-back runs. I've also been practicing night running since I'll  spend at least 3 nights running during the race.
My training schedule is set up for 2 weeks of increased effort and one week of recovery. During the recovery week, I make sure I spend more time with my kids and I do things that I haven't had time to do during the higher volume weeks.  It gives me a nice balance to my training.   I've kept my average weekly mileage at around 50 miles a week and my two peak weeks will be at 65 to 70 miles. It isn't a crazy number of miles for a 240-mile race but I do add in a lot of strength training and swimming on top of the miles.   
RELATED: TrailRX: Water Crossings, Reaching Your Potential And Supporting An Injured Partner
TR: What gear do you need for a 200-mile race?
With a race like Moab240, you have to carry a lot of essential supplies with you like gloves, warm clothes, at least 3 liters of water. In 2018 the temperatures varied from 6F at night in the mountains to 85F in the canyons, so having something warm in my pack is going to be essential.  
My hydration vest will be heavy and that is why it is super important to do strength training. I do core at least two to three times a week and I also swim regularly.
The truth is, you can't be totally prepared for a 200-miler. When I ran shorter distances like a half marathon, I used to run a couple of half marathons for training. You can't do that for a 240 miler or even for a 100 miler (except for a handful of crazy runners). It will take your body too long to recover, which will take valuable training time away from your schedule. My training is very similar to a 100-mile training schedule. I focus on the back-to-back-to-back runs. These runs are tough physically and mentally, but it teaches you how to deal with the tiredness and the mental struggles, especially when you do a night run and then follow it up with a morning run. Training your mind is just as important as physical training. For me, ultrarunning is 20 percent physical and 80 percent mental.  If my mental game is good on race day then I know I will get myself to the finish line.   
If my mental game is good on race day then I know I will get myself to the finish line.   
I enjoy pushing myself and I get very excited when I've achieved my weekly goal and I usually reward with myself with a nice glass of wine at the end of the week😉. I'm always so grateful that my body can actually do these distances and that my blade hasn't fallen apart yet.  If I can do it then anyone can.
RELATED: Mental Training Archives
TR: What have you learned from the process of training for a 200-mile race?
 I learned that I am stronger than I thought and I learned to love night running. I was always afraid to run in the dark because you can't see what is going on around you, but after doing a couple of night runs, I learned that running at night is extremely relaxing (except if you hear something rustle in the grass next to you). Your focus is on everything in front of you and nothing else matters. Another added bonus of night running is that you don't see the top of the mountain you are ascending and before you know it, you're on top.
RELATED: Run Long, Race Strong
TR: What is the biggest challenge you've faced in training?
The biggest challenge is being on my feet all the time and moving forward even though I am totally exhausted while trying to do all the regular day-to-day activities. These challenges are preparing me for the race and I know I will show up on race day and be fully prepared for anything that is thrown my way. The best and the most rewarding part is seeing the progress I make every week.  Every week my miles increase, every week I push my body further and further and I've gone from wondering if I will actually cross that finish line to believing that I will cross that finish line.