For Better Training, Keep A Log
Heading out the door? Read this article on the new Outside+ app available now on iOS devices for members! Download the app.
In this day and age, there are a ton of fabulous online methods to use to keep a training log of your digital activity data. Each GPS watch brand seems to have its own platform to upload activities to in addition to Strava which is a kind of Facebook for athletes. We even have training tools like Final Surge that give coaches the ability to input workouts for athletes and then athletes can upload their activities for coaches to see, introducing a two-way street of data exchange. It is clear that no matter what kind of data you are interested in logging; whether it be miles, kilometers, minutes, pace, cadence, power, time to recovery, or almost any other measurable data point, the digital training log options have you covered.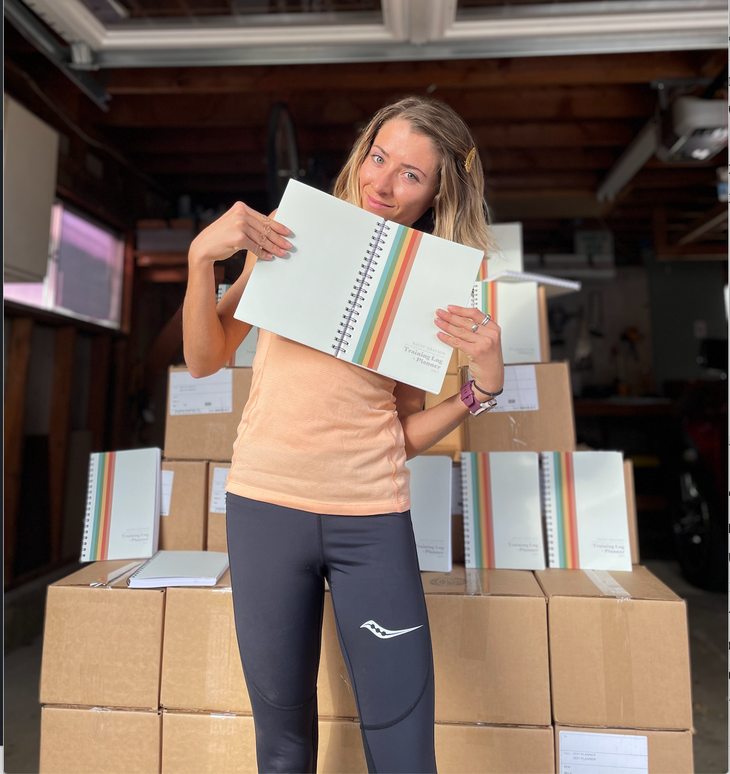 Log On
To put pen to paper, if you will, keeping a physical log of your training is more than just a data dump ready to be mined, it is an exercise in mindfulness and has benefits far beyond the number realm. The beauty of the physical training log is that you can still make note of some of your most important data points like total miles run, splits, or hours of cross-training, but in a way that doesn't feel like you are being overwhelmed by a mountain of data that you don't know what to do with. And more importantly, the training log also gives you space to reflect on your session; you can write down how it felt, what you were thinking that day, the weather conditions, or maybe something that you tried that went well or didn't go well.
You can learn a lot from your reflections. In a training log and daily planner combo, like the one I created, you have space to include your daily life appointments and life goals alongside your training which offers a more holistic approach to overall life-stress. Even professional athletes deal with life stressors outside of their training and it is important to recognize that they can quickly add up into negative training effects or injuries if left unchecked. 
Professional runner for the elite Boston Athletics Association Running Club, Elaina Tabb, recognizes this importance, "I like to be reminded of my athletic goals for the day, whether that be a specific workout, strength work, recovery, rehab, etc. Once I check that off the list, I tackle my work outside of running. My log keeps me accountable both with my running and life goals and helps me focus on each day at a time."
In addition to giving you an overarching view of the life stressors that you might be dealing with on top of training, a written training log also gives you the opportunity to track how you are recovering. US Mountain Running Team member, Dani Moreno, says that sleep is the most important aspect for her to track in her training. 
"Getting eight to 10 hours will do more for you than getting in an extra rep here and there. Your training log should show you the hard work you are putting in. It should also show you how much you should be recovering," says elite runner Dani Moreno. 
Consistency and recovery are both key to athletic breakthroughs and a written log of your training is a great way to stay on top of both. A training log that includes a built-in habit-tracker to help you keep steady on your small daily goals, will go a long way in helping you reach those breakout performances later. Tracking sleep and other prehab habits like stretching, rolling and mobility can also be a great method of injury prevention which is key to logging consistent training. 
At the end of the day, a paper training log can be there for you where digital data tracking can't. The logs can serve as non-judgemental and personal reminders of the work that you have put into your training. They are there for you when you hit a rough patch and just need to reflect. They are private and can hold close some of your biggest and scariest goals. And perhaps most importantly, they can be a really great tool for life in general. Here's a sample page you can print and fill out yourself.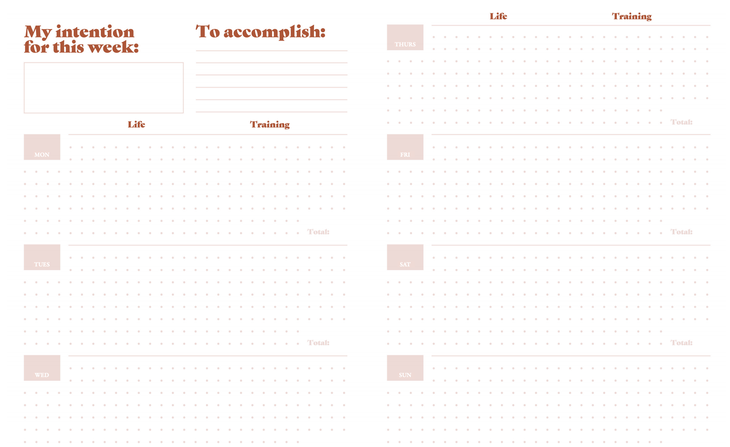 "One of the most important parts of an athletic life is reflecting on the process as you're going through it. The zoomed-out perspective is how days build into weeks, and weeks into training cycles, providing context that is key for finding the athletic potential that lies beyond the immediate horizon. And the process of contextualizing each day as you're going through it supports consistency. Most importantly, it's fun!" – David Roche, Coach of the Some Work, All Play team. 
You can get a copy of Grayson's planner and training log here.
Grayson Murphy is a professional runner for Saucony, a part-time engineer, and loves just about anything that involves playing outside.