A Training Plan To Run 100 Miles
Heading out the door? Read this article on the new Outside+ app available now on iOS devices for members! Download the app.
You can run 100 miles. 
That seems like a wild thing to say. 100 miles is such a scary distance … for driving. If Google Maps says the destination is 100 miles away, it's time to bring a family-sized bag of chips and probably a COVID-safe pee funnel.
And running 100 miles? Inconceivable!
RELATED READING:
An Expert Training Plan For Your First 50K
But wait, maybe not. 100 miles is like anything in life, involving putting one foot in front of the other over and over and over, until you look back and marvel at how far you have come. Put one foot in front of the other for a few months of specific training (ideally on top of a few years of general training), and you can be ready to put one foot in front of the other for a bunch of hours during the race.
If you can cover a few miles, then with time and perseverance, your physiology can do it. If you can dream past the horizon and put up with the inevitable adversity along the way, then with self-belief practice, your psychology can do it. But it's going to require some work, like all dreams worth chasing.
Do that work, and there may still be people in your life that tell you that a 100 miler is "inconceivable." And you will be able to channel Inigo Montoya from The Princess Bride.
"You keep using that word. I do not think it means what you think it means."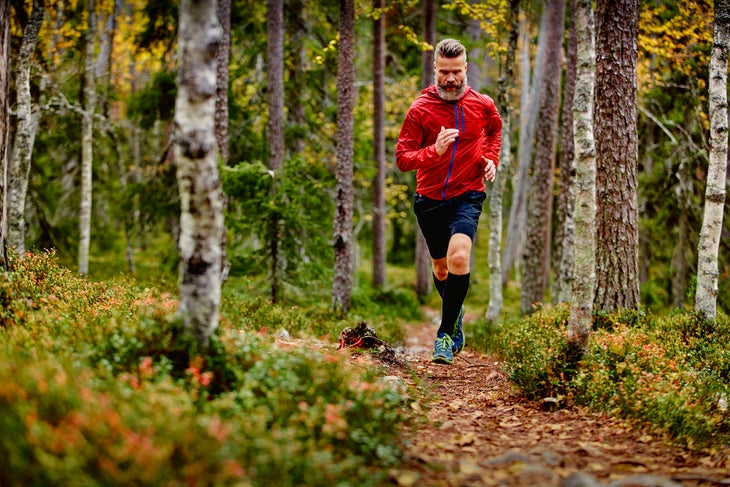 100 Mile Physiology Underlying Plan
Before we get to the details of the plan (link here), a brief overview of key elements of 100 milers will hopefully take some of the stigma of the unknown away (we talk about it more in our podcast here). If nothing else, remember this one thing: 100 milers are not fundamentally different from any long-distance running event. You need speed. You need strength. You need pizza (or similar). There are three main principles to consider.
One: All-day effort will usually vary around a certain percentage of your aerobic threshold, which is connected to even more intense effort levels, so make sure you keep working on speed.
In a 5K, output around VO2 max is really important–athletes need to be able to run fast without creating a fatigue storm that sinks them before the finish. In 100 milers, raw output is less important at the margins of a few seconds per mile like in the 5k, but more in the general idea that sustainable efforts need to be efficiently quick without using too much energy. Most athletes in 100s will self-select an effort that is a certain percentage of their aerobic threshold, with the percentage varying based on individual genetics and training/racing history. That pacing is mediated partially by the circulatory/cardiovascular systems and the amount of fuel that is burned and can be replaced during the race, and partially by the amount of fatigue and breakdown the body withstands during the race (musculoskeletal/biomechanical systems). All of those adaptations can happen rapidly as aerobic threshold output gets stronger with time.
An athlete's 5K ability does not determine their 100-mile ability, but it is still relevant. And ignoring speed is leaving a massive reserve of potential on the table, in addition to potentially stalling long-term growth beyond a single event.
An athlete can improve aerobic threshold with blunt-force training focused solely on tons of miles and vert. But usually that will create more inefficiency and lost potential as they get better and better at slogging as a self-defense mechanism against the miles. Instead, it's usually best to attack AeT from both the top and bottom. From the top-end, higher-output intervals and tempos building VO2 max, lactate threshold, and musculoskeletal/biomechanical efficiency improve how the body transmits power at all effort levels. From the bottom-end, a base of easy and moderate running on race-specific terrain makes the body more resistant to fatigue processes.
To put it another way, an athlete's 5K ability does not determine their 100-mile ability, but it is still relevant. And ignoring speed is leaving a massive reserve of potential on the table, in addition to potentially stalling long-term growth beyond a single event.
Takeaway: Include well-rounded training involving easy running and speed development, going from less specific to more specific closer to the race.
Two: Muscle breakdown and central fatigue play a major role in late-race bonks even when an athlete paces well.
Where 100 milers really start to look different from shorter races is in how breakdown happens during the race. Eccentric muscle contractions cause fatigue via micro-tearing in muscle fibers and nervous system impacts, which can reduce the ability of muscles to put out power even with adequate fuel and good pacing. In addition, central fatigue processes describe how neuromuscular fatigue of submaximal activities add up to cause performance decreases beyond what a closed-model might predict. Those concepts are layered on top of the obvious: 100 milers involve lots of steps, and lots of steps involve lots of impact.
Takeaway: Make the body resilient through strength work, substantial vert in long runs/hiking, and back-to-back long runs.
Three: Consuming and processing fuel determines late-race performance, and it's highly trainable.
Fueling training is often just as important as running training.
100 milers can seem like a constant battle against the bonk. The body is burning thousands of calories, and if an athlete can't replace them quickly enough, it will start to shut down no matter how great the training. Glycogen burns off rapidly but refills at a drip, so it's essential to limit how much is burning (by raising aerobic threshold and pacing correctly) while keeping that drip coming. Most studies and empirical data show that athletes can process a few hundred calories per hour during activity, and higher totals on that range reduce breakdown relative to lower totals. The cells in the gut adapt to environmental stimuli, so fueling training is often just as important as running training.
Takeaway: Fuel many long runs like your race, and if you have a sensitive stomach, practice more thorough gut training.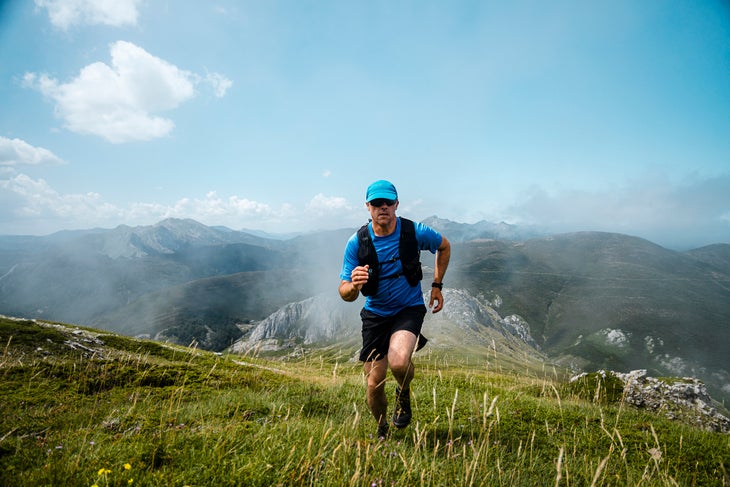 The 100 Mile Plan
This 100-mile intermediate/advanced plan is designed for athletes that already have a base, based on requests from readers (if you have requests for another type of plan, let us know!). It can work for advanced 50 milers as well. If applying it to a 200 miler, sub-in some long hikes on Sundays.
If you're more interested in building base for long-term growth, see this 12-week base plan for somewhere to start. And if looking for a better intro plan, see this 12-week plan on training for your first ultra over 50k or this 12-week plan on training for your first half or under. An amazing book is top coach and athlete Krissy Moehl's Running Your First Ultra.
Biggest disclaimer: every athlete is unique, so what works for you may be totally different than what you see in a general plan. To paraphrase John Mayer, our bodies are wonderlands. That is so cool! But it can also be frustrating if you see a training plan that has elements that aren't optimal for your unique background and physiology. This plan is meant as a starting point for intermediate/advanced 100-mile training based on what has worked for many athletes we coach, but if you need to change it up, that is just a great recognition of your wonderful uniqueness.
Each day is given as a range of miles, with the design being to stay at the low, middle, or high end without going back and forth too much week to week. Start at the lower end of the range unless you have done higher mileage in the past.
The lower range starts at 18 miles per week and peaks at 55 with most weeks around 40, while the high end gets up to 110 and is usually around 70. Athletes can add cross-training and hiking on top of that total on the days specified.
Weeks 1-4 build base and introduce speed, while extending long runs and adding vert. Week 5 is an aerobic build week that increases volume with a bigger weekend. Week 6 increases the intensity while sustaining volume. Week 7 is the first of two key overload weeks, with intensity mid-week and event-specific back-to-back long runs. Week 8 is a down week, reducing volume with a slight increase in intensity. Week 9 is the biggest week of all, with high volume and moderate intensity. Weeks 10-12 are a steady taper to be ready for race day. During the taper, reduce miles if you are fatigued or the training was more than you have done in the past.
The long runs don't exceed 30ish miles as a max option because the risks often outweigh the benefits in longer, breakdown-heavy days. Back-to-back long runs and long run tempos will get many of those benefits with less risk of injury. There may be some neuromuscular or muscular benefit to racing a 50 miler (or even 100k) 4 to 10 weeks before your 100, but it's not necessary (and could be counterproductive).
Instead of massive long run volume, seek out vert if you can on your weekend runs/hikes in particular. That steeper uphill and downhill stimulus will add resilience for the later stages of the 100. Lower-body strength work is included in the plan, and if you do not currently do upper-body work, read this article and spend a couple of minutes on it a day through push-ups and/or chin-ups.
Other Things to know:
Be careful increasing mileage, and always rest or x-train at the first sign of injury. This is a perfect-world plan, and it's designed to allow for missed time.
You can use run/hike strategies to do the designated mileage. Hike with purpose when needed (form tips here), since hiking is an important part of most ultras. And when that's not possible, remember a five-minute run/hike counts too.
All of the numbers in the plan are general guidelines, rather than specific rules. Mix it up to fit your life and background. It's always OK to miss a day or two.
Do light rolling/massage and optional light stretching daily, and make sure you're always eating enough food.
The plan is designed for an athlete that wants to optimize their potential, but no single day is too important. Prioritize happiness and health above all else. Before starting any new routine, talk with a doctor or medical professional. This is not specific coaching advice for your individual history, but a general template to help you design your own plan. It's always best to work one-on-one with a coach.
You are loved and you are enough, just as you are, always. Not directly related to the plan, but an important background principle.
Key resources:
4-Minute Wake-Up Legs warm-up routine (before all runs)
3-Minute Mountain Legs strength routine (when noted). Important: when "Mtn legs" is in bold, you can do the Speed Legs routine
Terminology:
Rest days: you can be active, but no pounding on your legs. Rest day routine article
Easy runs: relaxed and effortless, but can progress to steady running when you feel good as long as it's not every easy run.
Aerobic build week: a semi-structured week with aerobic emphasis
Cross-training: bike, elliptical, swim or hike ideal. Cross-training article
Hill Strides: powerfully efficient on moderate grade. Hill strides tutorial article
Flat Strides: as fast as you can go without straining
Tempo runs: around 1-hour effort, relaxed and not too hard
CLICK HERE TO ACCESS THE PDF PLAN
You got this!
David and Megan Roche partner with runners of all abilities through their coaching service, Some Work, All Play. They host the Some Work, All Play podcast on running (and other things), and they wrote a book called The Happy Runner.