7 Quick-Hitter Takeaways From The 2022 Western States 100
Media coverage is booming, athletes are rapidly improving, thoughts on heat, and more. Here's a breakdown of some of the 2022 highlights.
Heading out the door? Read this article on the new Outside+ app available now on iOS devices for members! Download the app.
The morning of the 2022 Western States 100, I woke up with a sudden bout of extreme knee pain. All week, I had been going from event to event in the pre-race festivities. It was so fun! But I forgot the first rule of ultras:
Pace yourself. 
I saw my co-coach Megan get named the Western States Research Program Director along with her collaborator Emily Kraus, and I couldn't stop bragging about that (so proud of them both!). I attended the Freetrail live podcast episodes (all amazing). I recorded 2 podcast episodes with Megan about the race (dirty jokes abound). I was given 3 pairs of free shoes (good, interesting, and horrible, respectively, but a boy never tells). And that was just by Wednesday.
By the time the race rolled around, I think I suffered from OSS, or Over-Stoke Syndrome. My nervous system was ready to snap if I uttered one more "woohoo!" The next time I try to give a hug, I'll probably break seven ribs. I can't think of anything that actually happened to my knee, other than perhaps taking a wrong step when jumping up-and-down with excitement whenever I saw that every brand's tent had free food or shoes. I spent the entire race day hobbling at the aid stations, my knee the unfortunate victim of the excitement. 
If you followed this year's coverage, I imagine you might have some OSS, too. So let's keep this recap confined to quick-hitters about seven things I loved about this year's event. Hopefully I don't get any more stoked, or they may have to amputate.
1: Live race coverage is the future of the sport. (ESPN, are you listening?)
Dylan Bowman and Corrine Malcom could announce the live broadcast of a traffic camera, and I'd tune in. "Oh my gosh folks, this 1999 Toyota is going three miles per hour over the speed limit, some smart and aggressive driving from the Camry!" On the Youtube show, they were compelling and brilliant, mixing live commentary with pre-recorded segments, layering in shots of beautiful trails from all over the course. I haven't seen Top Gun: Maverick, but I imagine it's 72% less exciting than a drone shot of Drew Holmen and Tyler Green moving up through the field at mile 54. The livestream has 134,356 views and counting.
Just the week before, the Broken Arrow Skyrace had similar coverage. If you're skeptical, check out the Vertical Kilometer video. Beautiful vistas, breakaways, falls, and triumphs, all in under one hour? If there's a wide audience for road cycling, there's a wide audience for trail running.
Prediction: the trail world is going to undergo a fundamental shift in the next 10 years as media companies realize that trail running coverage has the drama and visuals of an episode of Planet Earth, including all of the chase scenes (but unfortunately none of the f**king unless a broadcaster gets really creative). 
2: More corporate investment is good for the sport.
In every subculture, there is a tendency to yearn for the good old days. When I find myself feeling like a curmudgeon, I think about Saturday Night Live. Reading reviews now, it seems like people miss the cast of the early 2000s. But I was around in the early 2000s, and I remember people missing the 1990s. And back then, people missed Eddie Murphy, who himself was no original cast, who themselves were no Charlie Chaplin, according to the critics. The thing people have trouble admitting is that SNL is getting better all the time. It's evolving to stay relevant, and the critics are just getting older.
So let's embrace trail running's evolution. As the sport gets more popular, brands are investing millions of dollars a year. You could see that at Western States, with hundreds of HOKA sandals at the finish line (free gifts at registration) and prominent product placement on every available surface (if you stuck around until midnight, someone would give you a neck tattoo that said "Fly Human Fly"). That added money is good — it provides adhesive that creates stability for races, athletes, coaches, and the sport generally. The resistance to the professionalization of trail running is normal, I think. Just remember that the change we are seeing is what happens when a sport progresses to a wider audience, and that progress will bring more opportunities for everyone.
3: Adam Peterman is a Petergod.
I was shocked when looking at the pre-race predictions that the prognosticators picked Adam Peterman 4th in the Freetrail Fantasy contest and 5th in the iRunFar Groupthink predictions. Yes, it was his first 100 miler. But Adam Peterman is not human.
In the last year: Speedgoat 50K win and course record; JFK 50 Miler win and 2nd fastest time ever; Chuckanut 50K win and course record; Canyons 100K win and course record. That's insane. And he seems to be improving all the time, applying what he learns with a down-to-earth humility and work ethic that makes him one of the most loved athletes on the planet. 
RELATED: Adam Peterman, Lightning Round 50K
He is a Marvel character with no tragic flaw, more god than man on the trails. Until something changes, you put some respect on the Petergod name and pick him first in every race he enters. On Saturday, he won by 33 minutes and made it look … super freaking fun. Adam is the god next door.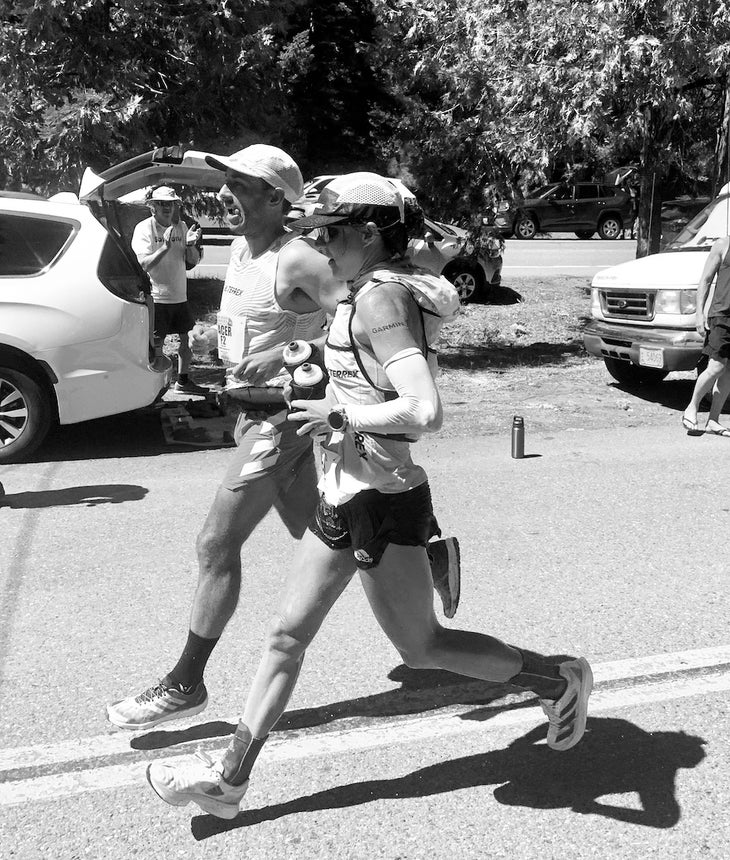 4: Ruth Croft is putting together an argument for GOAT.
The predictions did not miss on Ruth Croft, who was selected first in both contests. She is fast and strong, excelling at short distances and 100 milers. I heard a statistic at the finish line that she has won 11 of her last 12 races, with the only blemish being a second place at Western States last year. That includes wins at OCC, Speedgoat, Les Templiers, and Tarawera. And she's just 32! 
I wonder what she could do on this course on a cooler year. I personally can't wait for the first sub-16:30 women's time, and my bold prediction is that it's coming within the next five years from Ruth or someone else with GOAT (Greatest Of All Time)-level credentials.
5: The most fun way to race is from the back. The most exciting way to race is from the front.
Everyone is getting so damn fast that the conventional wisdom of starting easy and closing quickly is becoming increasingly difficult. People may fade, but barely, and by then they may already be 90 minutes ahead! The come-from-behind strategy was perfectly executed in 2022 by Leah Yingling. Early in the race, she was around 20th place. By the finish, she moved all the way up to 6th! She was smiling and joyous at every aid station, nailing her splits, and becoming the top American woman in the process.
Every time an athlete starts one of these things, they have no idea what's going to happen. It's a completely unpredictable, life-affirmingly beautiful, stupidly brilliant shitshow.
But it took perfect, pragmatic execution. Many racers had a similar plan, and few had it work out. Times are just improving so fast that it relies on lots of athletes having bad days, or you having a great day, showing immense trust in your fitness. Let's go back to 2009, a year with similar weather. In that year, Leah's time would have finished 2nd. In 2013, her time wins. In 2016, her time is 2nd. In all of those years, 6th place is more than 90 minutes behind her! 
Leah has demonstrated many times over the years that this style works for her, and that she's one of the best athletes in the world no matter how she races. My current working theory (that still needs to be vetted before it's applied for athletes I coach) is that athletes looking to emulate Leah need to lean on a similar history of results if they are looking for a top-10 finish, or they should consider going out slightly harder and taking a bigger risk. They might not have as much fun as Leah, and it will come with a higher chance of a DNF, but it may give them a bigger margin for error.
6: Heat acclimation is old school. Cooling techniques and getting fast as hell are the new hotness.
I think one of the main reasons for this rapid progression in the speed of athletes is our understanding of dealing with the heat. In the 2000s, science-driven approaches applied advanced heat acclimation techniques in the preparation. That means that most athletes are using the sauna at just the right time, in the right amount, with heat exposure during runs that spurs fitness adaptations without wrecking the endocrine system. But I theorize that the recent jump comes from two other places: cooling techniques and advances in the application of training theory.
Last year, Tyler Green popularized the use of a hyper-cooled ice vest at aid stations that rapidly lowered core temperature. This year, almost all the athletes I coached at the race were using it, along with covering their skin from direct sun exposure, increasing opportunities to add ice, and aiming to stay wet the entire day.
At Foresthill, mile 62, all of them said that they never felt hot. Two even started shivering and had to take the ice vest off. Given the role that heat dispersion has in running performance, I think these cooling techniques are going to cause rapid progress in the sport even in more temperate races.
Lower core temperatures = better metabolic reliability, better muscle performance, and better hydration status. 
In addition, athletes are just getting fast as crap. Almost every athlete is pushing some form of speed work and applying principles that have been honed over decades of advancement in training theory. Ultras are not a totally different sport than track and road racing–it's the same skill set, just spread out over longer times. Running economy matters, and the sport is getting so competitive that athletes either need to try to optimize their running economy with workouts and structured training, or risk getting left in the dust.
7: The sport is unpredictably predictable.
On the Thursday before the race, we published Dr. Marshall Burke's predictions for times that it would take to win and finish 10th for both men and women. He was just 15 minutes off for Adam Peterman when Jim Walmsley's outlier performances were removed (equating to 1.7%) and 10 minutes off for Ruth Croft (1.0%). For 10th place, he was 20 minutes off for Scott Traer (2.0%) and 30 minutes off for women (2.5%). That's so close! Trail Runner magazine is always bringing you that reliable science content.
Notably, both the 10th place times were predicted to be slower than they were, again showing just how fast the sport is progressing. Adam's time was the only one that was behind expectations, and that's probably because the rising Jim Walmsley tide raises all athlete ships, with others going out incredibly fast in years he races in order to have a chance of competing.
RELATED: Kaci Lickteig Ready To Run Western States After Having Her Hamstring Reattached
But the statistics don't tell much of the story. Almost every racer went through the highest highs, and the lowest lows. Take Katie Asmuth. In a good year, she competes for the win. But she was given a crushingly imperfect year. She did everything right, and her stomach still imploded around mile 50. She spent the 2nd half of the race fighting for every step, somehow grinding to a 9th-place finish in 19:30 and earning a trip back in 2023.
Her time may be a statistic, but what that misses are the tears of joy and relief she shared with her crew and family at the finish. They saw her do something that seemed impossible. That triumph will inspire me for the rest of my life. 
There were hundreds of racers, all going through so much. Some race stories ended with happy finish line tears, others ended with the sad tears of a dream running up into the cold reality: this sport is damn hard. Every time an athlete starts one of these things, they have no idea what's going to happen. It's a completely unpredictable, life-affirmingly beautiful, stupidly brilliant shitshow.
That shitshow is getting faster, though. The statistics smooth away the stories into some facts. Katie's literal shitshow was 9th in 2022. Every year is immensely different, but if we just go by times, she would have been 5th in 2018. In 2016, 4th. In 2009, 3rd. In 2003, 2nd. In 1999, she wins. The statistics tell the same story for men and women, for the 10th place finisher and the average time of every finisher. 
The sport is changing. And it's so freaking fun to try to keep up.
David Roche partners with runners of all abilities through his coaching service, Some Work, All Play. With Megan Roche, M.D., he hosts the Some Work, All Play podcast on running (and other things), and you can find more of their work (AND PLAY) on their Patreon page starting at $5 a month.