The Five-Day Running Week
Heading out the door? Read this article on the new Outside+ app available now on iOS devices for members! Download the app.
Running-related injuries are insidious little devils. You're flying along, feeling like a Greek god. Then, you suddenly feel a small pain. Confident in your god-like strength and health, you ignore the pain and keep running. But over the course of the next few days, it worsens. Before you know it, you go from flying high to flying directly into the sun. Running training has a unique way of making you feel like a god, only to find out you were Icarus all along.
Smart running training is all about avoiding the sun while still harnessing that god-like power. Unlike cyclists and swimmers, who can train harder and longer without risking impact-related overuse injuries, runners need to be more strategic.
How Many Days A Week Should You Run?

Strategic training requires an emphasis on frequency, rather than volume, so that the body can adapt without overdoing it on any one session (or combination of sessions). In practice, that usually means building up to five or six days of running per week, distributing the training stress to avoid overuse injuries.
How do you decide between five and six days? I generally recommend five running days per week for beginners in their first year or two of running, injury-prone runners with a history (or fear) of overuse injuries and many older runners. Young, advanced, durable runners should aim for six days days (or even seven, if planned by a coach).
Running 5 days per week also leaves more time for other things in life, like family, work, baking cookies and cross training (skiing, biking, cookie eating). With 5 days of running, you can reduce injury risk while getting almost all of the adaptations you need to reach your running potential—and you'll beat everyone with their foot in a boot from an overuse injury.
How to design a five-day week

I started coaching Pamela Ross two years ago, after seeing her sprint across a finish line and being blown away by her powerful running form. Pamela checks a few of the boxes in the five-days-a-week category. She is busy, working multiple jobs. She has a history of shin injuries. And, at the time, she was relatively new to running.
Over time, through trial and error (and recurring shinjuries), we settled on a five-day week training plan that has kept her healthy for the long haul.
The Pamela Principle has, in turn, helped lots of other athletes on my team, including stars like Nicole Mericle, who finished second at the 2016 Obstacle Course Racing World Championship, and Mark Tatum, who has won multiple age-group national championships in his 50s.
The Five-Day Running Week generally looks like this:
Monday: rest
Tuesday: 15 percent of weekly mileage at an easy pace (with strides for advanced athletes)
Wednesday: 20 percent of weekly mileage with a workout (speed-oriented for advanced athletes with a high level of fitness; hills for beginners, older athletes and advanced athletes starting a training cycle)
Thursday: 15 percent of weekly mileage at an easy pace
Friday: rest
Saturday: 30 percent of weekly mileage in a long run at an easy/moderate effort somewhere between marathon pace for lower-mileage runners and 50-mile pace for higher-mileage runners
Sunday: 20 percent of weekly mileage at an easy pace (with strides for advanced athletes)
Most important to note: the mileage doesn't vary all that much from day-to-day. The most egregious mistake I see in a lot of training is to have one run or workout constitute 50 percent or more of the total training stress in a week. Most bodies simply won't be equipped to handle the volume of stress without appropriate training frequency.
Here, 50 percent of the total weekly training volume is concentrated over the two-day weekend, so the Monday rest day is strategic and necessary.. For the remainder of the week, the athlete channels his/her energy towards a small workout on Wednesday, bookended by easier runs on Tuesday and Thursday. The Friday rest day lets athletes recover from the stresses of the week, primarily the Wednesday workout.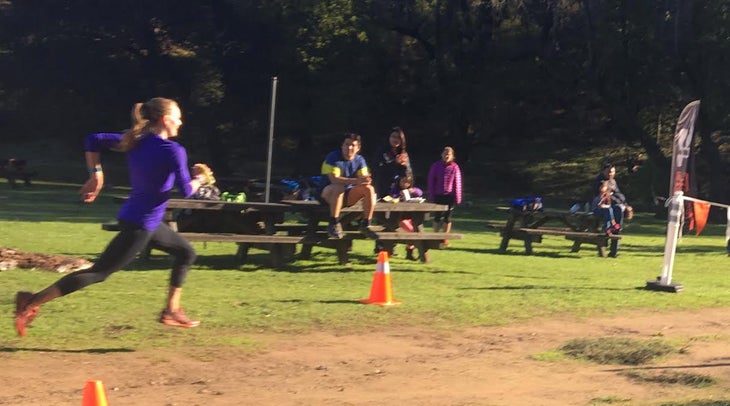 The Pamela Principle in Practice

Pamela has settled into a sustainable 50 miles per week, all done before or after work, usually in the dark and always with a smile. It's not the sexiest training, or the most ambitious, but she has stayed healthy, which has allowed her to become an amazingly fast runner.
Since discovering the Pamela Principle a year ago, Pamela has won a few small, local California trail half marathons. Best of all, she has stayed healthy and happy with her running. This past Saturday she placed third female at the Inside Trail China Camp Half Marathon, running one of the fastest times in the history of that course.
So if you're looking for a simple, repeatable way to start your running journey, try the Five-Day Running Week. It'll help you reach great heights without flying too close to the sun.
David Roche is a two-time USATF trail national champion, the 2014 U.S. Sub-Ultra Trail Runner of the Year and a runner for HOKA One One and Team Clif Bar. He works with runners of all abilities through his coaching service, Some Work, All Play. Follow David's daily training on Strava here, and follow him on Twitter here.