Should I Wear Compression Gear?
Some athletes swear by compression socks, shorts and sleeves. But are there real pros and cons to compression?
Heading out the door? Read this article on the new Outside+ app available now on iOS devices for members! Download the app.
Compression gear comes in all shapes and sizes, from socks to tights to arm sleeves to Spanx. At races in Europe, many of the top athletes will be in compression socks or even tights. During his sub-two-hour marathon, Eluid Kipchoge was wearing arm sleeves. At plenty of other races, few athletes compress at all. There seems to be little discernible pattern between compression gear and performance when watching from the sidelines.
But our eyes can be deceiving. Just because Kipchoge wore arm sleeves doesn't mean you should. And the same applies to Shalane Flanagan wearing compression socks to marathon championships, or Jim Walmsley wearing nothing but cut-up shirts and thick shoes to a course record at Western States. All of these athletes are N=1 stories.
Before getting into the science where the N is bigger, it's important to reflect on what the N=1 stories show. The fact that some top athletes wear compression gear shows that they think it helps based on their experience. Others could take it or leave it. Others without compression-gear sponsors probably hate it (at least until a company writes them a big enough check). Intuitively, that variability likely indicates that the physiological and psychological responses are not uniform, and your personal experience may be indicative of that individualized response pattern. The science of compression backs up that principle.
How does compression gear work?
A 2017 article in the Frontiers of Physiology journal looked at the possible mechanisms for compression gear to affect performance and recovery. The primary reason is likely an increase in peripheral circulation, commonly called the "muscle pump." External pressure assists venous return through the circulatory system, enhancing removal of intracellular metabolites.
Another cause of action may be reduced oscillation, which could reduce fatigue and tissue damage. In addition, perhaps compression gear alters perceived exertion in some athletes, affecting performance in kind of the same way as a ThunderShirt affects anxiety in dogs.
RELATED: Does Compression Gear Actually Work?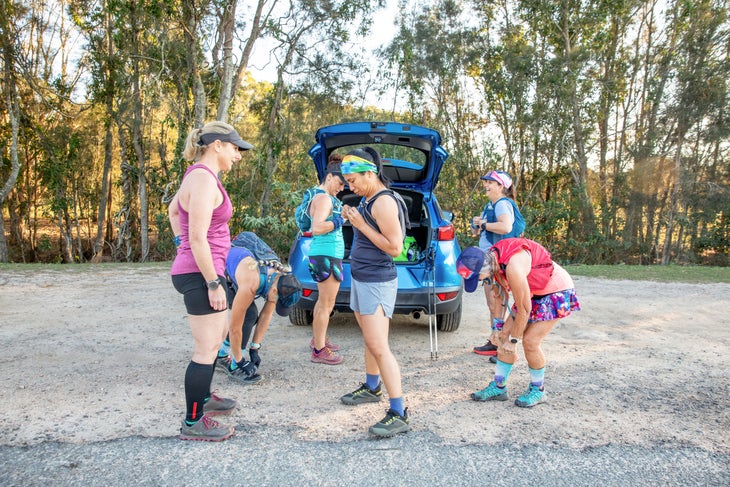 What do the studies say?
Studies on compression have not reached a universal consensus, but the general idea is that compression may help athletes with travel and recovery, with performance results being mixed.
A 2016 review in the journal Sports Medicine found that compression gear did not exert a statistically significant effect on performance. However, there were slight improvements in time to exhaustion, running economy, perceived exertion and clearance of blood lactate. The review concluded that while the changes in performance were not significant, athletes may "benefit from reduced muscle pain, damage, and inflammation."
A 2019 study in the Journal of Science and Medicine in Sport had 12 runners complete two 5K time trials separated by one hour, once with compression and once without. Performance on the second time trial decreased less for the athletes using compression gear. Those study authors concluded that compression gear had a positive impact on subsequent performance, which "may relate to improved oxygen delivery, reduced muscle oscillation, superior running mechanics and athlete beliefs."
The 2017 study cited above backed that up, finding slightly reduced muscle damage after exercise in athletes who wore compression. Review studies from 2017, 2018 and 2019 all made similar findings. At some point, we're going to need a review study of the review studies.
Medical literature indicates that compression can prevent blood clots and deep-vein thrombosis in some people, particularly when sedentary, like in surgical recovery or travel. Athletes often say that wearing compression gear during travel or periods of inactivity helps them feel better, but the review studies do not indicate any significant difference in performance.
RELATED: 9 Tips To Make Your Body Feel Better When Traveling
What's the conclusion?
Digging down into the data of some of the studies, there seems to be variable responses among participants. Sometimes, that leads to statistical significance across the study population; sometimes it doesn't. Some of that variance likely depends on the type of study protocol used and the type/location of compression gear.
There is some consensus that compression gear is good for some people during travel and periods of inactivity. I recommend athletes wear compression tights or socks on long flights, particularly when going to races.
There is also a developing consensus that compression gear may reduce muscle damage after exercise. Theoretically, that could even have in-event performance implications in longer events, where muscle damage becomes a bigger factor before the finish line. If athletes complain of abnormally sore calves or upper thighs, I'll often recommend they try compression gear.
Athletes often say that wearing compression gear during travel or periods of inactivity helps them feel better, but the review studies do not indicate any significant difference in performance.
There seems to be no major benefit for performance. However, the studies often show some athletes performing better, and others performing the same or worse. Find what works for you, with the caveat that compression gear can increase body temperature, so it may not be advisable in warm conditions. Meanwhile, arm sleeves may be a good option in cooler conditions.
Put it all together, and the unsatisfying conclusion about compression is that it depends. It probably helps to have some trusty compression gear around the house for when your legs need a ThunderShirt for recovery or travel. But compression gear won't make or break your running development.
David Roche partners with runners of all abilities through his coaching service, Some Work, All Play. With Megan Roche, M.D., he hosts the Some Work, All Play podcast on running (and other things), and they wrote a book called The Happy Runner.